Pennsylvania is a snack-loving state, through and through. We've got potato chips on lockdown, but it's pretzels that really seem to be the most closely tied to our state identity. From chewy soft pretzels sold by street vendors to extra-crunchy sourdough pretzels at farmers markets and bake shops, to the thin and crispy ones (perfect with a hoagie) at corner stores, pretzels are very, very Pennsylvania.
With so many pretzels made locally, from tiny artisan startups to giant snack corporations, it might seem hard to pick "the best" ones. And, while we're not usually big fans of superlatives, we do believe we've stumbled on something exceptional in the pretzel biz: OMG Pretzels.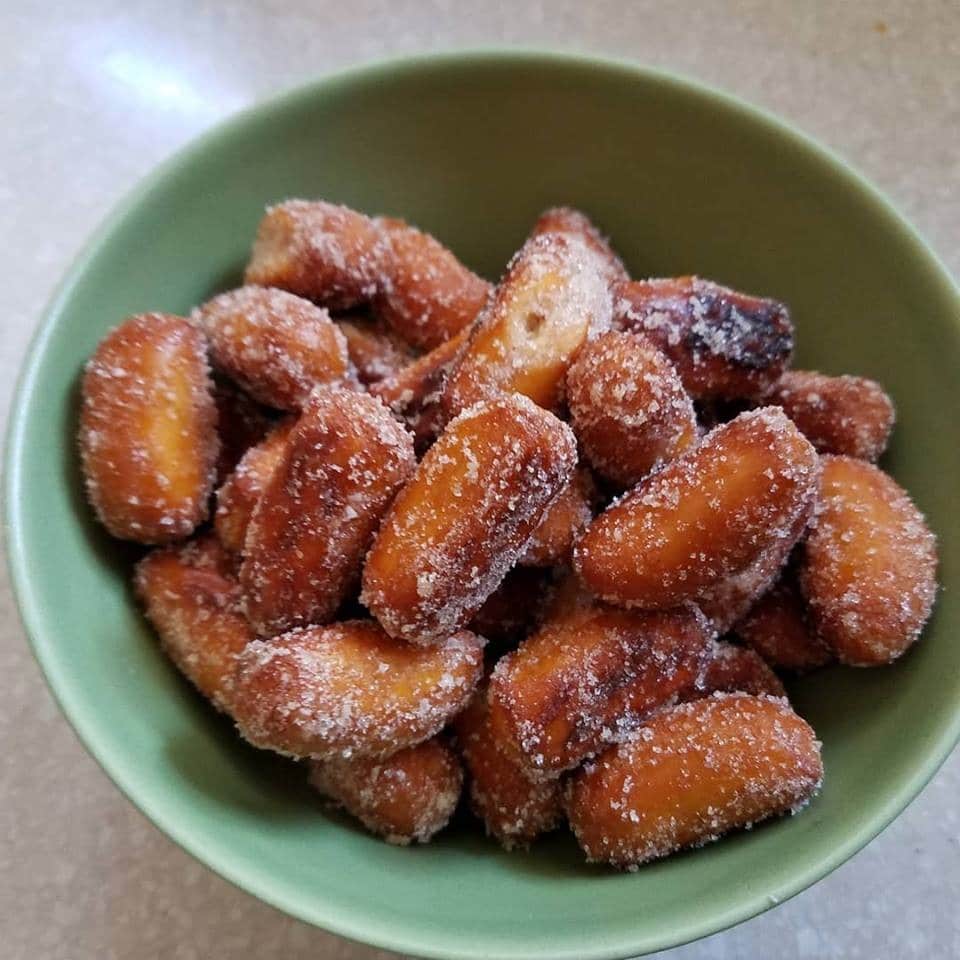 Now, if you are a pretzel purist, you may disagree, as OMG Pretzels are really all about their intense, wildly flavorful seasonings. Seriously, if there's a more well-paired snack to an ice cold beer, we haven't found it. Maybe that's why OMG Pretzels are often found at PA beer distributors. We first came across the addictive garlic OMG Pretzels at The Beer Guys in Havertown, PA and were thrilled to see on the packaging that these pretzels are made in Plymouth Meeting. Turns out, OMG Pretzels is a local grandma, Lynn Kriebel, whose homemade flavored pretzels were such a hit with friends and family that she decided to turn it into a business in 2014.
We caught up with Stephanie, Lynn's daughter, to find out more about this growing local company.
PA Eats: Can you tell us a little more about OMG Pretzels' origin story?
Stephanie Kriebel: It all started because my mom used to make garlic pretzels (now our flagship product) as a snack when we were growing up. People always asked her to make and sell them. In 2014, we decided to do that! We're now in our fifth year of business.

We started with the Garlic flavor, then added Sweet & Salty, and over the years we've added the other flavors. We're up to five now, including Cheddar Jalapeño, Sweet & Spicy and Old Bay. We've listened to people about what kind of flavors they might want, and we experimented a lot in getting our recipes just right. We had a lot of fun developing the flavors, and I think we've pretty much hit the nail on the head with all of them.

To make sales, we started out pounding the pavement. Ana's Corner Store in North Wales was the first client. We also attend food shows, and being a member of the Specialty Foods Association has helped us get into different markets.
Obviously, you can't tell us all your secrets, but why are your pretzels so good?
They're made with a lot of love! What sets us apart is that the flavoring is so well done. When you're eating them, you don't lose the flavoring as you go, like a lot of other products. Part of what helps the flavoring to stick so well is that we hand-stir them as part of the production.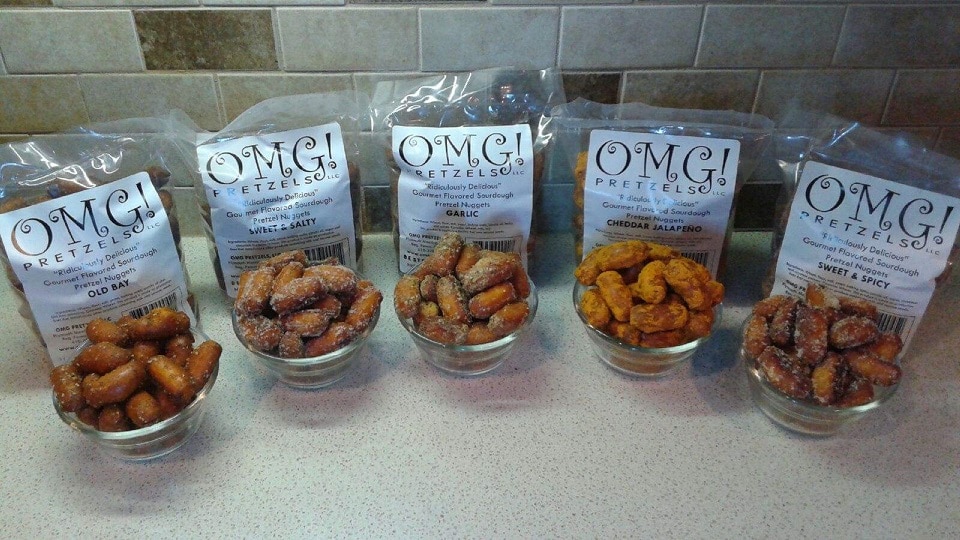 How big is the company now? Where are you located?
We have a team of six to seven people, mostly retirees, in addition to the family members. The business is really myself and my mom. My mom is CEO and Chief Baker, and I run the operations; basically, she does the kitchen part and I do the rest. We do our baking from a commercial kitchen from a synagogue near King of Prussia. When we first started, everything was done in my mom's kitchen but soon, we needed more room and oven space. We happened to find the synagogue and have had a partnership with them for two years.
Where can people find OMG Pretzels? Just beer distributors, or other places, too?
We started out in a handful of beer distributors, but we're also in a couple of grocery chains. In the beginning, you could only find us in the Plymouth Meeting area and we are now in most of eastern Pennsylvania including McCaffrey's Market, and in New York City, New Jersey, and also in Central Markets grocery store in Texas. We just started being carried in Lincoln Hills Farm in Northern California. We also sell online! Every year we have doubled our sales! Last year we sold over 35,000 bags of pretzels, both wholesale and retail, through our website.
Is owning a gourmet food business a big departure from the norm for your family?
My parents have both had their own businesses my entire life. And I have had four businesses of my own, including one currently in community health education in California.

My mom has never had formal training as a chef, but she is a whiz in the kitchen. She has a really creative talent, she's always been that way. She even makes homemade ice cream cakes for all 13 of her grandchildren!
Thanks so much to Stephanie for sharing more of this PA-proud company's story! To learn more about them, where to find its products or to shop online, check out OMG Pretzels' website and Facebook page.