Have Pennsylvanians ever met a potato chip they didn't like? We doubt it! In this state of snack obsessives, we're blessed to have not only large brands with headquarters in the Commonwealth, but smaller, mom-and-pop chip companies, too. There is such an abundance of chip-makers, in fact, that we thought it would be fun to make an entire travel trail out of them. Not all of the brands we've listed have factory tours or outlet stores (though plenty of them do), but if you're passing through that part of the state on any of your travels, be sure to look in local markets and convenience stores for these micro-regional chips!
Southwest PA
This family-owned company was founded in 1920 in Hanover, PA, and a second operations in Berlin began in 1947. The Hanover and Berlin branches parted ways in 1950, with the Berlin factory focusing more on potato chips and the Hanover location focusing on pretzels. Today, Snyder of Berlin makes a range of products, from original to Sweet 'n Sassy BBQ, rippled chips, kettle chips (made with vegetable-based oils, not lard), popcorn, pretzels and other corn-based snacks. It also makes a line of chips under the Husman's brand name. While Snyder of Berlin doesn't offer a factory tour (you can shop online), its website claims that if you drive through Berlin, "it smells just like potato chips." 1313 Stadium St., Berlin; (814) 267-4641.
Central PA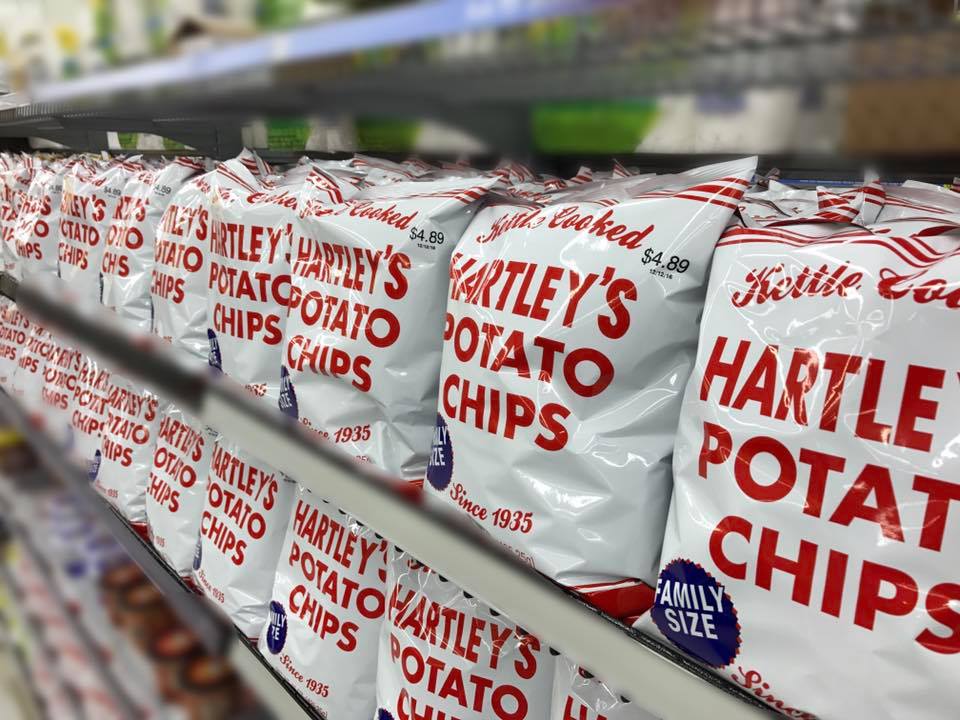 Since 1935, Hartley's, in Lewistown, PA, has been making old-fashioned, kettle-cooked potato chips. We love the retro packaging, and people are so fanatical about these chips, they buy cases of them online, shipped to their homes if they've move out of state. There is no factory tour or outlet here, but you can find Hartley's in local markets. Bonus points if you pick up a shaker or two of Hartley's Snack Mix, the same powdered flavoring it uses on its BBQ and sour cream and onion chips. Now, you can make all of your food taste like chips! 2157 Back Maitland Rd., Lewistown; (717) 248-0526.
Middleswarth, a friendly rival of Hartley's, enjoys a similar amount of zealous commitment from its fans. (Need proof? Just explore the #middleswarthchips feed on Instagram.) This PA brand, which also wins points for excellent packaging design, was founded in 1942 by Bob Middleswarth, who started making potato chips with a single kettle in a two-room building on his family's property in Beavertown. These days, the company (which is still family-owned, though it has moved to Middleburg) employs about 90 workers and manufactures 3,400 pounds of chips an hour. Middleswarth's specialty seems to be large format sizes: three-pound party boxes and jumbo "The Weekender" bags. 250 Furnace Rd., Middleburg; (570) 837-1431.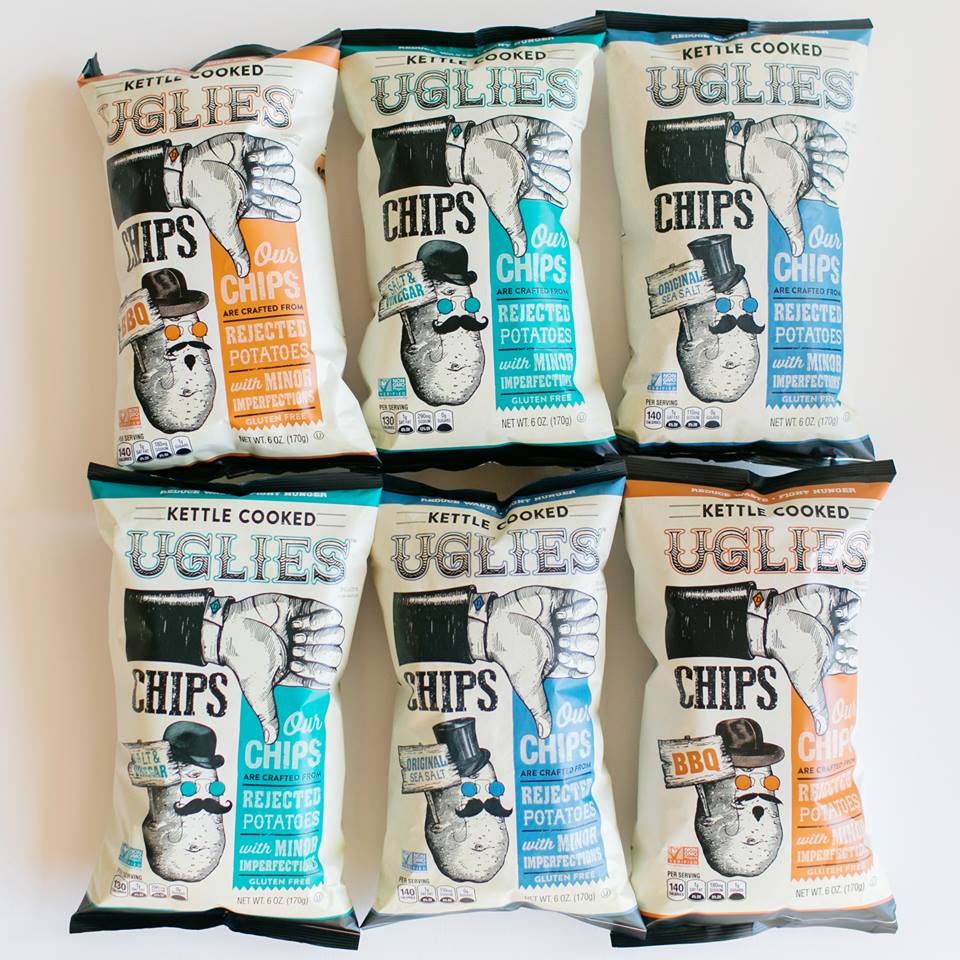 Further east, you'll find Dieffenbach's, and its new sister company, Uglies, which are made with imperfect — but still safe and delicious — potatoes to help minimize the company's food waste (very cool!).  You'll find all of the classic flavors, plus some gourmet stuff, like sweet potato and sweet ghost pepper, at Dieffenbach's, plus a range of pretzels, cheese curls and tortilla chips. Shop online, or visit its factory outlet, which is open Monday through Friday from 9 a.m. to 5 p.m.; Saturday from 8 a.m. to 1 p.m.; and closed on Sunday. 51 Host Rd., Womelsdorf; (610) 589-2385.
South Central PA
Good's makes both homestyle (in a red bag) and kettle-style chips (in a blue bag). What's the difference? Homestyle chips are made with a continuous cooking method, and original kettle chips are made in two large kettles at a lower temperature, which makes for a harder, darker, crunchier chip. Both are delicious in their own right, and Good's which has been around since 1886 (!) has certainly perfected its recipes and techniques. Anyone from the Adamstown area who misses the taste of home can shop online, and locals can find them at grocery stores throughout South Central Pennsylvania, including Berks, Lancaster, Lehigh, Montgomery, Chester, Bucks, Lebanon and Schuylkill counties. P.O. Box 924, Adamstown; (717) 484-4884.
Herr's, one of the biggest names in chips worldwide, is headquartered in Nottingham, PA, just a few miles from the state's southern border with Maryland. The factory, which is open for public tours — popular with families and school groups — churns out over 340 items, including potato chips, pretzels, tortilla chips, cheese curls, popcorn and more. Shop for the wide range of its products online or in-person at its gift shop, on site at the factory. 508 E. Christine Rd., Nottingham; (610) 932-6795.
Not too far away is Martin's Potato Chips, a 75-year-old homegrown company helping to uphold York County's reputation as "snack food capital of the world." Its headquarters in Thomasville produces an impressive range of chips flavors (the Red Hot flavor has a cult following), which you can buy online or find in delis and supermarkets along the East Coast. Visitors are welcome for company tours and to raid its retail store. 5847 Lincoln Highway West, P.O. Box 28, Thomasville; (717) 792-3565.
We know, Snyder's of Hanover is known more for its pretzels, and snack fans may already know about its popular factory tour. It's worth knowing that its factory outlet is stocked to the gills with all kinds of snack-y products, including chips from the Lance brand family, of which Snyder's of Hanover is a part.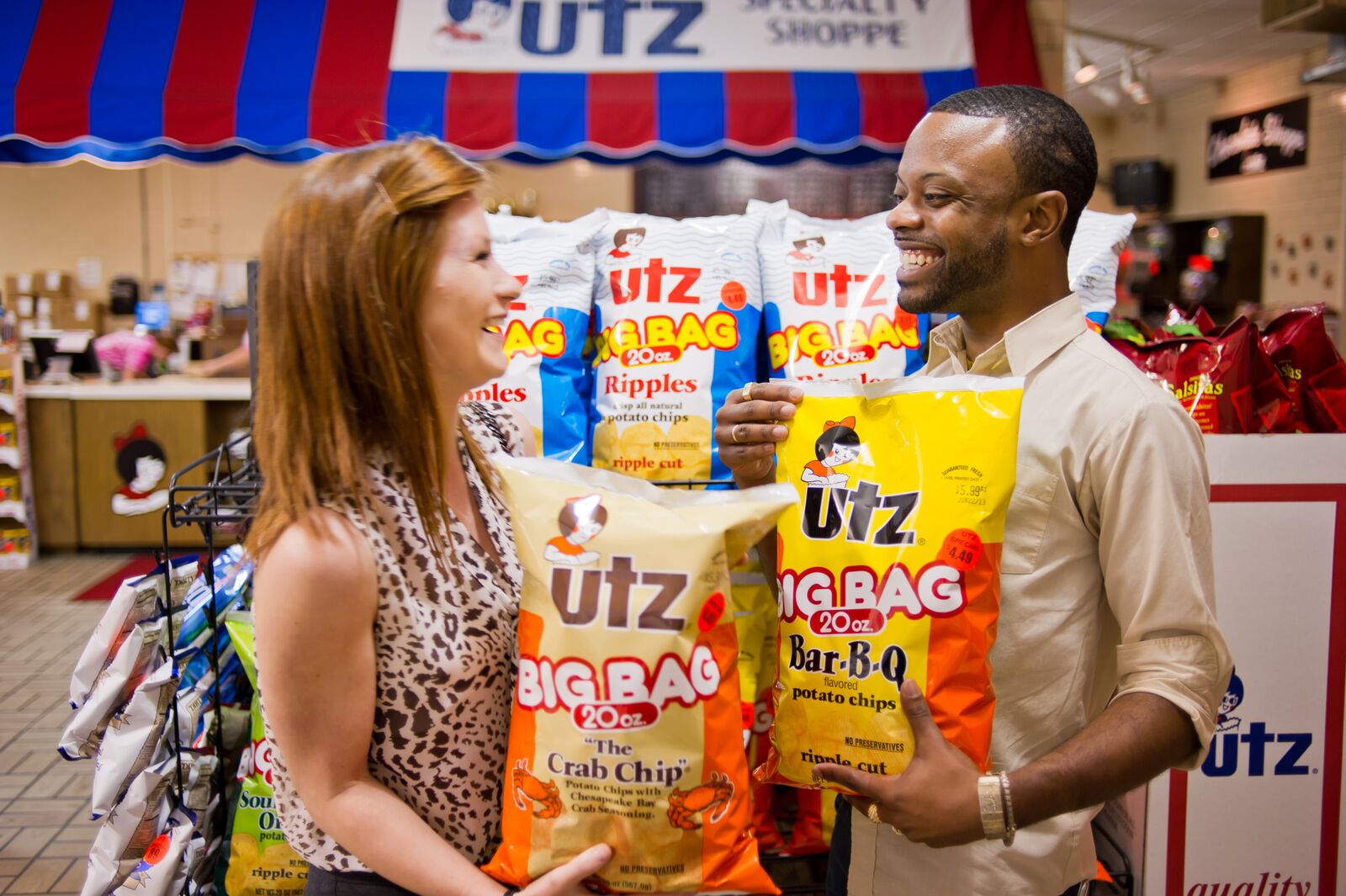 Another player in the global snack industry is Utz, which has an impressive 600,000-square-foot facility in Hanover. It offers free, self-guided, family-friendly tours, where guests can watch the production process at work through a special glass enclosed observation gallery that looks down into the factory space. Of course, you can find Utz's huge product range at supermarkets throughout the country, though whenever we see their cute girl logo, we always feel a jolt of PA pride. 900 High St., Hanover; (800) 367-7629.
Right down the road is Bickel's, yet another potato chip company in York County. Bickel's makes a few kinds of potato chips, including Aunt Kitty's Kettle Cooked and classic chips in a bunch of different flavors. The company was started in 1954 by Luther Bickel and purchased by Hanover Foods in 1998. The company has continued to grow, including the acquisition of WEGE Pretzel Company in 2001. Its outlet store, located in the Hanover food plant, is open to the public. 1125 Wilson Ave., Hanover; (717) 632-6000, Ext. 4850. 
Gibble's, the self-proclaimed "best snacks in the world" company, was started by the Gibble family in the 1950's and put its roots down in Chambersburg, where its plant still stands today. You can find its line of potato chips, still made with the family recipe, at a number of markets throughout the U.S. (Use its handy store locator to find somewhere close to you). Sadly, Gibble's no longer offers factory tours, but you can purchase its chips online through a third-party site. 6647 Molly Pitcher Highway South, Chambersburg; (717) 375-2243.
What's your favorite brand of PA potato chips? Have you ever taken any of these factory tours? Let us know!
Martin's potato chip photo:

York County CVB

Feature photo and Uglies photo:

Uglies

Hartley's bags photo:

Hartley's

Utz photo:

Utz Snacks