For breweries in urban areas, there is a unique set of challenges to consider when designing and building a space. Unlike destination breweries which may be isolated in more rural areas, in cities, there are plenty of other places for people to find and drink craft beer. There are also ample restaurants and cafes, if people are looking to get food or to meet up.
So, urban breweries are faced with the question of how to differentiate themselves from the many bars, restaurants and other breweries that share the footprint of their city. For Our Town Brewery in downtown Lancaster, it is all about making small batches of quality beer, served super-fresh, and creating a beautiful, comfortable taproom that really feels like a community gathering space.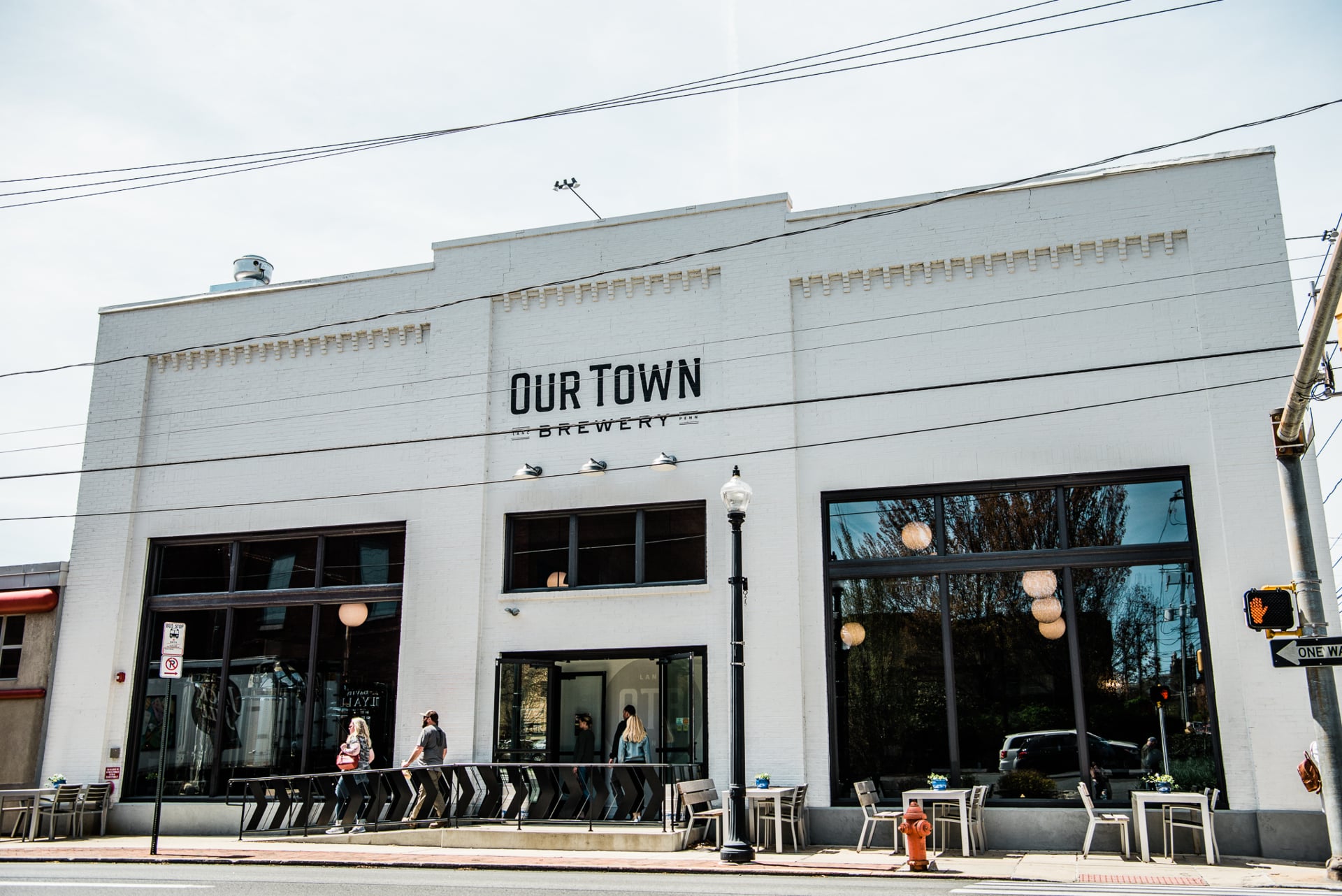 Our Town Brewery was founded by two friends, Rob Tarves and Rob Patz, in September of 2020, after four years of business planning! In the time since they opened their doors, the brewery truly has grown into the kind of neighborhood-y, community space they always dreamed of. The taproom, housed inside of a century-old former Buick showroom on the corner Walnut and Prince Streets in Lancaster City, offers 10 beers on tap, as well as coffee, cider, wine and cocktails, as well as a well-rounded food menu packed with snacks, sandwiches, burgers and sweets.
We were able to chat with co-owner Rob Tarves about Our Town's journey so far:
PA Eats: Take us back to the beginning. You and Rob Patz began scheming on opening a brewery while students at Penn State, right?
Rob Tarves: Yes! I went to school for Environmental Education and Patz went for Business. Homebrewing and craft beer exploration was a side hobby, for sure. But we were in the final year or so of college when we got really into it, so taking on more loans and debt [to open a brewery] wasn't really an option. We both needed to find jobs! Patz went on to work in the financial sector for about a decade. He also remained in the hospitality industry for many of those years. I wrestled with keeping homebrewing a hobby and looking for a job at an environmental center, or taking the leap into the brewing industry. I ultimately landed on the brewing side!
Why did you choose to open your brewery in downtown Lancaster?
My wife grew up in Lancaster County, and I began visiting her shortly after we started dating. The area really spoke to me, as it reminded me of the two other places that I had lived: Lewisburg and State College. While these three towns/cities certainly have their differences, I felt the local passion and pride in Lancaster, and it made me feel at home. We moved here in 2012, and I took a job at Spring House Brewing Company. During my five years working there, I began thinking that Lancaster could be the home of our dream brewery. While there were a few breweries downtown, they were larger and mainly focused on distribution. We wanted to have a focus on smaller batches and serve all of our beer fresh on site as opposed to having it shipped all over the state and sitting in warehouses.

We looked for over two years before finding our eventual home at the corner of Prince and Walnut. We love it here. It feels central enough yet captures a neighborhood vibe coming down Walnut.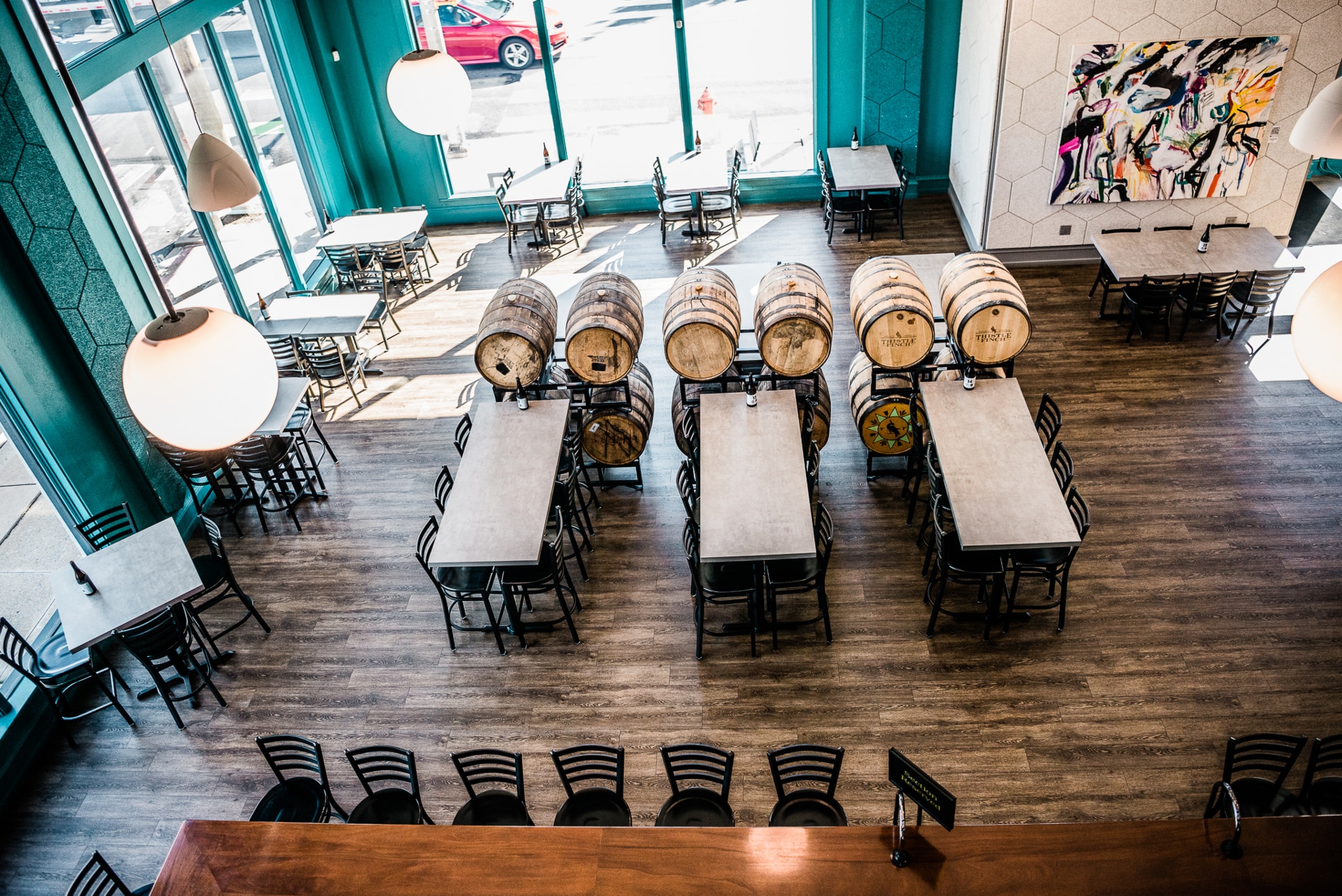 What was the process of opening like?
Opening a business is really hard. It was so stressful, and there were many times that it almost fell apart. We began writing out a business plan in the Fall of 2016, and we didn't open until September 2020. We also opened six months into a global pandemic, so there was that piece to navigate, as well as being first-time business owners. It was a quite a whirlwind!
What has the response from the surrounding community been to Our Town Brewery?
To be honest, the fall of 2020 was such an odd time to open. There were required masks, the six-foot rule, capacity limits … none of those things made for a very relaxed guest experience. While it was the right thing to do at the time, for public safety, all of that definitely killed the initial buzz. For instance, we never really had a grand opening, because we didn't want too many people to show up and have it be unsafe or too crowded.

Since we opened though, we see lots of regulars and return customers. We take our beer quality very seriously and I believe that people are noticing that. We refuse to serve anything that is below our expectations. We respect our customers too much to do that. Our reputation is still being formed, but we are proud of what we're doing.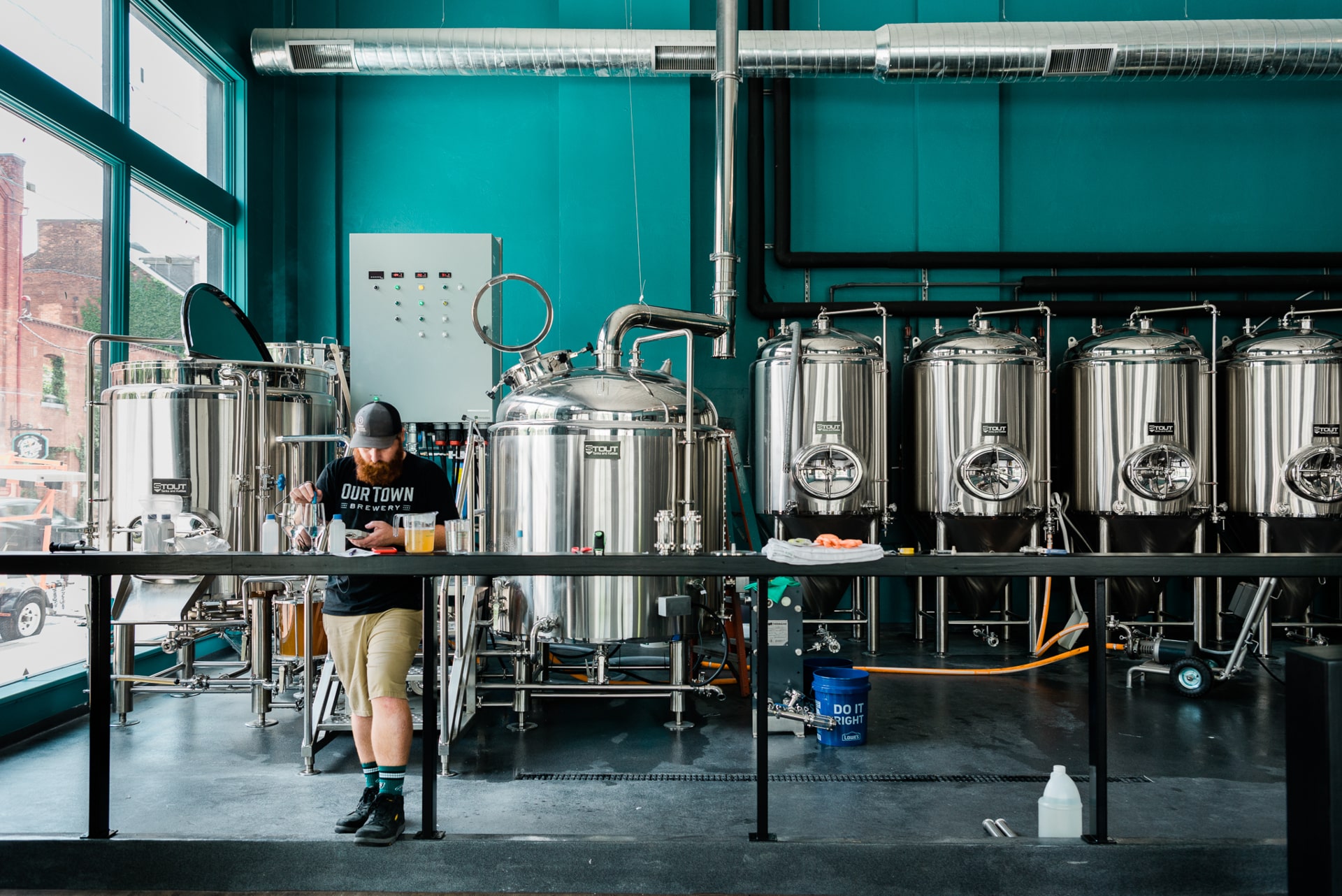 How do you describe your beer style? What inspires you?
We say that we are "a brewery for everyone." This has a few meanings, but as it relates to actual beer styles, it means that we strive to have a balanced tap list that includes lighter beers and lagers, IPAs, dark beers, sours and malt-forward beers. I always say that if you like actual beer, we have something on tap that you'll enjoy!

I am personally inspired to brew the perfect pilsner/lager, and it will be a lifelong journey of tiny tweaks. It is my favorite style to brew and to drink.
Being connected to your community is really important to you. Can you talk about how Our Town is doing that?
We are always looking for ways to connect more with our neighbors and the downtown community. We do this through charitable events, such as our annual Light The Tree IPA that we brew for A Week Away Foundation (and donate one dollar per beer sold back to them), and our Pride Parade Petite IPA brewed for Lancaster Pride to celebrate Pride Month and help sponsor the event. Coming up, we're releasing Looking Within, a Petite NEIPA to celebrate Groundhog Day and spotlight Acorn Acres Wildlife Rehabilitation.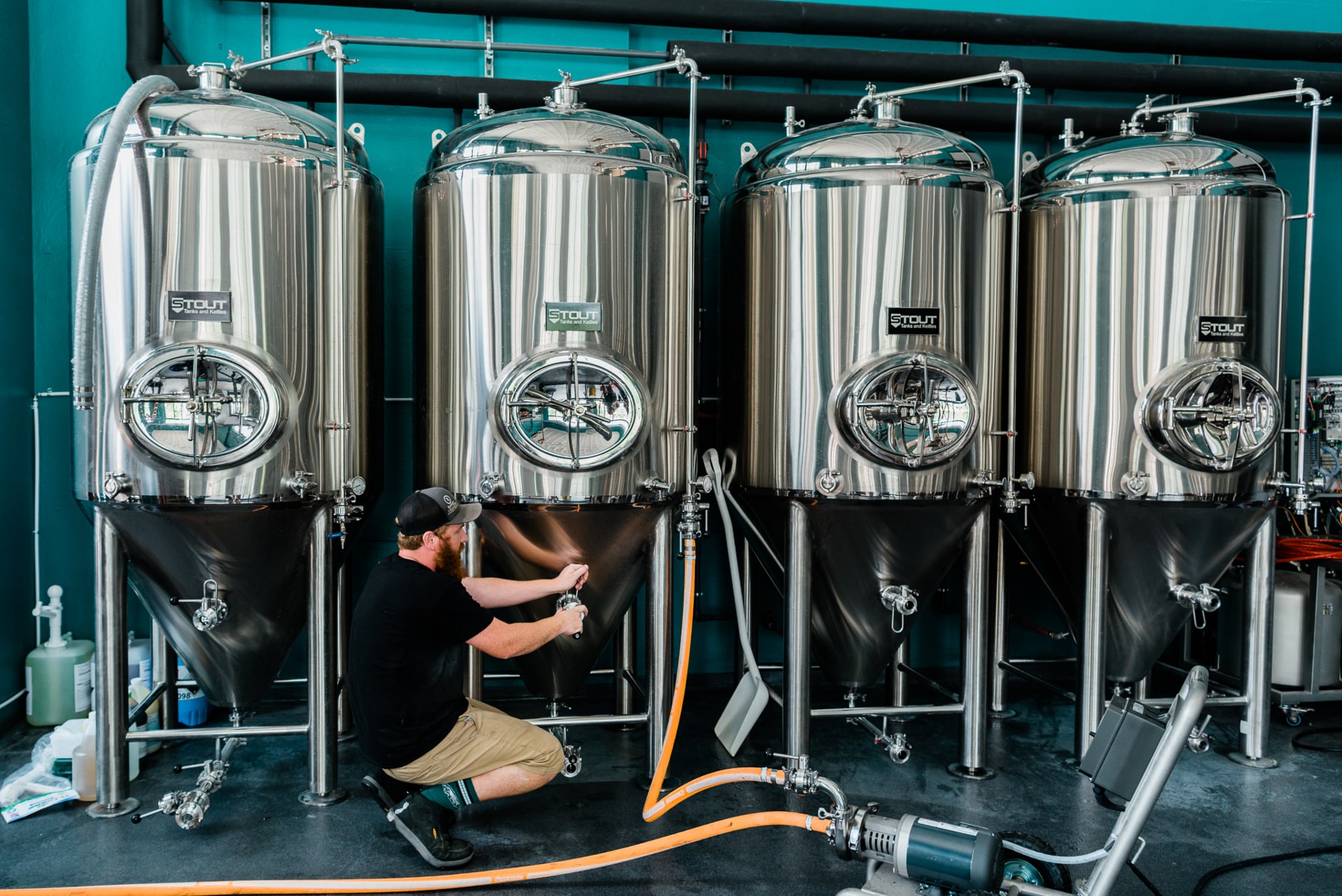 Also, we use all local vendors for our additional bar products, like spirits from Thistle Finch Distillery, cider from Levengoods of Lancaster, and wines from Grandview Vineyard and Britain Hill. We also use locally baked breads through Commissary Kitchen, and local beef from Star Rock Farms. We also have used some locally grown malt from Mount Joy to make some beers, and plan to use it more in the future. Keeping our local economy stimulated through our spending is really important to us. Local = Love!
To learn more about Our  Town Brewery, visit its website, and follow along on Instagram and Facebook.
Find Our Town Brewery, which is open 7 days a week, at 252 N. Prince St. in Lancaster; phone: (717) 945-7694.
This series is made possible by support from the Pennsylvania Malt and Brewed Beverages Industry Promotion Board and grant funding from the Pennsylvania Liquor Control Board.