Every dining experience, from a post-work burger and fries to a no-holds-barred 12-course tasting menu with wine pairings, is an opportunity to become immersed in a space outside your home, to spend some time with your fellow humans and to put your trust in the hospitality of wherever you've chosen to eat. And, while a cozy pub can offer respite from a hectic day, and a sleek, modern restaurant can allow you to feel a certain lightness of being, there are some restaurants whose architecture is so unusual and unique that you're transported to another time and place before you've even taken your first bite of food.
Here are nine restaurants in Pennsylvania that offer amazing architectural experiences. Think: tree houses, fire stations, churches and so much more — it's time to start planning that weekend trip!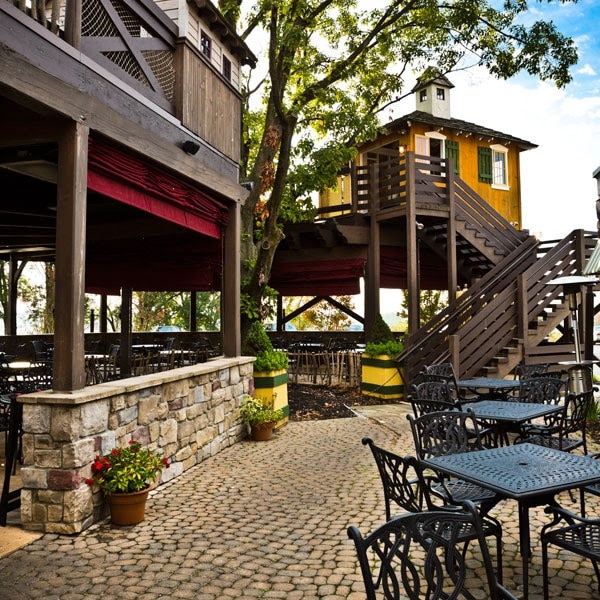 This restaurant bills its experience as "dining in the most impressive tree house ever built." Nestled among the leafy landscaping of the Heritage Hotel, the open layout provides an immersive natural environment in which to dine. A large tree provides the backdrop for three bars, and the whole space feels like you're suspended in a woodland world. Live music and trivia give regulars and visitors plenty of reasons to visit, and the food menu hits all the bar favorites, ranging from baked crab dip to Angus burgers to fish and chips. Don't miss the Sunday brunch buffet, which is especially lovely during the spring bloom. 500 Centerville Rd., Lancaster; (717) 898-2431.
While eating dinner or having drinks in an old horse stable might not sound like the most appealing prospect, Horse Inn, located in downtown Lancaster, is an amazing space. Its origin story, like many places in a city as historic as Lancaster, goes way back: Legend has it that in 1911, William Shaub and his sons paid $800 for the building to use it for their excavating and contracting business. They converted the upstairs (where you'll find the restaurant these days) into a hayloft, with their horses, carriages and equipment stored on the ground floor below. Then, in the 1920s, the family reportedly turned the upstairs into a speakeasy for their neighbors and friends to hang out, drink booze and play shuffleboard (doesn't that sound great?). Florence Shaub, William's wife, would serve tenderloin tips on toast to tipsy guests. The family soon transformed the space into an actual bar with two main spaces and welcomed in the neighborhood. Prohibition didn't slow them down one bit; reportedly, they ran beer lines directly from a nearby brewery through underground lines.
It wasn't until 1935 that the joint was named Horse Inn. It was operated by the Shaub family until 1971, and then run by various folks until 2014, when it was bought by current proprietors Matthew and Starla Russell. The couple had the good sense to keep the space as-is, while updating the menu with great food, including plenty of vegetarian options and an incredible, expansive craft cocktail program. 540 E. Fulton St., Lancaster; (717) 392-5528.
There are plenty of dining trains in PA where you can go for a ride while you dine, but there's just one that's a holdover from the original Pennsylvania Railroad. Casey Jones' Restaurant at the Red Caboose Motel, along the Strasburg Rail Road was founded in the summer of 1969. Donald M. Denlinger, founder and president of the Mill-Bridge Craft Village (now Mill Bridge Village Camp Resort), bid on nineteen 25-ton N-5 cabooses being sold as surplus from the Pennsylvania Railroad. Six months later, he found out he won them, and had to transport the train cars in the middle of a winter blizzard. Denlinger ultimately prevailed against the elements, and used the train cars to construct the Red Caboose Motel & Restaurant, which opened on Mother's Day in 1970. To this day, the place is an institution, drawing visitors from all over the world to stay in one of the 38 cabooses that are decorated to celebrate America's most famous railroads.
The restaurant is housed in its own (stationary) train car, complete with period-correct light fixtures and a beautiful brocade ceiling. Diners love the all-day breakfast menu, and lunch and dinner are popular, too. Just like the rest of the Red Caboose Motel, the vibe is casual and family-friendly. 312 Paradise Ln., Ronks; (717) 687-5000.
Do you worship craft beer? If you want to take that literally, there is one place you need to go to do it right: The Church Brew Works in Pittsburgh. This incredible space has captured the imagination of pretty much everyone: It's an old church (circa 1901! Read the full history here.) in the neighborhood of Lawrenceville that lay dormant between 1993 and 1996. The Church Brew Works team purchased and painstakingly restored the building to its original glory. Eight giant lanterns were removed, repainted gold and re-installed; one confessional booth was removed but the bricks were saved to rebuild facades (another confessional booth now houses the brewery's merch); the impressive bar was built from oak planks salvaged from the trimming down of the original pews.
Where the original apse and altar once stood is now the brewery's gleaming steel-and-copper equipment, with tables lining the sides of the sanctuary. The Church Brew Works' beer program includes a line of beloved core brands, with cheeky names like Pipe Organ Pale Ale and Pious Monk Dunkel. There's plenty of food to pair with those beers, with Chef Jason Marrone heading up the kitchen. 3525 Liberty Ave., Pittsburgh; (412) 688-8200.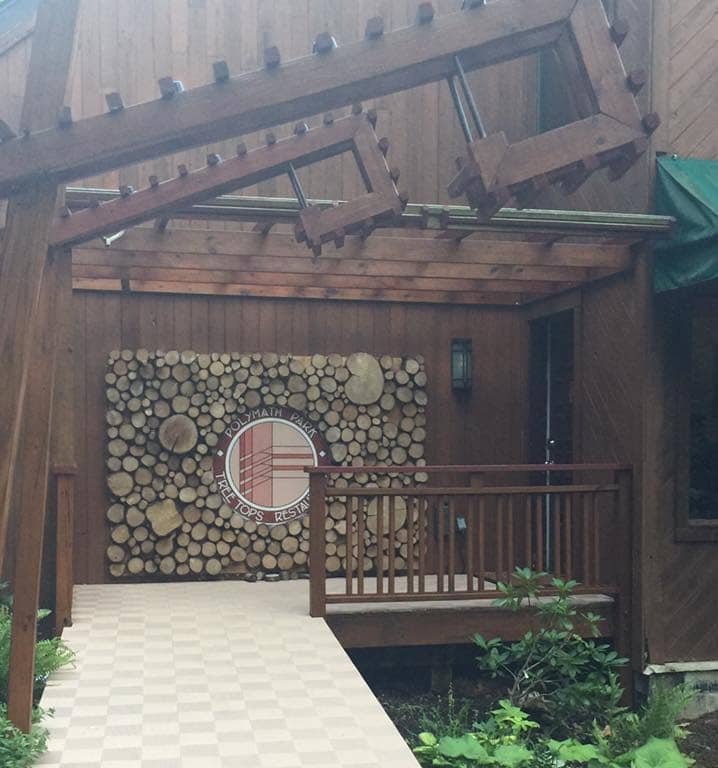 Most fans of architecture are aware of Frank Lloyd Wright's masterpiece, Fallingwater, a modern home built over a waterfall in Bear Run (in the Lauren Highlands of the Allegheny Forest), that's a registered National Historic Landmark. But, just 15 miles away from Fallingwater is another treasure trove of similar work: Polymath Park. Located nearby the village of Acme in Westmoreland County, the park features three architectural landmarks: Wright's Donald C. Duncan House and two others by Peter Berndtson, an architect who was one of the original Wright apprentices. The Duncan House actually accommodates overnight visitors, making it a popular tourist attraction.
The premises are also home to Treetops Restaurant, which was constructed in relationship with the nature around it (it's literally among the trees), exemplifying Frank Lloyd Wright's belief of integrating nature and buildings. The building itself also echoes Wright's modernist style. Carefully sourced ingredients and a seasonally driven farm-to-table menu make this family-owned restaurant an amazing addition to an already-incredible place in southwestern Pennsylvania. 187 Evergreen Way, Acme; (877) 833-7829.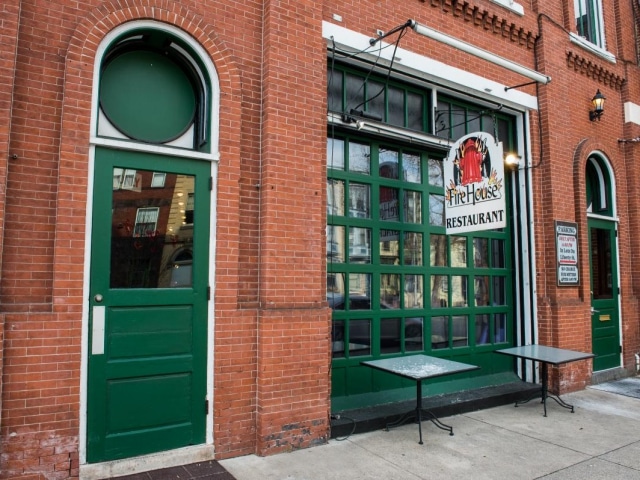 The Harrisburg Hope Fire Station was founded in 1814, after a terrible fire on Christmas Eve in 1813 (read more history here). The building where The Firehouse Restaurant now stands was erected in 1871 (it's the oldest standing firehouse in the city of Harrisburg, and is the second oldest in PA!), and served the community until 1980, when the fire company relocated into a newer building. The building was renovated soon after, and it became home to The Firehouse Restaurant, now a mainstay in the city.
Though the building was renovated, much of the original architecture remains intact. The exterior brick is period-correct, designed in the Italianate Revival style, known for simplicity and subtlety. All of the original sashing, windows, window mullions and doors were preserved, giving this restaurant a look unlike almost any other in the state. The interior is also stunning, with a red-and-black motif, a pressed tin ceiling, antique light fixtures and beer taps coming out of a fire hydrant. The Firehouse's menu, which is arranged by "alarms" (courses), combines pub favorites, like chicken tenders and chili, with finer dining entrees, such as filet mignon and baked trout. 606 N 2nd St., Harrisburg; (717) 234-6064.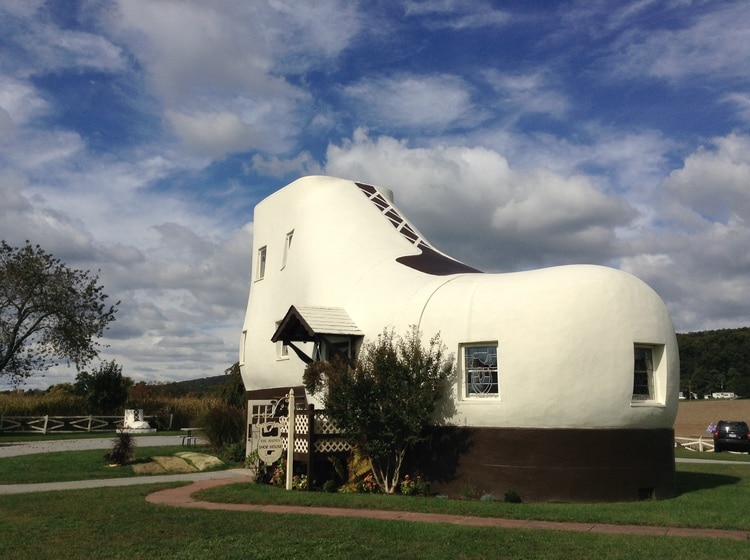 An enduring Pennsylvania roadside attraction, it's safe to say that there isn't anywhere else in PA like The Haines Shoe House in York. Though the Shoe House has been in operation for nearly 70 years, locals  Melanie and Jeff Schmuck, reopened the Shoe House in 2015 as a rather unusual ice cream parlor/bake shop after a marathon couple of weeks of renovations and restorations. It had operated as a similar business for 13 years before the couple took over, but under different owners, with inconsistent hours and a limited menu.
The Schmucks, who both grew up here, decided that if they were going to do this, they would do it right — with regular hours, a longer season, more desserts and tours. They turned the upstairs floors into a historic house museum, scouring local flea markets and antique stores for period pieces to match old photos of the Shoe House in its early years. A local treasure, this shoe-shaped shop is about as unique as it gets!
Tragically, Melanie Schmuck passed away in March of 2019 due to unexpected health complications. The community mourned her loss and celebrated her contributions to the region in a service on March 9. The Haines House will continue in operation for the time being, continuing its tradition as a place that brings joy to all who visit. 197 Shoe House Rd., York; (717) 683-6328.
Plenty of seafood restaurants have a nautical theme, but Cooper's Seafood House in Scranton takes the concept to the next level. This family-owned and operated restaurant has been a local landmark since 1948; the exterior of the building looks like a pirate ship and lighthouse, with a giant octopus crawling up from its roof! Inside, the motif continues with a giant aquarium, taxidermic sharks and fish, and all kinds of seafaring memorabilia. The original restaurant was, at one time, the passenger station of the Erie-Lackawanna.
Locals know to grab a seat on the lively outdoor tiki deck, and to order seafood classics, like clam chowder, fried shrimp, steamed clams and lobster mac-and-cheese. If Cooper's looks familiar to you, it may because you've seen it on The Office (which was set in Scranton), where it was featured on a number of episodes! 701 N. Washington Ave., Scranton; (570) 346-6883.
Moshulu (Philadelphia, PA)
Another nautical dining adventure awaits in Old City, Philadelphia aboard the Moshulu, the permanently anchored ship that is the world's oldest and largest square-rigged sailing vessel still afloat. Built by William Hamilton & Co. in 1904 in  Scotland, the ship was, in its time, considered a state-of-the-art achievement. Confiscated during World War I by the U.S. Navy, the ship was named Moshulu by Mrs. Woodrow Wilson to honor the native American Seneca tribe. After a long career as a working ship, it became a restaurant in Philadelphia in 1975. In 2002, the Moshulu was relocated to its current location and reopened under a new restaurant group. It is now known as an award-winning, AAA 4-Diamond rated restaurant, serving a fine dining menu of modern American cuisine, complete with bar and outdoor deck. Fun fact: The Moshulu was seen in the movie Rocky, during one of Rocky's workout sessions! 401 S. Columbus Blvd., Philadelphia; (215) 923-2500.
Have you ever been to any of these unique restaurants? Are there other architectural wonders in PA that we should know about? Let us know in the comments here or on the PA Eats Facebook page!
The Firehouse photo:

Dave Guy

Haines Shoe House photo:

The Haines Shoe House

Feature photo:

Loxley at Heritage Hills