If you're anything like us, your Instagram feed is full of food pics. To be sure, some are better than others. There are the amateur photos of restaurant dishes, their pretty colors and elegant plating washed out with a smartphone camera flash. Some are super-professional, the glossy and staged photos from brands or lifestyle bloggers — sure, they look great, but after awhile each one seems to sort of blur into the one that follows.
Once in awhile, though, you'll see something that makes you pause, and maybe you'll even tap through to see the account's full feed. Perhaps it's an interesting composition, a colorful background, or an aesthetic that just does something for you. This is precisely what happened when we came across the craft beer and food pairing photos on the Paired Pints Instagram account.
The concept is simple: Each photo features a craft beer alongside some type of food; one day it might be biscuits and a hop-forward IPA, another day you might see a cauliflower salad with a cloudy New England IPA. Or, you might find something that's clearly just for the fun of it, like messy s'mores with Vault Brewing's Sweet Potato Ale.
Who is the person behind Paired Pints, we wondered? It's clear from the Instagram profile that it's someone based in Pennsylvania, and we wanted to learn more! After a little digging, we connected with the person behind the camera: Phil Bosco, age 30, of Phoenixville, PA. Bosco, as it turns out, isn't a chef or a photographer, and Paired Pints is mostly a passion project that's struck a nerve with a lot of beer fans (3,280 followers, and counting) since he started it about a year ago. We enjoyed a nice conversation with Bosco, who explained more about his food and beer-centric Instagram account:
PA Eats: So, how did this all start?
Phil Bosco: I'm a pretty big fan of beer, and as I got more and more into the culture, I discovered there are so many flavors out there! These breweries are coming out with these creative beers, infusing them with all kinds of stuff. With my day job as a videographer, I don't get to take that many photos, and I wanted to use my camera more. Then last year, I started reading about cooking techniques, especially Tim Ferris' book The 4-Hour Chef and the YouTube cooking show, Binging with Babish, which recreates foods from movies.
So wait, you didn't know how to cook before you started Paired Pints?
No! I was not a home cook at all before this. [The extent of my cooking was] the Cuisinart Panini press … that was my jam. Now, every weekend, I use that time to come up with new ideas for food and pair them with beers and take photos.

I've really stepped up my cooking-gear game and have gotten better plates. I upgraded my knives with four German blades, got a knife roll, an immersion blender, a KitchenAid mixer and sous vide machine. From the beginning, I've been gadget heavy, and I actually wanted gadgets for everything. Now, I see that I can do a lot of this with just a knife.
It's cool that you taught yourself how to cook! Are there any dishes that you felt were extra-big accomplishments?
There was this one dish, eggplant rolled in pulverized almonds and cranberries. I didn't think I could make that taste good. I also made a chocolate lava cake, and the fact that I was able to cut it open and have the chocolate come out was huge for me.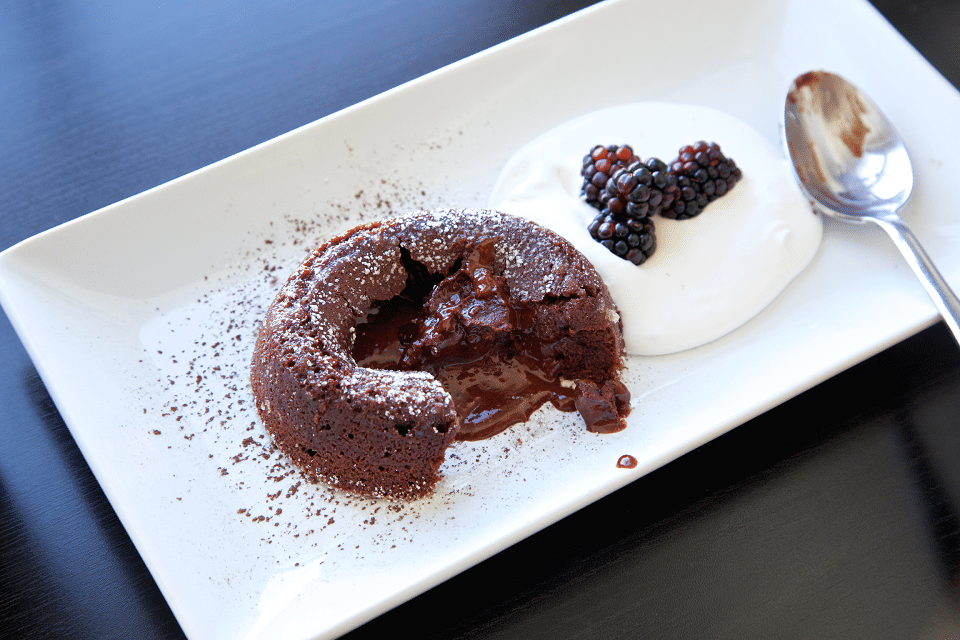 Do you have an all-time favorite dish that you've made since you started Paired Pints?
Yeah, actually, I made a pear, brie and Flaming Hot Cheetos grilled cheese. That was my favorite dish, taste-wise. I paired it with Double Nickle's 420 beer, so it was a little play on stoner food.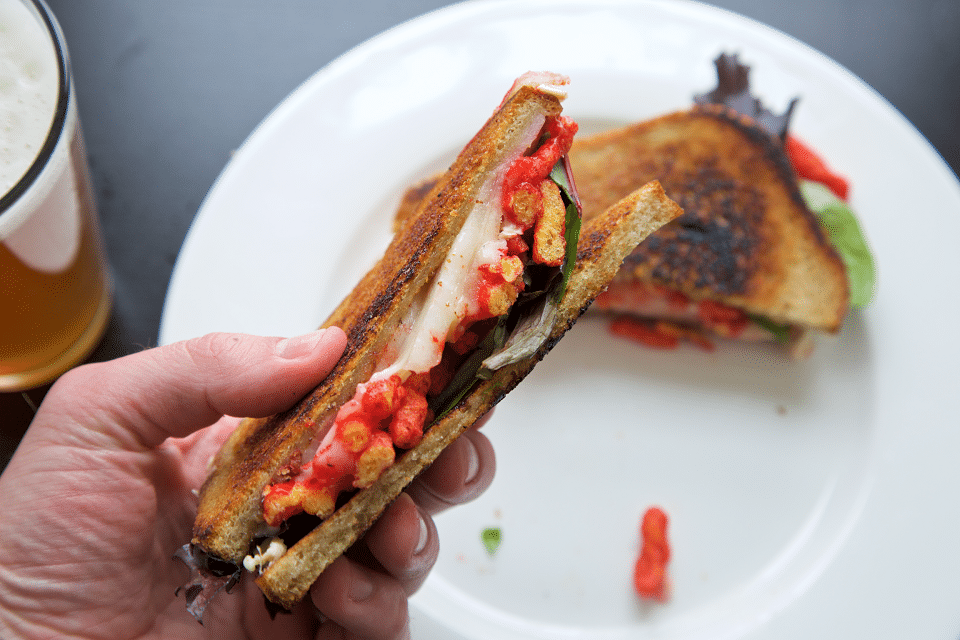 How do you design the beer and food pairings?
Honestly, I mostly plan on visuals, based on what the feed is gonna look like. I know the flavors I want to get in there, but I really want to make it visually appealing. Finesse is something I am learning throughout the process.

Usually, I shop at the Foodery and other bottle shops, and heavily rely on Beer Advocate or the beer maker's website to learn about the flavors. If I'm not able to taste the beer beforehand, I go by the description and see what might work. I often look for contrasting flavors, but sometimes I don't. For instance, once I made a kiwi tamarind chicken with kiwi beer. I wanted to use kiwi on chicken because I'd read that those enzymes break chicken down and make it more tender. When there's science, that's when I get really excited.
Why did you start Paired Pints? Just for kicks? Or do you hope to turn this into more of a job at some point?
Basically, I want to become friends with people in the beer community. From the inception of my Instagram, I've received a lot of nice support and have met a lot of really good people who care about food and beer. What I hope to do with it is to become a little bit of a voice in the community. I just want to share these fun photos, even though it's a lot of work. I work full time, and on the weekends, I start at 9 a.m. to put these together. It's almost like an event every weekend where I'm pumping out dishes.
Soon, I'm moving to a new house where I'll have more space and might be able to incorporate video elements. I would also like to start hosting events. One of my goals is to get food-safety certified. But I don't really want money out of this; I just want to try new beers. Sometimes I ask breweries, and sometimes it's offered — it's nice when brewers are excited to see what you can make with their products.
You highlight beers from all over, but what are some Pennsylvania breweries that you're a fan of, or that you think deserve more recognition?
Separatist Beer Project in Easton definitely deserves more attention. I recently got its Smoked Helles Lager called Ritual Death. That one was phenomenal, and I paired it with bourbon wings.
Then, there's Forest & Main Brewing Co. in Ambler. I love their beautifully designed cans. The Super Saison (Night Chat) is one of my favorite saisons, and actually converted me to want to explore more in that style.

Hidden River Brewing Co. in Douglassville: They need much more exposure. I feel like everyone needs to know about them! Their beers are so well-developed, their food is on point and their staff is so friendly. You know people have their differences, but [this is the kind of place where] they all come together to shut up and drink beer and just enjoy this one treasure.
Any advice for aspiring beer or food photographers out there?
Please do NOT use soap in your beer to make the foam look bigger. Also, take your time, always have a hand towel and use light reflectors when you can.
Thanks to Phil Bosco for chatting with us! Follow him on Instagram at Paired Pints to see more of his creative craft beer and food pairings and photography.
Photos:

Phil Bosco/Paired Pints