Naturalist, artist and educator Karen Palcho has always felt a connection to plants and the earth, ever since she can remember. As a kid growing up in Radnor Township in the 1960s, she turned her bike into a horse, with a saddle and reins and everything, and would go on epic rides to the wildest places she could find. She and her friends would collect water samples from streams and creeks, and with her trusty plant identification guide in hand, examine brambles, flowers, wild herbs and anything else green and alive that they could find.
This same curiosity and passion fuels Palcho's myriad current endeavors, which fall under the umbrella of her company called Palcho's Products. These include making ceramics, drawing and paintings; teaching classes about fermentation, foraging and botanical body care; and leading groups of people on what she calls Weed Walks, guided hikes where participants learn to ID common edible and functional weeds and garden plants.
For decades, this Berks County resident has been sharing her love and knowledge of native plants and medicinal herbs with her community in so many ways. We were able to enjoy a spirited conversation with Karen Palcho, and are excited to share more of her story through this Meet the PA Maker profile:
PA Eats: Did you always know that you'd find a way to work with plants, or in nature in some capacity?
Karen Palcho: Not really. I went to Penn State as a ceramics major. But in the first phys ed I took in college, I learned orienteering and survival skills. I'd already learned some plant identification, but more for medicine, and not so much foraging for food. Next thing I know, I find myself in Kodiak, Alaska, instead of spending the summer at Penn State. I got a job in the fish canneries there, and dove into homesteading. There are grocery stores there, but most of our diets were food from the sea and foraged greens. I ended up living in Alaska for three years. I taught ceramics at a community college, and also drove a taxi cab!
What happened when you came back to Pennsylvania?
I started teaching art a public school in Berks County. We did so much ceramics in school and I was constantly washing our hands, so I started making hand lotion. That recipe came from a book from one of the great grandmothers of American herbalism, Rosemary Gladstar. I got crazy for collecting plants, learning how to extract their properties and using them for other things.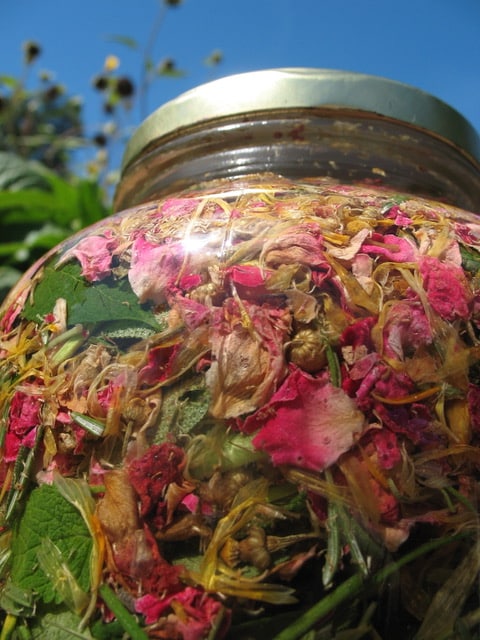 In 2004, I resigned from teaching and took the risk of starting a business, Karen's Botanicals, manufacturing all this stuff. It was thrilling! It was right on the cusp of this huge development of natural health care, and there weren't that many small companies to compete with. Burt's Bees was the only game in town. My sales just took off. It was the right place, right time. In 2011, I sold the company to a woman in Georgia, who still has the whole product line I developed.
Wow! Is that when you started teaching the classes you offer now?
No … actually for awhile, I thought I would start a brewery. Beer is plants! The craft brew movement brought food culture together in this way that was a revolution at the time. I loved the idea of making beer with foraged ingredients, like paw-paws, honeysuckle, wild hops, nettle and more. Once I decided that I liked brewing, I was on a single-minded focus for six years planning to open one of the first truly farmhouse breweries in PA. This was between 2010 and 2016, or so.

I looked at hundreds of properties, but the "Blue Laws" in Pennsylvania that control alcohol production are extremely unfriendly to small operations. I came up against zoning laws everywhere I went, and eventually I found this place in Oley, where I live now, but I had exhausted myself. I bought this place but the brewery didn't happen, and I am thankful for that today. But I was like, what am I going to do with this beautiful space? It was originally built as a high-class garage for antique cars, with 18-foot ceilings and a concrete floor. I'd been teaching vegetable fermentation and ceramics at the GoggleWorks [an art center in Reading, PA] and this space brought everything together. I'm an educator at heart, and I figured I could rebrand my website towards teaching these classes and that's what I did. 
Tell us more about some of the classes you offer these days!
Some are about foraging and IDing [identifying] plants, with some follow-up classes in botanical extracts. So people can learn to go gather dandelion, nettle, bittercress, raspberry leaves or whatever, and turn them into medicine or products for body care, or for culinary use. I've also taught ceramics in my studio, because if you're grinding up plant material, you're probably need a mortar and pestle and other vessels. The connection between gardening, food storage and ceramics is ancient. 
During Covid, I kept teaching after things calmed down, because my HVAC system had built in nano-filtration and with this large space and social distancing I was able to hold 10 people at individual work stations. Plus, the foraging classes thrived, because they were all held outside. During the pandemic, I was also contacted by groups of people, who started to get into the whole idea of homesteading, foraging and wilderness survival skills. 
What are your Weed Walks like?
The weed walk format is that we meet in public spaces, places I've picked out or that the participants have picked out. There's this concept called Learn Your Land, which means taking some time to get to know your own micro-environment, whether that's a backyard in Philly or the woods in a little parklet in the suburbs. It means noticing things like the tiniest little insects, shrubs, perennials, plants, trees, birds and larger animals. With the Weed Walks, the first thing we do is just sort of stand there and observe, asking What do you see in front of you? We take a few minutes to decompress and become fully present.
Then, before even stepping out into the field or trail, I ask if people recognize anything. Usually the top 10 weeds are right there, they're so common. I marvel at the fact that there's more nutrition in five square yards than in your refrigerator. Then, we begin walking and spotting more things, like I'll point out a new invasive specimen, poison water hemlock, which stands out from all the other plants, because it's beautiful with purple spots on a green stem. But it's also dangerous. We'll spend some time on that plant and the family of plants it belongs to. Or, the other day, I was in this meadow with people and there was a ton of dead stuff, and they were asking why is everything dead when it's spring? I had them think about the life cycle and they realized it's leftover from the last growing season. There was all this dead goldenrod from last year, but right next to it emerging is this year's new goldenrod. People tell me the Weed Walks are life-altering, which really just speaks to the power of ecological education.
For more information about Karen Palcho and the classes she offers, visit the Palcho's Products' website.
Find Palcho's Products at Palcho's Products 354 Fry Rd. in Fleetwood, PA; phone: (610) 389-8316.