Who knew a trip to New Orleans and a few bloody marys could lead to a new business venture? But it wasn't the jazz or the drinks that caused an epiphany for PJ Hopkins. It was what adorned his bloody mary: a delicious pickled green bean. Upon returning to his home in Philly, Hopkins decided to try his hand at making his own pickled green beans, hoping to recreate the love affair in NOLA. This DIY kitchen experiment turned out to be the first product from Brine Street Picklery — Zing Beans — and the business was born.
And now, many years and many pickled veggies later, with the help of four other people who happen to all be friends of Hopkins and share his love of pickles, Brine Street is jarring up all kinds of artisanal pickles that you need to have stocked in your home for snacking and gifting to your pickle-obsessed friends. Trust us on this one!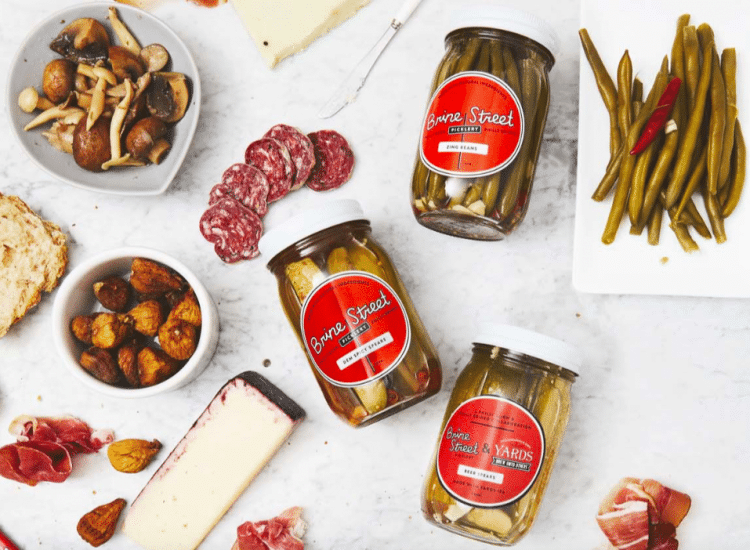 We recently connected with Hopkins to learn more about how he and his team of pickle pals turned a love-at-first-bite situation into a culinary startup.
PA Eats: Why pickles and pickled goods? What's the dill?
PJ Hopkins: You didn't waste any time getting right into the pickle puns! So, my wife Valentina and I have been going down to New Orleans for Jazz Fest since we first started dating. They put pickled dilly beans in the bloody marys down there, and we just could not get enough of that. I asked the bar owner for his basic recipe and brought that home with me and started tinkering. After a few years of bringing the pickled beans to tailgates, family parties and giving them out as gifts, we decided to start Brine Street with our friends Bill, Eli and Kristen. We all brought something unique to the team, and that has allowed us to get where we are today. We came up with the word "Picklery" and decided we needed to make actual pickles, so that led to our Straight Up Spears, Spicy Spears and now the Yards IPA Beer Spears.

Why should modern homes always have pickled items in the pantry?
Now that I have a pickle company, I actually have too many pickles in my fridge. However, people often under-utilize the pickle brine. The brine is the best part! It is super versatile and can be used to marinate chicken or pork, become the base of a salad dressing or used as a chaser after a shot of your favorite bourbon (our preferred use!). 
Besides eating your products straight out of the jars, what are your favorite pickle pairings?
We use the Zing Beans as a garnish for bloody marys and dirty martinis. I personally think they are best utilized on a cheese or charcuterie plate in lieu of cornichons or olives. We also love using the Hellish Hoagie Relish to spice up hummus or mix it with some mayo to make a nice spicy topping for a burger fresh off the grill.
Do you still do "pickle of the month" club?
My partner Kristen came up with this awesome idea, but we never got to fully realize it. Now that we are opening up our own location in Fishtown, we are going to start this up, probably in the fall. The idea is to have a CSA-style offering where people who really like pickles can come into our deli and pick up a couple of jars every month. We would work seasonal offerings into this membership, such as pickled beets, giardiniera or seasonal jams.
Whoa, tell us more about this new Fishtown spot!
At the moment, we are focused on opening our commissary and deli/market on Front and Thompson Streets called Liberty Kitchen. We are now rolling out our food service operation, selling five-gallon buckets of pickles to restaurants. We think that there is some room in the marketplace for a local product, and we are looking to fill that void. If you have a restaurant in need of artisinal pickles, fill out our contact form on our website and we can help you out!
From where do you source your raw ingredients?
We try to source local when possible, which for us is from June through October. During that time, our cucumbers, peppers and green beans come from either Lancaster, New York State or South Jersey.
How far in advance do you work?
We are making product fresh every week, all year. We let our pickles sit for two weeks before they go to a retailer, as that gives them some time to mellow out. They are good for 12 months from the date on the back of your jar, which was made, packaged and signed by me or one of my team members.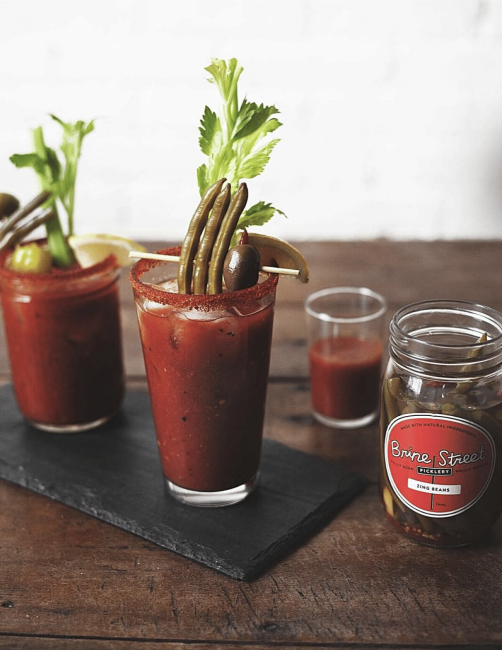 What do you tell people if they want to get into pickling at home?
I say do it! Pickling at home is the best way to preserve the season's bounty. Once you get down a basic brine recipe, the sky is the limit. I subscribe to a CSA and always find myself trying out new recipes on the awesome produce that comes in from the area.
We will be offering pickle classes and workshops at Liberty Kitchen where we give folks a basic tutorial on how to make the brine, how to process jars (canning) and you can take home everything you make with us. Pickling is quite easy to do in your own home, you just need to know the basics of food safety and proper ratios in your brine to make sure the product is safe to eat over time.
As our friends from Portlandia have said, "You really can pickle anything." (Sorry, had to do it).
The next time you're feeling snackish, reach for a jar from Brine Street Picklery's amazing lineup, and enhance your cheese plate, sandwich or cocktail with pickled perfection!
You can find Brine Street Picklery's products in Philadelphia and throughout the suburbs.
Liberty Kitchen, which opened in the summer of 2019, is located at 1244 N Front St. in Philadelphia; phone: (215) 309-2241.
Photos:

Brine Street Picklery