Do you remember when you discovered hot sauce? Maybe it was at a diner, sprinkling a bit of Tabasco on scrambled eggs at a friend's urging. Perhaps, in a moment of daring, you dabbed a bit of Sriracha on a slice of pizza or takeout pad Thai. No matter how or when you came across the modern queen of condiments, chances are that, once you found hot sauce, you never wanted to let it go. From harissa to habanero, there are so many varieties and brands of hot sauce on the market now, it can be tricky to know which to choose for your home pantry.
As always, we encourage you to look local: Sundry Mornings, a Philly-based company owned and operated by Miranda Watson, is a good place to start! This homegrown venture is a small, seasonal line of hot and "not so hot" sauces and spice blends in creative, farm-fresh flavors.
We recently enjoyed an interview with Watson to learn about the origins of her business, how she comes up with her flavors and more!
PA Eats: Can you walk us through how Sundry Mornings came about?
Miranda Watson: It was the winter of 2014, that's when I came up with the idea and put it into motion. I was working on a photo thesis project through an online program with the Academy of Art University, called 100 Mile Table, all about locally sourced foods. While doing that project, I had all kinds of produce to work with. I had always made all my own seasonings, and I figured I'd buy a dehydrator to help everything last longer.

I started using it to make taco seasonings, and during a slow time at work, decided to package all of this stuff and sell it at a Punk Rock Flea Market. It sold really well! I thought it would be a one-and-done thing, but at the market, I got two requests for wholesale and got invited to a maker's festival and thought maybe I should keep it going.
Do you still have a day job?
Yes, I work for Revolution Taco/33rd Street Hospitality. Back in 2014, they just had the food trucks. I still work there, I'm in charge of communications, like event planning, I also work on the trucks and occasionally at the restaurant, if needed.
How has Sundry Mornings grown since that first Punk Rock Flea Market?
In the last three years, I've gotten a lot of local wholesale accounts. I wholesale to small farm stands, all small local places, like Wholesome Food Farm, which raises cattle and sells it in its own little stand. There's a place called The Nesting Box that sells eggs.

Another one is Oley Valley Organics, and this is where for me, it's really cool. I've been working with this farm since the beginning, it's where I get my garlic. They opened up their own shop and now they buy my spices from me. I really like the whole full-circle thing that making and buying local products creates.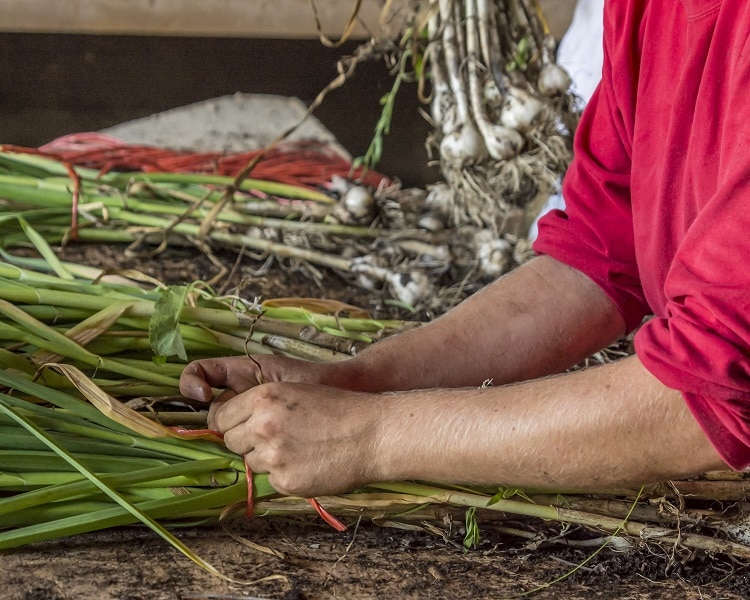 I have one distributor too, Locavore at Your Door. Since I have a full-time job, I only do markets occasionally, maybe one a month.
Do you see yourself ever doing Sundry Mornings full-time?
Not really. I like doing it, but I have a hard time seeing it lasting forever. I just do it because I enjoy it! I'm a very creative person and it is one of the most creative ways I can be with food without being a chef.
What informs your aesthetic and the products you make?
I like to deconstruct and reconstruct things in different ways. So, I have Smoky Spice, which is kind of my version of a mole sauce. I look up recipes for things and then I try to break it down into a dry spice. And sometimes it's a single ingredient that inspires me … like, one day I made a pork roast and put coffee beans in the braising liquid and it tasted so awesome. Morning Spice is a coffee/maple/habanero blend, inspired by the coffee in that dish. 

There was a farm next to where I used to live that I got cherries from, and I wondered what else I could do with them. Why not a cherry hot sauce? I've never seen it, so I did it. Then I went from cherries to peaches to beets, because I like purple and wanted something purple.

The farm I get all my peppers from, the son of the farmer created his own pepper, J's Ghost Scorpion. So, I used his pepper to highlight it and called it Revenge of J's Ghost. They're a Mennonite family, and he never realized the popularity of his own pepper — you can Google it and find videos of people eating it!
What's one of your top sellers?
My most popular item is my bloody mary mix, which I made because I love New Orleans, I love everything about it. I was doing an event on Halloween, so I called it Bloody the Vampire Slayer. I did it for fun and now it's my hottest item, and I can't make enough of it!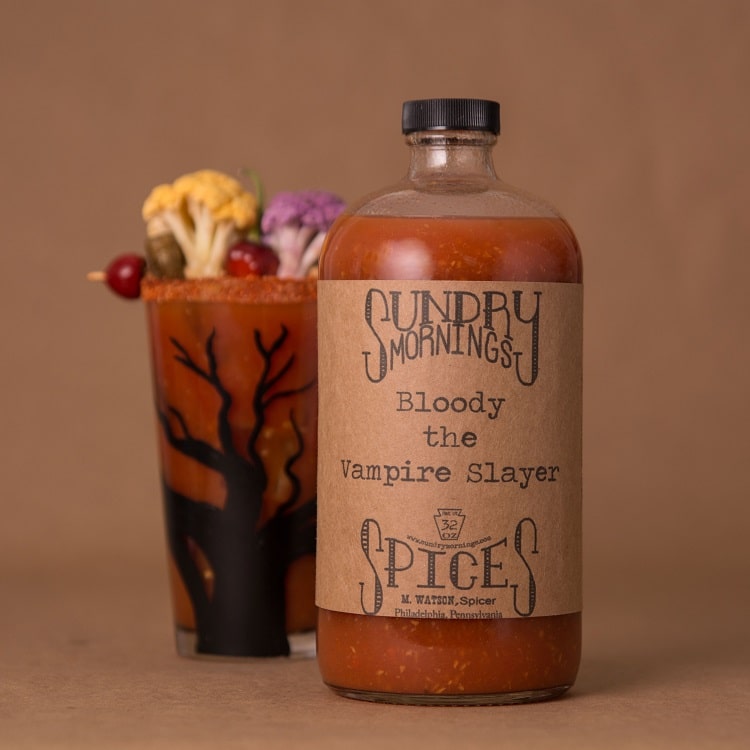 I will only make it when tomatoes are in season locally, and this year the demand spiked and I was out of it in two months. I think it has to do with the fact that it's so fresh, everything but the black pepper is local, even my salt and sugar is all domestic.
Do you still experiment with making new spices and sauces?
Yes! Whenever my farmer gets a funky herb, I try to buy it and grow it. This year, I'm experimenting with something I'm going to call Tropical Spice. I have pineapple sage and lemon verbena and I'm going to see what happens when I blend those together. When you rub the fresh leaves and smell them you're like, "Holy cow!" It's a way to take global flavors and make them more local.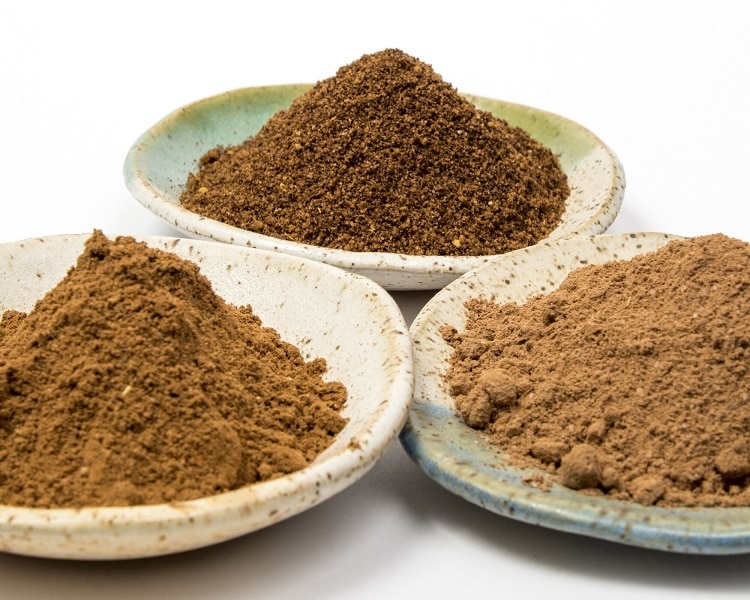 What sets Sundry Mornings apart from other commercial hot sauces and spices?
Flavor intensity. It's knowing that I dried all of my cayenne peppers … buying them in bulk from a spice place would be way cheaper for me, but the quality just isn't there. You can even tell by the color, when you buy a bottle in the store, it's in a glass jar and that sits out and when light gets in, it degrades not only the color, but the flavor. That's why my stuff is in brown bags, to keep the flavor longer.

To me, it's all about taste, because that's why you're buying it! When people sample my spices, they say like "Oh, wow, I can really taste the oregano or the paprika!" and that's important to me. It's about the footprint, too. I'm very devoted to sourcing and eating locally and reducing my environmental footprint as much as I can. Making my spices with local stuff is also contributing to that goal.
Thanks, Miranda! For more info on Sundry Mornings, check out its website (you can shop there, too!), Facebook and Instagram.
Photos:

Miranda Watson/Sundry Mornings