There is something about flowers that is nourishing to the soul. We're no scientists, but it does seem like all the hues and shapes of flowers represent to us some essential life force that just makes our brains happy. When spring rolls around, there are so many ways to feast your color-starved eyes on flowers; all around Pennsylvania there are beautiful places to visit, to shop, or even to pick your own flowers!
You surely are already aware of PA institutions, like Longwood Gardens and the Philadelphia Flower Show, and there are also numerous mom-and-pop farms, nurseries and garden centers right in your own backyard to explore: Here are 13 local spots where you can fill up on floral joy to your heart's content:
Brown Hill Farms: You could easily mistake the color-shocked tulip fields at Brown Hill Farms for the Netherlands! While tulips are in season, usually from mid-April to mid-May, this charming farm in Wyoming, PA (about 30 miles north of Wilkes-Barre) hosts thousands of visitors who walk the fields and immerse themselves in the spring atmosphere. Once the tulips wrap up, Brown Hill sells sweet corn, tomatoes, peppers, squash and lots of other vegetables, and when August comes, the farm reopens its fields which are full of sunflowers! Tickets for walking tours are available, with plenty of opportunities for photo-ops. 405 E. Avery Station Rd., Tunkhannock, PA; (570) 241-8430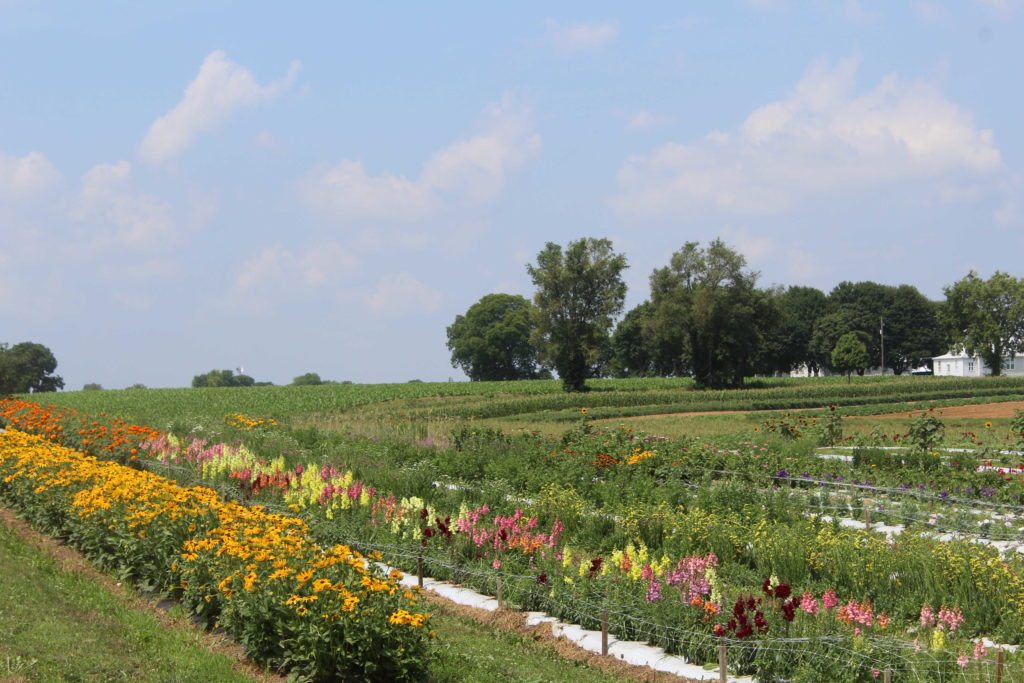 EverFresh Produce Farm Market: This locally-owned and family-operated farm, located right between Ephrata and New Holland, offers an extremely well-stocked market loaded with small-batch goods and seasonal produce. But the real stars of the show are the pick-your-own flower fields, where all manner of glorious blooms are growing. Cut and arranged flowers and baskets are also available for purchase. 3145 Division Highway, New Holland, PA; (717) 354-3922
Maple Acres Farm: Starting in mid-to-late-May each spring, the public is welcome to explore seven acres of cutting flowers at this small farm, including zinnias, peonies, cosmos, gladiolas, sunflowers and so much more. Keep an eye on Maple Acres' Facebook page to find out when the fields open for picking! Bounteous produce, ice cream and cut flowers are also sold at the farm's market, which is open daily throughout the season. 2656 Narcissa Rd., Plymouth Meeting, PA; (610) 828-7395 
Hidden Springs Flower Farm: Founded in 2018 by Jim and Katy King, this sweet century-old boutique farm in York County is home to two acres of seasonal flowers. While it's not open for pick-your-own, you can enjoy the fruits of their labor through a flower bouquet subscription that runs from June through September, or visit Hidden Springs' on-farm shop (either online or stop by its roadside stand) for fresh bouquets, vases, plants and more. Occasional events and workshops are also offered. 6140 Lincoln Hwy. W., Thomasville, PA; (717) 451-4943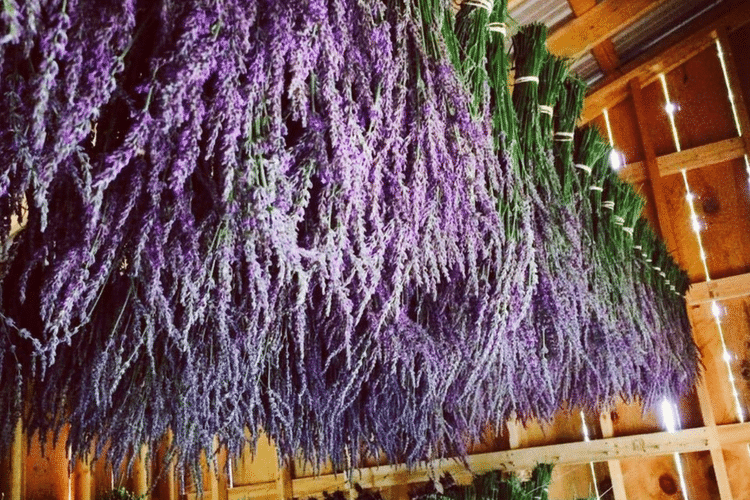 Hope Hill Lavender Farm: This lovely farm is just a short drive from Harrisburg, Lancaster or Philly, and offers fun for all ages. Owners Troy and Wendy Jochems planted eleven varieties of lavender when they converted the former Christmas tree farm, which is open to the public each year from April through December. Lavender's peak bloom time is during June and July. The farm is open for visitors during business hours, though we suggest a $5 tour which are available June, July and August at 11 a.m. on Saturdays. The walking tour includes info about growing and harvesting lavender, and a chance to meet the farm's resident donkeys. Of course, no visit is complete without a stop at Hope Hill's shop, which includes dried lavender bouquets, culinary lavender and lotions, creams and soaps. 375 Panther Valley Rd., Pottsville, PA; (570) 617-0851
Laughing Lady Flower Farm: After growing herbs and selling sauces and jams at Doylestown-area farmers markets, Kate Sparks branched out and started growing flowers, as well. After serving the Philadelphia area with fresh cut flowers for 20 years, Sparks retired and moved to Mexico, passing along the business to her mentee in 2018. Now, the four-acre farm sustainably grows over 100 varieties of flowers for wholesale, wedding sales and DTC sales, with the option to buy bulk heirloom flowers or rent an on-farm studio to design your own centerpieces and bouquets. Note: In 2022, the Laughing Lady Doylestown field was closed so that a new family can enjoy the property. They will spend 2023 getting to know their new leased plot in Chalfont, which will hopefully be back in action in 2024. During this time, no services will be offered.
Mt. Airy Lavender Farm: This picturesque family farm specializes in organic lavender, with over 1,000 plants on their property and an imported Portuguese still to make lavender essential oil. They make a wide variety of wellness products with this oil, and also sell fresh lavender plants and dried bouquets. The farm is not open to the public daily, but does offer private visits, workshops and special events, like Sunday morning yoga classes and open houses. 123 Mt. Airy Rd., Coatesville, PA; (610) 620-5621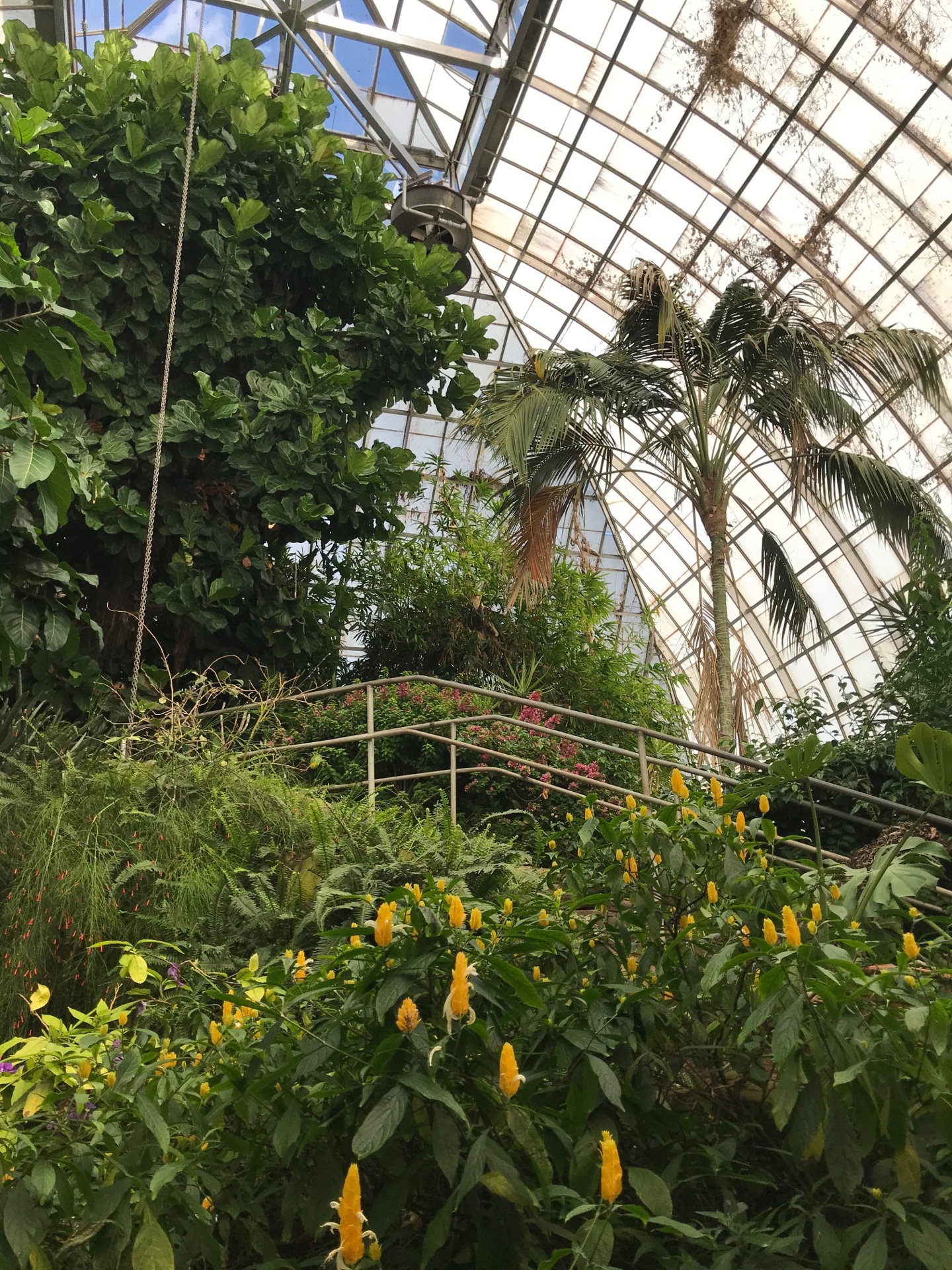 Ott's Exotic Plants: Visiting this flower wonderland is essentially like a trip to a fancy botanical garden, with all of the beauty and none of the admission fees. You'll find a vast variety of plants and flowers at this century-old spot, without any of the extraneous artifice you may find at the usual high-end plant purveyors. The greenhouse and conservatory were built by the Ott family in 1964 (the business is still operated by Godfrey Ott and his family) and visitors are free to roam through the humid, aromatic, tropical space, with no pressure to buy anything. Of course, the plant selection is incredible, so you're likely to head home with at least a few plants, flowers and succulents. 861 Gravel Pike, Schwenksville, PA; (610) 287-7878 
Pisarcik Greenhouses and Flower Farm: This working flower farm on the outskirts of the Pittsburgh metro area harvests its incredible Pennsylvania flowers each day, and is thus not a pick-your-own farm. However, during the open season, guests are invited to visit Pisarcik Flower Farm's greenhouses and floral studio, or guests can sign up for one of its workshops, like the popular Field Flower Arrangement workshop, where you can walk the fields and harvest flowers for arrangement. 365 Browns Hill Rd., Valencia, PA; (724) 898-1434
Pittsburgh Botanic Garden: Tucked into Settler's Cabin Park in the suburbs of Pittsburgh is one of the top-10 largest American botanical gardens! The Pittsburgh Botanic Garden spreads across over 450 acres featuring incredible flowers, plants and trees, with a special focus on hardy plants that are native to Western Pennsylvania. Visitors can wander the expansive grounds and take in displays like the interactive Garden of the Five Senses, the Hillside Pollinator Garden and the stunning Dogwood Meadow, planted with over 500 native Flowering Dogwood trees. Educational programs for kids and adults are available, and if you're feeling inspired, the on-site boutique Forage & Finds retails gardening essentials, seasonal decor and flowering plants to bring home. 799 Pinkerton Run Rd., Oakdale, PA; (412) 444-4464 
Roots Cut Flower Farm: Over the past 15 years, Roots Cut Flower Farm's founders and owners, Michelle and Mike Elston, have built a 10-acre farm that sustainably grows flowers that are suited for the Central PA climate. With sales focused on a 100-mile radius of their farm, these folks are all about building the local economy, employing locally, and honoring the environment. The farm is not open to the public, but you can find these blooms at the Farmers on the Square weekly market in downtown Carlisle, at local retailer partners, or you can visit the farm during one of the scheduled pop-up shops that take place throughout the year! 2428 Walnut Bottom Rd., Carlisle, PA
Second Mountain Sunflowers: If you really want to go give your brain a jumbo-sized helping of happiness, carve out some time this August to visit Second Mountain Sunflowers! Guests are encouraged to explore and walk the paths through the sunflower field; you can even bring along scissors or shears and a container filled with water to cut and create your own sunshine-y bouquet! Bonus: Dogs on leashes are also welcome to join in the fun. Stay tuned to Second Mountain's Facebook page to find out when the 2023 season officially kicks off. 324 Second Mountain Road, Orwigsburg, PA; (717) 497-1287
Styer's Peonies: This epic farm is an amazing local source for peonies; it grows peonies on over 25 acres at its nursery in Chadds Ford, PA. You can purchase bulk peonies and bouquets through its website, but the real magic comes during its annual Peony Festival, held during the second half of May when the flowers are in peak bloom. Guests can walk or drive through the farm, observing over 100 varieties of peonies, with the chance to take Instagram-winning photos and to purchase single stems, bouquets, bulk buckets, and potted peony roots. 4313 S. Creek Rd., Chadds Ford, PA; (610) 616-3839
Ready to dive into all of these gorgeous experiences? Let us know your favorite farms, garden centers and other places to buy or simply enjoy flowers in Pennsylvania!
Ott's photo:

Emily Kovach

Feature photo:

Pisarcik Greenhouses and Flower Farm

All other photos:

Their respective farms