The days of huge tea houses with carts serving dim sum brunch might be mostly over in the US, but there are still plenty of places in Pennsylvania to indulge in an amazing dim sum feast. Traditional Cantonese dim sum consists largely of dumplings and other bite-sized dishes served in steamer baskets or little plates, but we've expanded the definition a bit to include all sorts of appetizers from provinces and cuisines across China. More important than stringent definitions is to find a great spot that makes fresh, delicious dim sum or dim sum-esque snacks, where you can order tons for the table and share everything family-style.
From steamed buns to soup dumplings to spare ribs to spring rolls, we've rounded up our top 11 picks for the best dim sum in Pennsylvania. How many spots can you check off the Pennsylvania Dim Sum Bucket List?
Philadelphia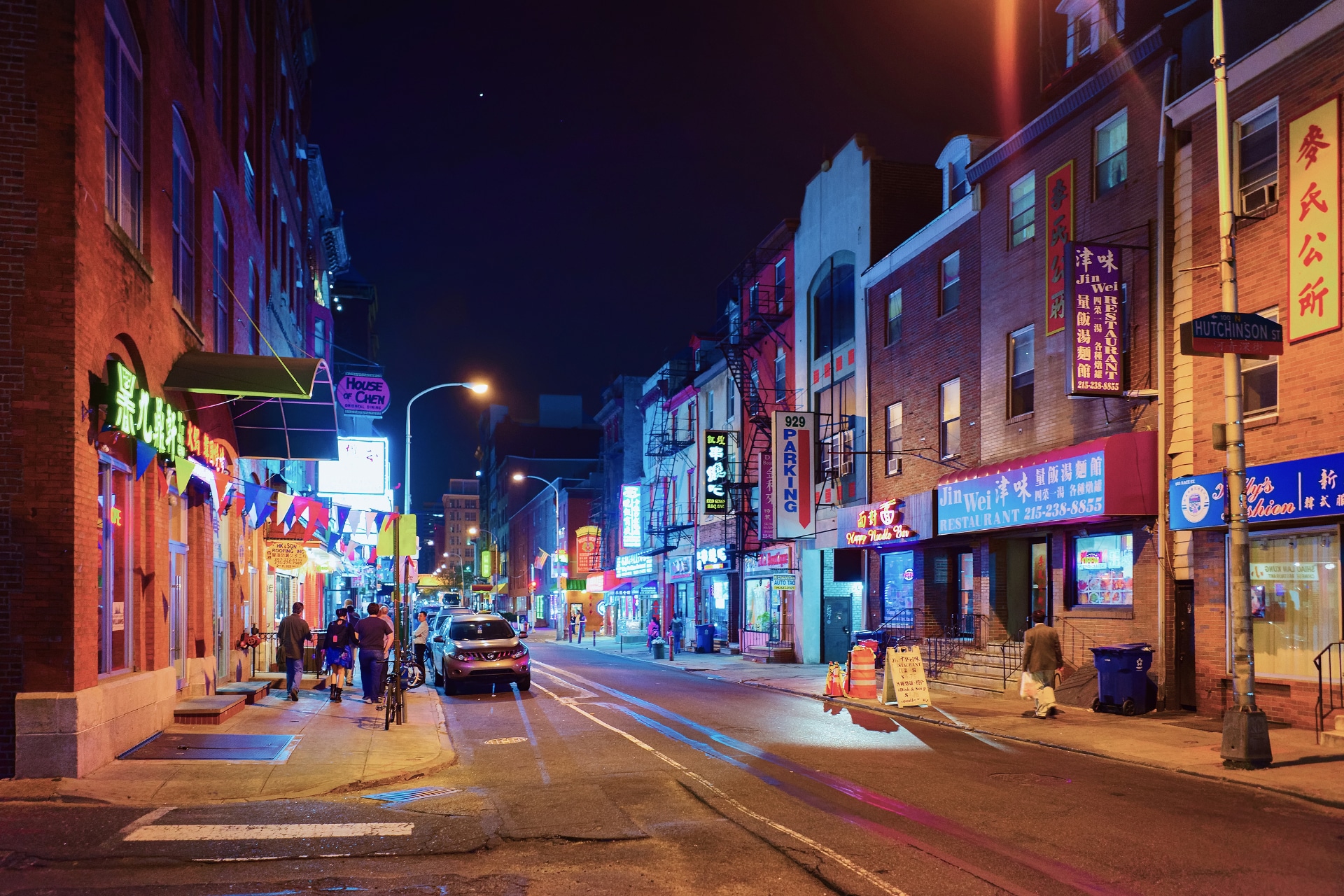 Philly is home to a bustling Chinatown neighborhood, more or less nestled into the blocks between 9th and 11th Streets to the East and West, and Arch to Spring Garden Streets to the North and South. There are umpteen places to grab great Chinese food in these tight few square blocks, but one of our perpetual favorites is Nom Wah Tea Parlor. The original Nom Wah is in NYC and the Philly outpost opened in 2015, bringing along with it an extensive dim sum menu, with each dish cooked to order. The dumpling game at Nom Wah is remarkably strong, with pretty much every steamed and fried variation you can imagine on the menu, but don't stop there. Branch out and try some of the other items, like steamed chicken feet, turnip cakes with XO sauce, and stuffed eggplant, to get the full effect of Nom Wah's expertise. 218 N 13th St., Philadelphia; (267) 519-2889.
For an irreverent, fun take on the category, check out Bing Bing Dim Sum on East Passyunk Ave. in South Philly. From cartoon-y graffiti on the walls to the hip hop-heavy playlist to the pitchers of cocktails, this hip spot asks you not to focus less on authenticity than on deliciousness. And there is plenty of that to be found on the menu! You'll always find a dozen dim sum dishes, along with occasional specials; standouts include the spicy Sichuan cucumbers, honey-glazed pork-stuffed Caterpillar Bread and Mongolian beef dumplings. If you love a deal, you'll be happy to know that Bing Bing offers two happy hours: Monday through Friday from 5 to 7 p.m., and both weekend days from 3 to 5 p.m. 1648 E. Passyunk Ave., Philadelphia; (215) 279-7702.
Philly 'Burbs
It's easy to overlook Sang Kee Asian Bistro in Main Line Philadelphia, as it's tucked into a shopping center and not really visible from the street. But that doesn't stop this spot from being perpetually packed with families. The menu is loaded with authentic Chinese cuisine, and no meal is complete without a large dim sum spread, which Sang Kee refers to as "Asian tapas." The Peking Duck Roll, steamed sui mai, and the grilled octopus are all great bets. Fill up the Lazy Susan in the middle of the table and enjoy a family-style feast! 339 Lancaster Ave. #6, Wynnewood; (610) 658-0618.
Margaret Kuo's has a few locations, but we're partial to the calming, slightly retro vibes at the one in Wayne. The dim sum is divine: Yes, there are plenty of dumplings and buns to choose from, but also less expected options, like rice powder coated spare ribs and Dongquai duck soup.  If you're feeling expansive, check out the Taiwanese Night Market menu for treats, like the oyster pancake and Hsinchu meat ball, or the Japanese menu for exquisite sushi. 175 E. Lancaster Ave., Wayne; (610) 688-7200.
Tom's Dim Sum II is situated on Media's charming State Street, and offers traditional Shanghai cuisine. There are no fewer than a dozen kinds of dumplings, including soup dumplings, as well as buns, wings, squid with salt and pepper, and so many other choices, like soups and veggie- and meat-based salads. If you don't want to dine on dumplings alone, there are plenty of noodle dishes, stir fries and familiar entrees (think pork with garlic sauce and walnut shrimp) on the menu. 13 E. State St., Media; (610) 566-6688.

NEPA
FuDa Sushi, Hibachi & Chinese Restaurant is one of those restaurants that crowds all the mainstream Asian cuisines into its concept. There are sushi rolls, teriyaki, soba noodles and katsu dishes, standbys like egg foo young and Szechuan chicken, and hundreds more to choose. As you sift through the epic menu, don't pass over the appetizers section, where you'll find enough dim sum options to satisfy, like shrimp toast, steamed veggie dumplings and spare ribs. 480 Daleville Highway, Covington Township; (570) 848-2511.
Grab a cozy booth at Bamboo House, which has been open since 1987, and work through its small but mighty list of dim sum specialties, like chicken in tin foil, egg rolls, shrimp toast and fried wontons. There's also a dim sum sampler for a little of everything. If you're still hungry, bypass the standard issue dishes and try one of the house specialties instead, like Chow May Fun (noodles with shrimp chicken and pork), or a seasonal seafood dish, like lobster with ginger and scallions. 1150 Mount Tom Rd., East Stroudsburg; (570) 424-2460.
Central PA
He(和) is not your average Chinese restaurant. From its minimalist, elegant dining room on the first floor circa-1835 house, to the wildly spicy and creative menu options, it doesn't share much with most nearby Westernized Chinese spots. There aren't the usual dim sum options, per se, but there is so much amazingness to choose from: Steamed red bean baozi buns, special noodles with peanut sauce, delicate steamed dumplings (try pickled cabbage and pork), fried glutinous rice balls with Chinese vegetables … just order one of everything. There's even a pun-ny dish called Hear NO Evil, with crystalized pig ears in red sauce — you've got to love the sense of humor! The rest of the menu has plenty more to explore, including house-made milky tea drinks that are a true cut above the rest. 460 N. Union St., Middletown; (833) 434-7687.
Bistrozine is the place to go for dim sum (as well as other Asian fusion dishes) in State College! Beloved by college students and locals alike, the shareables section of its menu is replete with buns and dumplings, including cheeseburger dumplings, crispy duck roll and pulled pork buns. The rest of the menu offers an array of modernized takes on Chinese (fried rice), Japanese (tempura, ramen), Thai (satay) and Korean dishes (kimchi bulgogi tots) dishes. Don't miss the Chocolate Matcha Lava Cake for dessert. 312 W. Beaver Ave., State College; (814) 862-9110.
Western PA
At The Parlor Dim Sum & Cantonese BBQ, all of your dim sum dreams can come true. Copious varieties of dumplings are complemented by dishes like rice crepes, turnip cakes and braised skin chicken feet. Do save some room for a house noodle dish, like the Singapore Style, with roast pork, onions, peppers, egg and curry, or a comforting bowl of congee. If you go with a big group, roll up your collective sleeves and tackle one of the barbecue entrees, like the Trio Rice Plate, with duck, roast pork and soy chicken (don't worry vegans, there's a whole plant-based section of the menu, as well!) 4401 Butler Ave., Pittsburgh; (412) 586-4796.
In Pittsburgh's Squirrel Hill neighborhood, find Northeastern Kitchen, which serves the food of Dongbei, the northeast region of China that borders Russia and shares some if its culinary traditions. For instance, pickled cabbage is a prominent ingredient and at Northeastern Kitchen, you'll find it in a plate of house-made sauerkraut dumplings and cabbage and pork dumplings. Other regional specialties include iron pot stews and epic seafood dishes, like braised whole fish and dry fried cutlass fish. 5824 Forbes Ave., Lower Level, Pittsburgh; (412) 422-2888.
Where's your go-to spot for the best dim sum in PA? Let us know on our Facebook page!
Chinatown photo:

BigStock

Dim sum photos:

Dish Works