Tea is nourishing to the body and mind — a warm cup of it can chase away chills on a winter day or bring comfort during a lonely night. Just like with many products, tea ranges wildly in quality and provenance, from mass-produced dusty bags of English breakfast to hyper-rare strains of green tea at a fancy tea cafe, to handcrafted herbal tea made with plants and roots grown just miles down the road.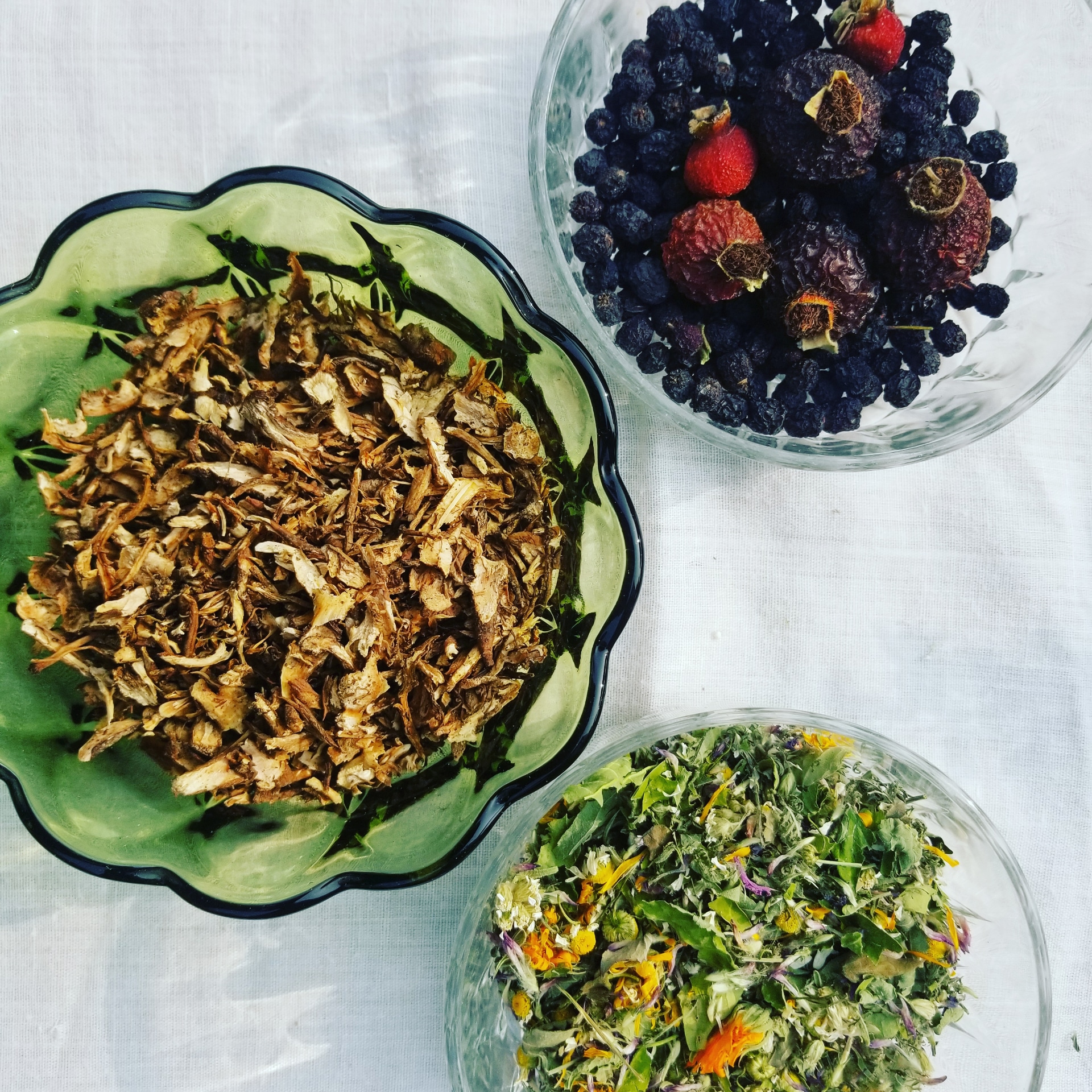 Whether you enjoy tea every day, or just a cuppa tea now and then with a cookie or two, check out these amazing tea growers and artisans from across Pennsylvania! Each company has its own personality and mission, but all of them craft beautiful, restorative teas from local ingredients that are sure to be fresher and more delicious than anything you'll find on a grocery store shelf. Find a local tea artisan in your community, and get brewing!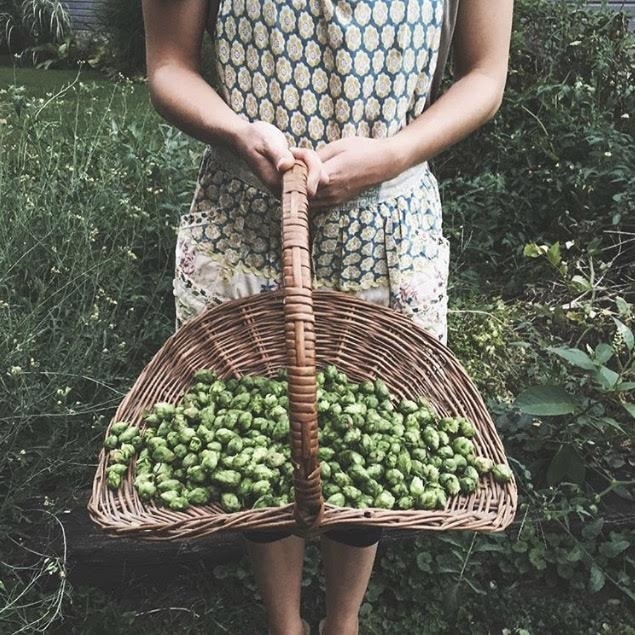 Areté Herbs (Unionville, PA): Areté is Greek for "excellence of any kind," and the wellness brand's owner, Lauren Simko, interprets this to mean, "the act of living up to one's fullest potential, finding total fulfillment and reaching the highest level of health and harmony for our mind, body and spirit." The goods that she crafts from herbs and botanicals grown in her garden or wild-harvested are informed by her years of education studying nutrition, health and fitness, and her passion for herbalism. Areté's tea blends, such as Turmeric and Ginger Golden tea and Immune Chai tea, combine carefully cultivated organic ingredients to support holistic health. Shop online or at select local stockists.
Cutting Root Farm & Apothecary Tea Blends (Butler, PA): Michelle Soto, the founder of Cutting Root Farm & Apothecary, says her dream is to, "match the plants I cultivate to the people who need them." She offers a wide range of products, including a number of tea blends packed with organic roots, herbs and flowers. Most of the teas are designed to serve specific functions, like the digestion-aiding Aperteaf, the Smoke Less to aid with cigarette cravings and Spring Fever to soothe and remedy all sorts of allergies. Soto is also an educator with Stonefruit Community Herbalists in Pittsburgh and Stone Cabin Collective in Black Mesa, AZ. Shop online.
Healcrest Urban Farm (Pittsburgh, PA): This 1.5-acre urban farm, situated in the east end of Pittsburgh, is a treasured community green space and healing sanctuary that grows medicinal and culinary herbs. To support and sustain its mission, Healcrest Urban Farm has two product lines that it sells: handcrafted ice pops and original tea blends. Its teas, which are all made from plants grown and harvested in Pittsburgh, include seven varieties in creative flavors, like the earthy coffee substitute Rising Up At Dawn, and The Soother, with its relaxing herbs and hops. You can even create your own custom blend, which would make an amazing gift for your favorite tea lover! Shop online or find its teas at a handful of markets in Pittsburgh.
Lancaster Farmacy: This small farm in Lancaster county was founded in 2009 by Elisabeth Weaver and Casey Spacht. It grows certified organic medicinal herbs, flowers and produce. With its herbs, Lancaster Farmacy creates small-batched herbal remedies meant to "empower others to reclaim their health through the ancient knowledge of natural healing traditions of whole foods and herbs." Its line of Tea Blends includes nourishing flavors, like Totally Tulsi, featuring the popular adaptogen Holy Basil, and immunity-boosting Cold Care with echinacea, elderberries and more. Shop online or at Lemon Street Market in Lancaster.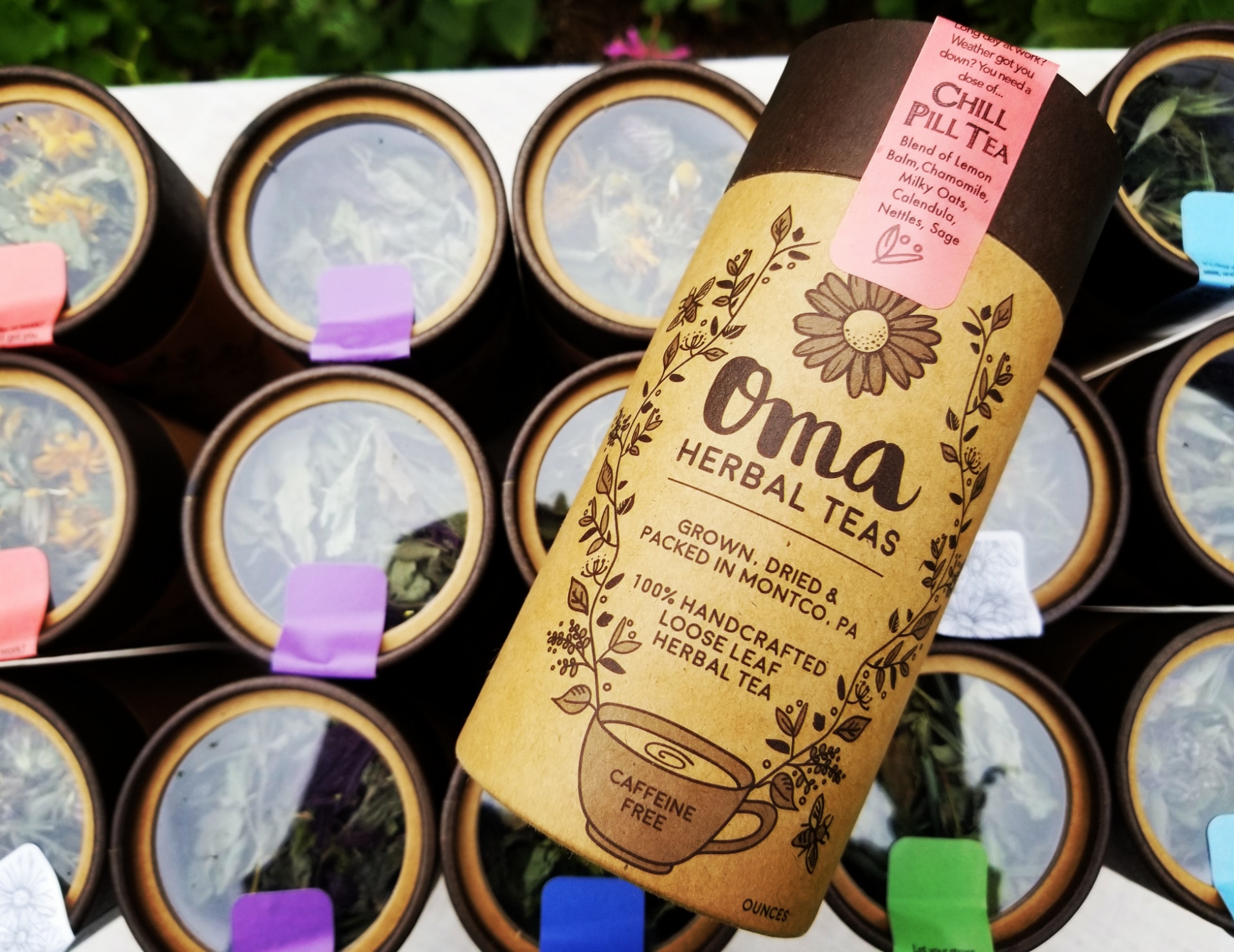 Oma Herbal Teas (Schwenksville, PA): Nicole Boice and her husband Doug operate this small, family-owned business in Montgomery County. Together on their family's one-acre homestead, they grow, harvest and dry medicinal herbs to use for their unique tea blends. The couple's commitment to sustainability is apparent; they are Certified Naturally Grown (a peer certification that is more practical for small growers than an organic certification), and their growing practices include no synthetic chemical sprays, crop rotation, and no-till methods. The herbs for Oma's high-quality Tea Mixes are dried at lower temperatures than big commercial tea manufacturers, which helps retain essential oils and nutritional potency. Oma's teas come in 11 flavors, like pregnancy-supporting Baby Bump tea, and stress-relieving Happy Place tea. Shop online or at a number of local retailers.
Pure Wild Tea (Bernville, PA): As a kid, Sherry Fuhrmann would harvest wild leaves and roots from the forests and meadows of Bucks County for her mom to make tea with. As an adult, she dug up some wild mint along a country road and transplanted it to her garden where it rapidly spread (as mint will do). Now her Bucks County-based company, Pure Wild Tea, cultivates acres of local tea leaves planted to make its refreshing organic mint tea, inspired by a family recipe passed down through Fuhrmann's Pennsylvania Dutch family. Pure Wild Tea's bottled tea, which can be prepared cold or hot, only has three ingredients: mint tea leaves, water and real sugar. Find Pure Wild Tea in retail locations across Southeast and Central PA.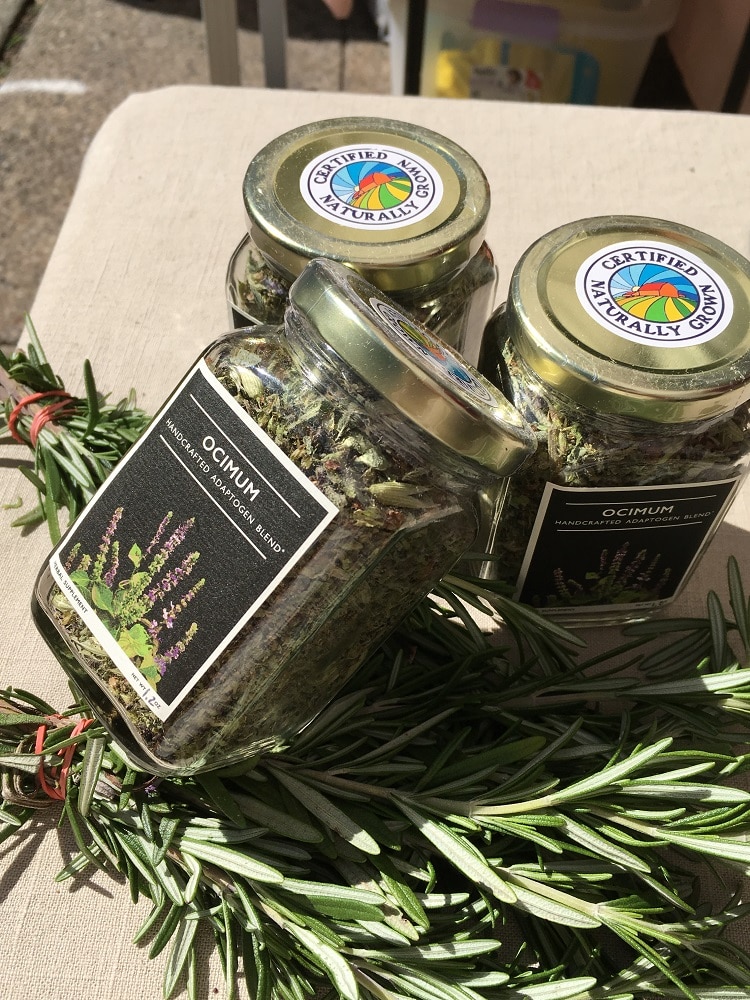 Tooth of the Lion Farm (Orwigsburg, PA): After gaining agricultural experience working on a vegetable farm, Katelyn Melvin founded her own 14-acre herb and flower farm. With her crops, she's developed a popular herb CSA and crafts various wellness products, like elixirs, tinctures and teas. Tooth of the Lion's caffeine-free herbal Tea Blends are crafted to be effective and flavorful, with each component grown, dried and blended with care. Among the selections are Flower Tea, recommended for calm mood support, Anise Mint Tea, for digestive and immunity support, and antioxidant-packed Nutritive Tea Blend for nervous system and liver support. Shop online or find Tooth of the Lion at various farmers markets.
Terra Luna Herbals (Philadelphia, PA): In 2015, Elise Hanks started Terra Luna as a passion project. She began researching plant medicine, experimenting with herbal remedies and developing recipes for her sensitive skin and to combat stress. In the years since, Terra Luna has evolved into a holistic apothecary, complete with an urban community garden in Philly's Fishtown neighborhood. In addition to a line of personal care products, home and garden wares and gifts, Terra Luna offers a number of teas in self-care supporting blends, like Skin Serene, Balance and Relief. Shop online.
Transcending Roots Herbal Apothecary (Philadelphia, PA): From a boutique storefront in Philly, this mother-owned herbal apothecary offers bulk dried herbs, tea blends, and herbal remedies made with organically sourced, or respectfully and ethically wildcrafted, plants. Its goal is to, "provide the community with the tools to be able to prepare many easy-to-make, effective remedies themselves." In addition to a large inventory of wellness products, like aromatherapy essential oils, mushroom remedies and incense, Transcending Roots offers tea blends, many with a focus on pregnancy, post-partum support and lactation. Shop online or visit the brick-and-mortar shop at 331 E. Girard Ave. in Philadelphia.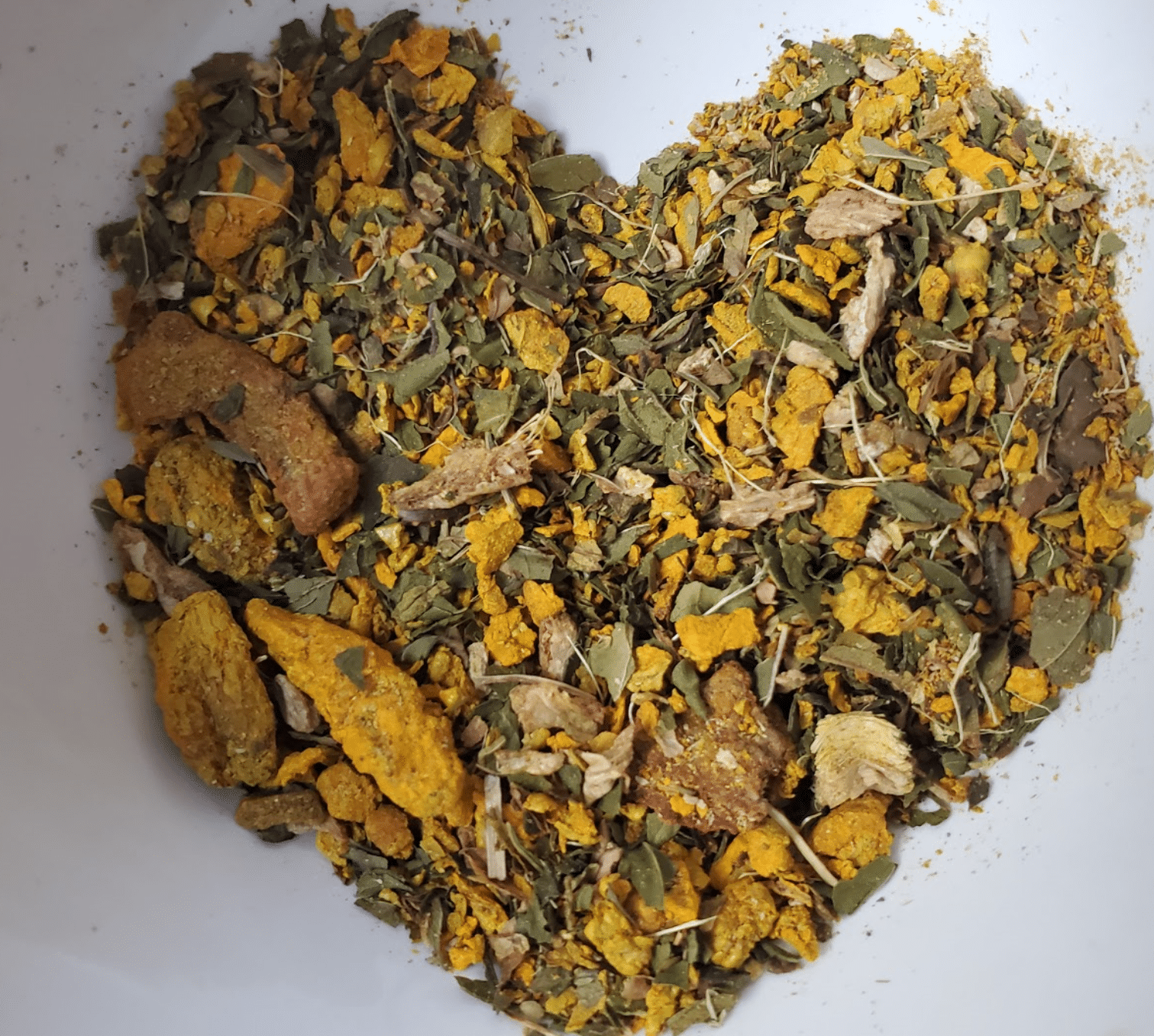 Viva Leaf (Philadelphia, PA): Christa Barfield is the founder and owner of  Viva Leaf Tea, a farm-to-cup tea brand. She crafts a full line of artisan tea blends, honey and simple syrup, which are all blended with organic medicinal herbs, which are mostly grown and picked fresh from her urban farm, FarmerJawn. Each tea blend supports wellness goals, including her line of L.O.V.E. teas, specially formulated for men's and women's health. A number of teas also feature organic hemp, such as Elevated Breath tea and Special Comfort tea. Shop online or at FarmerJawn's Tea & Plant Boutique at 6730 Germantown Ave. in Philadelphia.
What are your go-to local tea brands? Any favorites? Let us know in the comments or on the PA Eats Facebook page!
Feature photo and hops photo:

Arete Herbs

Oma tea photo:

Oma Herbal Teas

Ocimum herbs photo:

Tooth of the Lion Farm

Heart tea photo:

Viva Leaf Teas