You're ready to pop a few bottles, you say? Nothing says "PAR-TAY!" like a cold bottle of sparkling wine, fizzing gently in champagne glasses (or hey, maybe slugged right from the bottle).
But, before you break out your sabering knife, hear us out: It's time to graduate from those $8 bottles of carbonated junk. Those might have passed muster at a college rager or brunch in your early 20s, but you've grown up and — especially for a special occasion — your choice of sparkling wine should grow up, too.
This doesn't mean you have to spend $100, or even $50, on a bottle. So, where to begin when you're staring at the shelves of foil-topped bottles at the wine shop? Are there good values to be found? Any cool producers? And, what if you just want a bottle to make mimosas with? To learn how to best tackle shopping for sparkling wine at PA Fine Wine & Good Spirits, we met up with Adam Judeh, the general manager at Fond, a lovely little restaurant in South Philly with a tightly curated wine selection.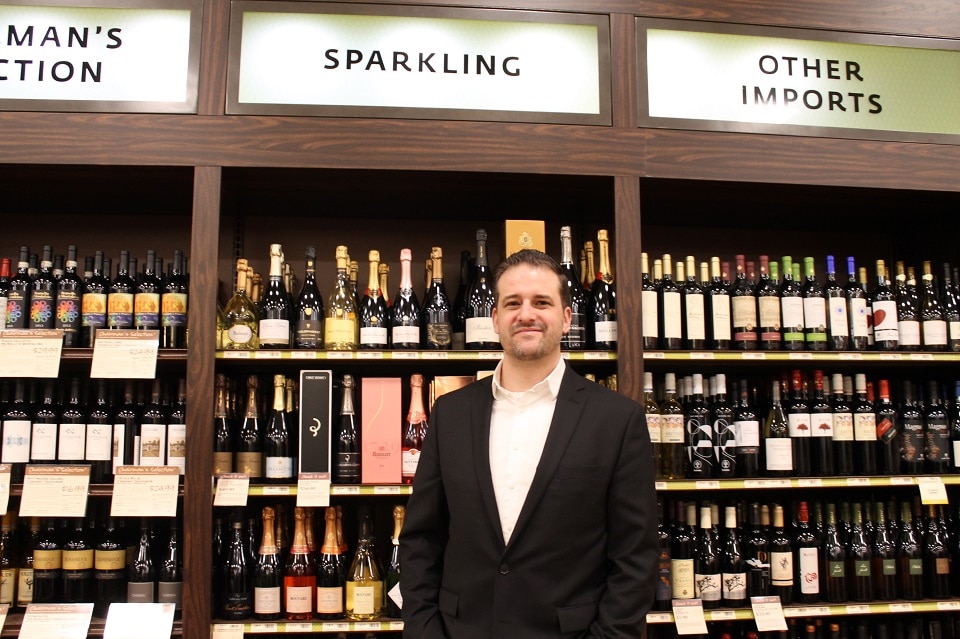 Judeh, who hails from Northern California, has lived in Philly for 12 years. Before landing at Fond, he ran the acclaimed XIX Restaurant on the 19th floor of The Bellevue hotel for six years. He's worked in hospitality, and with wine, for a long time. But he says he still seeks advice when he's wine shopping. His greatest resource are two employees at the PA Fine Wine & Good Spirits Shop at 1112 Chestnut St. in Philadelphia: Max Gottesfeld and Richard Girolami. He says that these two always know what new-and-interesting things are on the shelves, and he looks for their special notes on some of the description cards.
"Those are my go-to guys; the Wine Specialists have insights to everything," he says. "I usually come here with a general idea of what I have in mind, either style or price-point and I use them to see if there's anything that's a cool representation of that, or a cool wine producer."
While not every PA Fine Wine & Good Spirits location has wine specialists on staff, Gottesfeld insists that if you see anyone wearing the green "Wine Specialist" apron, they will have far more knowledge and expertise than the average employee there. "There are a fair amount of stores where you can get that advice, if you ask. A person wearing this apron will know!" he says, gesturing to his own apron.
Judeh suggests downloading a smartphone wine app, like Delectable or Vivino. "Cross referencing with those [apps] will give you a little better understanding of what you're looking at, and help you decipher the labels," he says.
But, for now, let's go sparkling wine shopping with a wine expert, to see what's worth buying and drinking at Pennsylvania Fine Wine & Good Spirits:
Sparkling Rosé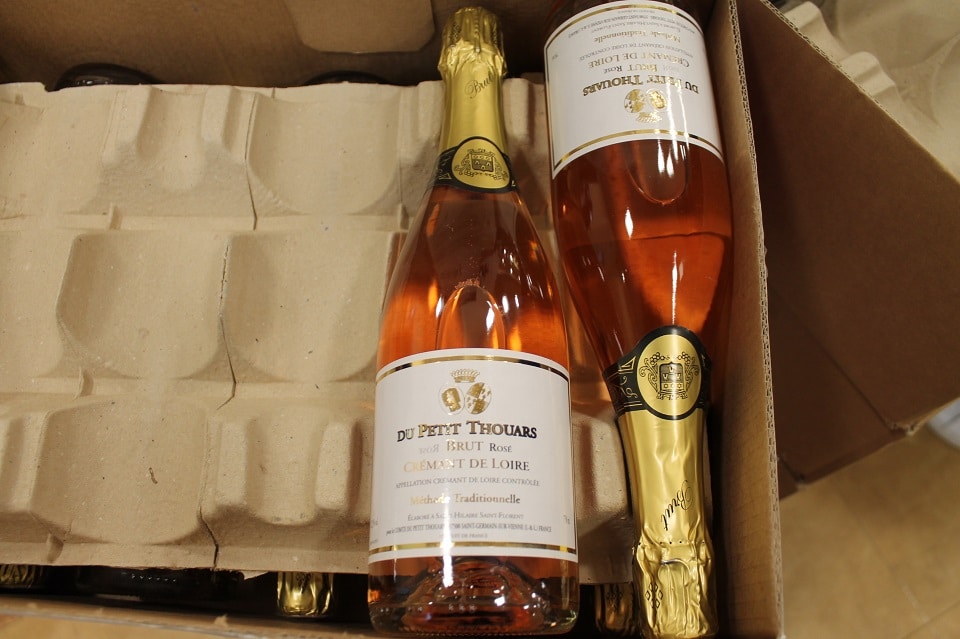 Château du Petit Thouars – Rosé Crémant de Loire Brut, $19.99
The first bottle that catches Judeh's eye is this sparkling rosé, Château du Petit Thouars, from the Loire Valley in France.
"This particular rosé is 100% Cab Franc, and the winery only produces Cab Franc, making this a really nice entry-level bottle under $20," he notes. As the label notes, it's made with the traditional method (for more on this, see our guide to sparkling wine), but because it's from the Loire, and not the Champagne region, it doesn't have that added sticker-price.
Expect "full notes, berries, but also nice acidity," which Judeh says makes this the perfect wine for a cocktail party, or anytime you want a glass of sparkling wine before you get settled in for a meal.
"For me, rosé is never out of season," he says. "I know people like to say it's just for summer, but I think it's a delicious wine that has some of the elements of red wine that you'd like, but berry, fruity-forwardness and acidity."
Portuguese Sparkling Wine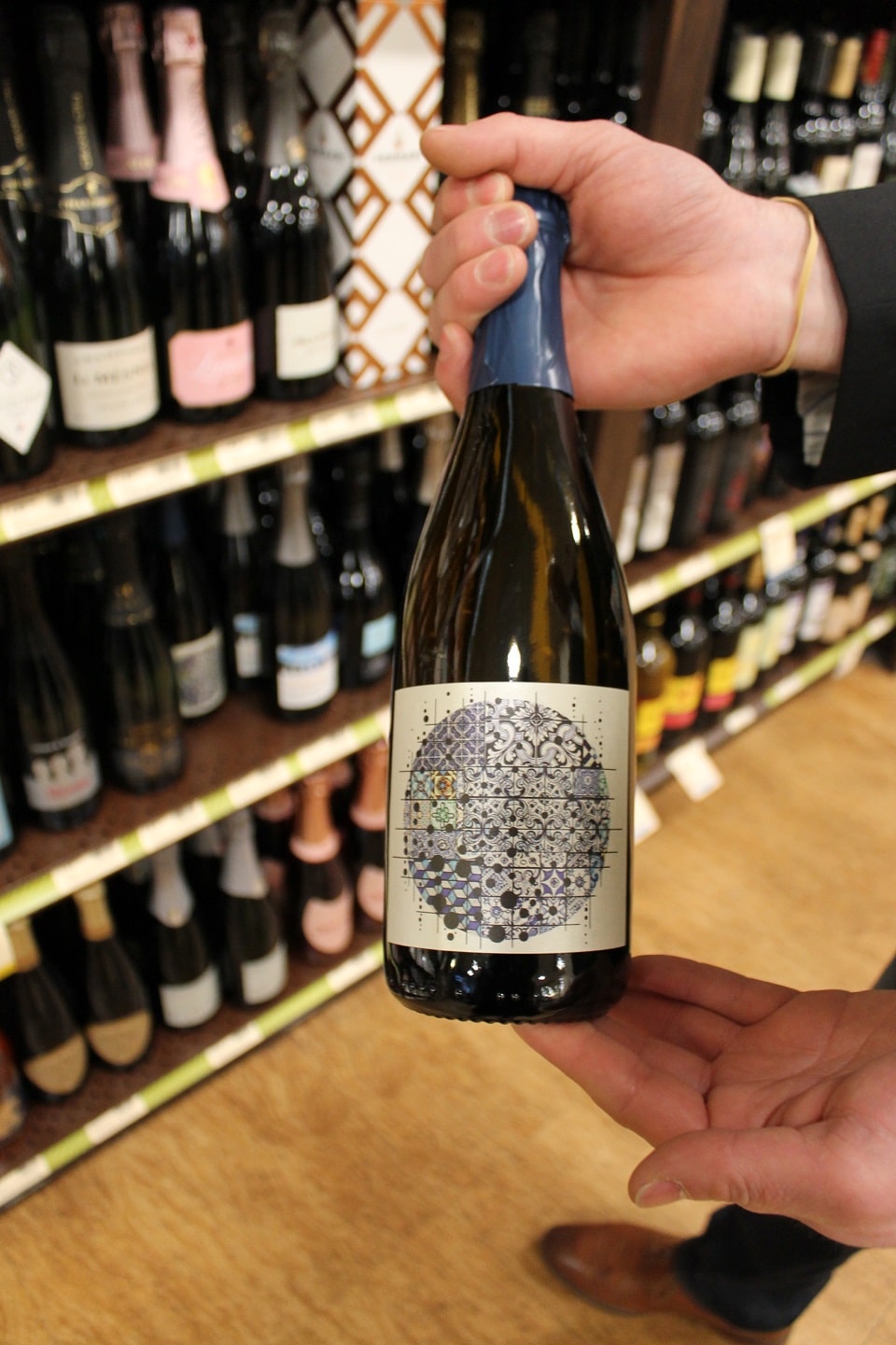 Conceito Brut Nature Vinho Espumante de Qualidade, $29.99
Judeh notes that, as Portugal has trended as a travel destination, Portuguese wine has gotten a lot of attention lately. This bottle is a good choice if you want to bring something hip and unexpected to a party. This sparkler is from Conceito, a small producer in Portugal's Douro Valley, that's been a family-run vineyard since the 1940s. At the helm of the wine-making operation is 37-year-old Rita Ferreira-Marques, the fourth generation of her family to grow wine grapes, but the first generation to actually make wine. Also of note is that it's made with Grüner Veltliner, which Judeh explains is not a grape that you typically see in sparkling wine production.
"This is a really cool up-and-coming wine, with really nice, bright acidity, but also some floral notes," he says. "[The producers] do a lot of experimenting with a lot of wine grapes to try to coax a new style out of it."
Loire Valley Chenin Blanc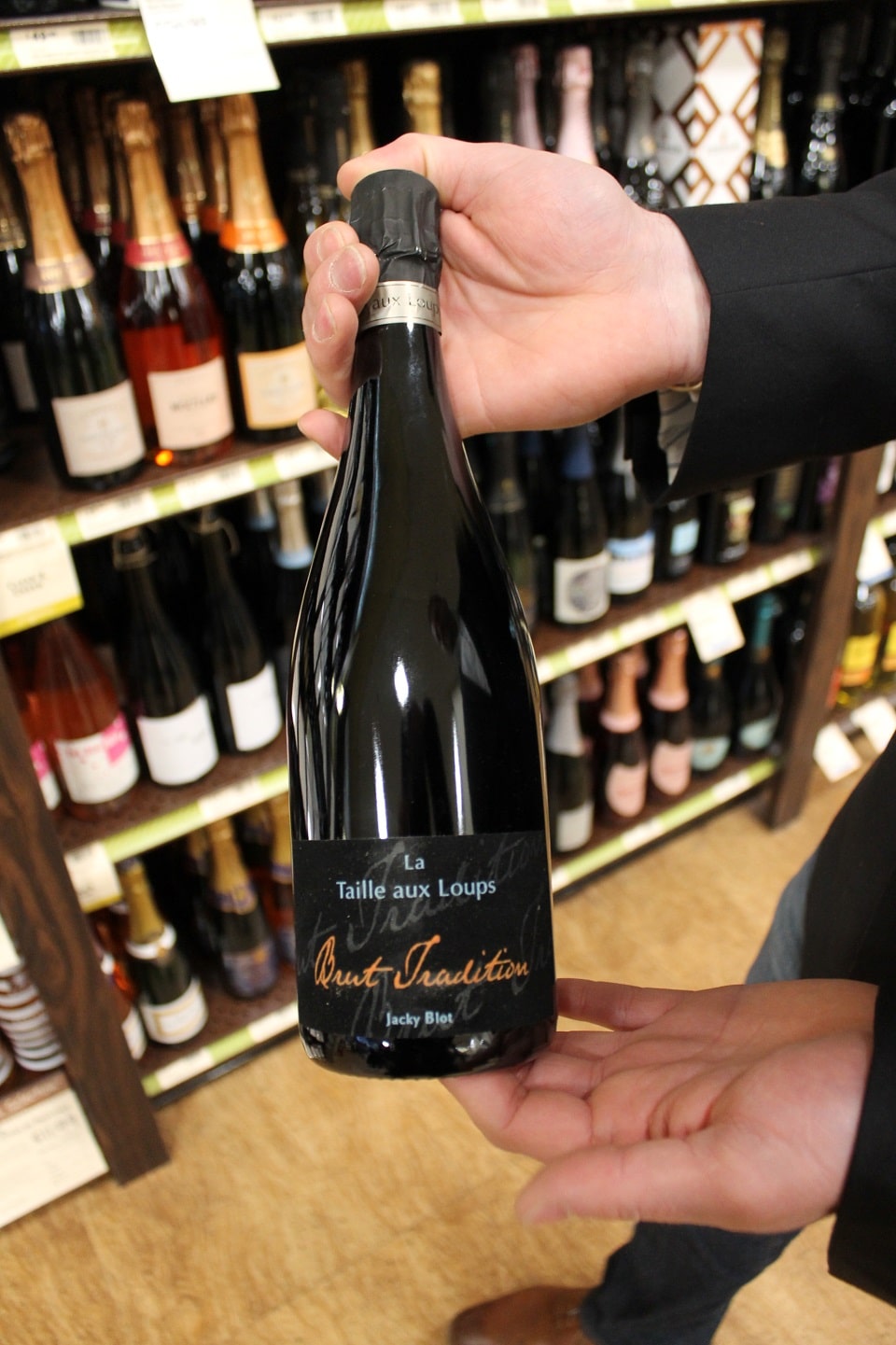 Jacky Blot La Taille aux Loups Montlouis Petillant Brut Tradition NV, $25.99
Jacky Blot, Juden says, is a very notable wine producer in the Loire Valley.
"This is one of his signature Chenin Blancs … he has another really nice Chenin Blanc that goes for $40, but for $26, you can get this sparkling version made with the same grapes," he says.
As is expected from Chenin, this has, "a nice bright, crispy flavor, and also that kind of yeasty, deep flavor that you get with a traditional champagne, because of the wine's contact with the lees." Situated in Montlouis, an area across the Loire river from Vouvray, Blot is seen as a pioneering winemaker. His organic wines are made from 50+-year-old vines with low yields, then the wines are allowed long, slow fermentations and months-long aging in steel tanks before bottling. Bonus: The label has a pleasing, fuzzy, almost velvet-burnout texture to it.
Champagne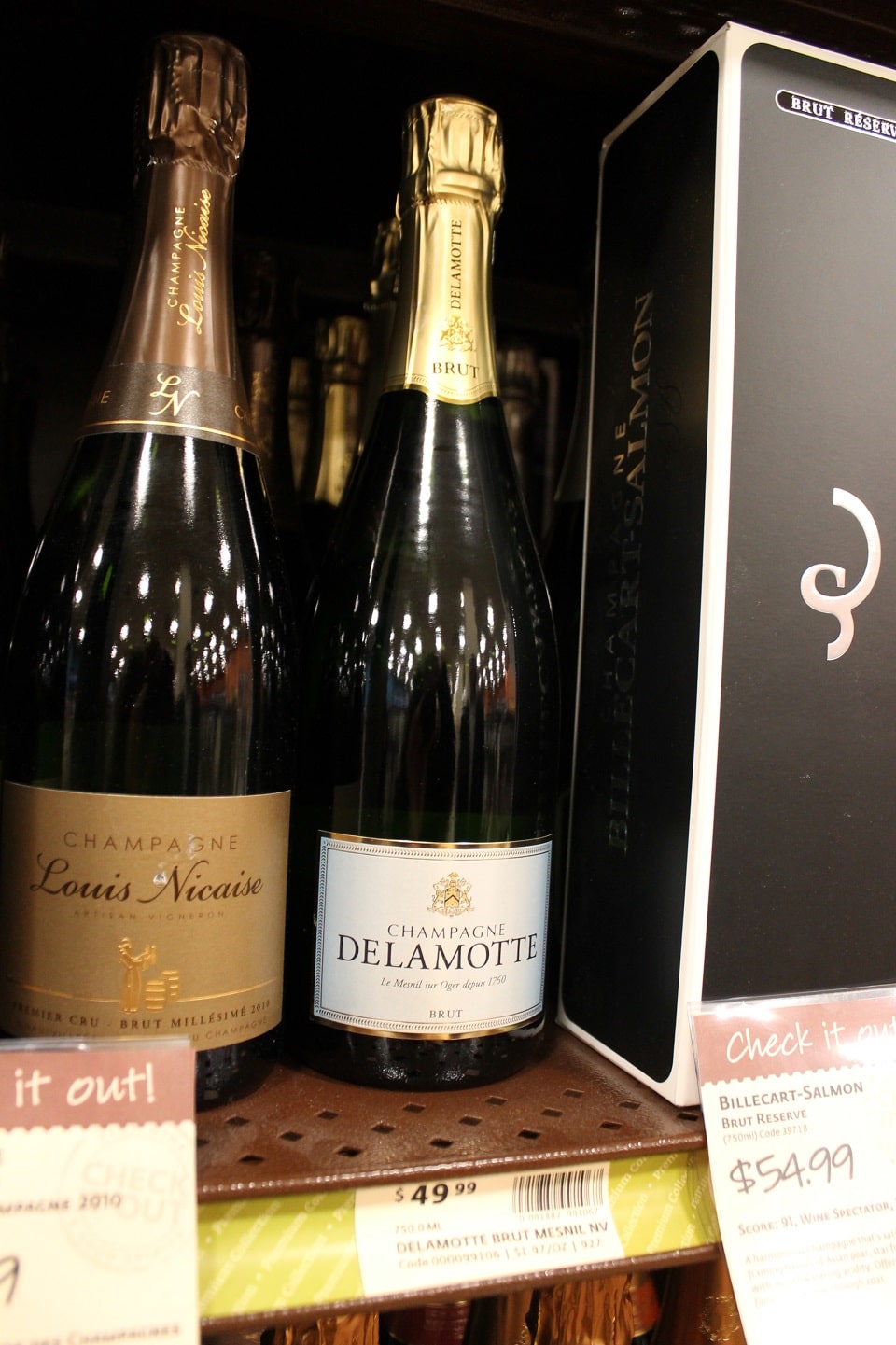 Champagne Delamotte Brut Le Mesnil NV, $49.99
Here we have a true French Champagne, Delamotte, which Juden notes is the sister winery of Champagne Salon, one of the more notable houses in Champagne (those bottles run upwards of $500, just to give you an idea). Though Delamotte may be "second tier" compared to bottles at that level, it is a lovely expression of Champagne without the added price.
"Yes, the ticket price is a little higher [than other bottles we talked about], but you get a really, really nice champagne for $50, where you would have to spend at least $100, if not more, to get the same caliber," Judeh says. "This is on the same level — or better — than Veuve Clicquot."
Sparkling Wine for Cocktails
If you're looking for a sparkling wine to make cocktails or mimosas with, Judeh suggests staying in the $15 range. You don't want anything too expensive, but also not too cheap.
"Don't go too low on prices, because then there are added sugars, which leads to a not-so-fun morning the next day," he warns.
Good options are Crement de Burgundy (from France, but not the specific Champagne region, so it's cheaper), Spanish Cava made with the traditional champagne method, and some kinds of prosecco. He suggests avoiding mass-produced prosecco and looking for DOC or DOCG labels on the bottles. These classifications (which mean Denomination of Controlled Origin and Denomination of Controlled and Guaranteed Origin, respectively) are designations of quality among Italian wines. They assure that the wines are made according to certain standards, and the DOCG seal — the highest level of quality — means that the wine has passed an in-depth technical analysis and tasting.
Judeh also says to go for Brut Nature or Brut, the two driest styles, for cocktails, since you're likely going to add in another sweet element (like juice).
Thanks to Adam Judeh for walking us through all of these sparkling wine options and turning us on to some cool bottles! We hope this is a helpful resource for you whenever you're shopping for some bubbly. Cheers!