Head to most large-box grocery stores these days and you will see that produce shelves for ready-to-cook vegetables have expanded to include finely chopped broccoli or cauliflower (sometimes called "riced"), skewered raw veggies, mire poix and cauliflower steaks. But the one thing that always tempts us most is pre-spiralized veggies.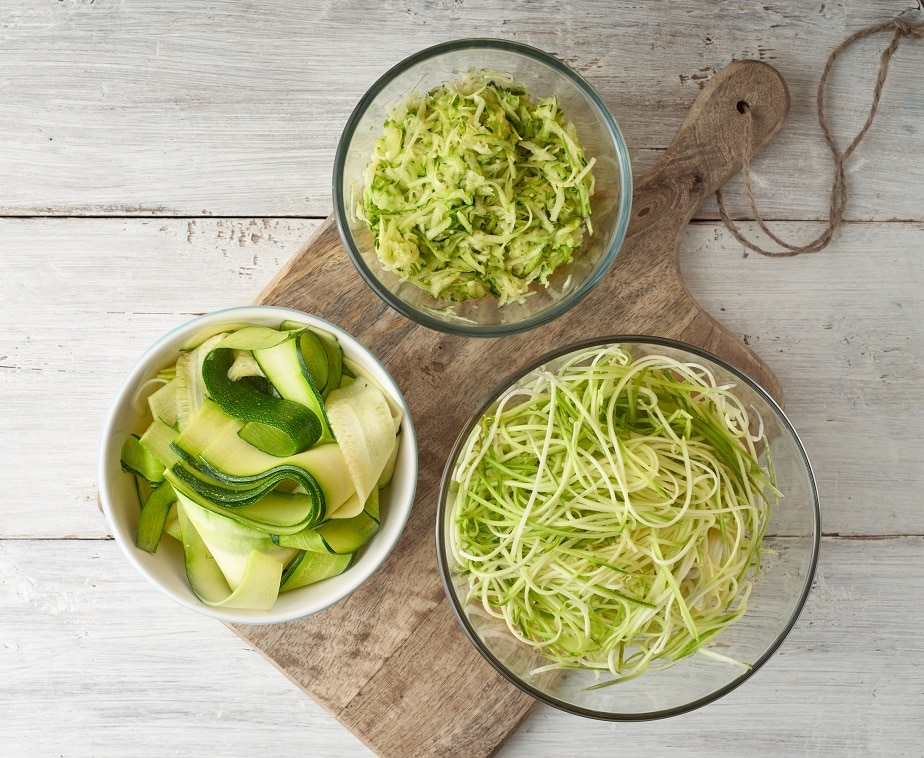 For vegetable-lovers everywhere, spiralized vegetable noodles are the rage — super-nutrient-rich and fun to eat. There is even a specific word for spiralized zucchini, known as zoodles, an ever-popular pasta stand-in for those who follow a gluten-free, low-carb or Paleo diet. Instead of splurging at the market, consider picking up your own spiralizer — at-home models range in price but you can find a decent one for between $20 and $30. They also make great gifts for health-conscious home cooks.
According to Chef Angela Rose, a personal chef and caterer, "I have been using a spiralizer for more than three years. People really want to eat more nutrient-dense food, and spiralized veggies are filled with phyto-nutrients and look great on a plate." Chef Angela explained that spiralizing beets is her favorite thing to do because "beets are so beautiful and colorful."
The Best Vegetables and Fruits to Spiralize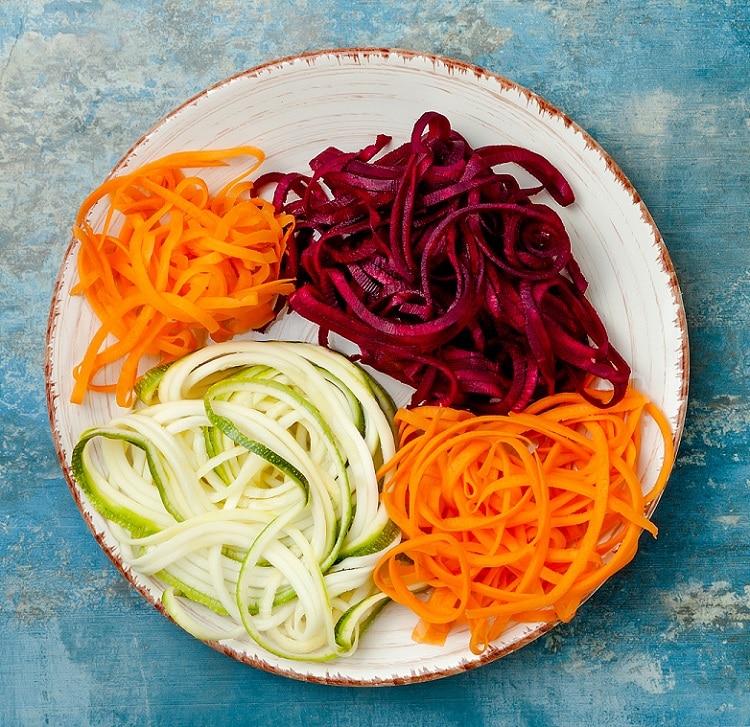 Trying to figure out how to get started with your spiralizer? Any root or tuber vegetable (or a fruit with a core) will be the perfect produce to use. A few suggestions:
Raw or Roasted Whole Beets
Raw candy-striped (also called chiogga), golden and red beets create quite a colorful rainbow in your dishes. Or, try roasting beets before spiralizing for a different texture, perfect for mixing into pasta or grain salads.
Sweet Potatoes and Russets
Colorful and delicious, raw potatoes in any form are a great vegetable for spiralizing. The spirals will cook quickly and acquire a fantastic crispness. Potatoes are best to fry or to put in a grill. I like to "air-fry" them. Beware: They will turn to mush if you boil them.
Carrots
Carrot curls are awesome in wraps and salads. You might have to look for bigger, thicker carrots, as smaller ones are more difficult to get through the manual-crank type of spiralizer.
Butternut Squash
The neck of the squash makes the perfect, yellow pasta, and simple tomato sauce pairs well with this veggie's sweet flavor.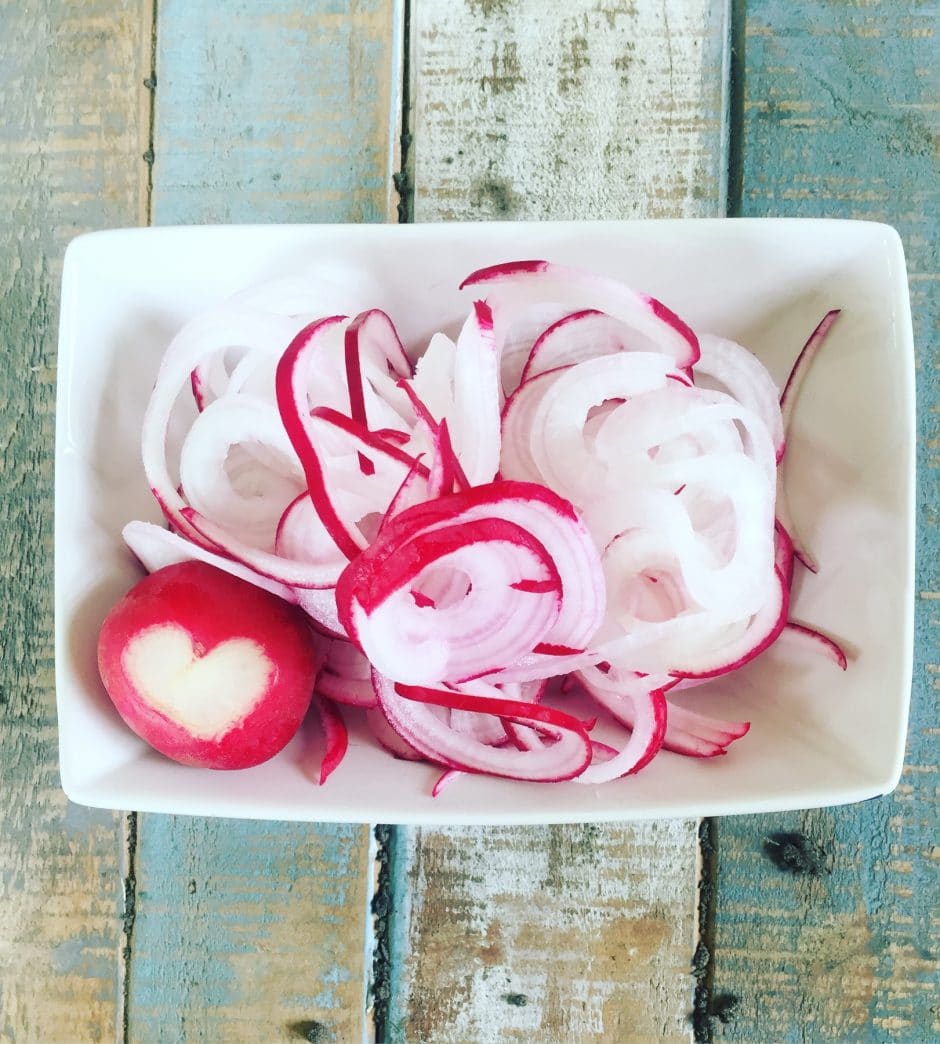 Radishes
To make a "rad dish," radishes are a superb choice. Watermelon and daikon radishes are my favorites and they create long and beautiful strands of vegetable goodness. Plus, the variegated colors of the watermelon radish (sometimes called a Christmas radish) are beautiful. If you prefer red radishes, just make certain that they about the size of golf balls in order to successfully spiralize.
Jicama
Sometimes called Mexican yam bean, a small-sized jicama is perfect for spiralizing. Serve raw, smothered in your favorite salsa and you have quite a delicious side dish.
Zucchini
Although this vine-based vegetable has a mind of its own and has been known to take over gardens and yards, zucchini might just be the perfect vegetable for spiralizing. Its soft texture makes it easy to pass through a manually operated spiralizer, whether you hand-crank or turn with a cone-shaped handheld spiralizer.
Apples and Pears
These fruits were meant to turn into long threads of delicious fruit. Whether you bake with them or use them in your food dehydrator, crazy curls of fresh fruit are just fun to eat. You can make a raw "apple spaghetti" and serve it with yogurt or sorbetto — great fun for the kiddos!
Which Spiralizer Do You Need?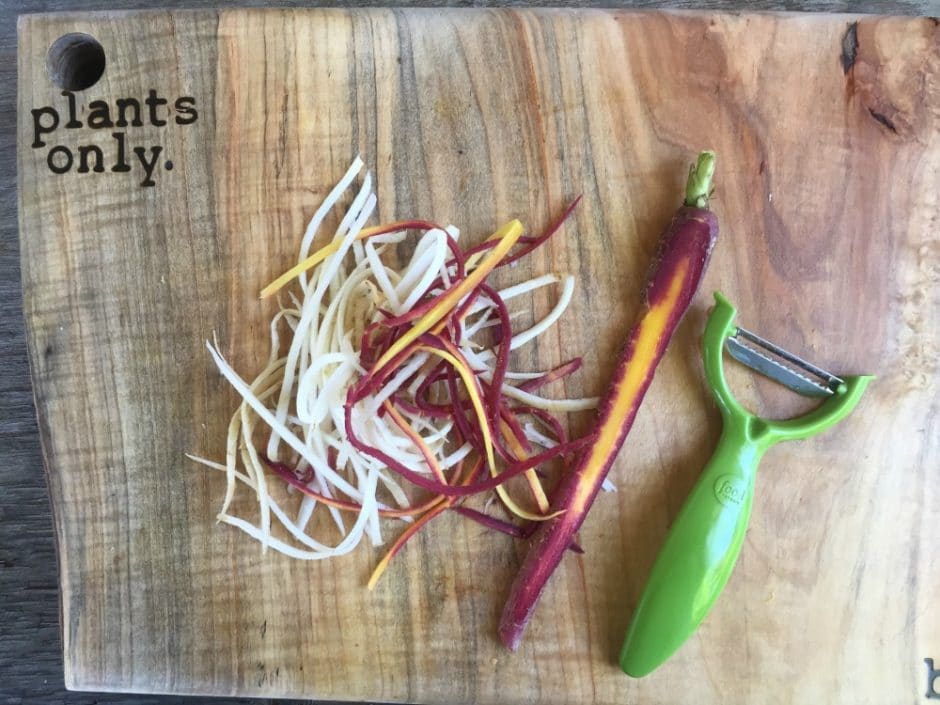 Storage is always a valid point when you are seeking to add to your array of kitchen utensils and small appliances. You may want to give some thought to what will fit in your kitchen. If space is tight, a peeler might do the trick.
Handheld
If you have quick wrist action, a handheld device is perfect. No larger than your biggest funnel, it operates like a handheld pencil sharpener. They are modestly priced and can be found in stores for less than $10.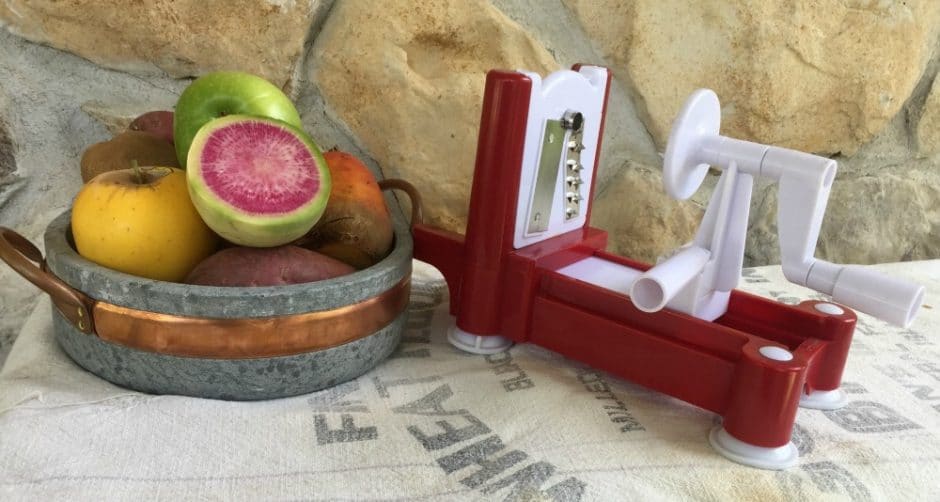 Countertop
These four-legged tabletop models have suction cups under each leg. Generally made of strong plastic, they are hand-cranked to spiralize the vegetable. Usually, they come with several different blade plates. Kids seem to enjoy helping in the kitchen with the tabletop model. Cranking the handle and seeing the curls appear is lots of fun. The device creates an angel hair or traditional spaghetti cut.
Electric
I have a Veggie Bullet and it moves at rapid speed, perfectly creating long strands of fruits and vegetables in no time. They're particularly useful if you need a lot of veggies in a short period of time. Bonus: Clean-up is a breeze.
Julienne Peeler
If you want to keep things simple, but still enjoy the spiralizer effect, a julienne peeler will create beautiful, long pieces of vegetables, five strands at a time.
Chef Angela will also use a mandolin to create a thin, flat "noodle" that can be made into a lasagna. "Served with beetballs and a marinara sauce, you will have the perfect dish," she adds.
What You'll Find Ready-Made in the Market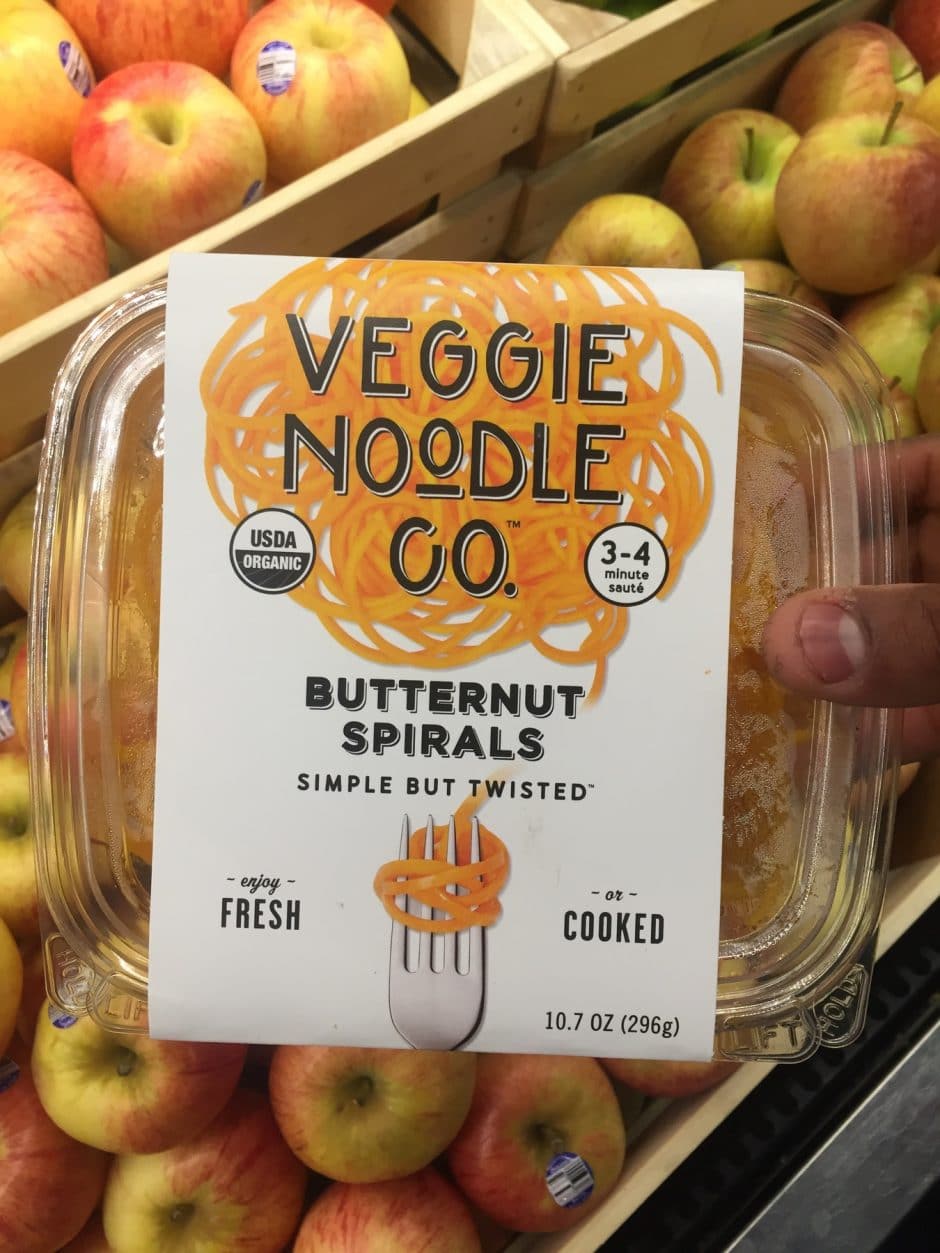 If you aren't quite ready to go for your own spiralizer, keep your eyes "peeled" for ready-made spiralized beets, zucchini, squash and carrots at your local market. MOM's Organic Market, Wegmans and Whole Foods Market have lots to choose from, and I've even seen some at conventional grocery stores like Giant. Before buying, be sure to check the expiration date on the package, as freshness is key.
Not wanting to be excluded from the curly-craze, Trader Joe's offers pre-cooked spiralized carrots that can be found in the frozen department. A 12-oz. box will serve four. Note that each serving contains 280 milligrams of sodium, whereas the raw variety contains naturally occurring sodium in a fraction of the amount.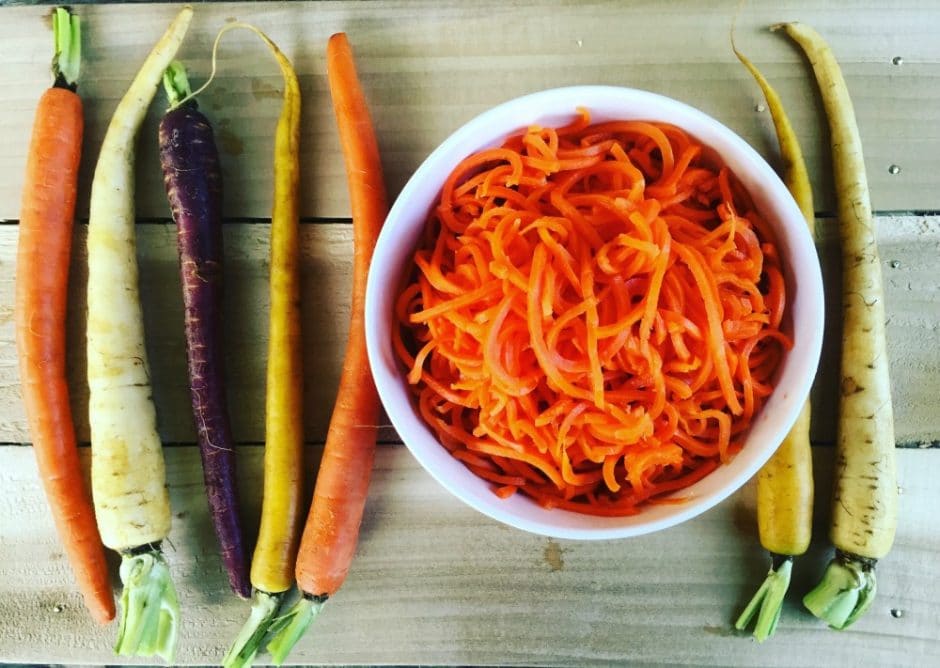 Why Spiralize?
Getting the kids involved with food prep almost ensures that they will eat what they make. The "crank-style" spiralizer works great with kids.
If your mother's voice is ringing in your ears with the reminder to "eat your veggies," the spiralizer adds a fun factor to food prep, cooking and eating.
According to West Chester University's Dr. Jeanie Subach, a registered dietician and assistant professor of nutrition, "Spiralizing vegetables is a great tool for changing the shape and texture of vegetables. They are transformed from ordinary to extraordinary." Dr. Subach adds that the spiralizer is a "kitchen keeper."
If you want to cut time in the kitchen while still creating delicious dishes, spiralizing is for you! You can transform a traditional favorite, like pasta Alfredo, to a cleaner version using spiralized zucchini and a cashew-base cream sauce.
Do you own a spiralizer? If so, do you love it? Share your favorite ways to use spiralized veggies in the comments!
Feature and multi-colored veggie noodles photos:

Bigstock

All other photos:

Char Nolan