With such an abundance of craft beer in Pennsylvania, local breweries sometimes go to great lengths to stand out from the crowd. Sometimes, this means creative events or philanthropic community efforts.  More often than not, it means over-the-top, wacky brews, crammed with more hops, more adjunct flavors, more haziness or more alcohol.
But for Stampede Barbecue and Ale House in Mohton, PA, the differentiating factor is all about less. There is a quiet minimalism in how things are done here, with inspiration taken from historical beer styles and production methods. For starters, Stampede is the first and only wood-fired brewery in Pennsylvania, meaning that a hand-built fire is made beneath the kettle where the wort is boiled.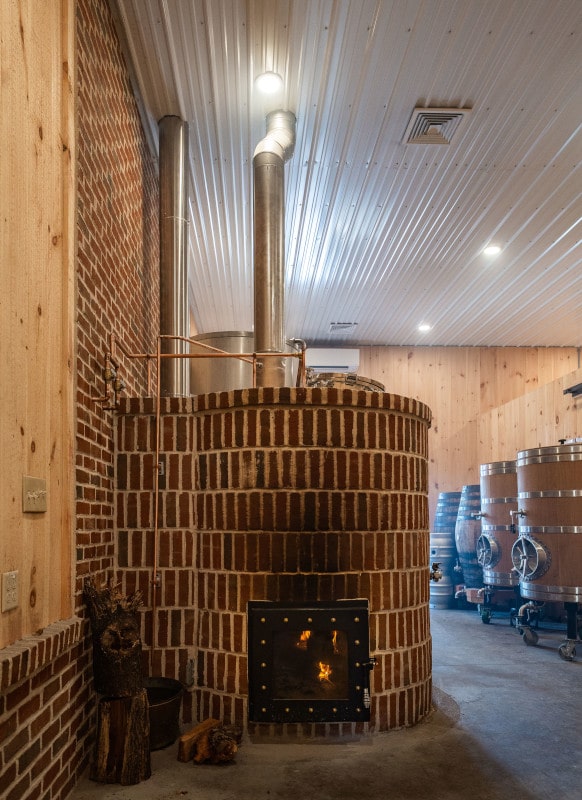 Its ales, which you'll only find inside Stampede's barbecue joint, are all hand-pumped from casks, similar to what you might find in an English pub. There are no hazy IPAs, kettle sours or fruity beers here; in fact there are usually just three offerings: Light, Brown and Dark ales.
While Stampede is indeed a brewery (it's been brewing beer since August 2022), co-owner and brewer Evan Detwiler hesitates to promote it as such, because it's such a different experience than one might expect of a more typical brewery, with dozens of draft lines, sports on TV and so on. Instead, it's just a handful of ales, meant to be enjoyed with the Texas-style BBQ that Detwiler and his family serve in their restaurant, which is inside a beautifully converted barn.
We were intrigued about this wood-fired brewery in a rural pocket of Berks County and wanted to learn more! We were able to connect with Detwiler to learn more about Stampede's traditional-style beers, including how they're made and his philosophy behind them:
PA Eats: First, can you tell us a bit about how Stampede Barbecue got started?
Evan Detwiler: The business is my father, brother and me. We started selling barbecue right after I graduated from high school in 2013, out of a small food trailer on the side of the road. It was seasonal, and we closed during the winter. We first got inspired from our visits to Texas, where my oldest brother, who isn't part of the business, went to college. We'd never had true barbecue, because we'd lived in Morgantown, PA our whole lives, but every time we'd visit we'd drive around and try different BBQ spots. When we decided to open the business, my brother who is our pitmaster learned through trial and error, and looking up videos.

Our trailer got more popular, and our business grew. My dad had always had his eye on this old nursery that sold much and plants, this old, timeless-looking wooden building with a tin roof. He always said it would make the coolest BBQ place ever. One day it went up for sale and everything fell into place. We opened there in 2018.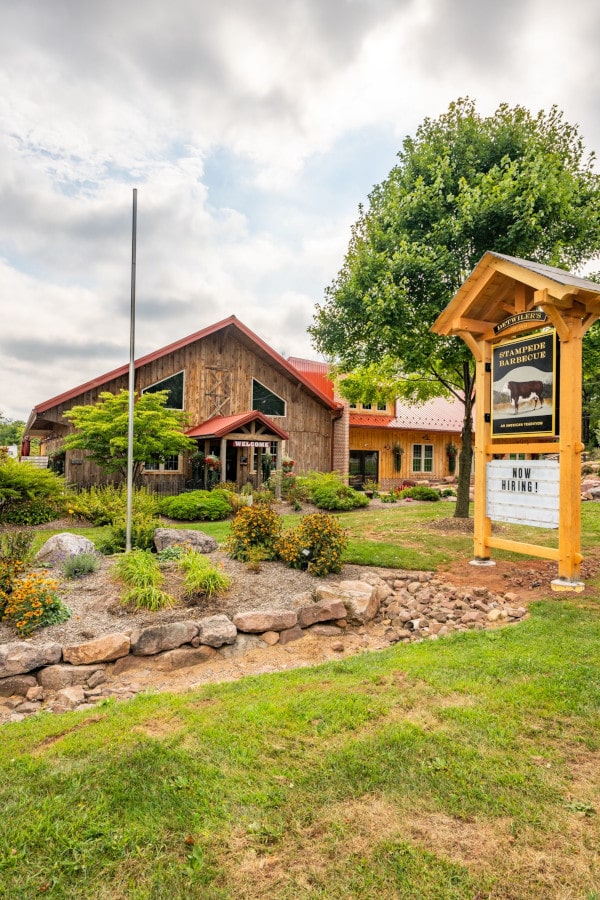 When did the brewery get going?
After we opened the brick-and-mortar, the business kept growing, and we decided to put on an addition. We hired some of the Amish folks who live around us, who do a lot of historical-type building, to build us a post-and-beam old style of building. We love history, so we kept going with that historical aspect, and tradition.

We knew we wanted to sell alcohol, but there weren't any liquor licenses available in our area. I really like beer, so I was like, What if we brewed our own beer? I never brewed a day in my life as a homebrewer, and when we started building the addition is when I started testing so we could be ready.
So did you just teach yourself how to be a brewer?
Well, I look at beer probably differently than a lot of people in the craft brewing scene in the US. I like good, plain simple traditional beer that doesn't have any flavors or crazy hop additions or experimental stuff. When I learned to brew, I was using methods that aren't practiced anymore, and I didn't have a lot to go off of. I was able to find some older texts and videos online of historical societies doing one-day brews where they'd make a beer like they did back then. I just kind of took what I needed from here and there.
How did the concept of a wood-fired brewery occur to you?
If you look at history, probably up until the 1950s or even 60's, there wasn't much gas or electric capabilities to brew beer with, it was all done with coal or fire.  They'd build giant breweries around a furnace, everything was wood-fired. To me, the modern society has kind of cast beauty aside for convenience in almost every industry. I just wanted to bring back beauty and simplicity to an industry that's riddled with science and complicated, unnecessary things. A lot of people call me an old soul; anything I do in my life, I'm particular with aesthetics and the way things happen.
Can you explain more about how the beer is actually made in your brewery?
We only have two tanks: One is the boil kettle, one is the mash tun. The tun is like a giant steeping pot where you steep the grain with the hot water. So in the morning, our well water goes straight into the boil kettle. I start the fire as soon as I start pumping the water into the tank. The fire is maybe just a little bigger than a bonfire you'd build in your backyard. I use about 8 to 10 pieces of hard oak, and the boil kettle is surrounded by brick which keeps all that heat trapped and is very efficient. Once it gets to the strike temperature where you steep the grains, I pump it off of the fire into the mash tun. There's no heat source or insulation on the mash tun, so once the hot water is pumping, I add in all the grains, and they steep with the full volume of water, with no sparging [rinsing of the mash grain bed]. We only use grains that are grown and malted in Pennsylvania.

It takes an hour and a half to extract sugar and flavors, and I only mix it twice. Once it's done, I filter the wort from the grain, and that goes back down into the boil kettle and I light the fire again and bring the wort to a boil. That's when I add in the hops. Then I transfer it into virgin white oak, essentially giant barrels that we do the fermentation in. The beer never touches any metal during fermentation. The beer gets transferred to casks called firkins as it's still fermenting.

We don't force carbonate, all the carbonation comes from the natural fermentation we trap in the casks. The natural fermentation makes bubbles that are much more fine, more of a smooth tingle. Any beer on nitro mimics what cask conditioning does naturally. We don't use any gas to serve the beer; it's all hand pumped.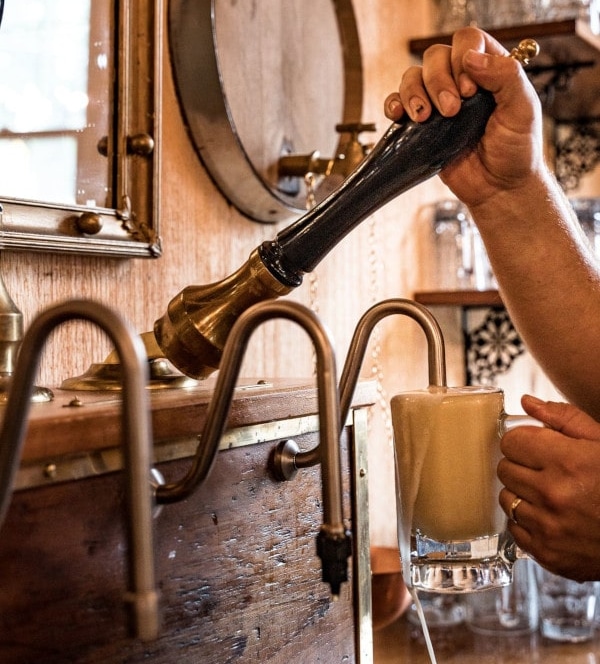 Do you make anything else besides the Light, Brown and Dark ales?
I do a seasonal ale which changes once a quarter, that's the one where I do a little more experimentation. A recent one we made was a Heritage Ale, which was 25% barley, 25% spelt, 25% wheat and 25% rye, hopped with hops grown and harvested in PA.

We also make a wild-fermented cider, technically an apple wine, with nothing added and nothing taken away. It's fresh-pressed, unpasteurized juice from Weaver's Orchard, which is right near us, and we just let it do its thing. We ferment the cider in sherry casks and age it in oak rye barrels. It's like dry white wine. It has a cult following … but some people really hate it. It's not the cider people are used to and it's a very acquired taste. We tap it straight from the barrel into the glass, and we call it our Farmhouse Cider. It's a nod to all the farmers that would make cider before Prohibition.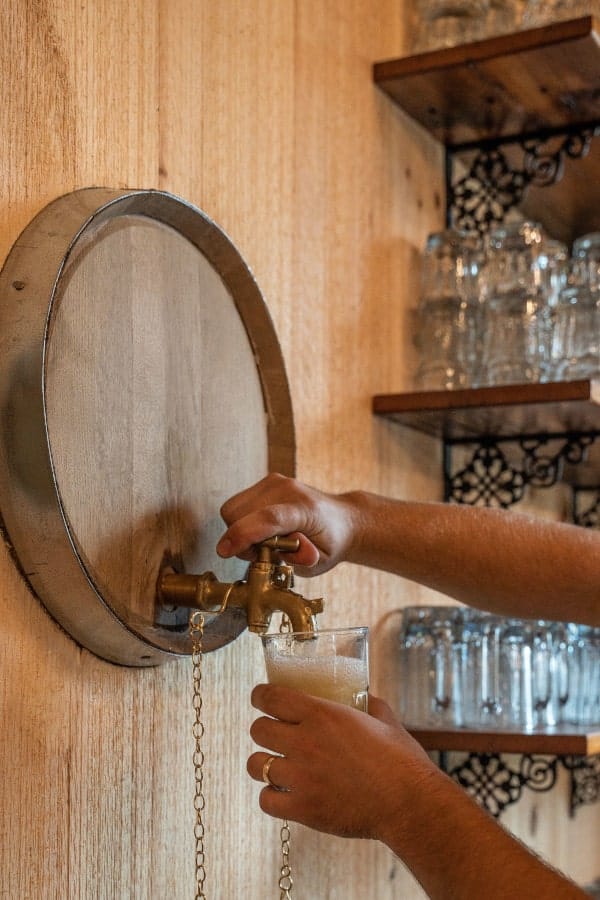 You don't make more popular styles of beer, like IPAs or sours. Is that because you're limited by your equipment?
I can sort of make any style, I just choose not to. My system isn't keeping me from making a sour or an IPA. I do it this way because I genuinely believe that it's the best way to enjoy and serve beer. I'm not putting down people who like those beers, but I'm making a conscious choice to step away from that and offer something traditional.

And there are some minute processes I do that are more modern than what our forefathers would have done. For instance, I transfer the beer over to casks sooner so it's a little more carbonated, our conditioning room is colder than cellar temp. I'm not going for like a true English cask conditioned beer, I'm making American beer with natural, simple methods. We just want to make good, plain beer to go along with our BBQ.
To learn more about Stampede Barbecue and its Ale House, visit its website.
Find Stampede Barbecue at 4372 Morgantown Rd. in Mohnton, PA; (610) 401-0900.
This series is made possible by support from the Pennsylvania Malt and Brewed Beverage Industry Promotion Board and grant funding from the Pennsylvania Liquor Control Board.
Photos:

Stampede Barbecue