On a freezing cold Sunday, my best friend and I made our way down Passyunk Avenue in South Philly, our eyes peeping out of scarves and hats to find our destination. We finally see the storefront and head in. Immediately, our senses are filled with warmth and savory delights; we have arrived at Stargazy, Philly's traditional East London-style meat pie and mash shop.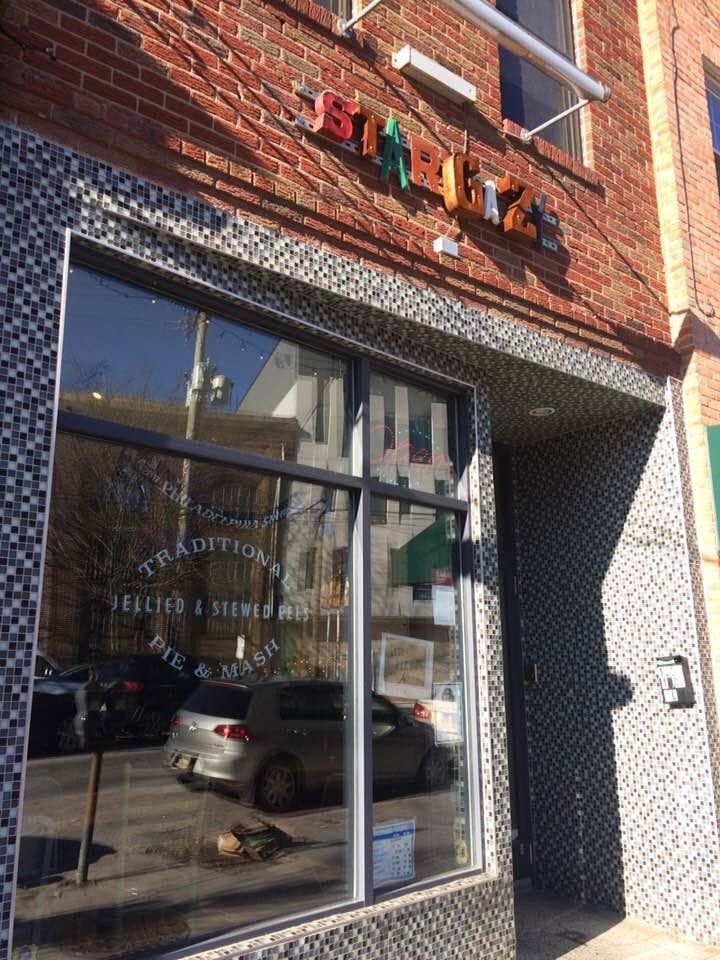 I'm a little late to the meat-pie party. Chef Sam Jacobson opened his pie and mash shop in a former cupcake space, tucked away on "The Ave." with a whimsical storefront, in 2015. I've wanted to eat here since I heard about these delicious pies, and I'm so glad to finally be here.
The name Stargazy comes from a Cornish recipe: In a pie plate atop pastry, pilchards (sardines) are arranged with the heads on the rim and the tails touching within. When the crust is laid overtop, the fish heads peek out to gaze at the stars. Stargazy has become the savory pie shop in Philadelphia. The name translates well to Jacobson's sweet and savory pie baking — quirky and traditional, just like what's on offer.
Jacobson's chef background came about in cooking at a friend's restaurant. When his friend passed away, her business partner asked him to take over the role. With an English background and his work in Philly, the pie shop was literally a lightbulb moment for Jacobson. "I was coming from somewhere where anyone could get these pies and then moving to a place where you couldn't. I was eating pie and mash on a visit to London and lamenting the lack of it in Philadelphia," he explains.
Coming up with the menu became a process of translating what a typical pie and mash shop has, but that Philly didn't have at the time: "It's a pretty standard pie and mash shop menu. I added a few other things, because it's America and people expect more options. But it's really just about the pie, mash and liquor," he notes.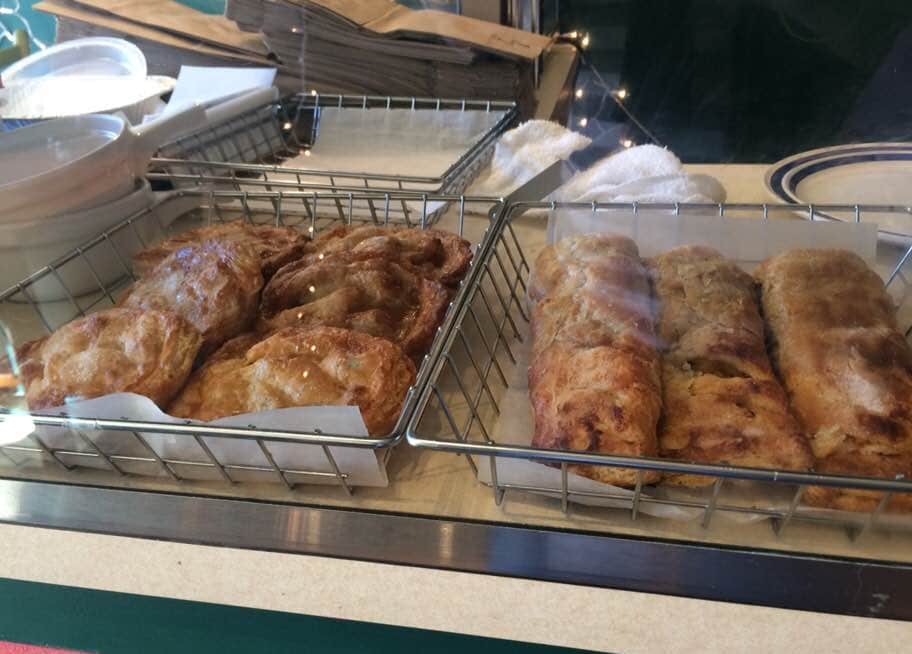 The menu offers both savory and sweet options. The unique Bedfordshire "clanger" is a pastry roll that encompasses both: sweet fillings at one end and savory at the other. It's your dinner and dessert in one sitting — pork and apple, or lamb and pineapple.
Other menu items include meat pies with mash, pastries, and tartlets. And there's dessert, too  — but let's not get ahead of ourselves. The shop consists of a handful of tables with wood-branded sayings facing the large glass storefront, and a television perpetually tuned to rugby or English football.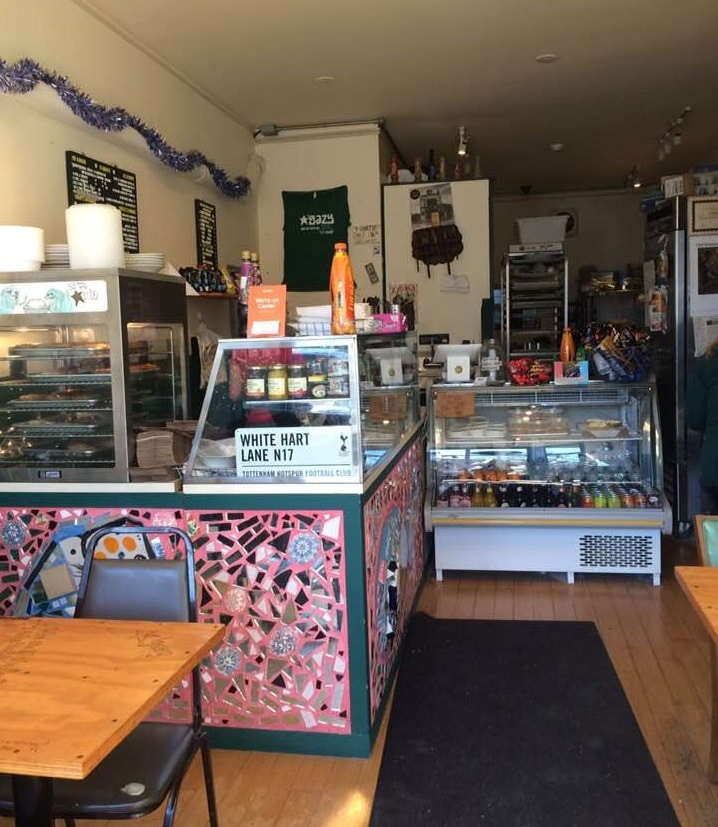 Turns out, Philadelphians need meat pies — and this meat pie shop. Chef Sam is filling a food niche people didn't even know they needed. At Stargazy, we enjoyed the PG Tips with milk and sugar and watched people come and go. It's become a neighborhood favorite, as people stream in and chat happily with Chef Sam and his staff, looking to fill up on the ultimate in comfort food. Many customers opt for takeout, and if you're lazing away a half hour, Jacobson has free hot tea and funky mugs for you to enjoy (donations to local charities accepted in the battered mug atop the cabinet).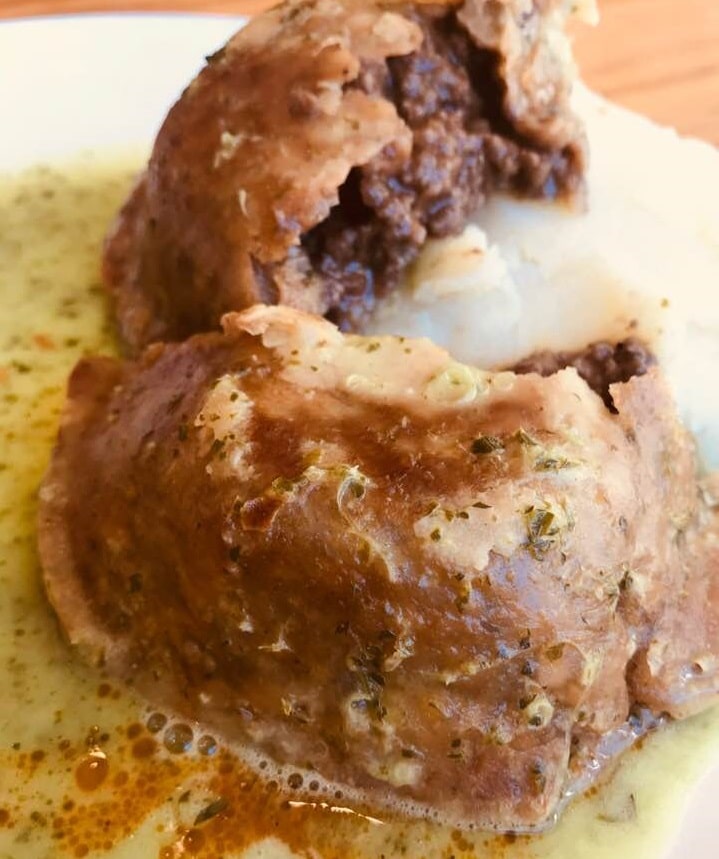 We started with the special of the day, a piquant jerk-braised lamb with collards over mash and a light and flavorful parsley liquor, then dove into the savory meat and onion pie in a gorgeous, rich pastry with mash atop the parsley broth. The mash was perfect, soft and filling and a perfect enhancement to the meat pies.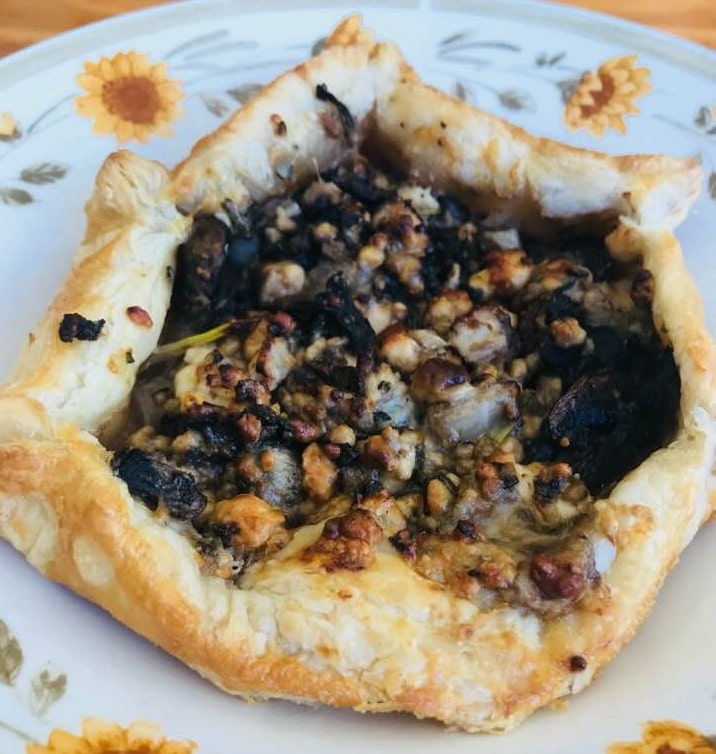 I nearly whimpered aloud at the mushroom and blue cheese tartlet with walnuts — all my favorite ingredients baked into a delicious savory shell. The shell offering changes daily, with bacon and cheddar, or other variations on savory.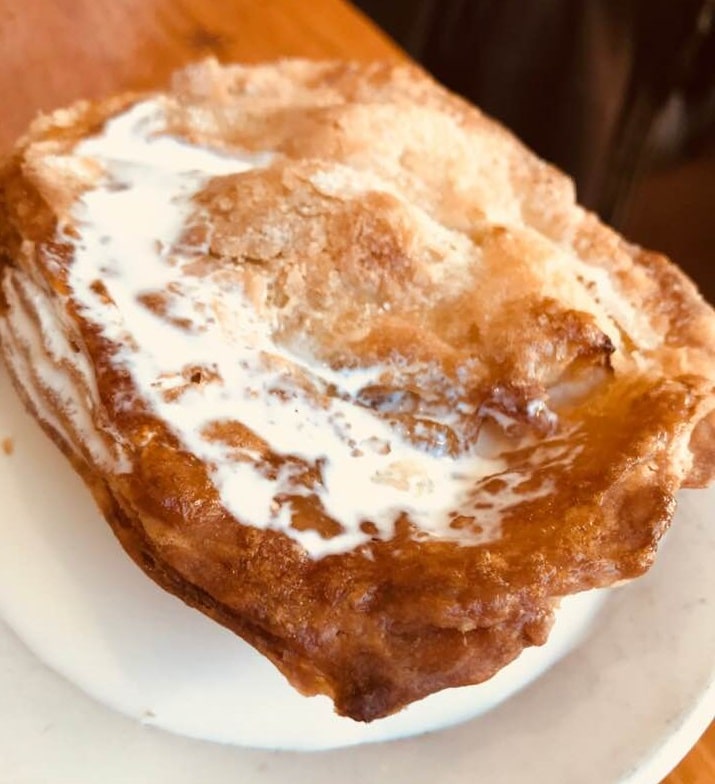 Next came dessert. Jacobson came out of the kitchen to personally deliver it to our table. First, he brought a pear tart to us, a sweet fruit pie within a light pastry shell and fresh cream atop. Then he brought us a traditional sticky toffee pudding: Rich flavors of gingerbread, caramel and cream blended together well in this standard English dessert.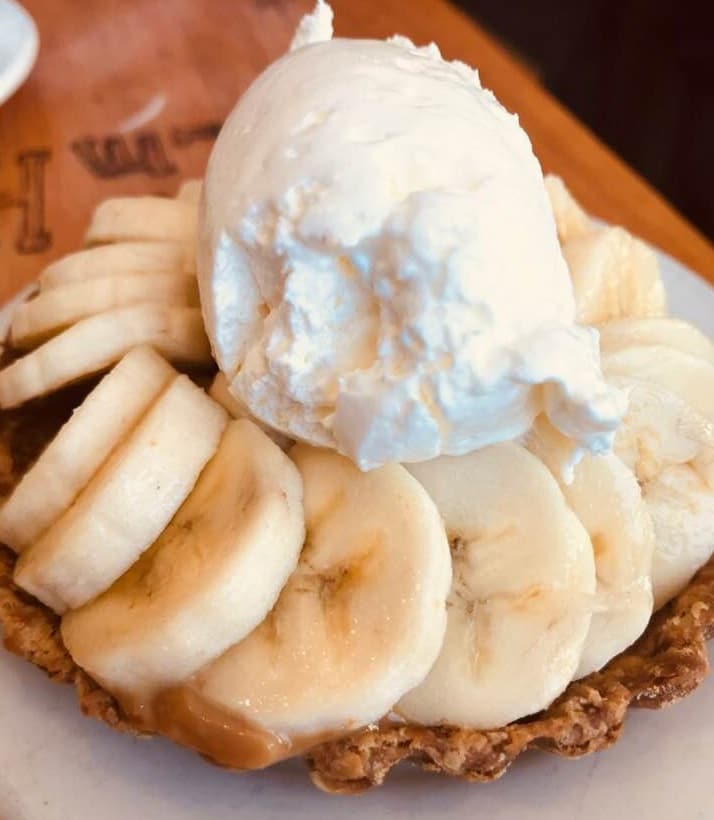 The real treat of the day, though, was the Banoffee tart, a crisp shell with melted toffee and sweet sliced bananas on top plus a dollop of fresh whipped cream. This tart is comprised of such simple ingredients, yet it comes together so perfectly, you'll wonder why you haven't had this before in your life!
To keep it fun, Jacobson bakes a star into one Stargazy pie every day. If you find the star, you win the pie! The gent next to us found the star on his pie and he was so excited.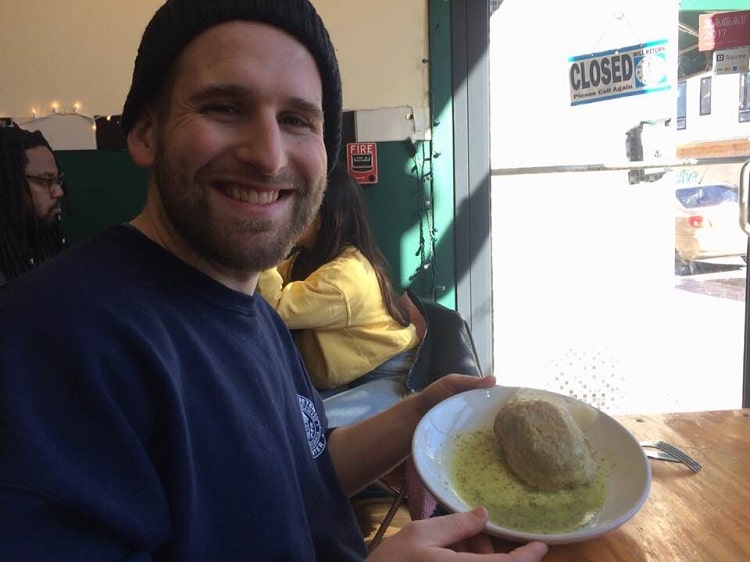 Stargazy features a vegetarian selection each day, too. During our visit, it was roasted celery root and salsify root with feta and goat cheese. Stargazy also had jellied eels on offer, but they aren't available every day.
Finally, after much tea and pie and mash, we headed back to our car, full and happy. We had a great time enjoying the delicious food and friendly, warm atmosphere at Stargazy. You should definitely experience it for yourself!
Stargazy opens at 11 a.m. daily. Jacobson posts the ever-changing meat pie offerings on his board up on Instagram, so be sure to follow. (And, when the meat pies are sold out, that's it until the next day, so don't wait to get there to try them!)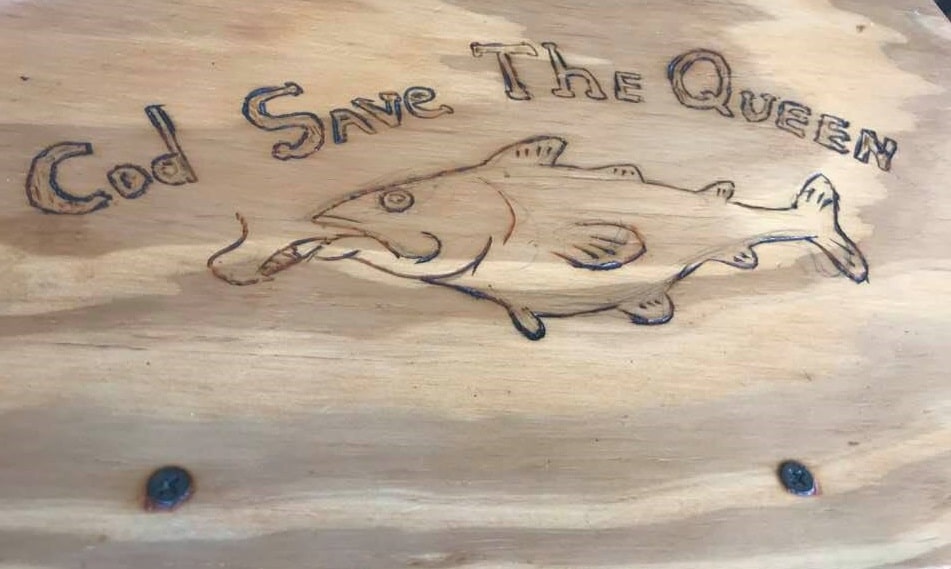 In future news, Stargazy has recently ventured outside of meat pies by joining into a partnership with Chris DiPiazza of Mighty Bread Company to create Mighty Melt at The Bourse Marketplace, a soon-to-be revamped urban food space in Old City. "Bread will be baked at Mighty Bread Co. and delivered to Mighty Melt daily. In addition to the sandwiches, we plan to sell fresh loaves of bread along with a few cheeses and jams so people can recreate the sandwiches at home," says Jacobson, who will be creating the menu. They are looking to open in the late spring of 2018, so stayed tuned.
Find Stargazy at 1838 E. Passyunk Ave. in Philadelphia; phone: (215) 309-2761.
Photos:

Christine Tarlecki & Rachel Richards