On January 1, 2021, Strivers' Row Distillery made its first post on Instagram, which was a quote from the distillery founder's grandfather, Abuelo Garcia, that read, "I've decided to give up drinking whiskey when it's chewable." Francisco Garcia says the quote served as a fitting way for the brand to officially introduce itself. This micro-distillery in Philadelphia is all about simplicity, quality and craft.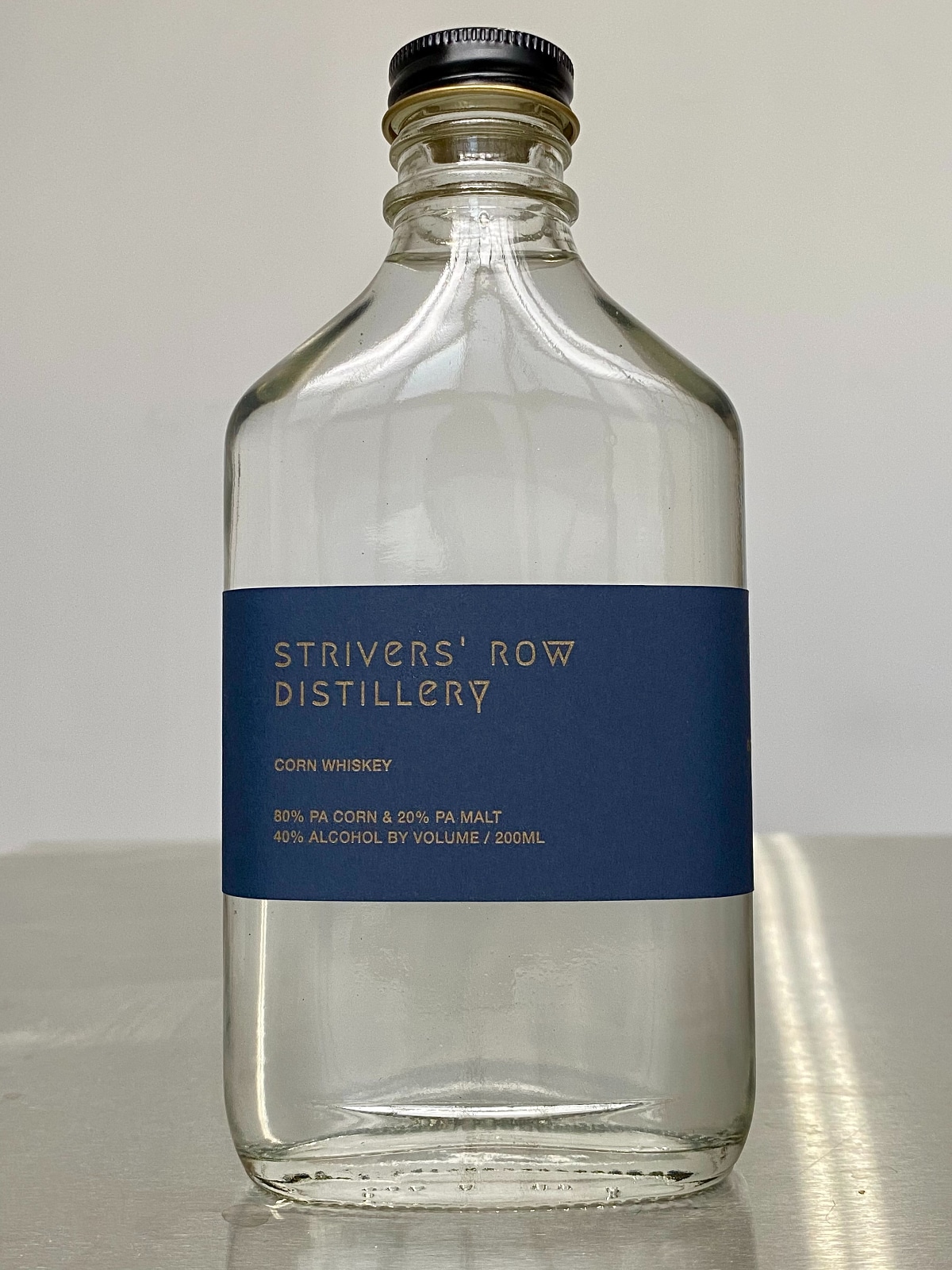 Strivers' Row is named after a series of row homes in Harlem, New York, homes that were built in the late 19th Century intended for white upper-middle class residents. As white people left Harlem, the houses sat abandoned for 25 years because developers refused to sell them to Black residents. In 1919, the houses were made available to Black New Yorkers, and a number of upwardly mobile Black professionals (known as "strivers") purchased them and moved in. Garcia, an immigrant from the Dominican Republic who was raised in New York, lived near Strivers' Row during his youth, and the word "striver" resonated with him.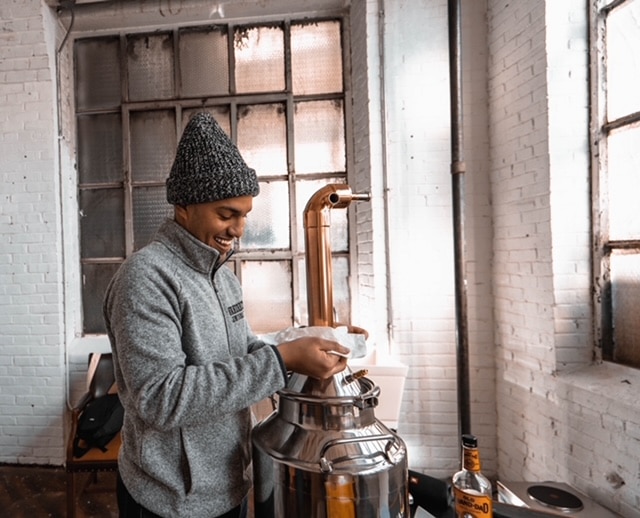 Now, he's striving toward this new chapter in his life, running a craft distillery — currently, the smallest distillery in the US, though as you'll see, that is soon about to change. We enjoyed a chat with Garcia, getting to know more about his journey, from owning an ice cream shop in Brooklyn to making his way through the craft distilling scene in Philly.
PA Eats: So, let's start at the beginning. Did you have a background in food and beverage?
Francisco Garcia: Yes, I grew up around food and beverage. When I was growing up in Brooklyn, my parents had first a grocery store, then a deli, then a catering business, and then a restaurant. They still own the restaurant! Back in 2013, I owned an ice cream shop in Brooklyn, called the Evergreen Ice Cream Company. But then my wife got into medical school in Philly and we decided to make the move here.
When you moved to Philly, did you continue your culinary entrepreneurship?
No, I actually went to work at Goldman Sachs! I studied business in college and lots of my friends worked in consulting, so I was familiar with that world. For me, it was really just a job, so I did that for a few years. But really, I became interested in how cities work  — the economy, communities and the policies that shape them. So, I went to grad school at Penn to study public administration. That took me into politics and I worked for two presidential campaigns, including Joe Biden's! It was a fantastic experience. It was a remote campaign, so like many people, it gave me more time to spend on hobbies and reading.

I came across this book, The Guide to Urban Moonshining, written by my favorite distillery, Kings County Distillery, which is in Brooklyn. It was really cool to see that you could start a distillery by starting small. A lot of modern-day businesses can start small, testing things out, but to me it always seemed like you couldn't do that with distilleries. I'd always wanted to do distilling, I wanted to do it when I had the ice cream shop. I always looked up to Kings County. They were the first distillery in New York since Prohibition. And, I always liked whiskey, so this kind of just finally made me realize that I could do it, too. 

Did you miss working in the food/bev world? Is that part of what brought you back?
For me, the time of COVID was to reflect. There's lots of content out there about the restaurant industry, and it made me realize that I miss this industry and want to be part of it. I think challenging times are times to get creative and create new things instead of run away from them. Frankly, I had a pretty lucky year, I know people had a hard time with employment and finances, but I had a lucky year, it put me in the position to just financially do this.
What were the first steps in making this idea a reality? Did you have to teach yourself how to distill?
I started by applying for the federal permits. I figured if I got rejected, then the idea is over. The application is really complex. Part of it is gauging if you know what you're doing, like you have to go into lots of detail and describe your process so it becomes pretty clear to them that you understand the chemistry and understand how things could go wrong. You also have to have the right real estate to even apply for the permits, they need to know the address. I basically picked the cheapest, smallest space I could find so that if I got rejected, it wouldn't be as big a deal, I could do something else with the space.

As for teaching myself, it's tricky, because distilling is illegal to do as a hobby, but lots of people do it, it's one of those grey areas. Anyone can purchase a hobby-sized still without a license, because technically you could use it to distill water or make essential oils. But there are lots of forums and blogs, and the King's County book is pretty high level.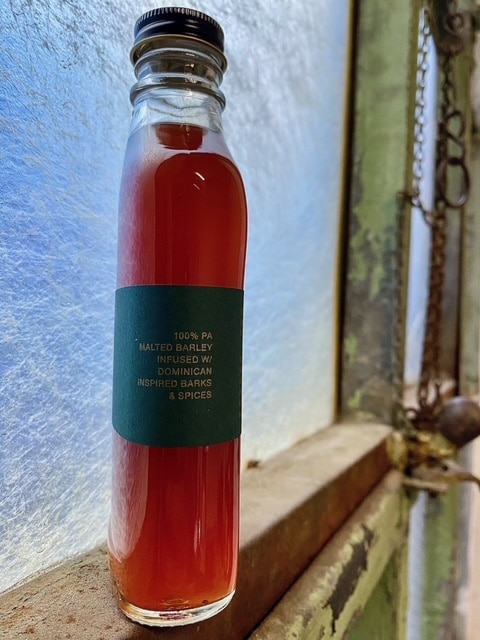 Tell us more about this tiny space!
It's in The LOOM, a big industrial building with lots of businesses near the Allegheny El station. My space is 200-square-feet. It's like the equivalent of someone having a distillery in their garage. I have two 8-gallon stills which are exactly hobby-sized stills. The grains are mashed in big stock pots, and fermentation happens in big food grade buckets. From a visual perspective it looks like a hobby, but it's a legal commercial one that I can sell the product from. But I actually just announced that I'm ready to expand to a bigger space! I'm honestly looking for 1,600-2,000 square feet. I'm willing to sign a lease ASAP. It's going to take me about two months to make the transition. I'm going to need new equipment, including new stills which are custom-made, and there's new equipment that I haven't needed that I will need going forward. 
Looks like you'll have to forgo the "smallest distillery in America" claim! What will a bigger space mean for Striver's Row?
Right now, I'm only doing direct-to-consumer sales and I frequently sell out. No distillery is surviving on that, you need to sell cases to liquor stores. I have my first bar customer, but I can only do a couple of those a week. It's more about opening up new opportunities and sales streams. 

I also really want to start aging. That's my favorite spirit, an aged whiskey. I want to start barrel-aging things, and I want to make a peated malted whiskey. I want to play around with some things, like a chocolate whiskey, I'd love to sell that. Another idea I have coming up is that I'm going to to try to work with Human Robot Brewery and distill one of its beers.
What products are you currently able to make?
I make corn whiskey which is un-aged bourbon, and something I called Papa Juan, modeled after a Dominican beverage, mamajanua, which is whiskey and wine infused with bark and spices. I use nine spices and barks, and decided to use single-malt whiskey instead of rum. I enjoy Papa Juan chilled and neat. It's proofed down to 30% ABV, so it's smooth and not too harsh. It would also be really good in a hot toddy!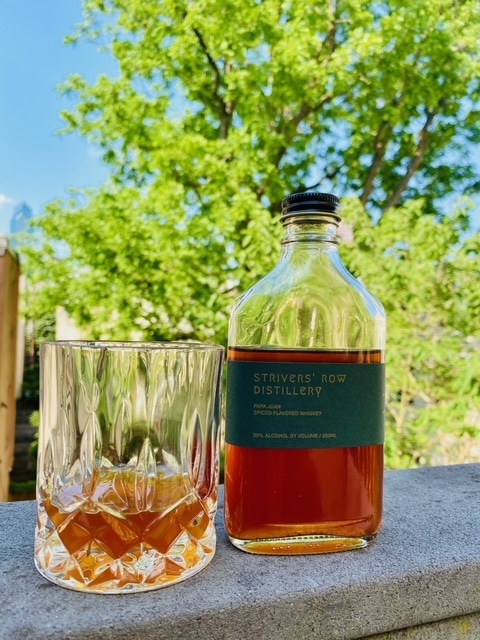 What do you think sets you apart from the other craft spirits out there?
We're grain-to-glass whiskey. Lots of people who enjoy whiskey don't realize that so many distilleries don't actually produce their own spirits, they co-pack or buy in bulk from somewhere else. Look at the labels: Some don't say "distilled by" the brand. Certainly there are those distilleries like that in and around Philly. But at the end of the day, I think that prioritizing taste and quality over branding and goofy bottles and all of those things are something I really admired about Kings County, and is what I want to do. I want to keep things minimal. People spend lots of money on label design and fancy glass bottles, but that's not where I want to focus.
Can you tell us a little more about how you're able to keep quality so high?
That has a lot to do with the scale. There are cuts you make throughout the final distillation when you're deciding what tastes good and what ABV the spirit will come out the scale.

See, when you're distilling, you're basically making beer and fermenting grains. During the first distillation, you want the alcohol out of that, but it's still not refined, it's not tasty. The second distillation is when you're getting that crisp, clear alcohol, but the first chunk of alcohol coming off the still is methanol, and you really don't want that. That smells like nail polish and can give you a headache. The hearts, the core of the alcohol, you want that to be between 60-65 and 80%. I start at around 76 or 77% and I'm done by 68%, because that's going to be the best-tasting part of the run. Some people might go higher or lower, and what you're getting at the initial end is the nail polish smell at the other end you might get like a wet dog smell. The more selective you are, the better-tasting alcohol you get. 

Bigger companies don't care about it as much, and part of the reason is efficiency. They have a 200-gallon still and spirit is going to go in these barrels for a few years. For me, I'm moving one jar or gallon to another; bigger distilleries have a big machine with a spout, and move the spout from one copper jar from another to another. If you look at the stream it's a geyser, and for me it's a drip. I have more time, more room to make those decisions.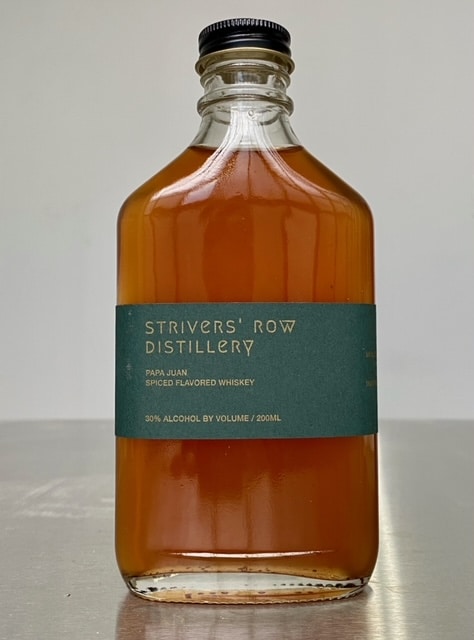 Keep up with Strivers' Row and its imminent move via Instagram. To order, check out its website, but take note: The corn whiskey and Papa Juan do indeed sell out quickly!
Photos:

Striver's Row Distillery