In its nearly 130 years in business, Philly's iconic Reading Terminal Market has never been home to a black-owned bakery — but that is about to change! On April 24, 2021, Sweet T's Bakery & Snack Shop, co-founded and owned by Tia and Mark El, will celebrate the opening of its stall in the historic market with an official ribbon-cutting ceremony! This homegrown bakery, which specializes in sweet potato-based desserts, will be located at the intersections of Avenues C and 12.
The couple first opened their bakery on South 22nd Street in the Point Breeze neighborhood of Philadelphia in 2014, and later expanded it to include a mobile food truck. Since October 2020, they have been setting up a booth through Reading Terminals Day Stall program, which allows up-and-coming businesses to pop-up on weekends. After experiencing success through this program, they're now ready to put down roots in the market and to share their much-lauded desserts with visitors from across the world.
We were able to chat with the Els amidst their busy schedules to get to learn more about their journey to this exciting moment for Sweet T's Bakery:
PA Eats: Were the culinary arts always something you had an interest in? How did you get into professional baking?
Tia El: Baking was a hobby that turned into a business. I used to make pies for my family and friends. My grandmother taught me the foundations of how to make a sweet potato pie, and then I started adding my own ingredients and trying different crusts. I developed my graham cracker crust, and when I got such a positive response from family and friends, I started making them that way. Everybody used to say, "Oh my god these pies are so good, you should sell them!"

Mark El: We decided that because of the response to the pies, that we could introduce them to our neighborhood in South Philly. It was a diverse neighborhood, but the majority of the neighborhood was African Americans. In terms of African American culture, sweet potato desserts are usually just for the holidays. But our twist was to do it all year long, it was something a little different. The neighborhood was shocked … It was such a big deal to get sweet potato pie all year long. It was like having the holiday all year long! And, it was an affordable dessert, a small pie for just $2, and it was great for people who were dieting or who have health issues.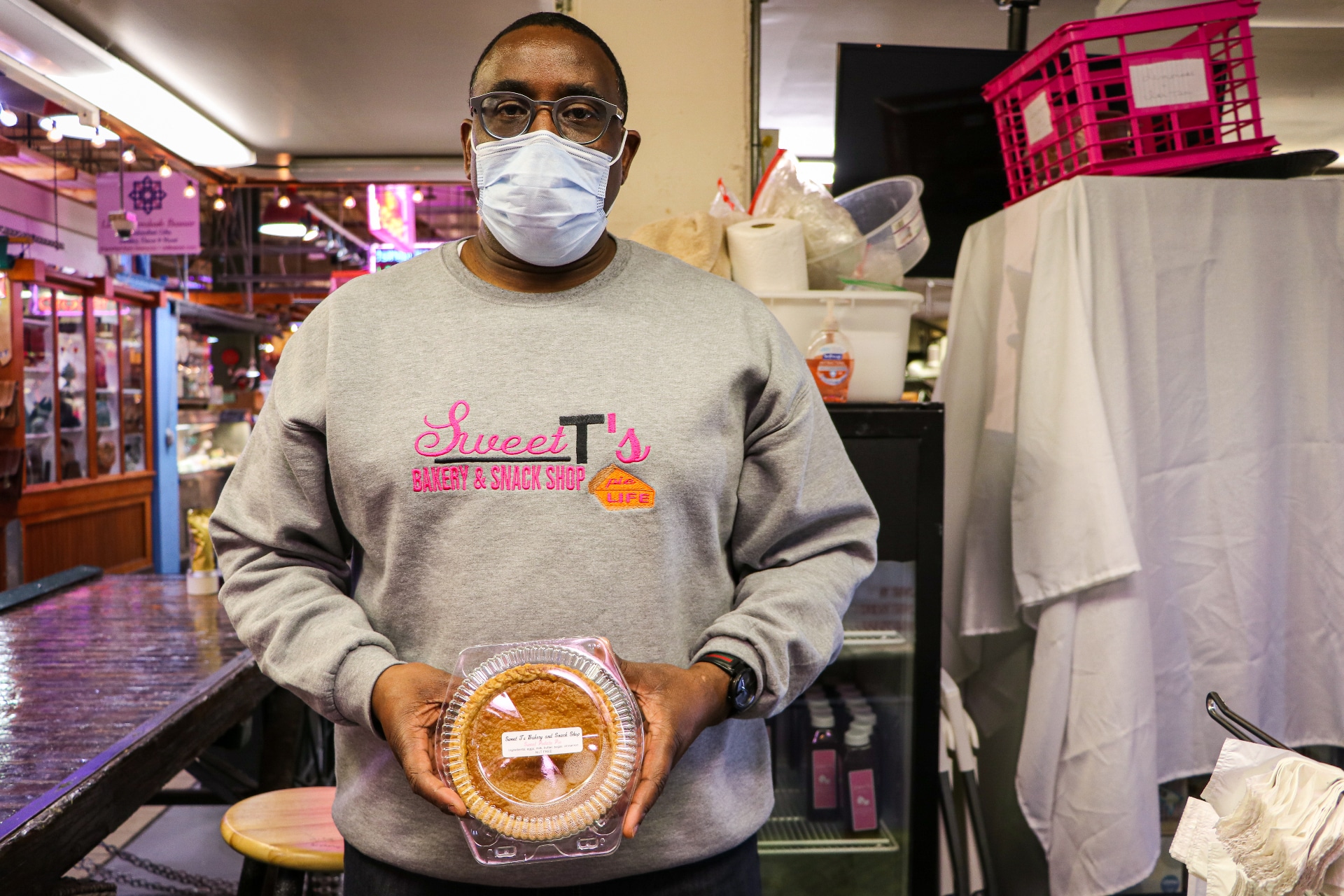 Tia, can you tell us a little more about learning to bake from your grandmother?
Tia El: I come from a large family who are a bunch of great cooks. My grandmother and a lot of her sisters can bake, and cook as well. Learning was just a matter of calling her. She showed me and told me how to make her sweet potato pie. I have these memories of my grandmother around the holidays … everybody in the kitchen taking part in getting the dinner ready. And I remember our holiday dinners, bringing family together for laughter and conversation. It feels great to share how I was raised with other people, that's the joy I remember with my family, laughing and talking.
What led you to Reading Terminal?
Tia El: When we had our bakery on 22nd Street, we had also purchased a dessert truck in 2018. We invested to be able to not just have our desserts in a certain neighborhood, we wanted to be able to go all over the city. We did Night Market, carnivals and other events, and we were still trying to find ways to expand our product. We always wanted to be in Reading Terminal, and we also looked into kiosks in Christiana and Cherry Hill Mall. But we really wanted to go for Reading Terminal, because we wanted to expose more people to our culture. We applied for a market stand in 2018, and they held our application for two years. We kept trying, but still got the same response every time we would call. My husband would go there with desserts, trying to meet up with people.

Last year, the market got a new general manager and I decided to resubmit the application, and the GM asked me to set up a meeting. We gave him our whole pitch, why we thought we'd be a good fit, and help with diversity at the market. He'd never heard of sweet potato pie or sweet potato pound cake, we showed him all we could bring. He signed us up for two days a week at the Day Stall.

Mark El: We started giving out samples, and 9 times out of 10, every time someone tried a sample they'd buy. We stopped sampling in December because of COVID, but we've still sold out every single day to different people from all over the world.
So the customer response has been really good at the market?
Tia El: The growth has been faster than we expected. We knew we had a good product, we just needed the chance to introduce them to different people!The Market is neutral ground in the city, and that's a better fit for us, somewhere that everybody from all walks of life can come. And because we'd already been a business, once we made an announcement on social media, it brought a lot of our old customers back. Now we have new customers, and people are referring their friends to us. This is about creating opportunities for others outside ourselves. There are some young people who say that when they think of Reading Terminal, they think of the Amish people, and never think of black businesses in the Market. And there are people who have never been to Reading Terminal, and now that we're here, those people feel like they can come here.

Mark El: I observed that the Market is really diverse. For instance, when the Asian community tried the sweet potato pie, we got a lot of people coming back for it, and now we have a base of Asian customers. When we started seeing that response, it was like wow, this is something new for 2021, it's this new generation who goes outside their comfort zone.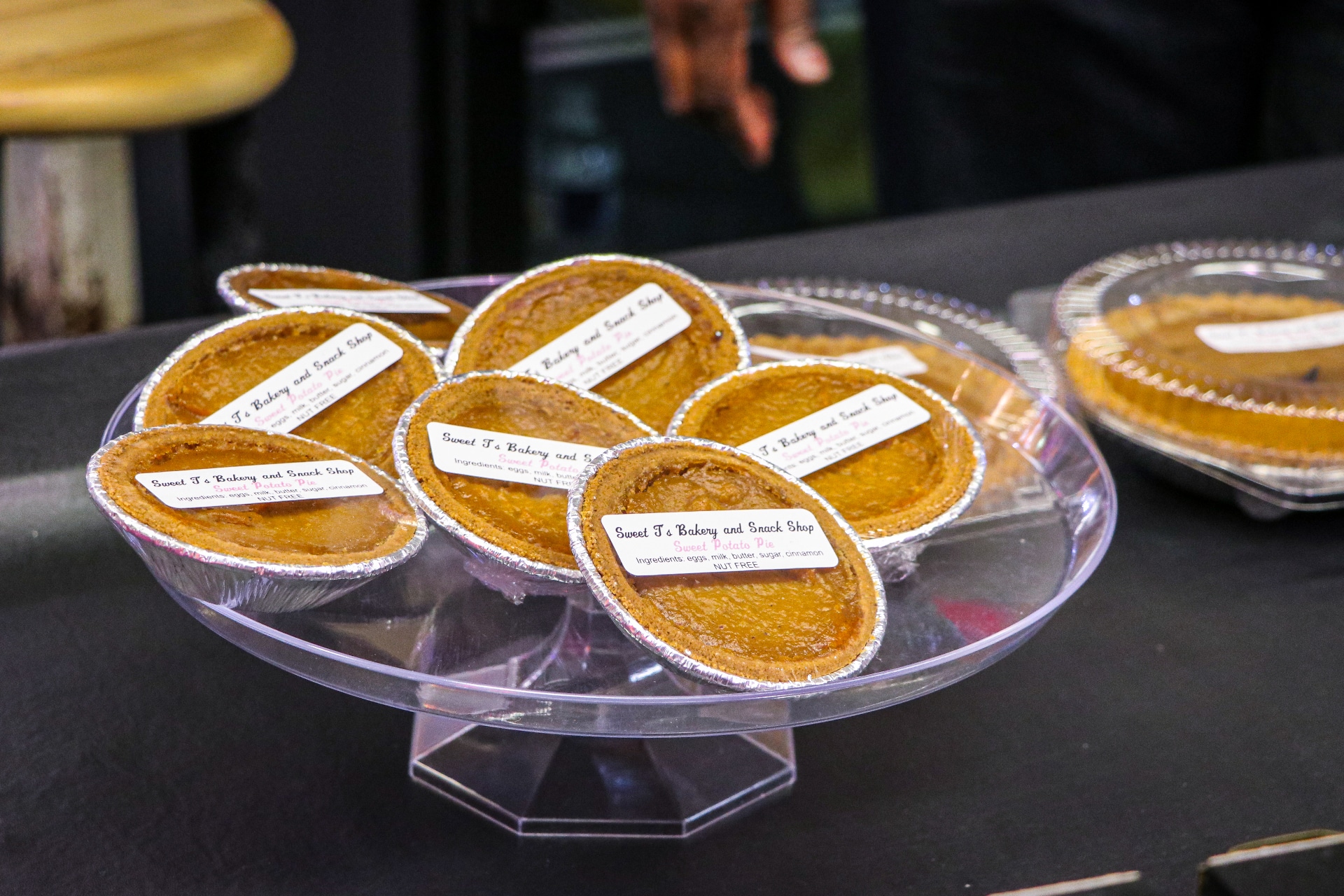 Now that you have this opportunity, do you have plans to expand what kinds of products Sweet T's Bakery offers?
Tia El: Yes, we're expanding. I have a whole lot of sweet potato recipes I want to introduce, so every so often we'll bring something new to the customers. We also have sweet potato pound cake, 7-Up pound cake, and our own juices, like strawberry iced tea and strawberry lemonade.

Mark El: Our concept is sweet potato-based desserts, so you can't get a birthday cake from us. There are other bakeries in the market, but none are this concept and we're the first African American bakery in the market in 129 years.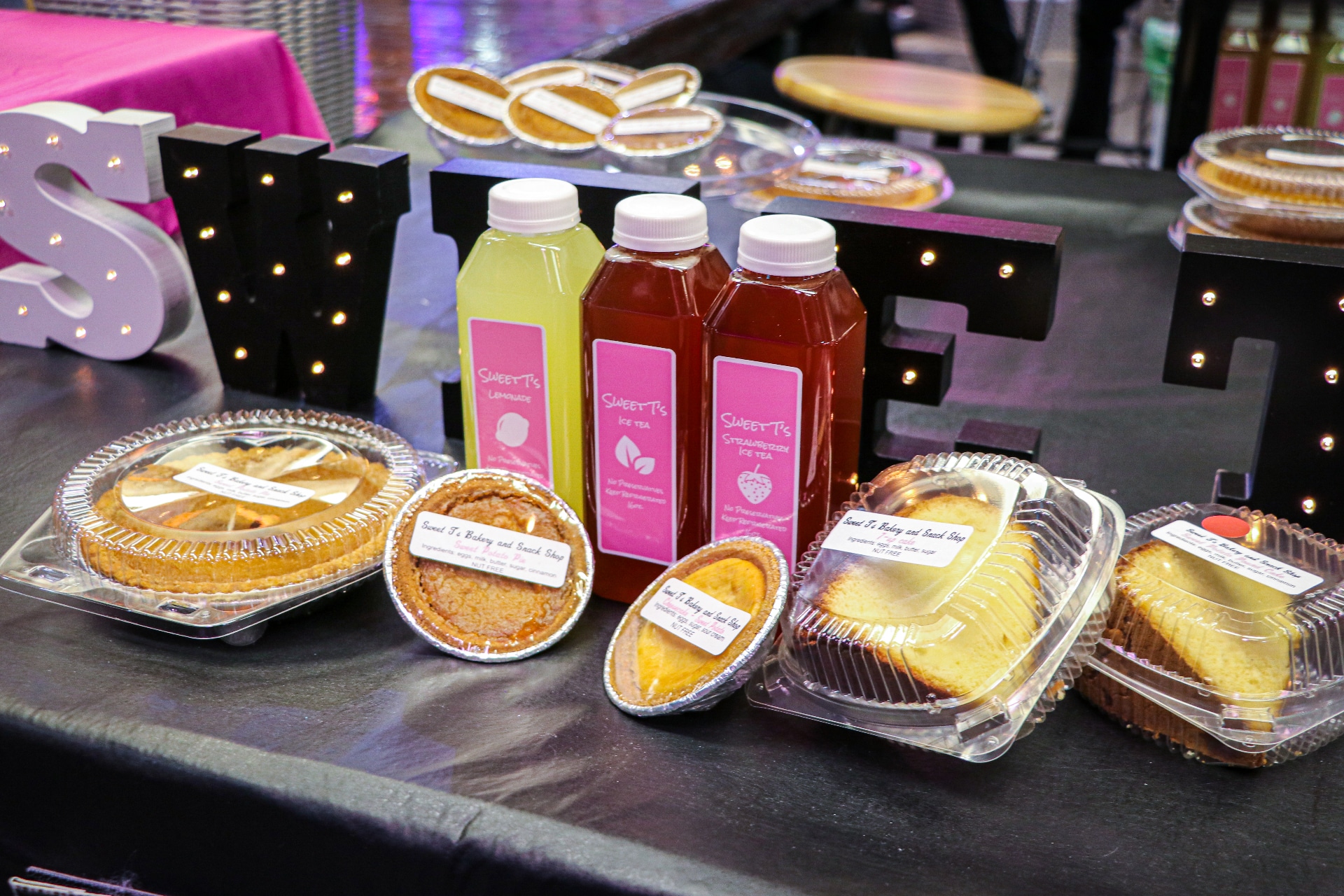 What's the best compliment someone could give you after trying baked goods from Sweet T's?
Tia El: The best compliment someone can give is to say that it tastes like their mother's or grandmothers pie's, or even better. One woman said she hadn't had her pies since her grandmother was deceased, and those are the most touching responses. We get that all the time.
For more on Sweet T's Bakery & Snack Shop, check out its Facebook page, and stop by to try Tia and Mark's famous sweet potato pie once their market stand is open in late April, 2021!
Reading Terminal Market is located at 51 N 12th St. in Philadelphia; phone: (215) 922-2317.
Photos :

Courtesy of Sweet T's Bakery & Snack Shop