There has been a flurry of new brewery openings recently in Pennsylvania, and one that we're extra excited about is Triple Bottom Brewing. Open since September of 2019 in Philadelphia's Spring Arts neighborhood, this craft beer outfit is doing something that we are so inspired by: blending its business with a mission of social responsibility. As they phrase it, their mission is "bigger than beer."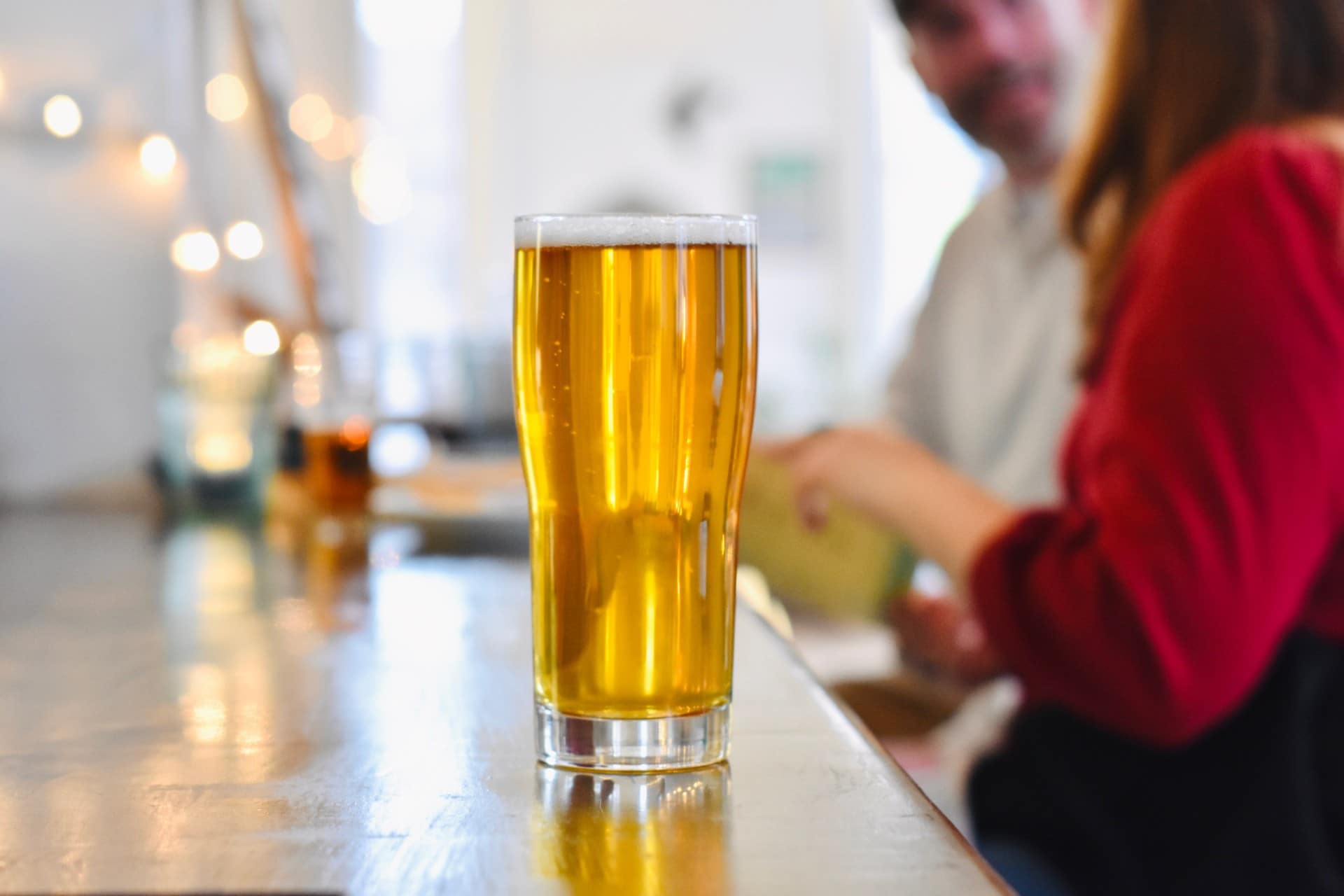 The "Triple Bottom" in the brewery's name refers to a triple bottom line. So, while most for-profit businesses have one bottom line (profits), Triple Bottom's business model adds in people and the planet to its end-goals. It's accomplishing its people-centered goals by recruiting team members with diverse strengths and skills through nonprofit partners such as Project HOME, Mural Arts and Youth Sentencing & Reentry Project, and then empowering the team to develop the tools they need to pursue their own paths and futures.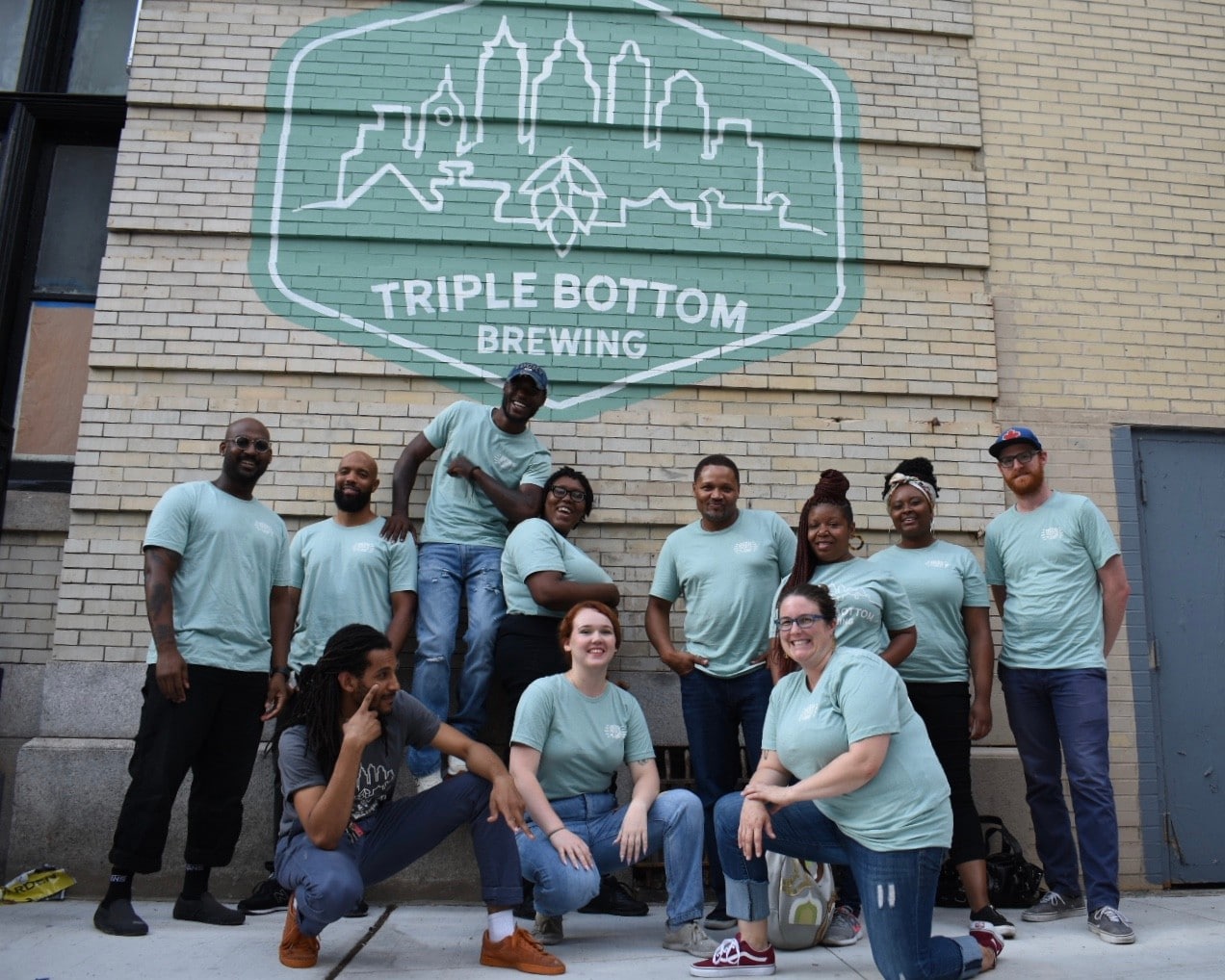 As for the planet goals, Triple Bottom does its part to manage the consumption of resources that its brewery is responsible for. They track exactly how much water, gas and electricity the brewery is using, constantly striving to improve the output. All of the electricity they use comes from wind power, much of which is produced in Pennsylvania. In the trashroom, they sort through their waste and send their spent grain from the brewing process to become food for cows at local farms. Pretty cool, right?
We recently spoke with Triple Bottom's co-founder and CEO, Tess Hart, about this exciting project as it finds its footing and takes its place in the dynamic Pennsylvania brewing community.
PA Eats: Give us all the details! Who's on your team and how did this all get started?
Tess Hart: We're a team of three co-founders: myself, my husband Bill Popwell, who is our CMO, and our friend Kyle Carney, our brewer. Bill and I first came up with the idea for Triple Bottom in Spring 2014, but didn't really consider pursuing it seriously until 2016. In summer 2016 we met Kyle, and the three of us decided to embark on this together. We first opened our doors on September 12, 2019.
How did you all meet?
Bill and I met in college, and both worked in community development for several years after graduation. During that time, we began to be interested in craft beer — and even more importantly, in craft breweries. They are such energized community spaces. People go to a brewery looking for a story, not just a drink, and that sense of curiosity then sparks them to start turning toward each other. We were finding ourselves feeling deeply connected to breweries and the people in them in ways we didn't experience in any other space. Given our background in community development, and the realization that breweries are such community spaces, began sparking a lot of ideas about how — with great care and intention — a brewery could become a much more inclusive community than they typically were.
Neither Bill nor I had any real brewing skills, and we knew we wanted to bring on another partner who could fill that gap. We met Kyle on the internet, through a website called ProBrewer, which is basically a Craigslist and eHarmony for the brewing industry. After spending several months getting to know each other and bonding over a shared love of beer, and a shared excitement for a business that was bigger than beer, we decided to work together to build Triple Bottom Brewing.
How did you build the brand between its inception in 2014 and the opening of your physical space in 2019?
We started telling our story through social media pretty early, because we did a crowdfunding campaign before we even had a physical location. We were lucky to get some press along the way, and continued sharing the story on social media of the "behind the scenes" process of what it's like to build a brewery.
Tell us a bit about your physical space! Did you have help designing it? What features felt important to you, both on the brewing side and on the guest experience side?
Our taproom is beautiful! It feels very different than most breweries — it's bright and airy, and feels very calming when you walk in the door. It's located at 9th and Spring Garden Streets, in the former offices of the Reading Railroad. Our building was built in 1909, and we still have the original windows and floors! It had been vacant for several years before we leased our space, and required a lot of work to fix up, but we're so happy with where it ended up.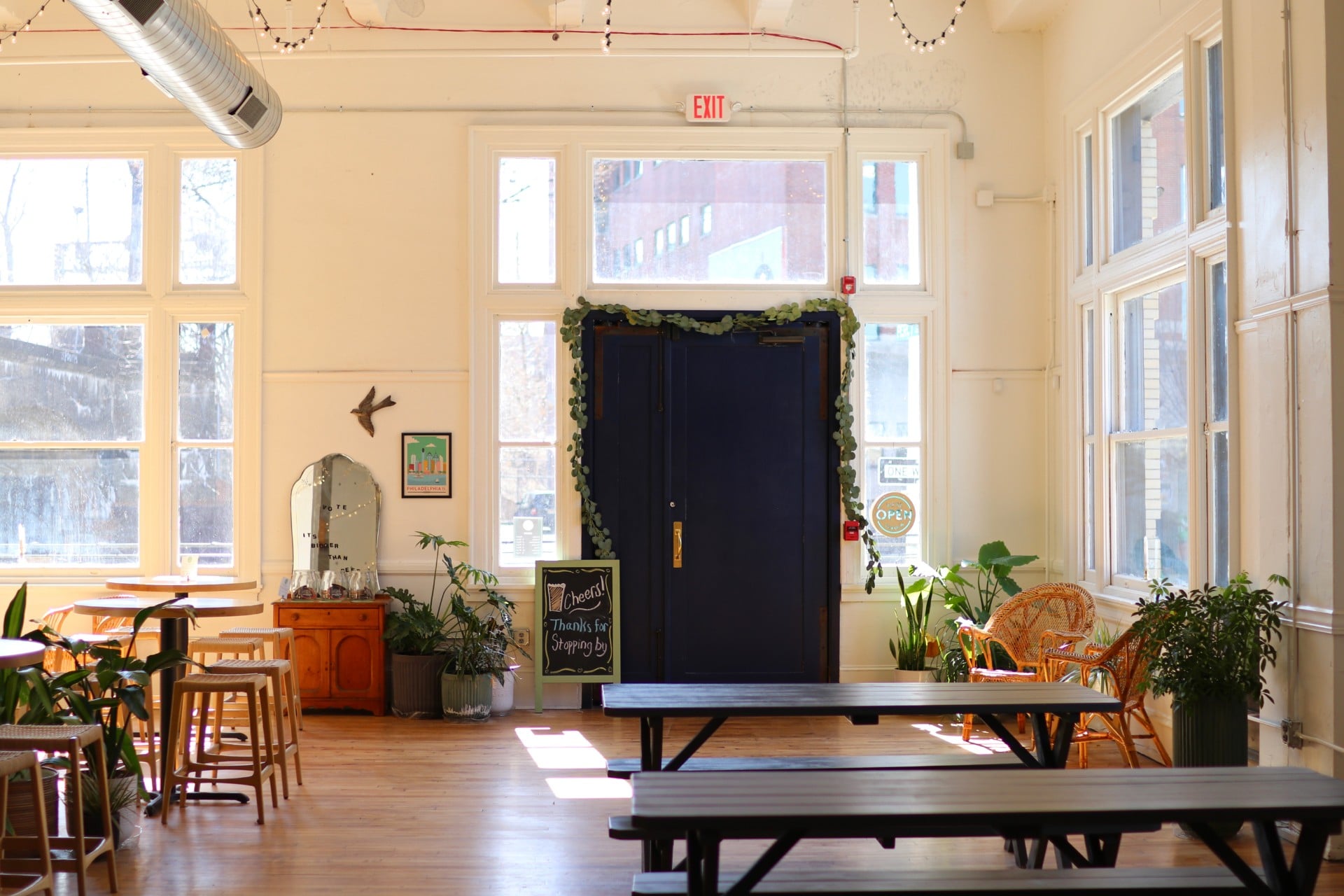 We wanted to create a space that felt like it's been part of the community for a long time, so being in an old building felt right. We also listened to the ideas of our neighbors, and incorporated a private room that can be used for community meetings, as well as private events. Our customers can look through windows behind the bar to see the brewing process, as well, so they can really connect with the beer they're holding in their hands.
What was it about the location of the brewery space that called to you?
We love that the brewery is at the intersection of three neighborhoods (West Poplar, Callowhill and Chinatown), which each are home to very different Philadelphia experiences. We're walking distance from Center City, and steps away from three other breweries, which has been wonderful for our customers.
Is it extra-tricky to have social missions as part of your goals? How do you think more businesses can strive for and achieve similar goals?
Since the first moment we thought of Triple Bottom Brewing, it's always been bigger than beer for us. Bill and I started the "what if" conversation with a notebook by our side, and that first brainstorm led to the name "Triple Bottom Brewing" which alludes to our triple bottom line: beer, people, planet. Our commitment to being a fair chance business has also been part of our DNA since the beginning. As Philly's Fair Chance Brewery, we create meaningful job opportunities for people overcoming barriers to employment, such as experiences with homelessness and incarceration. By building a team with a wide variety of experiences, we hope to create a space that reflects and celebrates the diversity of Philadelphia, bringing people together from across experiences to share joy over a great beer.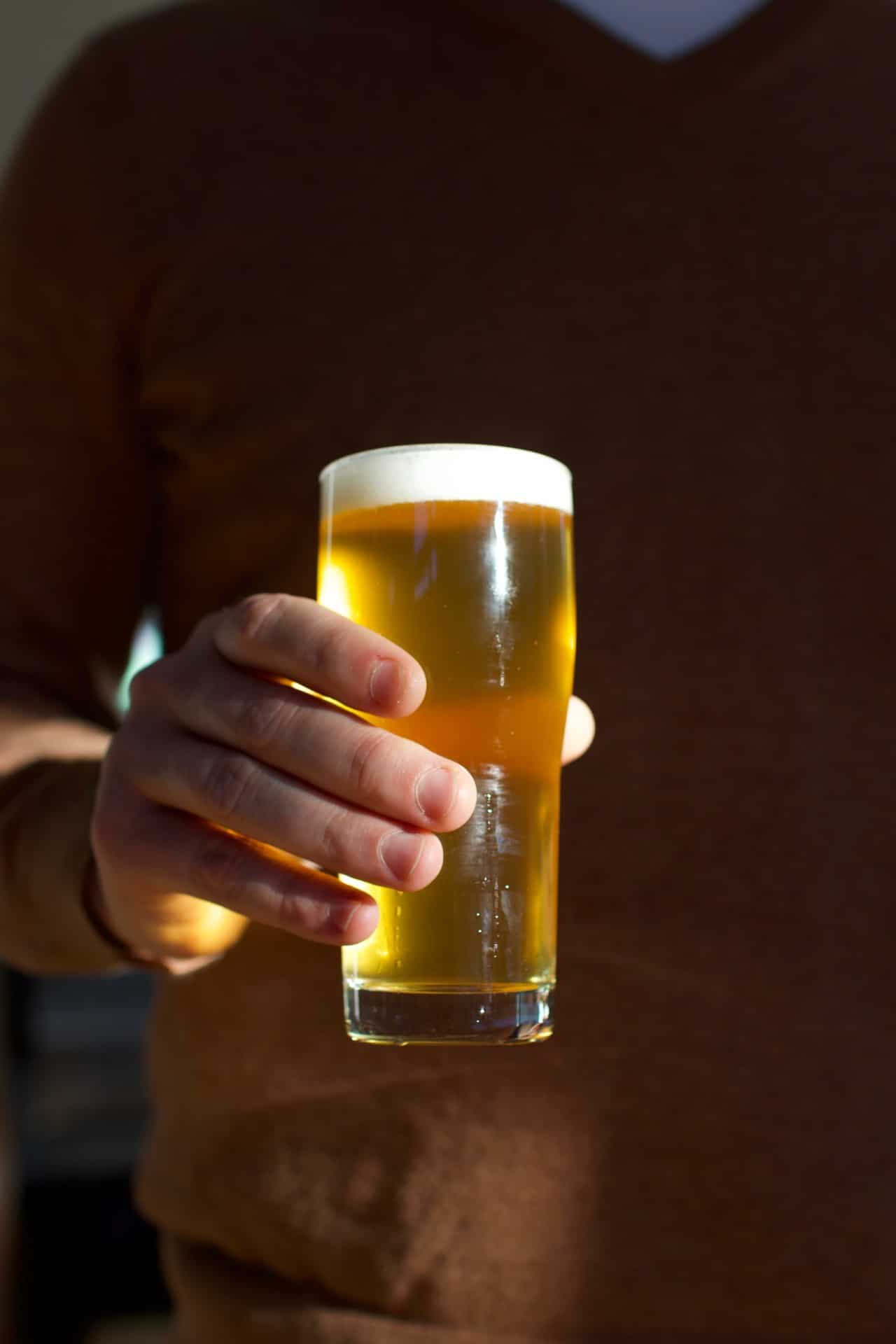 Let's talk about beer! Who or what influences the sorts of beers that you put out into the world?
Our beers are balanced and flavorful. Kyle earned a BS in Brewing and Distilling in Scotland, returned home to PA to work at Weyerbacher Brewing Co., and then spent five years at Stone Brewing in San Diego as a senior brewer. All of those experiences influence our beer, and our menu has a really diverse selection of styles. We try to always have lighter, more accessible beers on for folks who may be trying craft beer for the first time, as well as more creative, experimental beers for craft beer aficionados looking for adventure. Our latest is a British Pale Ale brewed with elderflower and local honey called Mystic Hermit. All of our beer names are inspired by Philadelphia! Mystic Hermit is in honor of the OG Elder (because of elderflower!), Johannes Kelpius, a mystic who lived in Wissihickon in the late 1600s. Other beers have included: Lawn Chair Parking Spot, our crisp West Coast IPA double dry hopped with Citra and New Zealand Cascade, and Training Montage, a tropical hazy IPA named for the famous scene from Rocky.
For now, is your beer only available at the brewery? Any plans for package/wholesale expansion?
For the most part, yes! We are distributing a few kegs here and there to some of our favorite bars and restaurants, but we're not yet producing enough to distribute (and we're still just distributing out of my old Honda Civic, which is definitely a limiting factor!).
To learn more about Triple Bottom Brewing, check out its website, Facebook and Instagram, or better yet, visit the brewery in person! Its hours are Tuesday through Friday from 4 to 10 p.m., Saturday from noon to 10 p.m., and Sunday from noon to 8 p.m.
Find Triple Bottom Brewing at 915 Spring Garden St. in Philadelphia; phone: (267)-764-1994.
Interior photo:

Tess Hart

All other photos:

Sola Onitiri