Urban gardens have helped disrupt the definition of a "farm" as a patch of sprawling acres in the country, planted with neat rows of fruits and vegetables or verdant hillsides dotted with cows and sheep. Thanks to resourceful, determined growers living in cities, we understand that backyards, abandoned lots and other such nooks and crannies among the pavement can be transformed into farms. Urban Garden 215 expands this notion even further — its founder/owner Jared Knight runs a micro-farm out of his South Philly row home.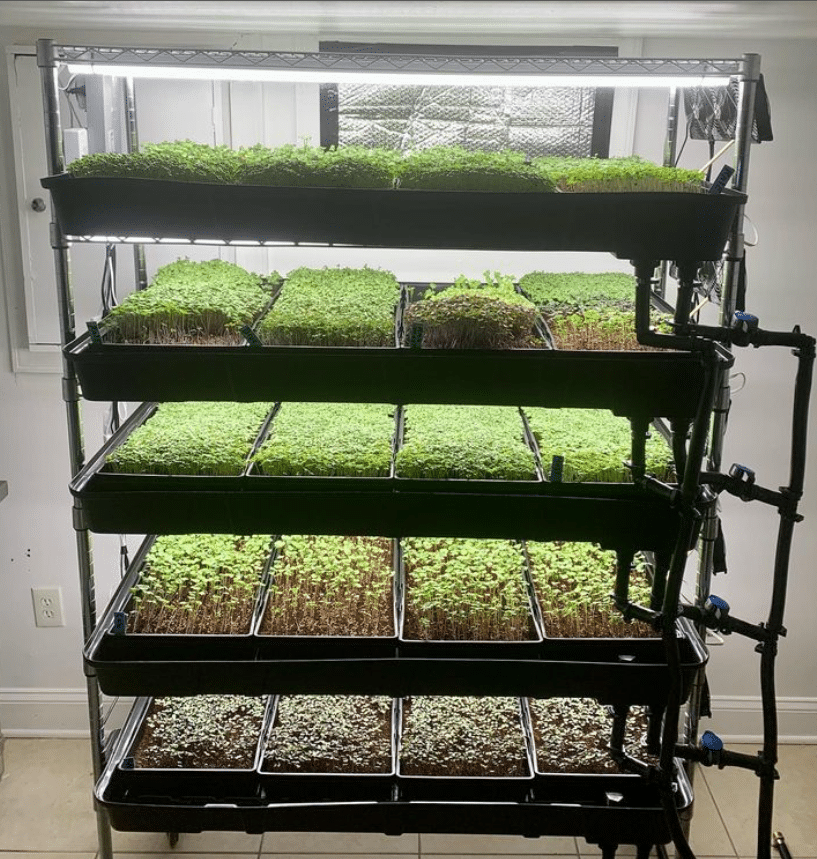 An an entire floor of Knight's house has been transformed into a grow room where he tends to his "Specialty Nanocultivations," mostly hyper-unique, nutrient-dense microgreens. He sells these at the Berwyn Farmers Market and has a garnered quite a fan base in his less-than-two-years in business. Knight, who is also a visual artist and certified herbalist, came from a background in fine dining hospitality, and is a fully self-taught gardener!
We spoke with him to learn more about how Urban Garden 215 got off the ground, and what it's like to run a farm out of little house in the city:
PA Eats: Tell us a little bit about your background and how you got into growing microgreens!
Jared Knight: I'm originally from Upper Perkiomen Valley, in the Pottstown/Allentown area. Growing up, my mom gardened herbs and my dad was big into holistic health. Before this, I worked in the restaurant industry for over 20 years, and bounced around a lot, living in New York, Colorado, California and other places. A few years ago, I ended up coming to a crossroads where I was either going to become a certified sommelier, or go to school for herbal medicine; even though I've always liked hospitality, I ultimately just asked myself: Do I really want to serve wine to extremely wealthy people or do I want to do something with purpose?

I studied herbalism at the the American College of Healthcare Sciences in Portland, Oregon, and graduated in 2019, and got a second degree in 2021. But for my career, I didn't really want to have my own practice or do health coaching. For the past decade, I've grown microgreens just for my wife and me, and two years ago, a chef friend of mine asked if I'd thought about selling them.

And from there, I just committed to this, and kind of like magic it just happened! I first vended at a a farmers market in Newtown Square, and I sold out! Soon after, I met Carlo Luciano at Culinary Harvest; he saw what I was doing and asked me to come to the Berwyn Farmers Market, where I now set up twice a month. It's amazing! It blows my mind how interested everybody is in the microgreens, and to have this connection to my regular clientele.
Can you explain more about your home farm set-up?
We live in a row home in South Philly, where I turned a whole floor into a grow room. I've got shelving I use to grow trays of microgreens, and I'm already expanding. Once I get to a total of 5 or maybe 7 shelves, it'll fill my whole room, and I'll stop there. I don't want to expand to having overhead and employees, I like to stay small.  

In the room, sometimes you have to put on special glasses it's so bright with all the lights! Instead of growing in dirt, I use Coco Coir, an organic, sustainable growing medium made from coconut husks. It comes in condensed bricks that you soak it in water and it expands. I use this instead of peat and it's depleting the bogs in Scotland.
What is the process of growing microgreens? Can you walk us through it?
To sprout a seed, you soak it in water and the seed shoots out its taproot. Microgreens takes it one step further: you let the sprout shoot out, and you let the embryo inside the seed develop. First, the seeds sends out the cotyledons, which are small seed leaves, and then it develops its true leaves [leaves that can perform photosynthesis], and that's when it technically becomes a microgreen.

The thing with microgreens is they're 40% more nutritious than the adult plant. As the plant learns to acclimate to the soil and draw energy from the sun, it still has energy in it and that's what you take advantage of when you eat them.

I grow in 10-by-20-inch double trays; the inside tray  has holes because I bottom water everything. So I start by dump out the spent Coco Coir cakes, which I give to farmers to feed their chickens. I power wash the trays and soak them in a sterilizing solution. Then I go and mix up my soil, fill the trays and spread the seeds. I put a big heavy concrete paver stone on top, which pushes the seeds into the soil and forces stronger roots. I leave them under the weight for about three days and then they get air and light and I keep them watered. Some varieties germinate slower and they're all different. Some take about two weeks, and others up to a month.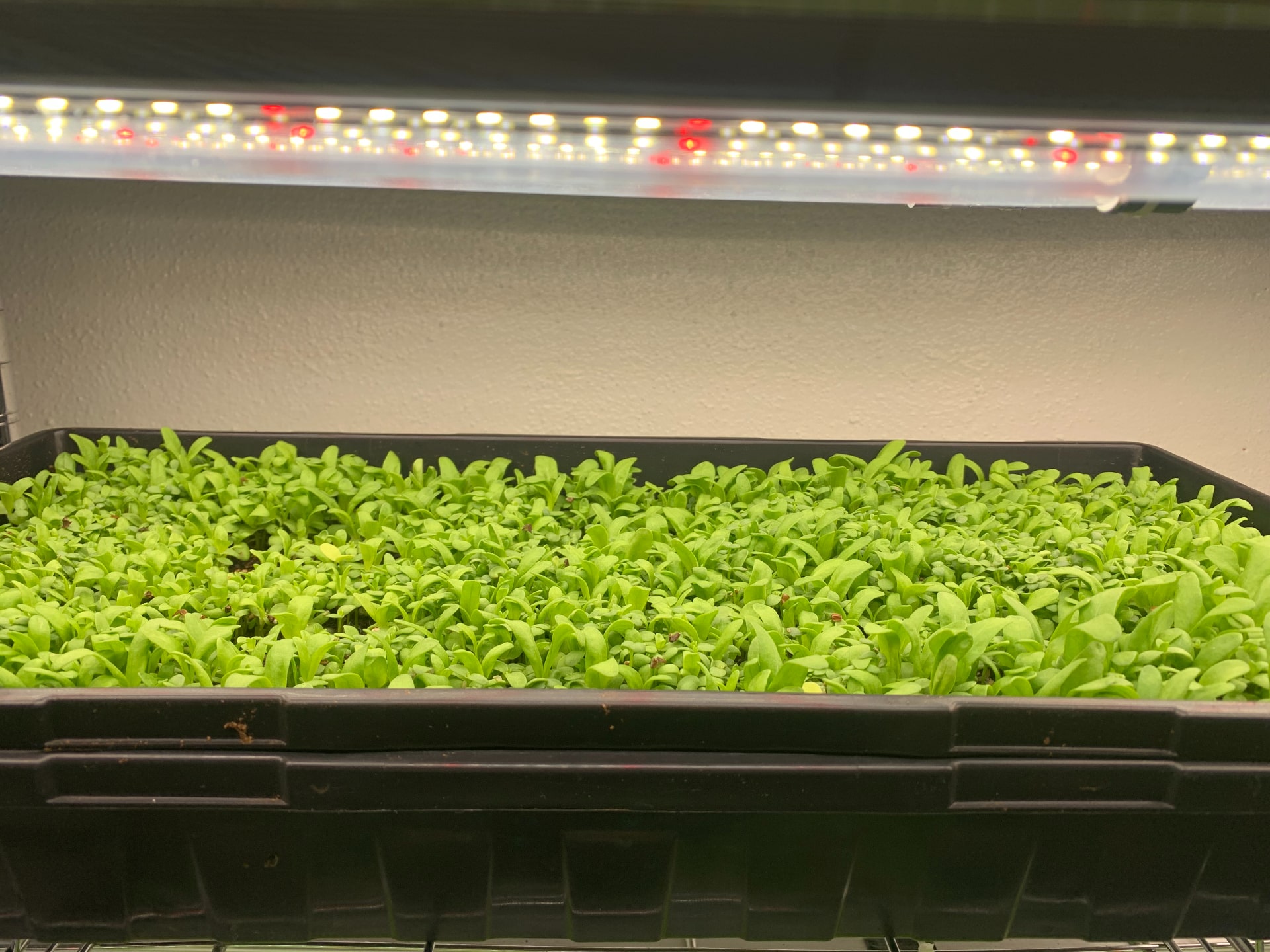 How are Urban Garden 215's microgreens different from what we might find at a grocery store?
Most farms out there are growing the run-of-the-mill microgreens: radish, broccoli, kale. I mostly grow rare produce varieties, like medieval herbs like purslane, chervil, salad burnet and mizuna, and other specialties like purple kohlrabi, chrysanthemum, crimson clover and arugula microgreens. 

I've had more than one person tell me that so many other kinds they've tried just don't have as full a flavor as mine. I have the ability to control the environment to where the growing conditions are perfect. I also practice electroculture and play my plants classical music. The flavors are so wild: I had cantaloupe microgreens the other day and they tasted like cantaloupe. Oriental mustard greens are similar to how wasabi punches you in the nose!
Do you grown other things besides microgreens?
I grow mushrooms, and I sell seedlings and give away seeds. I also make microgreen powder, which is just dehydrated, pulverized microgreens. You can put the powder into anything, like honey, chocolates and peanut butter energy bars. Next spring I'm going to come out with a lot more things infused with microgreen power to sell.
It's so impressive how much you're able to do with such a small footprint!
That's the idea of nanocultivation: to do as much as I can with as little as possible. I have a compost tumbler, a worm farm, rain barrel and grow wherever I can in my front and back yards, too. I'm surprised more people aren't growing this way, but I think most people try gardening, kill a few plants and get discouraged.  There's a saying: The best gardener kills the most plants. My neighbors are all wowed by what I'm doing, but I tell them, you really don't know all the failures I've had! I just keep learning and trying again.
To learn more about Urban Garden 215, check out its website and follow along on Instagram, where Knight also shares his experiments growing heirloom seeds that have been saved and shared across generations. You can find Urban Garden 215 set up at the Berwyn Farmers Market, which takes place every Sunday at Bronze Plaza in Berwyn, PA (note: the market occurs weekly, but Urban Garden is there on a bi-weekly basis).
Explore our Meet the Farmer series for more stories about Pennsylvania farmers, like Sistah Seeds, a Black-owned farm growing African, African-American, and Afro-Carribbean heirloom vegetable seeds; Stephanie and Hayley Painter of Painterland Sisters Yogurt, who are evolving their family's dairy farm; Joel and Emily Kuhns of Odyssey Orchard, a start-up cider apple orchard; and much more!