As part of our Kitchens + Gardens theme, we are taking a peek into the kitchens behind some of our favorite restaurants and asking the chefs, "What's in your walk-in?" These culinary pros will show us the specialty and seasonal ingredients they currently have on hand to make their dishes shine.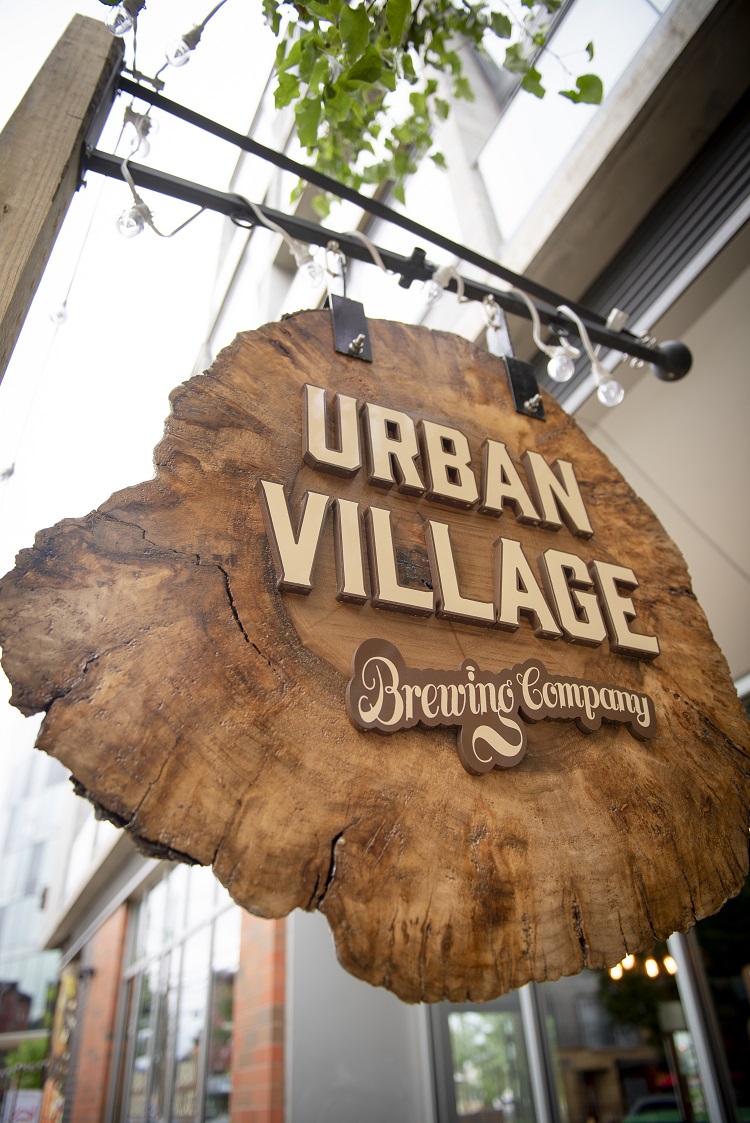 Celebrating one year this month at the bustling Schmidt's Commons in Northern Liberties, Urban Village Brewing Co. is a spacious and city-hip brewpub from Brewer Dave Goldman and General Manager Tom Revelli of Landmark Americana fame. It's been quickly adopted by the neighborhood. Guests love the ample seating (great for large groups) and the vibrant outdoor lounge with flickering fire pits.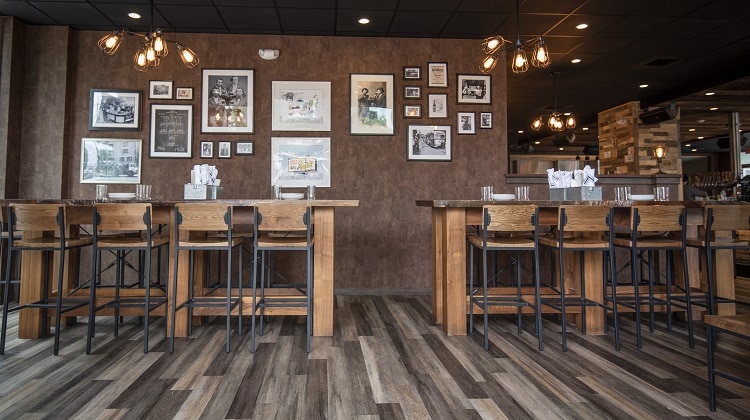 The interior is anchored by a considerable central bar overlooking several fermentation tanks on one side, and an energetic open kitchen on the other. Urban Village is a destination that offers signature pub fare perfect for pairing with its 12-tap lineup of rotating easy-drinking kolsches, smooth ales, biting sours and hoppy IPAs.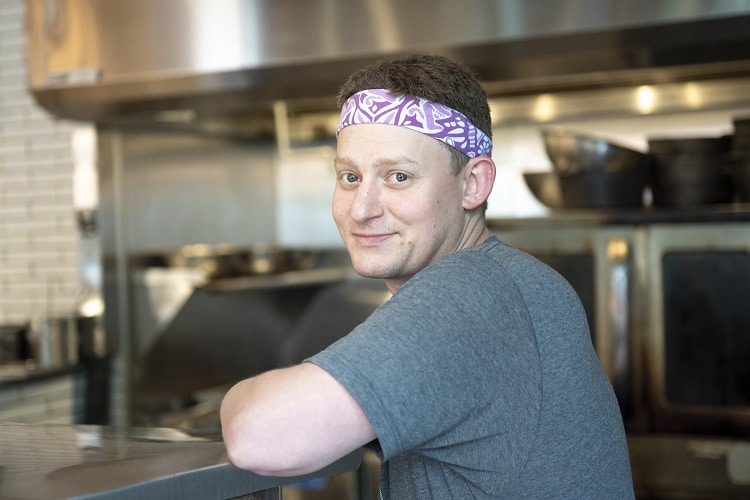 Executive Chef Chris Davis has helmed the kitchen here from day one (after stints at Barbuzzo and Popolino). He says, "We elevate brewpub fare in that we make our own pepperoni, ricotta and mozzarella which gives our oven-baked pizza a flavor that no one else has. We work hard to bring great flavor, consistent quality and a few surprises to the entire menu here." Additionally, signature sourdough breads and pizza crusts are made fresh daily and serve as a focus for the Urban Village menu.
Shareable plates include smoked rainbow trout, spicy red mussels and the vegan-friendly whipped ricotta with roasted asparagus; hearty stacked sandwiches, like chicken BLT, grilled cheese and the Vegan Bella (using portobello mushrooms), are all on made-in-house sourdough breads and pitas; crisp salads come topped with seasonal dressings. The oven-baked pizzas at Urban Village truly excel, with tomato sauce (red pies) and pesto and cheese (white pies). Standouts include the Samantha, with spicy fennel sausage, golden fennel and ricotta salata, and the Tara, with truffle cream, Kennett Square mushrooms, pickled banana peppers, mozzarella and pecorino.
We had the opportunity to follow the energetic Chef Davis around the busy maze-like kitchen as he explained his must-haves in the Urban Village Brewing walk-in refrigerator:
Strawberry Balsamic Vinaigrette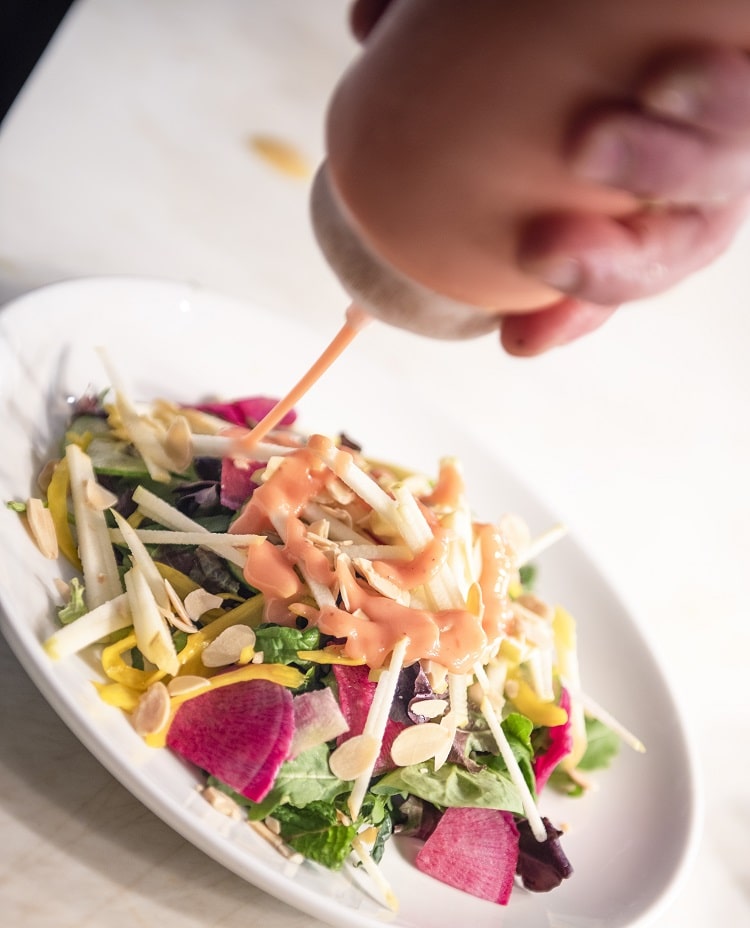 This primary summer dressing for the house salad is a basic (but oh-so-tasty) blend of in-season roasted and pureed strawberries, a tad of garlic, white balsamic vinegar and extra-virgin olive oil, emitting a combination sweet-and-tangy flavor.
Charred Ramp Butter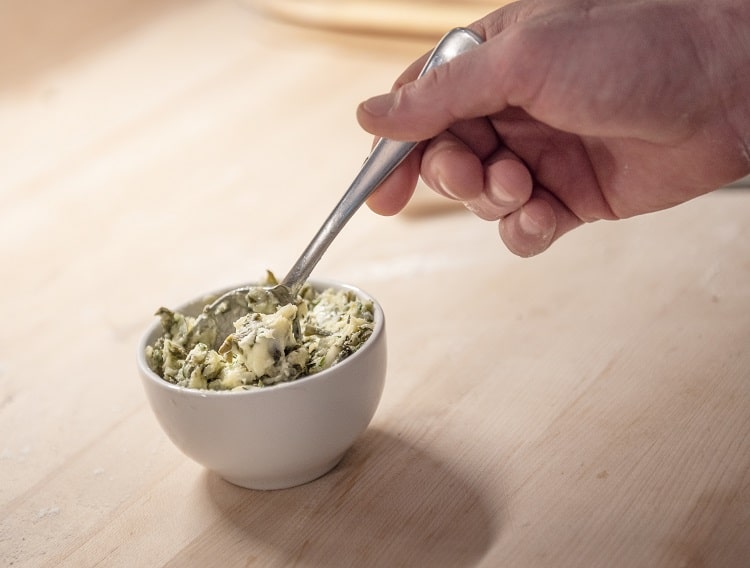 Taking advantage of seasonal ramps (wild leeks), Chef Davis likes to make this compound butter and freeze it to use throughout the summer months. Charring the ramps at a high temp before blending with the butter exudes a deep smoky flavor that mixes well with citrus zest and fresh herbs. The ramp butter is used in steamed mussels, a wonderful gnocchi plate that includes ham, spring peas and fiddlehead ferns, and also with a roasted asparagus dish. One of each, please!
Naturally Fermented Pizza Dough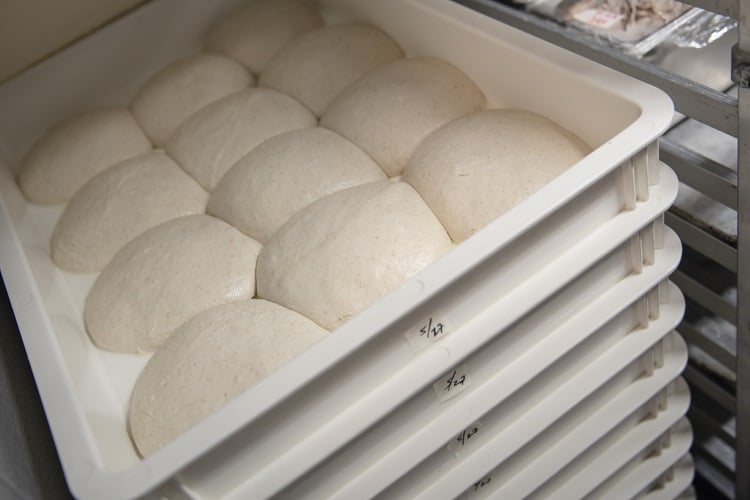 The walk-in fridge at Urban Village is full of segmented and dated bins of dough in various stages of growth. "Our menu revolves around our dough," reiterates Davis. Production of the dough transpires almost daily and yields enough volume to keep the customer happy with an amazing array of hand-crafted pizza.
The several-day-long process involves creating and fermenting the starter, a mix of flour and water that sits in covered bowls in a warm location. This part of the process is called proofing. Yeast and additional amounts of flour and water are mixed with the starter to form dough which is then folded, portioned and dated.
Beer Cheese Sauce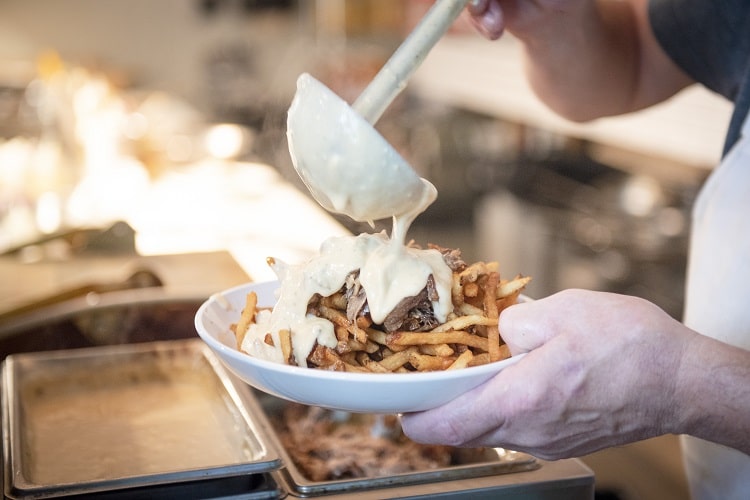 Davis has perfected his own blend of sharp cheddar, provolone and manchego cheeses to pour generously over fan-favorite signature hand-cut fries. (Top them with braised brisket, chili sauce and the beer cheese sauce for the ultimate thrill!)
Thanks for letting us tag along, Chef Davis, and we look forward to visiting again soon!
Urban Village Brewing Company is located at 1001 N. 2nd St. in Philadelphia; phone: (267) 687-1961.