Urban farms are always strong reminders that one doesn't need acres upon acres in a wide-open rural area to grow food and feed their community. With heaps of resourcefulness and grit, city farmers are able to turn corner lots, backyards and other random patches of space into productive farms, which often double as gathering spaces or places of respite for neighbors and friends. Stephanie Ciner is doing just that at Wild Field Urban Farm, her bicycle-powered, hand-tended farm in Erie, PA.
Originally from Johnstown, PA, Ciner founded the farm after moving around after college and making her way to Erie through volunteering with AmeriCorps. As we learn in our Q&A with her, the way has been winding —in fact, she's still questioning if her model, which includes a pay-what-you-can farm stand, is sustainable for the long term. Get to know Ciner's story here:
PA Eats: Let's go back to the beginning. Can you give us a brief background of Wild Field Urban Farm?
Stephanie Ciner: Well, after I graduated from college I was living in Philly, and had almost no space to grow anything. But there was a 2×2-foot square opening in my concrete patio, and somebody offered me a few little free seedlings. I took them home and planted them, then started planting more seeds and knew that was what I wanted to do. I began to seek out more knowledge about growing food from plants. Over the next few years, I found volunteer opportunities, apprenticeships and places to learn more about agriculture. I lived on a farm for awhile, then began traveling around on my bicycle to visit as many communities, cities and farms as I could who were doing community work through agriculture, food and relationships.

During my year-long bike tour, I was in an accident and broke my ankle and could no longer continue my trip. I ended up back at my parents' house, and was searching for where I could move to start over. I applied for an AmeriCorps program, and was placed in a school gardening program in Erie. I thought I'd move up here and live for a year, but I ended up doing four years of AmeriCorps! During that time, I decided to buy a house and get some land. Erie is unique for many reasons, and one is that the cost of living here is exceptionally low. That is changing, but back when I got here, I could not believe how inexpensive it was. That's how I could live on a volunteer stipend, get a mortgage, start a business. Also, so many people have supported and helped me through volunteering, donating, giving so much, and all of that is what has allowed me to do this.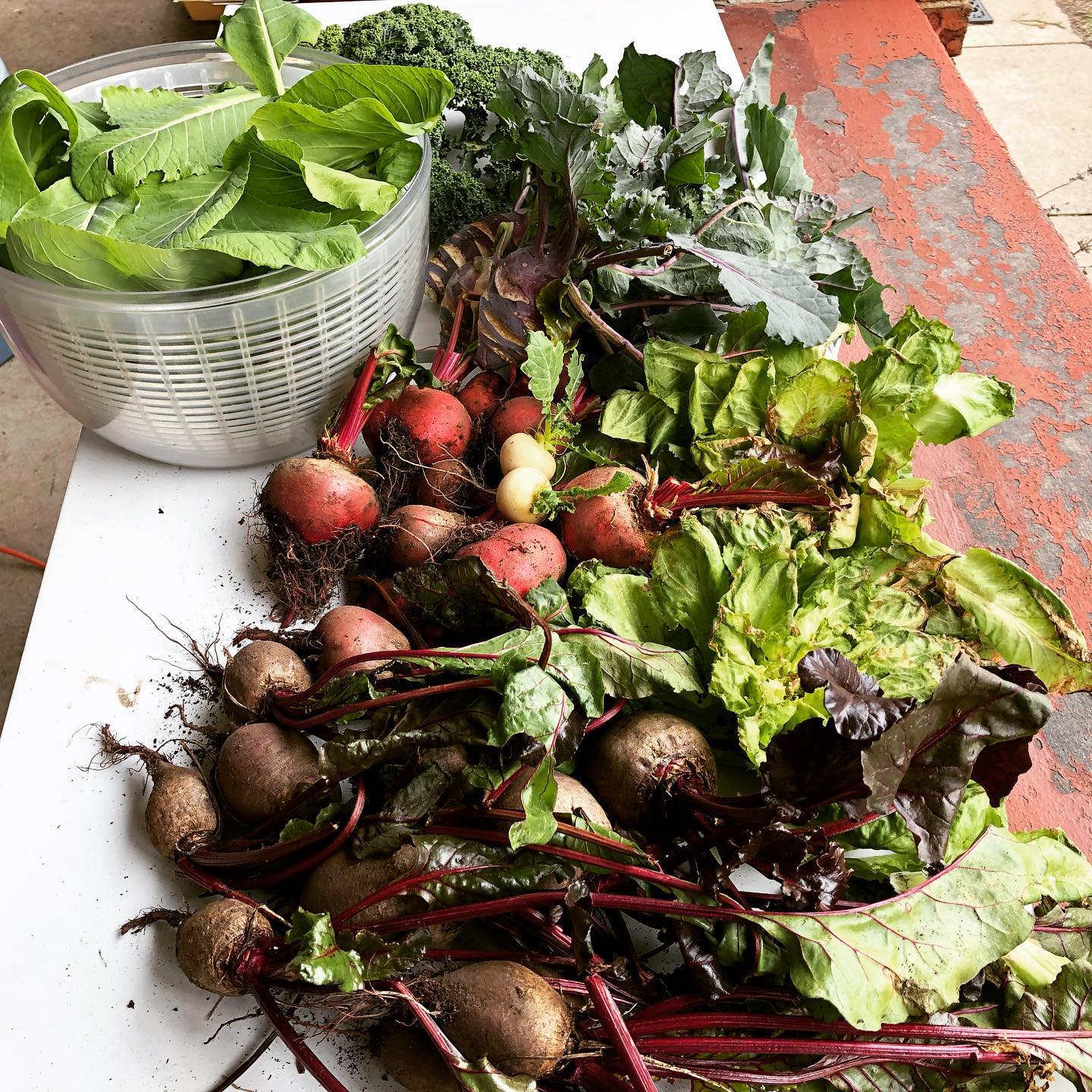 Did you buy your house specifically with starting an urban farm in mind?
Yes, I bought a house and two lots next to the house, with a dream of growing stuff in that space. I didn't know exactly what that would look like until in 2020 when COVID shut everything down. I was working from home and everything was canceled. All that extra time, and knowing I wouldn't be going anywhere or doing anything, allowed me to pour my energy into the land. I had been working on it here and there. In 2020, I registered Wild Field Urban Farm as a business, designed a logo and decided to sell at markets.

I'm in my third year officially, and there's already been some evolution and transformation. To be honest, my heart and skills are not in business at all. What drives me isn't earning as much money as I can per square-foot. It's really about loving being outside with plants, and the joy plants bring to me, to other people and to creatures, as well.

Tell us a bit about the farm!
It's on the east side of town on 7th Street in a heavily residential area. The lot is a little under a quarter of an acre, it's like two parcels, and I bought each one separately. When I was looking at houses, the reason I wanted this one was because I saw these two pieces of open land and I hoped in time I'd be able to take those on.

Something that's part of urban agriculture that needs to be called into question is the practice of coming into a disinvested neighborhood and buying up land and growing stuff and assuming that everyone will instantly love it. I wanted to get to know the other people on my block first. I try to be mindful that I have compost and rain tanks and wood chips, and people might see those areas as looking neglected. I've been trying to be more conscious of making the farm look beautiful on the edges so people walking or driving past don't just see mulch and compost. In the front, I have a hedgerow that has shrubs, perennials flowers and herbs, and behind that there's a big section of row crops where I intermix vegetables and flowers.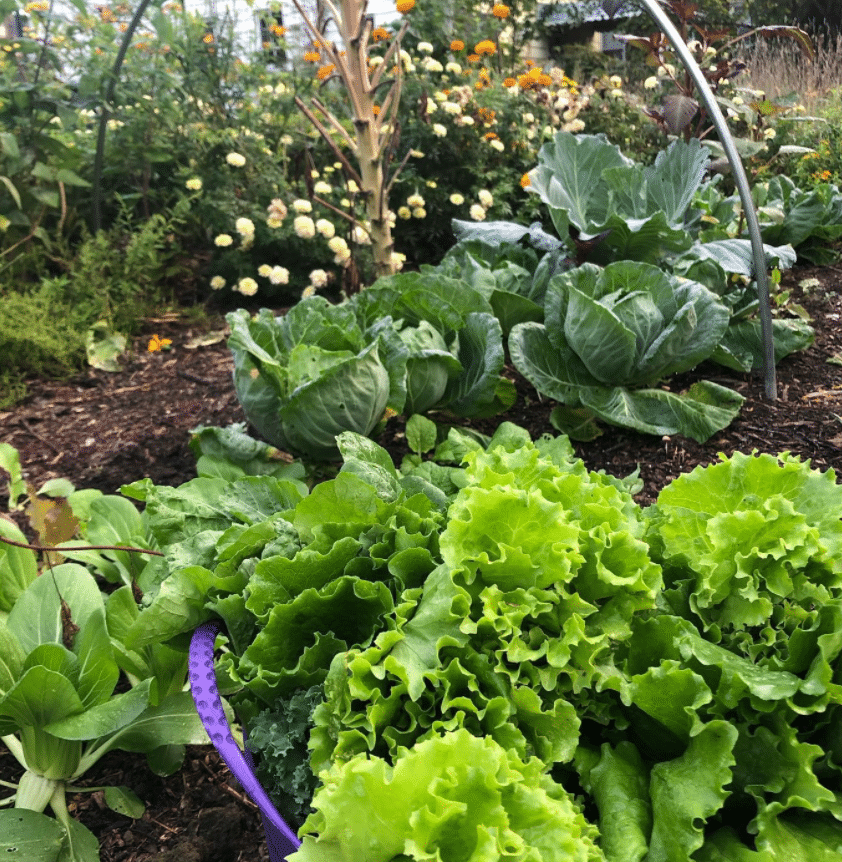 Was it tricky planting and growing on city land?
Actually, when I first started out, things grew really well for me, so I had this idea that whatever I planted was going to be abundant. But as I started growing on a larger scale, I burned up a lot of those soil nutrients and my plants were suffering. I realized that without working on foundational soil I'm not going to be successful long-term. I'm growing in almost sand that had previously been heavily used for urban use. The land needs something more than me extensively farming it.

I am trying to find a balance between growing what I can to bring in money and help cover the cost of running this, while also practicing really good soil health stuff. That means making my own or sourcing amendments, trying to attract microbial life and growing cover crops. That's a lot of new stuff for me to learn. I spent five years studying farming, but now that I'm in my own space I'm learning so much for the first time. That's been a lot more of a challenge than I expected but it also confirms to me that this is what I want to do, because I don't get bored. I can keep learning and improving over my whole life.

What are some of your favorite parts about running your urban farm?
Something that has always brought me joy from gardening is that there is always food to share with people. Relationships grow so naturally around food, and that was a big thing for me about wanting to have a farm. But it's also hard. The struggle of, say having a CSA, knowing that I've committed to those customers, that can make it more difficult for me to want to share what I'm growing. It creates this sense of scarcity, like I need every single tomato for my CSA. My farm is in such a visible spot, that I offer people whatever they need, but as people take stuff, it can feel like there isn't enough to sell.

For me, it's an internal struggle, because part of me feels like the earth is abundant and everyone can have whatever they want or need. But when I'm spending a lot of money on all the parts of the business, it's hard to have that sense of wanting to freely share. Because I feel like I have to at least break even and pay myself for at least part of my time. 
That seems like a tough emotional conflict that goes outside the bounds of regular "business."
Yea, it's like, Does this work? Or, is this just my hobby and I can't expect it to be profitable? I'm not quite there, but the model that I have is not a successful business model. Some of that is my own fault and some of that is the fault of these systems that we all inhabit. Vegetables and fresh herbs aren't highly valued. Like, this tomato that I've spent 8 months growing, that's worth $1. It's hard to put in that constant daily labor and see that the value is so low in the market. I'd almost feel better in my soul to give it to someone who wants and values it as a gift versus selling it for $1.

To help make money, I'm growing a lot more flowers than vegetables for sale at this point. Especially this year, I'm trying to keep the vegetables for this project I have that's a pay-what-you-can farm stand, the Parade Street Fresh Food Farm Stand. We did it last year from July through October. We're not a non-profit, however we also see all the inequities about who can access really good local produce and who can't. I've had these conversations for years about food policy and food injustice, and believe we can't just keep talking about them, we actually have to do something, even just for our own neighbors. Our model was to set up a farm stand right in an area where there's not a lot of fresh produce, where farmers don't come, and just display our produce with suggested prices. Anyone who comes by can take what we have, pay the price or donate, and we encourage them to come back next week. I'm really trying to create an alternate model, and am growing more produce this year that people request, so I feel like I'm contributing positively to my community. 

What was the reaction from your neighbors to the pay-what-you-can farm stand?
Overall, I feel like it exceeded our expectations. There was a little confusion, even for us,  in navigating how to do this. Like, if someone comes to fill up a huge bag and just leaves, is that okay? But most of the interactions were people coming to us, having conversations about growing stuff, and asking what we're able to grow locally. I'd sell on Monday nights at the Little Italy Farmer's Market, and set up the Parade Street stand on Tuesday mornings. So I'd go around at the end of the market at the end of Monday and see if there was anything the other farmers didn't want to take home. Some people would donate to us and some people would negotiate a reduced cost.

We're trying to create our own little mini-food-system, like all this food gets trucked in from an hour away, and instead of trucking it back out, can we take some to a neighborhood that doesn't have a farmers market? Some home gardeners and school gardens also donated and some people would say, "We love what you're doing, here's $20, use it for gas or whatever you need." We created a table of things that were totally free. I try to be clear: If you have money to spend, go support the farmers at the market on Monday, but if you don't, come on Tuesday. 
What are a few of the challenges you face on the daily?
Zoning, regulations and restrictions on things really impact a lot of urban farmers. I was seriously considering building a hoop house until finding out that that is a hard "no." I cannot do that on my property. I could maybe obtain a zoning variance, but there are so many parts to that process, it's expensive and time consuming, and I'd need to pay people, like architects and engineers, just to put up a small movable structure. Raising chicken or bees or selling from your property are all things that can get shut down. I wish the system was more friendly and flexible to allow people to grow food. We need more food here. I don't feel like there's been a lot of willingness to dialogue about that on the regulatory side.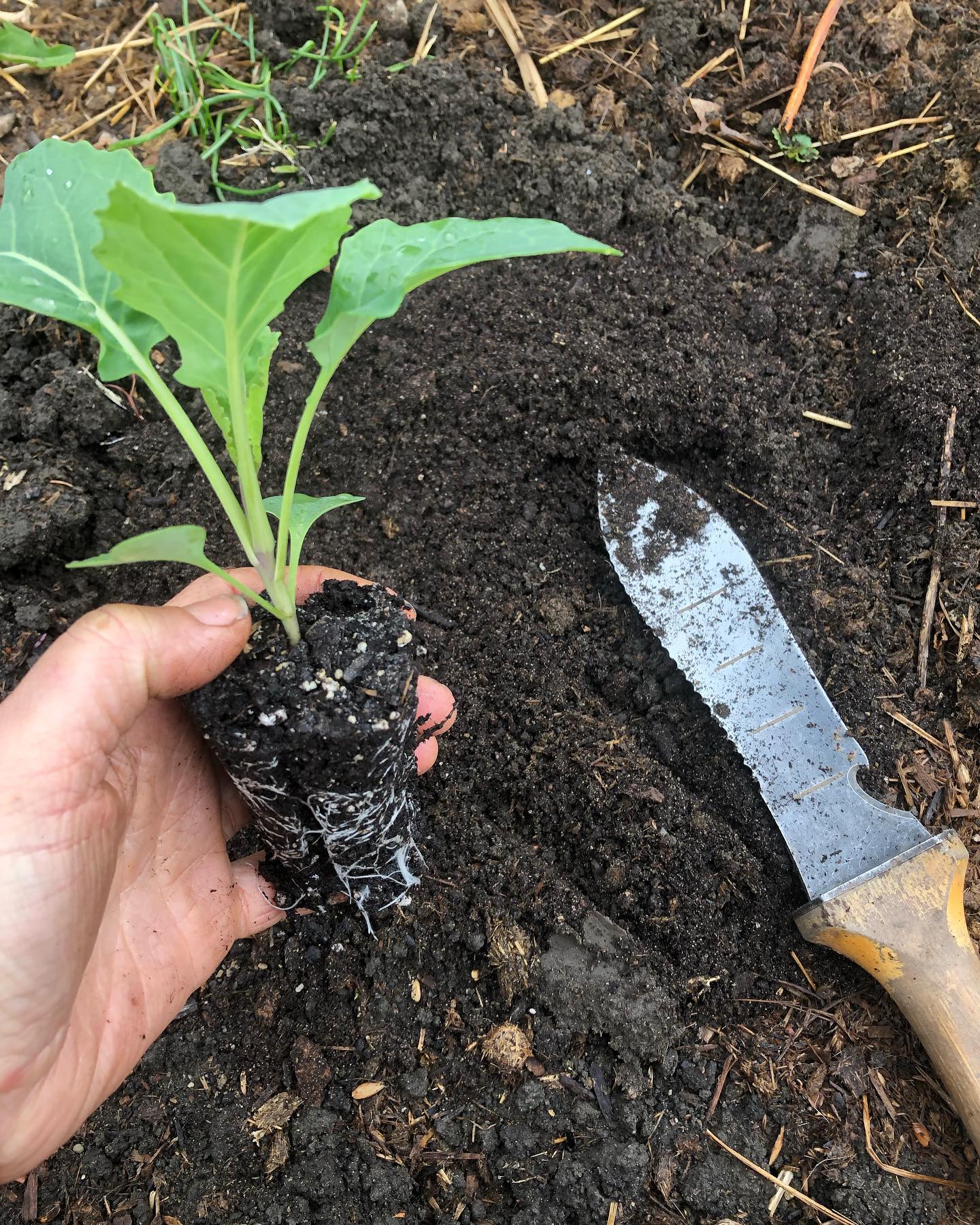 I have a natural bent to do as much as I can, as fast as I can. In a way, these limitations have forced me to be thoughtful, go slow, build support, show people what we're doing here and get some feedback. There are things that feel unfair and frustrating, but I'm able to find some silver linings.
Do people come visit you on the farm?
Last year as COVID restrictions eased up, I had some field trips coming to the farm through different community programs. It was really fun to see that what I'm doing can be educational. I partnered with a youth and family program through our city mission to host gardening workshops and a dinner. These are small things, but it's nice to feel like the space is being shared and is bringing joy to other people, too. That helps us feel connected and experience kindness and compassion in our daily lives, and I think that's what will change the world.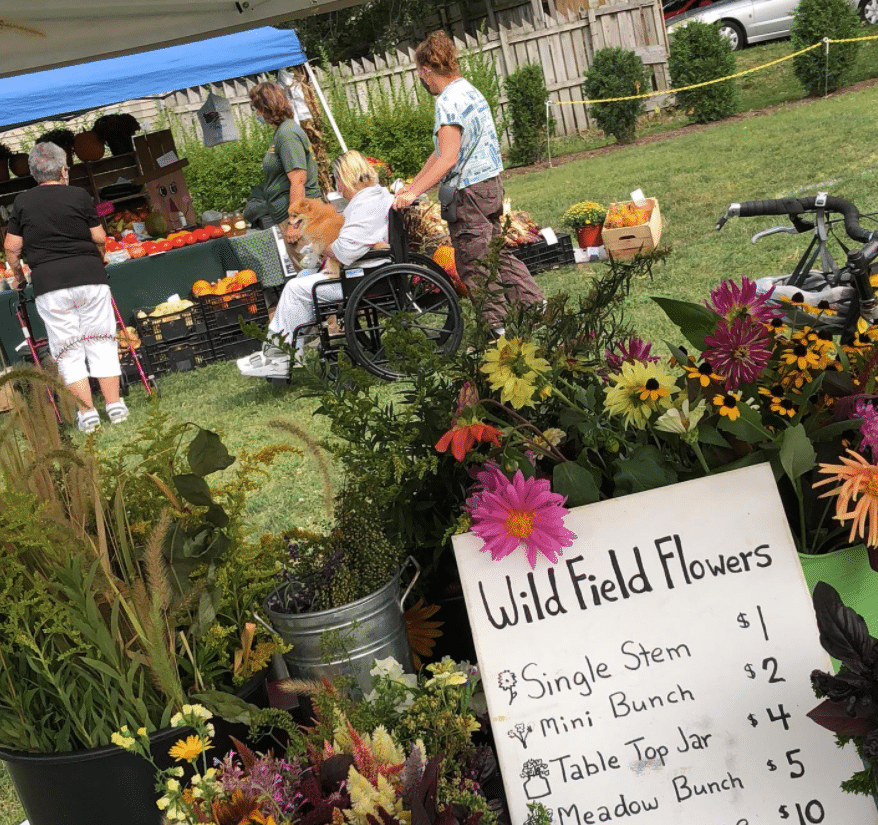 To learn more about Wild Field Urban Farm, and for a peek at daily farm life, follow along on Instagram. From late June through September, you can find Stephanie every Monday evening at the Little Italy Farmers Market, which, she notes, is the only farmers market in Erie to match SNAP, WICC and FNMP. Locals can also sign up for Wild Field's flower CSA subscription, which provides 10 fresh bouquets and 1 dried bouquet every other week from May through October. Ciner let us know that the Parade Street Fresh Food Farm Stand will likely be setting up the same location this year (15th and Parade Streets), but if that does change, they will spread the word far and wide!
Photos:

Courtesy of Wild Field Urban Farm