With such an amazing number of breweries in Pennsylvania, newcomers to the scene have to try to find a way to stand out. Some go for unique branding, incredible tasting room spaces, memorable beers, and compelling food programs. YAH Brew, a new brewery in Hershey, PA, is coming out of the gate with all of these working for them.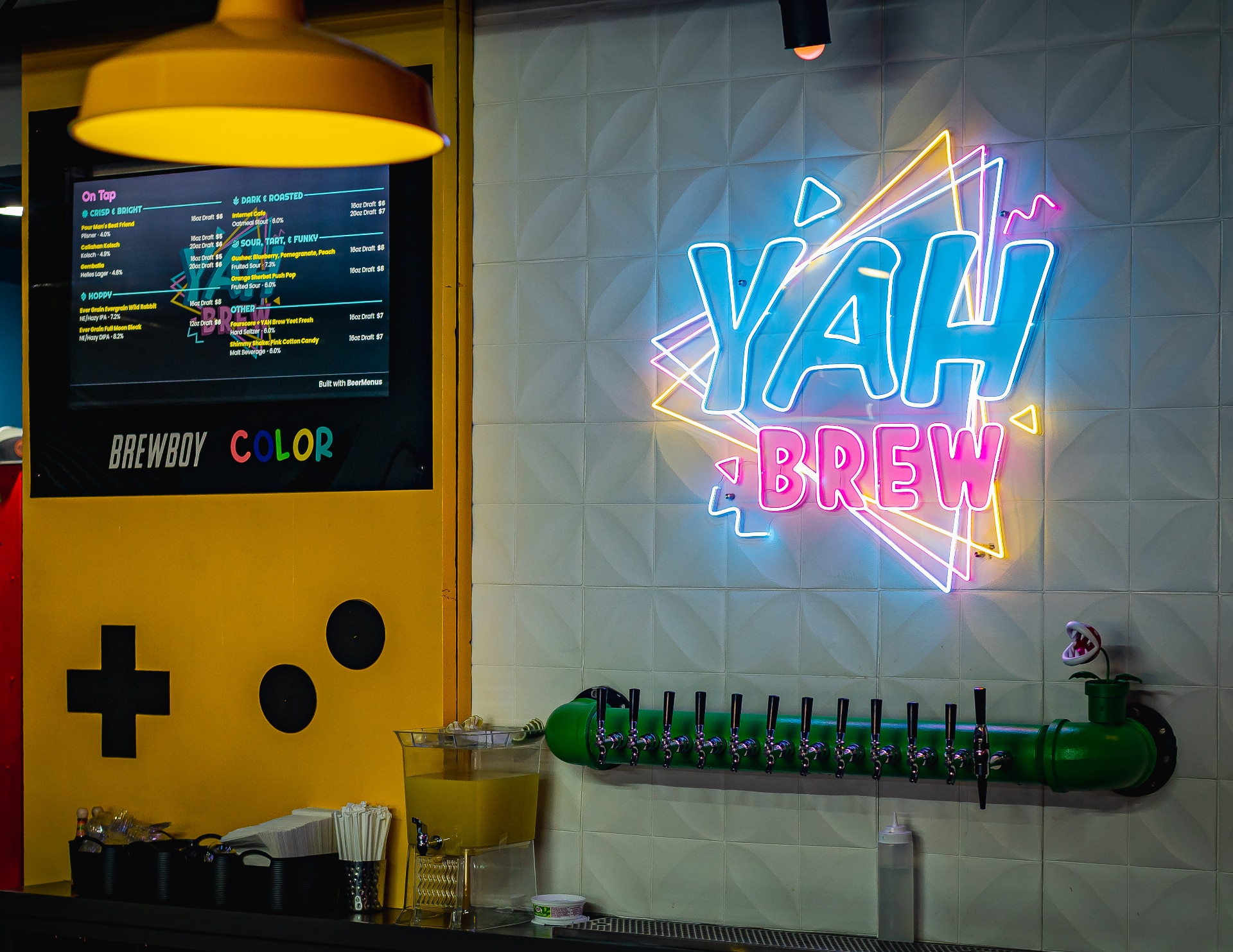 For starters, YAH Brew is a 90s-themed brewery, speaking to that era that's so deeply nostalgic for Millennials. Its geometric logo, themed beers and food specials and interactive, wildly colorful taproom are the antithesis of the rustic-industrial or sleek minimalist aesthetics that so many breweries go for.  It's more like what a bar owned by Nickelodeon might look like, dripping with neon hues and pop culture references.
The YAH Brew taproom has only been open since May of 2023; in the year leading up to that, owners Aimee and Justin Hoak were brewing out of their home garage, pouring beer at festivals and tasting events and renovating the space they're now in, which was a true DIY labor of love. The taproom, which is full of 90s eye candy, serves a killer lineup of YAH Brew and other PA breweries' beers, a long list of cocktails, and a great food menu, including pizzas, crunch wraps, tacos and Sunday brunch.
We caught up with Justin Hoak amidst a busy day to learn more about what's going down in this cheeky 90s-themed brewery:
PA Eats: Take us back to when and why you wanted to open a brewery.
Justin Hoak: I've been in the industry for a number of years, in both restaurants and breweries. I'd been brewing professionally for another brewery and even though the people I worked for were great, eventually I just kind of thought, I'm putting my all into this, why not reap more financial benefits from all my labors and have more control?

In January of 2022, I finally said, let's do it. I had a lot of contacts in the industry who helped us navigate the paperwork, and my wife Aimee really did a lot of that stuff. She's actually the owner on paper, and we both work here. She actually just left her full-time job last Friday!
How did YAH Brew get off the ground? And is it true you started brewing out of your garage?
Yeah, we actually got started in our attached garage, and that's where we still brew. I was home brewing in our basement and then expanded out there. We saved up some money, and liquidated some of our personal assets to finance new tanks and equipment. We stocked up, got all our licensing and got rocking that way. It's still a very small system, but we make it work as best we can. It's all very grassroots, coming from an organic place of growth.

For a few months, I was still working full-time at that other brewery, and let them know of everything when it became a reality, which was around May of 2022. We did festivals, collabs and sold some crowlers out of our brewery. We knew we wanted to have a real brewery and taproom, even with my experience being aware of how challenging it could be, that's what we wanted to do.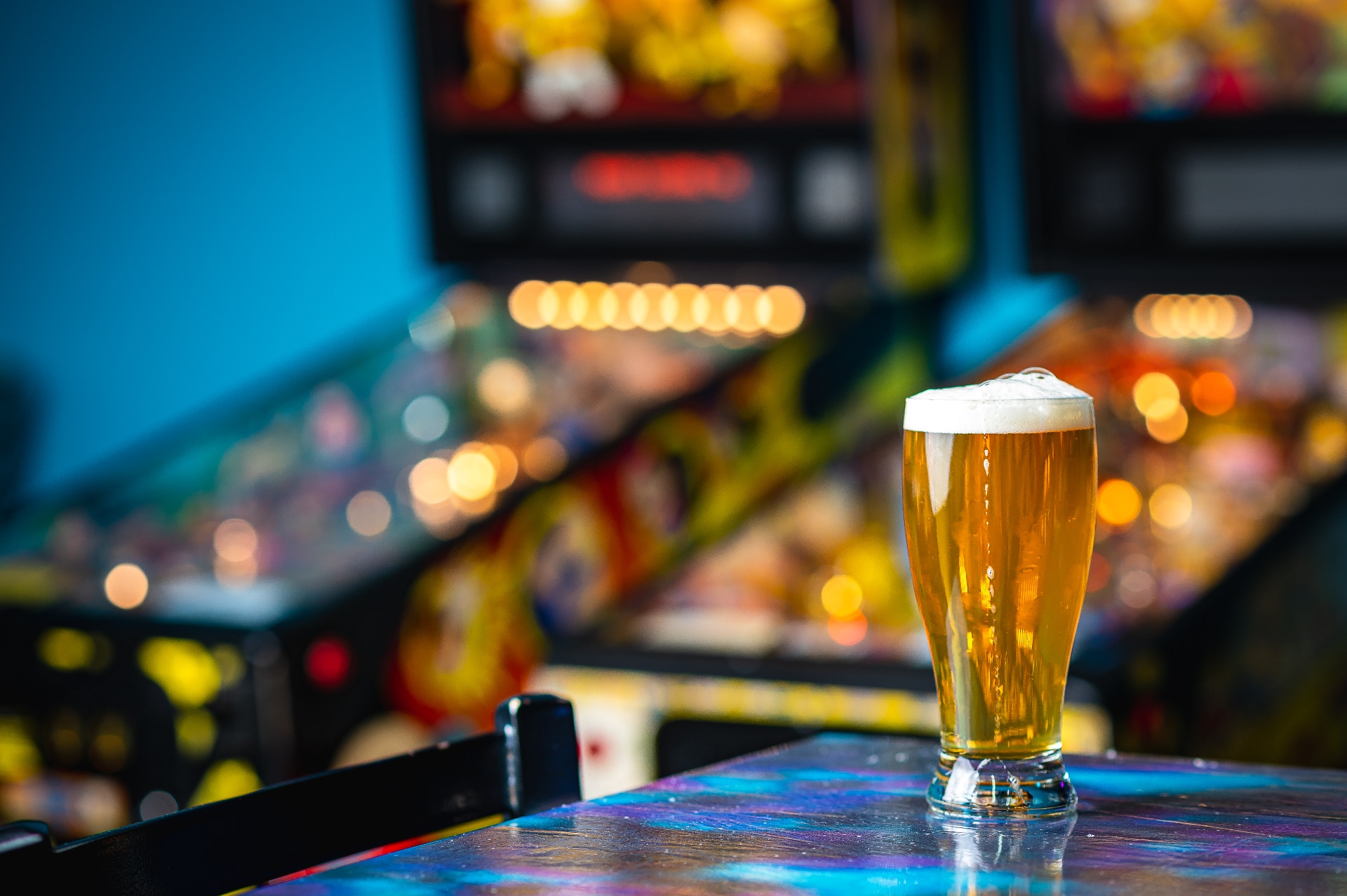 Was it always the plan to open the taproom in downtown Hershey?
Not really. We were looking at two spaces, both which were occupied by the same brewery that had multiple locations. One of them was Lancaster City, which is where Aimee and I are both from, and I have a ton of connections out there. We pursued that opportunity pretty hard, but at the end of the day the property management group wasn't interest in a taking a risk on a new business. So, we jumped on the other location, which was in Hershey. It's a huge tourist area, and we're so close to Hershey Park that you can see and hear the roller coasters from the taproom. We got through the red tape and got in there and started renovating. That was March of 2023.
How do you define your brewing style, and YAH Brew's beers in general?
I brewed what I liked as a homebrewer, with a balance of traditionalism and variety. I have a knack for creativity, and I got to make some really interesting, oddball beers at my previous employer. But, of course, hazy IPAs and fruited sours sell best. I'm a younger guy, and got into homebrewing when the hazies were still in their early stages of popularity. Some brewers will scoff at that stuff, but I like it.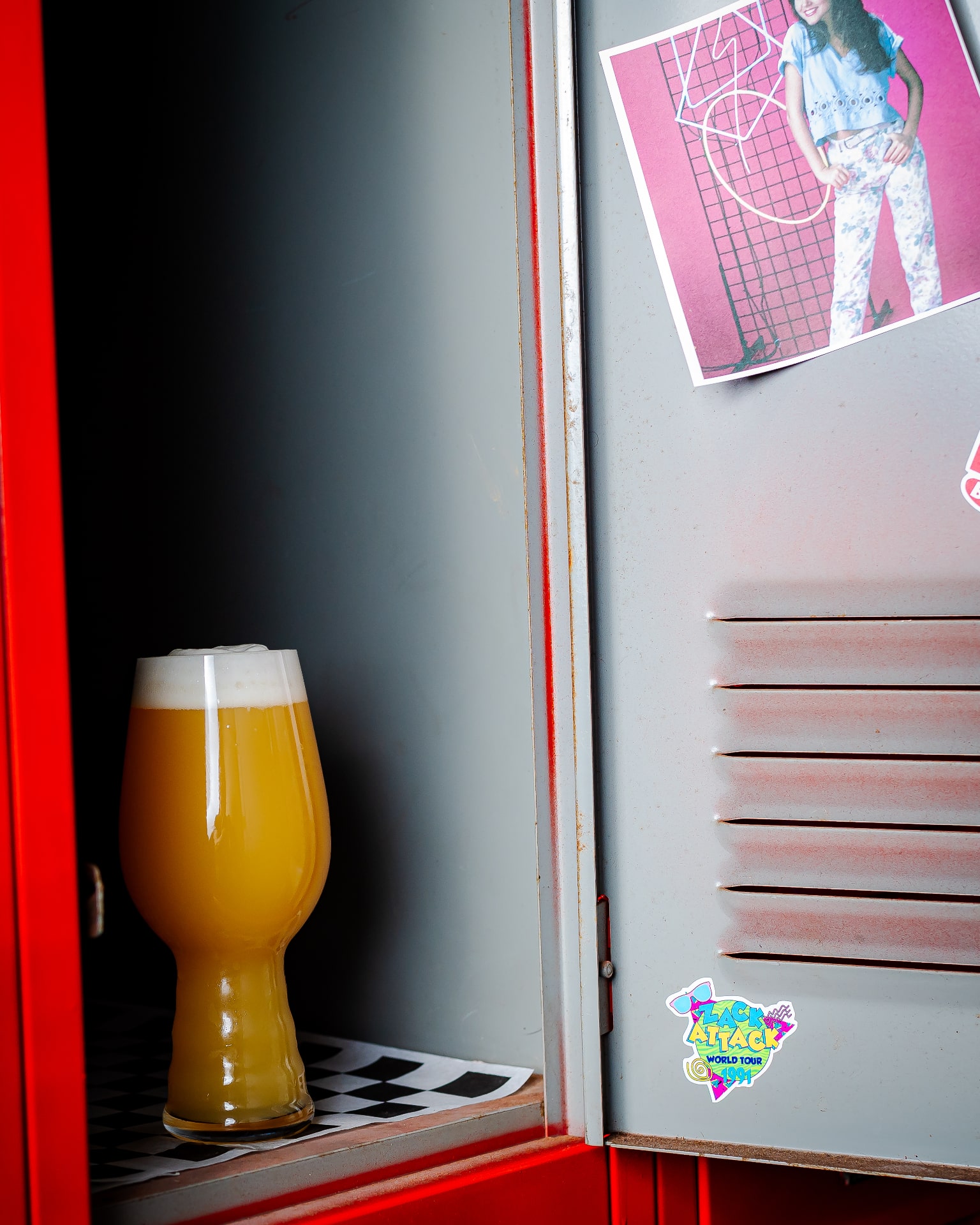 The first beers we made as YAH Brew were Prehistoric Push Pop, an orange sherbet sour, and a hazy IPA called Saturday Morning Strata. That was kind of the birth of a rotating single-hop IPA series we do now called Saturday Morning, where we use different brewing techniques, like hop stands, using Thiolized yeast, adding extra ingredients and other processes. But I also knew that we'd need to pair those beers with some traditional styles, like nice crisp lagers and coffee porters.
How did the 90s theme come about?
Branding wise, we wanted something simple and catchy, with a universal theme. I also didn't want anything political, or anything misconstrued that way. I wanted to create a brand that's neutral, and the whole 90s theme was a good fit. I was born in 1988 and grew up in the 90s, there's a lot of nostalgia for me and my demographic around that decade. Plus, it creates endless possibilities for themed products, cocktails, etc.
Pretty much everything we make has some reference to that era. Prehistoric Push Pop is a reference to those Flintstones ice cream push pops that you could make a car out of. Our Regulate session IPA references the famous song from mid-90s hip-hop, and our house IPA is called Hazed by the Bell. On our food menu, we have Smash Mouth burgers, and Bikini Bottom cocktails on the cocktail menu. We call our cocktail menu Smells Like Teen Spirits. And actually, just the other week, Blink 182 came to play in Hershey Park and we brewed a special beer to celebrate, played their music and music videos all day, and so many of their fans just came in to pre-game before the show. It was like we made a home base for them to just be together, hang out and enjoy the music.
Can you tell us a bit more about how you weave the 90s vibes into the taproom space?
A lot of people comment on our giant Game Boy beer board, which we run our beer menu. There are pinball machines, and we always have 90s music videos playing. We also had an awesome mural done by an artist from Lancaster who owns a gallery called Eso Arts. We wanted something urban-feeling with a lot of 90s hip-hop graffiti references and a portrait of Biggie Smalls. One of my really close friends who really encouraged me to open this place passed away last year, so we had the artist include a tag to honor him.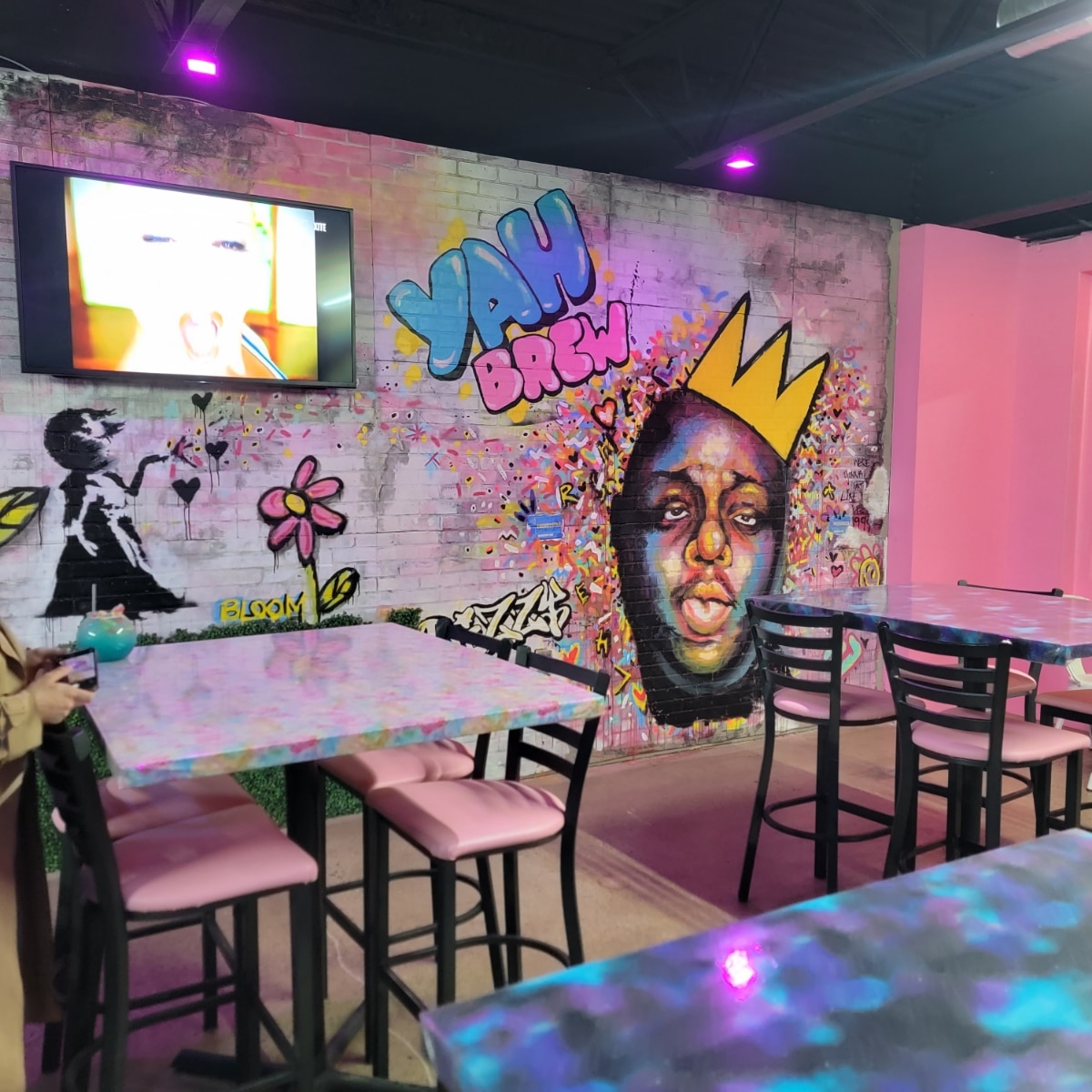 To learn more about YAH Brew, check out its website and follow along on Instagram. YAH Brew's taproom is open Tuesday from 5 to 10 p.m. (including 90s trivia night), Wednesday through Friday from noon to 10 p.m. and Sunday from 9 a.m. to 5 p.m. for brunch.
Find YAH Brew at 251 W. Chocolate Ave. in Hershey, PA; phone: (717) 298-1586.
This series is made possible by support from the Pennsylvania Malt and Brewed Beverage Industry Promotion Board and grant funding from the Pennsylvania Liquor Control Board.
Photos:

Courtesy of Yah Brew