Over the past few years, Phoenixville has become a desirable destination for beer lovers, with Iron Hill Brewery & Restaurant, Stable 12 Brewing Company and the recently opened Crowded Castle Brewing Company and Root Down Brewing Company all located in the borough. Conshohocken Brewing Company will also be opening its doors in the downtown area this fall. Stalwart Sly Fox Brewhouse & Eatery operates just a short drive away, and now word comes that another new brewery will be opening in Phoenixville—Rebel Hill Brewing Company.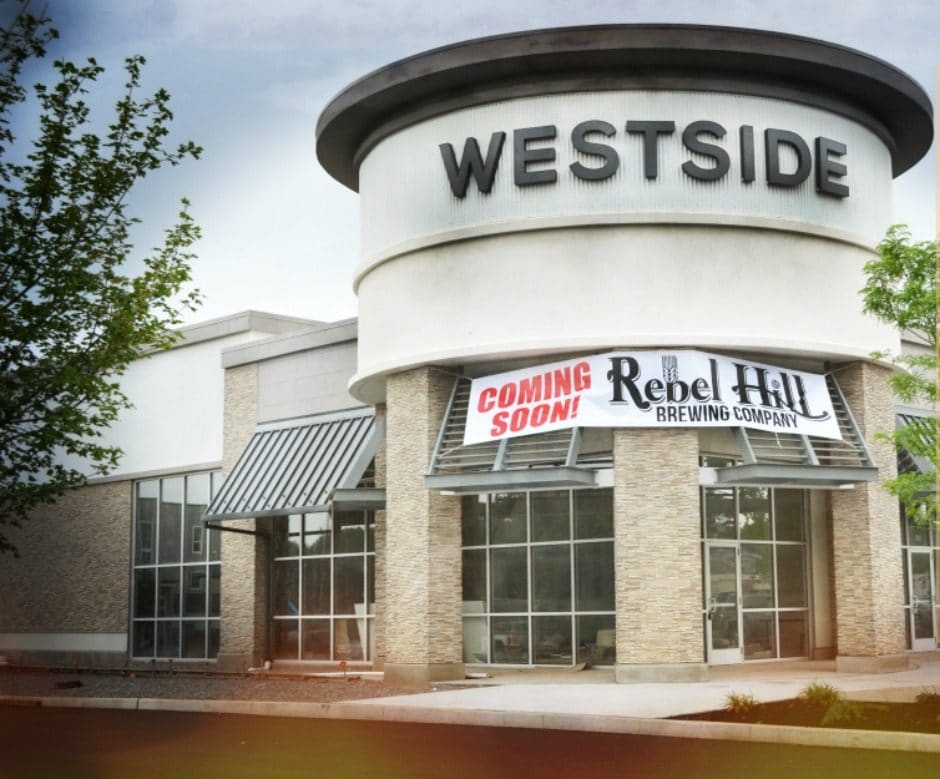 The new venture will be located at 420 Schuylkill Road near the intersection of Rapps Dam Road, and is owned by husband-and-wife team Corrinne and Greg Kluge. We recently caught up with Corrinne to get the scoop on what to expect when Rebel Hill debuts this fall.
PA Eats:  What is your background in beer and brewing?
Corrinne Kluge: Greg has been homebrewing for more than 10 years, learning the ins and outs of brewing on both small and large scale brewing systems throughout that time. I have an extensive background in PR and marketing for local and national brands in various industries including food and beverage, local tourism and destinations, luxury resort brands and most recently, early childhood education.
Does the name Rebel Hill have any significance?
Long story short —yes and no. It's a place Greg used to drive by going to work every day and thought it sounded cool. At the time, there weren't a lot of small craft breweries, so to him, it was all about being different and not brewing what the mainstream wanted you to drink. A lot has changed since then, but in the end, it still comes down to making a beer that isn't the norm, something a bit rebellious.
How many barrels do you expect to brew at Rebel Hill each year?
We have a seven barrel brew house. If we're lucky, we will hit over 500 barrels in year one.
What style of beers do you expect to brew

?
There's nothing off limits for Rebel Hill. We appreciate all styles of beer and that will be reflected on our taps. With that being said, we definitely brew more in the North East style of pale ales and IPAs. We want all of our beer to be approachable, yet intriguing.
Do you plan to distribute your beer, or will your beer only be available for on-premise consumption?

On-premise only. We will have a 30–40 seat tap room and a seasonal outdoor beer garden with an additional 40 seats. Growlers will be available for takeout and looking forward, we would also like to can our beer one day.
How about food? Will you also have a kitchen?
We will not have food in-house. However, we will be partnering with several local restaurateurs and food trucks. As our opening gets closer, we'll be able to share more about food offerings at Rebel Hill!
Speaking of opening, do you have a date set yet?
Best case scenario, we will open by the end of October. Keep your eye on our social media pages for information and updates.
Why did you choose Phoenixville as the location for Rebel Hill?
We looked at a lot of different places throughout the area between Lafayette Hill and Pottstown. It actually took us well over a year to find the right spot. When the planning for Rebel Hill started, most of the breweries in Phoenixville hadn't even opened yet. We live in Phoenixville. Our children were born here and will be raised here, and we wanted to stay and support the community that we live in. Our ultimate goals are to help the beer scene thrive and produce world class beer here.
Excited about Rebel Hill Brewing Company opening in Phoenixville? Follow Rebel Hill on Facebook, Instagram and Twitter for more information.
Photo:

Rebel Hill Brewing Company