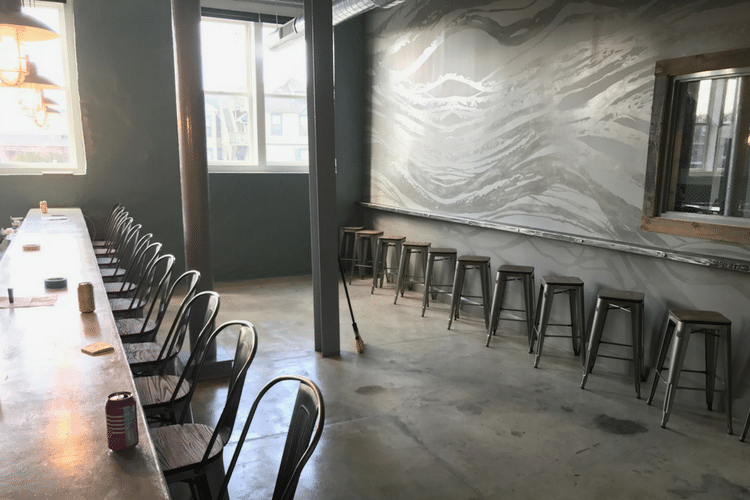 We've been anxiously keeping up with East Branch Brewing Company, whether it be by Facebook, Instagram or driving slowly by the space on Lancaster Avenue, hoping to grab a glimpse of the goodness.
Well, Downingtown, the wait is finally over! You'll be able to grab your first pint at East Branch Brewing Company this Sunday, September 24, at noon. And don't forget to bring cash! The brewery's POS system isn't quite set up just yet.
With five (or maybe even six) beers on tap, there'll be something for everyone to fall in love with. Expect the following styles: farmhouse, pale ale, West Coast IPA, DIPA and kölsch. Order a taste of a few if you want to really dive into the world of East Branch.
Grab a seat at the hand-poured cement bar, or post up at the adjacent standing rail and take it all in. You'll notice that most of the items in the space are reclaimed. The bar front is created from old pallet wood, while the foot rail and standing rail are both made from the shipping crates in which the brewhouse system arrived.
And when you do fall for a beer (or two), make sure you take home a crowler. And if you're looking for a higher quantity, feel free to bring in your own growler. Don't forget to purchase a t-shirt while you're there, so you can really show off your new town crush.
While there won't be any food available on Sunday, you're welcome to grab something elsewhere and bring it in to pair with your beer. There will be food trucks parked outside occasionally during normal hours.


If you miss the Sunday opening, don't worry! Stop by Thursday, Friday, Saturday and Sunday every week during these hours:
Thursday: 3–10:30 p.m.
Friday and Saturday: noon–11 p.m.
Sunday: noon–9 p.m.
And yes, this opening just so happens to coincide with Downingtown's FallFest. So if you'll be at FallFest on Sunday, pop in to East Branch and say cheers to Downingtown's newest watering hole!
You can find East Branch Brewing Company at 202 E. Lancaster Ave. in Downingtown.
Photos:

East Branch Brewing Co.