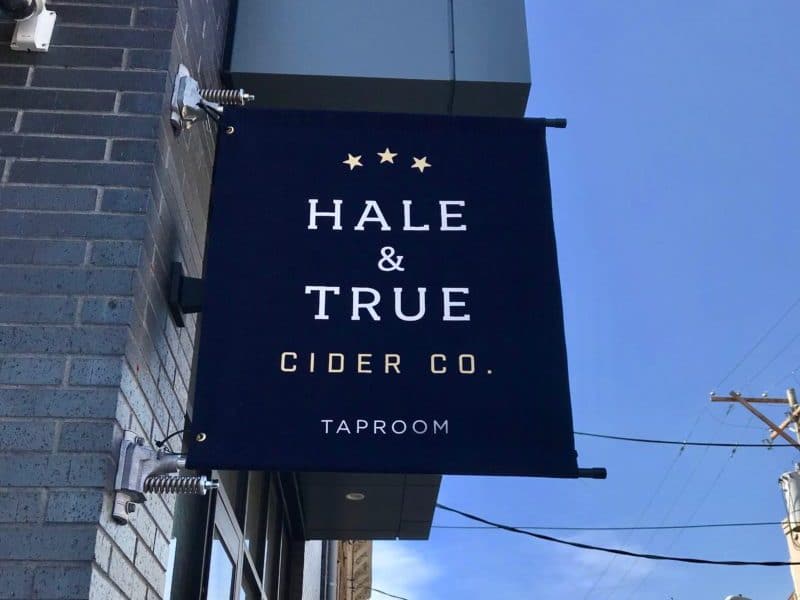 After months of eagerly waiting, we're happy to announce that Hale & True Cider Co. is celebrating its grand opening on Saturday, April 28! Back in December, we gave you a sneak peek into the progress of this urban cidery in Bella Vista, and the results of the build-out look spectacular!
Owned by cider enthusiasts Kerry and Risa McKenzie, Hale & True is the next step in Philadelphia's cider community coming to fruition. The space, at the corner of 7th and Kater Streets (right between South and Bainbridge) will combine a production facility with a 50-seat tasting room. A handful of ciders will be on tap at once, like The Standard, Hail to the Hop, and Sail Away, a mango-infused cider inspired by the young couple's honeymoon in Hawaii.
There will be a selection of local beers and wines on offer, and cider-friendly snacks provided by The Good King Tavern. From a perch at the bar, guests will be able to see the cider making in action through large windows. Hale & True will produce its product on three, 10-barrel fermenters and four, 10-barrel bright tanks hooked right up to the taps.
Stop by on Saturday, April 28, starting at noon, for Hale & True's grand opening. Thereafter, it will hold hours on Wednesdays and Thurdays from 4–10 p.m., Fridays from 4–midnight, Saturdays from noon–midnight and Sundays from noon–9 p.m.
Find Hale & True Cider Co. at 613 S. 7th St. in Philadelphia.
Feature photo:

Hale & True Cider Co.