There's just so much delicious ice cream produced in Pennsylvania that the folks at the PA Department of Agriculture and Visit PA teamed up to create the PA Ice Cream Trail, 12 different spots throughout Berks, Chester, Lancaster, Lebanon, Lehigh, Montgomery and York Counties. Each stop along the trail is a creamery on a farm (see the full list here), so only the tastiest products made from the freshest dairy are on offer.
Sweet scoops aren't the only reward for heading to the designated spots on the PA Ice Cream Trail — you can also play to win prizes! Head to six of these locations and get your passport stamped to win a free #PursueYourScoops t-shirt, or visit all 12 stops on the trail to win a #PursueYourScoops ice cream scooper (and t-shirt!). Scope the trail and see which creameries are closest to you, or plan the most awesome road trip ever, with stops planned all along the way!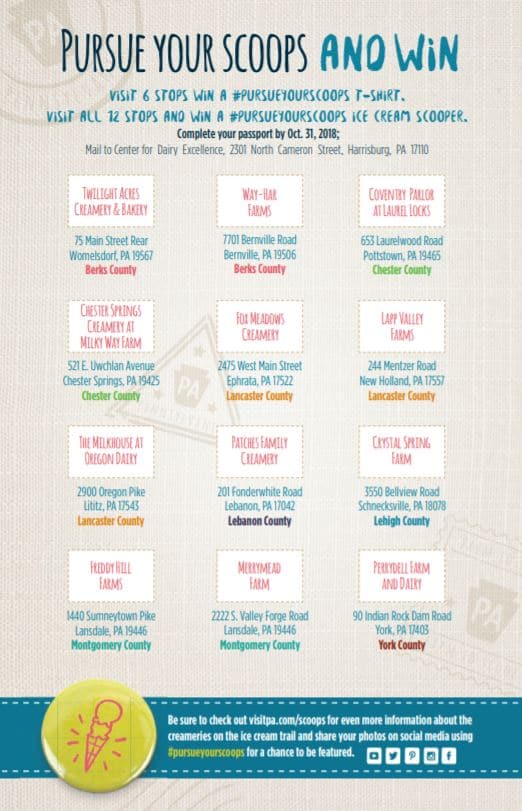 Once you've gotten your passport stamped to perfection, mail it by October 31, 2018 to:
Center for Dairy Excellence
2301 North Cameron Street
Harrisburg, PA 17110
Include your name, address, phone number and email address on a separate piece of paper for your prize redemption. There's no time to lose — get out there and start sampling some of the best ice cream in the region on the PA Ice Cream Trail!
Feature photo:

Ed Williams