Gluten-free baked goods used to mean cracker-y bread and dry cookies, but no longer! Thanks to a slew of amazing gluten-free bakeries in Pennsylvania, sub-par wheat-free treats are a thing of the past. Today, we're talking fluffy cupcakes, tender muffins, chewy cookies — even bagels! 
No matter the reason that you're choosing gluten-free baked goods, and no matter where you live in PA, there is a bakery nearby that's got you covered! Here are 14 gluten-free bakeries in Pennsylvania to explore: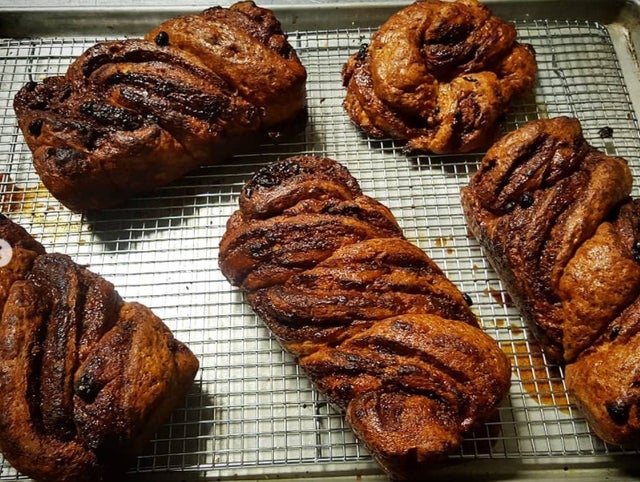 At Wild Rise Bakery, baker Oliver Pinder brings a fresh perspective to gluten-free goodies; nothing is off-limits! Sourdough loaves, flaky pastries, frosted donuts, fudgy brownies, savory hand pies and so much more are on offer. Bonus: Most of the baked goods are also vegan! Wild Rise doesn't have a storefront, but you can find its products at East End Co-op in Point Breeze, at various restaurants and cafes around Pittsburgh and available for pre-order pick up at Lawrenceville or Bloomfield Markets.
 

 

View this post on Instagram

 
This dedicated gluten-free bakery has a cute shop in Pittsburgh's McKnight neighborhood, with coffee drinks and vintage finds in addition to treats! Adorably-decorated sugar cookies, lemon bars, scones, donuts and cinnamon rolls will satisfy your sweet tooth. Order online, or pop into the cafe, which is open Wednesday through Saturday. 1137 Perry Highway, Pittsburgh; (412) 837-4058.
 

 

View this post on Instagram

 
After dealing with health issues that took gluten off the table, The Blue House Bakery's founder began baking all manner of GF treats from her home in Fayette, Pennsylvania. Now, its gluten-free, dairy-free, grain-free, paleo specialties like chocolate chip cookies, apple hand pies and lemon crinkle cut cookies are available to everyone. You order online or find them every other week at The Original Farmer's Market and the Brown's Orchard and Cider Co. Farmers Market. (412) 357-8834.
 

 

View this post on Instagram

 
Though Amaranth Gluten-Free Bakery doesn't have a cafe where you can peruse its tasty offerings, scrolling through its online shop is just as fun! Whether you're looking for breads, like dinner rolls, cinnamon raisin loaves or flat breads, or craving something sweet (the granola bars and angel food cake come highly recommended), placing an order for pick up or shipping is easy as can be! Pick-up locations include Amaranth's wholesale bakery in Lancaster, Lancaster Central Market or the Bryn Mawr Farmers Market. 614 4th St., Lancaster; (717) 690-2649.
 

 

View this post on Instagram

 
At Made With Love Not Gluten, you can get the same happy feeling of gazing into a beautiful pastry case that you'd get in any patisserie. But everything is gluten-free! This small-batch, from-scratch bakery offers a rotating selection of decadent sweets, including cupcakes, whoopie pies, cookie bars, muffins, donuts, fresh bread Thursday through Saturday, and so much more! Bonus: many items are also vegan! 76 E. Main St., Mount Joy; (717) 742-0411.
 

 

View this post on Instagram

 
Haasis has plenty of treats, all free from gluten, nuts and dyes; think: honey buns, butter cake and brownie cups. But where this GF bakery really shines is in the savory department! Wheat-free guests will love being able to choose from bagels, pizza, quiche, pretzel dogs and soft pretzels. Holiday menus, custom cake orders and catering are also available with advanced ordering. 316 W. Walnut St., Perkasie; (215) 853-0222.
 

 

View this post on Instagram

 
Originally, Sweet Victory was a wholesale and online-only bakery, but you can now purchase its gluten- and dairy-free items in its brick-and-mortar shop in Dublin, PA! One of its most popular specialties is a petite bundt cake, available in lemon almond, chocolate and pumpkin. Muffins, cupcakes, crumb cakes and party cakes are also in-demand! Sweet Victory products can also be found at retail locations throughout Bucks County, such as Kimberton Whole Foods and Altomonte's Italian Market. 105 N. Main St., Dublin; (215) 738-7597.
 

 

View this post on Instagram

 
This cute bakery, which serves up old fashioned vibes with a gluten-free twist, has three locations throughout Southeastern PA, which speaks to its popularity in the community! From sandwich breads and baguettes to cake donuts to pound cakes to sticky buns, The Happy Mixer really offers a little bit of everything, so that those living without gluten can still enjoy a wide array of freshly baked goodies. 4275 County Line Rd., Chalfont; (267) 663-7209; 12 Summit Square, Langhorne; (215) 860-1989; 103 E. Swedesford Rd., Wayne; (484) 580-6680.
 

 

View this post on Instagram

 
High-quality ingredients, like fine chocolate, organic fruit and the best gluten-free flours are what make the baked goods from Sweetah's really stand out. In addition to being a dedicated GF kitchen, all of its products are also soy-free, with vegan options. Cupcakes, in a tasty range of flavors, are the house specialty, but all sorts of other cakes, including beautiful custom creations, are also available. 23 South Clinton St., Doylestown; (267) 736-6663.
 

 

View this post on Instagram

 
If you're looking for a wedding or special occasion cake that's also gluten-free, Tiers of Joy has got you covered with stunning custom tiered cakes. More casual treats are also on the menu, like buttercream cookie sandwiches, cupcakes and donuts. There is no storefront, so all orders must be placed online, and can be picked up from Artisan Exchange, a wholesale distribution facility in the Matlack Industrial Center. There is also a monthly Saturday farmers market at this location where Tiers of Joy products are sold. Please allow 2 to 3 weeks for custom cake orders! 208 Carter Dr., West Chester; (610) 400-3162.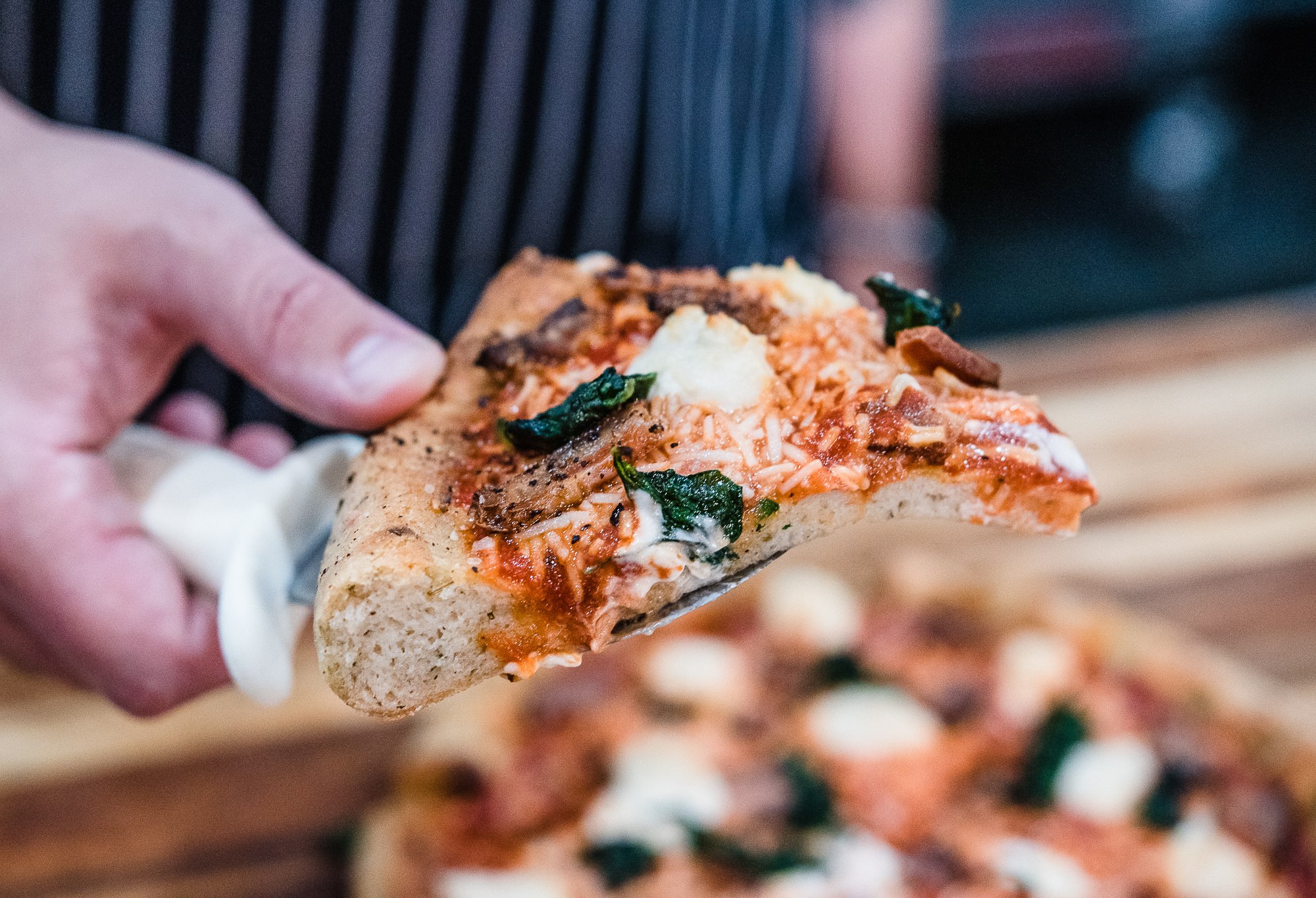 This vegan and gluten-free bakery is all about creative takes on classic treats, using seasonal, quality ingredients. Its cute shop in South Philadelphia is beloved for its donuts in fun flavors like pina colada and matcha, crave-worthy cookies, tarts and savory tofu pot pies. Gluten-free deep dish pizza is also available on Fridays, Saturdays and Sundays; stop in or call ahead to place your order. You can find High Fidelity's baked goods at a variety of stockists around Philadelphia, too. 1929 S. 17th St., Philadelphia; (267) 854-3450.
 

 

View this post on Instagram

 
Taffet's is the place to go in Philly for gluten-free bread. Located in the Italian Market, this charming shop offers the sorts of breads that gluten-free eaters dream of: tender, braided challah, tall sandwich loaves, crusty baguettes and tangy sourdough boules. A rotating list of treats, like muffins and brownies, are also available. Order online or shop in-person. 1024 S. 9th St., Philadelphia; (215) 551-5511.
 

 

View this post on Instagram

 
Founded by a graduate of the French Culinary Institute, this gluten-free patisserie does the seemingly impossible: makes gluten-free pastries that are indistinguishable from their gluten-ful counterparts. Think: chocolate croissants, toaster pastries, danish and more! Breads, bagels, pizza dough and hoagie rolls are also on offer. Order online for pick-up or limited delivery or shipping, or stop by its cute pink window in Manayunk, which is open Thursdays and Saturdays. 220 Krams Ave., Philadelphia; 484) 450-6576.
 

 

View this post on Instagram

 
The P.S. in this brand's name stands for "Pure Sweets," meaning that its baked goods are always 100% organic, plant-based, gluten-free and Kosher parve. Its airy cafe in Center City Philly dishes up great brunch and lunch specials, as well as a rotating selection of gluten-free sweet delights. For larger orders, you must plan ahead when ordering from P.S. & Co., as all orders must be placed at least 72 hours ahead. Choose from treats like brownies, cookie cakes and muffins; breads, like bagels and focaccia; and sumptuous special occasion layer cakes. 1706 Locust St., Philadelphia; (215) 985-1706.
Feature photo:

Pexels

Pizza photo:

High Fidelity Bakery