Focaccia bread is like the pillow-iest pizza dough you can imagine, with a golden, crunchy exterior and a fluffy open crumb inside. It's the ideal all-purpose bread: you can slice it thin for trattoria-style sandwiches with ribbons of cured ham and cheese, toast a wedge up with a bowl of soup, pile on savory beans and greens, use it for an extra-cheesy breakfast sandwich, or just swap it in for regular bread anytime you need toast.
The PA Eats kitchen team came up with this seasonal winter focaccia, flecked with warming, savory rosemary — if you want to be fancy, you can call it by its Italian name, focaccia al rosmarino.
If, like us, you're working to reduce food waste in your kitchen, this bread is the perfect place to start. It cleverly uses potato peels, from Pennsylvania potatoes of course, which are simmered with water then blended and added as a liquid to the dough. Using mashed potatoes to make bread extra soft and tender is nothing new (like our beloved Martin's Potato Rolls), and using the peels instead — say, after you've made mashed potatoes — makes the most of every last scrap.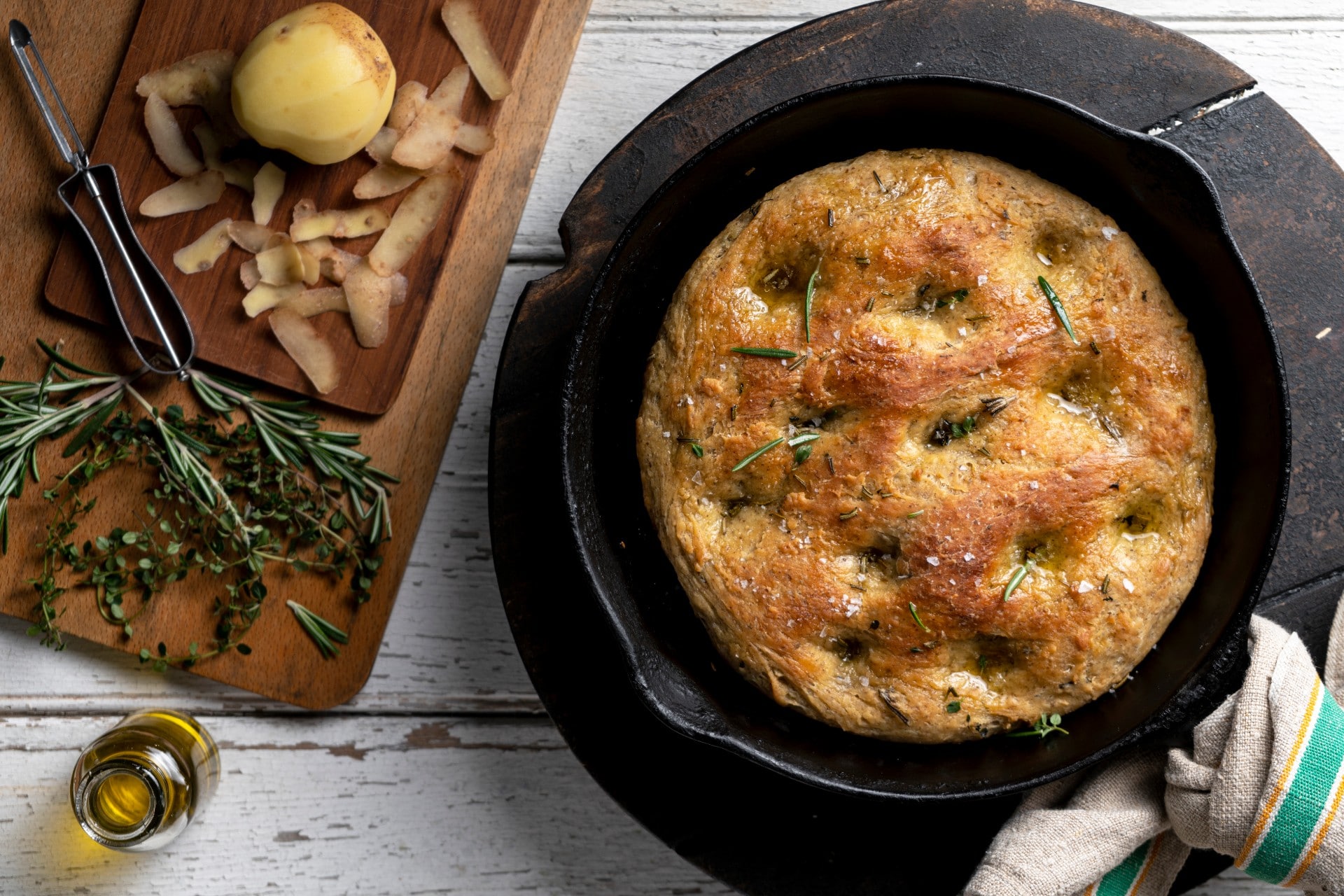 As this is a yeasted bread, it takes a bit of planning. Once the dough ingredients are mixed, it will need between 12 and 24 hours to rest in the fridge, and then another 2 to 4 hours to rise before baking. It doesn't take all that much effort, just time to let the yeast work its magic. But when you take the cast iron out of the oven, with the wonderful fragrances of fresh bread, sizzling butter and steamy rosemary filling your kitchen, it will all be completely worth it!
Herbed Potato Winter Focaccia
Yield
2 round focaccia loaves
| Prep Time | Cook Time | Total Time |
| --- | --- | --- |
| 30 min | 25 min | 55 min |
Ingredients
1 cup (approximately) lightly packed potato peels
4 cups all-purpose flour
2 teaspoons instant yeast
1 tablespoon kosher salt
1 1/2 tablespoons fresh herbs, such as rosemary and thyme, chopped
6 tablespoons olive oil, divided
2 teaspoons butter, softened
Salt flakes for sprinkling
Method
Bring potato peels and 1 1/2 cups water to boil in small saucepan over high heat. Reduce heat to medium and simmer for about 25 minutes. Let sit for 5 minutes.
Meanwhile, whisk together flour, salt and yeast in large mixing bowl. Add herbs and stir to combine. Set aside.
Place potato peels and water in blender and puree until smooth. Add more water until you have 2 cups of liquid. Mixture should be between 95° to 115°F for best results. (If you don't have a thermometer, just be sure that it is warm to the touch, not hot.)
Add potato water mixture to flour mixture and stir until it forms a sticky dough. Form dough into a ball then pour 2 tablespoons of olive oil into the bottom of bowl and roll dough to coat in oil. Cover and place in refrigerator for between 12 and 24 hours.
Grease two 8 or 9-inch cast iron skillets (or cake pans, or similar) with butter. Pour 1 tablespoon olive oil into center of each. Separate dough into two equal halves and roll each in one of the prepared pans. Let dough rest in a warm place for 2 – 4 hours until they have risen.
Once dough has risen, heat oven to 425°F. Pour remaining olive oil, 1 tablespoon each, on top of dough. Press your fingers into the dough to make dimples about 1 – 2 inches apart, gently spreading the dough to the edges of pan. Bake for 25 minutes, until golden brown. Top with flaked salt and additional fresh herbs if desired.