Pairing Pennsylvania beer with home-cooked food is a surefire way to take your meal to the next level. But why not go one step further, and use beer as an ingredient, too? That's the theory behind a special set of recipes that we developed in collaboration with Deer Creek Malthouse: Each recipe focuses on a specific technique that infuses a dish with the sweet, earthy, malty and/or hoppy flavors of local brews.
For this beer-brined pork chop recipe, let's talk about beer as a marinade. Most marinades serve a dual purpose: to add flavor and, in the case of meats, to improve the texture of the protein. Here, we call in two powerful components, orange juice and beer, to make an extra-delicious and potent marinade. OJ is high in acid, which helps to break down the proteins in the pork chops, making them more tender. Beer also contains specific enzymes for a similar tenderizing effect. Bone-in pork chops hang out for a few hours in this bright marinade before hitting the grill.
The flavors are echoed in the salad served on the side, with fresh oranges, fennel bulb, shallots and arugula, tossed in a dressing made with a beer reduction, local sunflower oil and sherry vinegar. You can use the same beer for both the marinade and the dressing; we recommend a local citrus IPA. A few examples include:
Brewery Techne Lemon Meringue IPA: Tucked into the cozy Bar Hygge in Philly's Fairmount neighborhood, this tiny brewery crafts small-batch, adventurous brews. Its Lemon Meringue IPA, with lemon zest and citra hops, will bring plenty of acidity and even more citrus to the pairing.
Fat Bat Brewing Co. Lemon Squeezy IPA: Just a touch hoppy and with a powerful lemon-y punch, this citrus IPA gets its flavor from Lemondrop and New Zilla hops, as well as real lemon puree, lemon juice and lemon zest. To make this summery brew, Fat Bat, based in Hanover, PA, collaborated with its neighbor, Something Wicked Brewing Co.!
PA Beer-and-Citrus-Brined Pork Chops
| Prep Time | Cook Time | Total Time |
| --- | --- | --- |
| 15 min | 10 min | 24 min |
Pork Chops
Ingredients
1 cup fresh orange juice (from about 3 oranges)
1/4 cup kosher salt
3 tablespoons packed brown sugar
2 cups Pennsylvania citrus IPA, kept cold
1 small fennel bulb, quartered
5 cloves garlic, crushed
2 green onions, cut into 1-inch pieces
4 bone-in pork chops
Pennsylvania sunflower seed oil, for brushing grill grates
Method
Combine orange juice, 1 cup water, salt and sugar in medium saucepan over high heat. Bring to boil over high heat, stirring occasionally, until salt dissolves, about 3-5 minutes. Remove from heat. Stir in cold beer, fennel, garlic and green onions until combined. Pour orange mixture into large bowl or large baking dish. Place pork in orange mixture. Cover with plastic wrap and refrigerate for 4 hours.
Heat grill to high heat and brush grates with oil. Remove pork chops from brine and pat dry with a paper towel. Grill, flipping occasionally, until internal temperature reaches 145°, about 3-5 minutes per side. Allow to rest for 5 minutes.
Salad
Ingredients
1/2 cup Pennsylvania citrus IPA
2 medium navel oranges, or Cara Cara oranges, peeled and sliced into 1/4-inch rounds
1 small fennel bulb, thinly sliced
2 cups packed baby arugula
1 cup pitted green olives, crushed
1 small shallot, thinly sliced into rounds
1 tablespoon Pennsylvania sunflower seed oil
1 tablespoon sherry vinegar
Salt and pepper, to taste
Method
Bring beer to a boil in small saucepan over medium-high heat. Cook, stirring occasionally, until reduced to roughly 1 tablespoon, about 8-10 minutes. Allow to cool completely at room temperature.
In a large bowl, toss oranges, fennel, arugula, olives, shallot, oil, beer-reduction and vinegar together until coated. Season with salt and pepper, to taste. Serve with pork, and enjoy.
This series is made possible by support from Deer Creek Malthouse through the Pennsylvania Malt and Brewed Beverage Industry Promotion Board and grant funding from the Pennsylvania Liquor Control Board.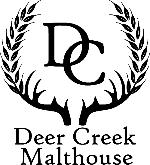 Deer Creek Malthouse (Glen Mills, PA) produces high-quality, flavorful malt ingredients made from local grain. Founded in 2012, Deer Creek is the first commercial malting operation in Pennsylvania since prohibition. The Company is dedicated to improving the regional grain supply chain for all stakeholders and leads many advocacy and value chain building initiatives, including Malt-A-Palooza, and the Mid-Atlantic Grain Fair & Conference. Deer Creek also produces a variety of consumer food and beverages using their grain and malt ingredients such as zero proof Barley Tea.