Why make homemade crackers when there are so many packaged brands to choose from? For starters, they're way more affordable to DIY, and actually one of the simplest baking projects you can do, even easier than cookies and muffins. Plus, homemade crackers mean you can customize them to your exact preferences and dietary restrictions. For instance, if you like a rustic cracker, one that can hold up to hummus and other hearty dips, this recipe is right up your alley. Its blend of all-purpose and rye flours means higher nutritional value, and a sharp, spicy flavor from the rye. A splash of PA rye beer and lots of black pepper take that flavor to the next level! Pair the crackers and your dip of choice with a local rye ale to complete the flavor and accentuate the rye profile of the crackers.
Find rye ales at one of these Pennsylvania breweries:
Cartesian Brewing In the Back of the Beyond: A full-bodied, spicy rye IPA, this beer is made with two kinds of rye, and generously hopped with Nugget and Centennial hops, for notes of ginger and orange marmalade. Cartesian Brewing is located in South Philly, and specializes in crafting farm-to-table, grower-to-glass, producer-to-pint beers.
Recon Brewing to Live and Rye: This easy-drinking rye ale is nicely balanced, with a complex malty background, plenty of that signature rye spiciness, and a moderate hop bitterness. Recon Brewing has three locations in Western PA (Meeder, Butler and Hastings), each offering high quality, yet simple, beers.
PA Rye and Black Pepper Crackers
| Prep Time | Cook Time | Total Time |
| --- | --- | --- |
| 10 min | 30 min | 40 min |
Ingredients
2 cups (10.5 ounces) all-purpose flour
2 tablespoons plus 1 1/2 teaspoons (1.25 ounces) Pennsylvania stone-ground malted rye flour
2 teaspoons chopped fresh thyme
1 teaspoon freshly ground black pepper, plus more for garnish
1 teaspoon kosher salt, plus more for garnish
1/2 cup Pennsylvania rye beer
2 tablespoons Pennsylvania sunflower seed oil
Store-bought or homemade hummus, for serving
Method
Preheat the oven to 450°F. Line 2 rimmed baking sheets with parchment paper. In a large bowl, combine all-purpose flour, rye flour, thyme, pepper and salt. Add beer and oil, and mix until a shaggy dough forms. Using your hands, gently knead dough together until a smooth ball forms. Cut into 4 equal pieces. Cover with plastic wrap and let rest for about 10 minutes.
On a lightly floured surface, roll each dough ball out to 1/8-inch thickness. Cut into 1×3-inch crackers. Place crackers on prepared baking sheets. Prick crackers with a fork, and garnish with salt.
Bake, one baking sheet at a time, and rotating halfway through until light golden-brown, about 12-15 minutes. Repeat with remaining crackers.
Serve with hummus, and enjoy.
This series is made possible by support from Deer Creek Malthouse through the Pennsylvania Malt and Brewed Beverage Industry Promotion Board and grant funding from the Pennsylvania Liquor Control Board.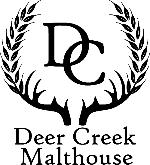 Deer Creek Malthouse (Glen Mills, PA) produces high-quality, flavorful malt ingredients made from local grain. Founded in 2012, Deer Creek is the first commercial malting operation in Pennsylvania since prohibition. The Company is dedicated to improving the regional grain supply chain for all stakeholders and leads many advocacy and value chain building initiatives, including Malt-A-Palooza, and the Mid-Atlantic Grain Fair & Conference. Deer Creek also produces a variety of consumer food and beverages using their grain and malt ingredients such as zero proof Barley Tea.