We know what you're thinking: The ultimate summer sandwich is already firmly established as tomatoes and mayo on bread. And while we love that combo eternally, we have been inspired by the intense crunchy beauty of the Pennsylvania cucumbers we've seen at farm stands and farmers markets this year. Good people, it is not hyperbole when we say: These cukes are like candy. The level of crunch and sweetness, and a restrained water content (extra snappiness!) makes them our new favorite sandwich topper.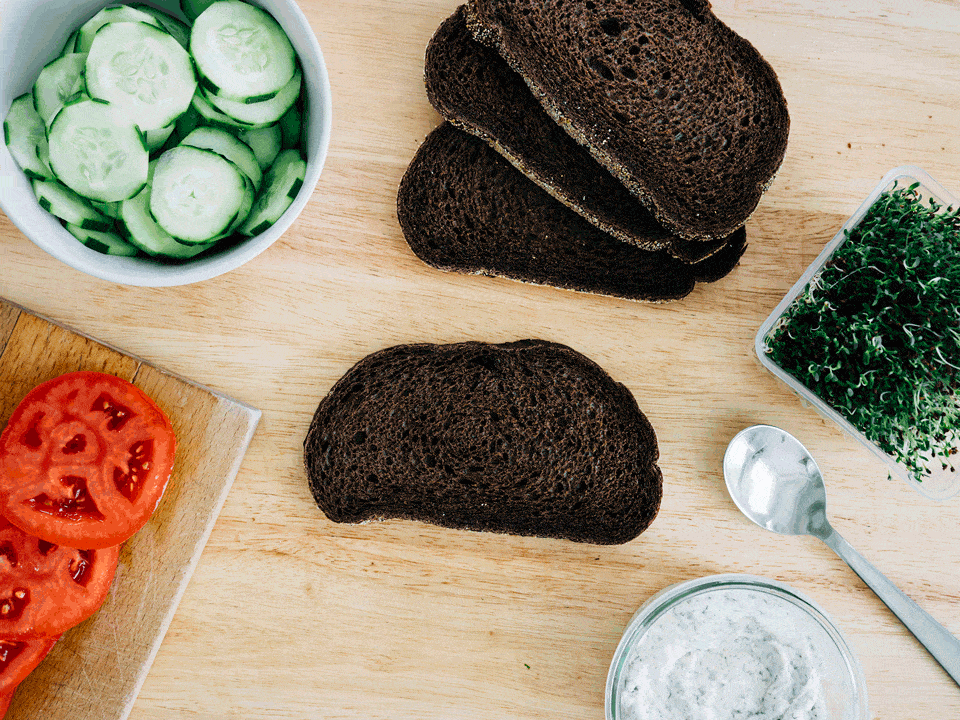 Unlike tomatoes, cucumbers admittedly need more than mayonnaise in the sandwich department. We're harnessing those same flavors and textures, though, with a tangy, dill-speckled yogurt spread, then adding a few fat slices of heirloom tomato and a handful of sprightly sprouts (we love the alfalfa and clover sprouts from SunSprout in Lancaster). We prefer this sandwich open-faced for a higher filling-to-bread ratio.
Let's talk yogurt. Yes, you can use some greek yogurt or mass produced organic yogurt from the supermarket, and this spread will turn out just fine. But to take it to its maximum deliciousness, try to source local yogurt from a Pennsylvania dairy. When you find the good stuff you know it; it's as if the volume on regular yogurt has been turned up a few clicks, with sparkling, lively tartness and an impossibly creamy texture. Fiddle Creek Dairy, also in Lancaster, is a family farm with sustainable practices and a commitment to the land, founded by Tim and Frances Crowhill Sauder. Their cows graze happily on grass (and only grass), resulting in rich, beautiful milk that is packed with anti-oxidants, Omega 3s and other good kind of fat. Its grass-fed greek and swiss yogurts are truly some of the best we've ever had – if you find some (we've seen it in natural markets like MOM's Organic Market and at farmers markets in Southeastern PA), by all means, pick up a jar. It's the key to taking this peak summer sandwich over the top.
The Ultimate PA Peak-Summer Sandwich
| Prep Time | Cook Time | Total Time |
| --- | --- | --- |
| 10 min | 0 min | 10 min |
Yogurt Dill Dip
Ingredients
1 cup plain PA yogurt
Juice of 1/2 lemon
1/2 teaspoon salt
1/2 teaspoon fresh ground pepper
1 teaspoon finely chopped shallot
1 or 2 tablespoons fresh chopped dill
Method
Add all ingredients to a small bowl and stir together until combined.
Sandwiches
Ingredients
2 slices good-quality bread (we like pumpernickle for this sandwich)
1/2 cup prepared yogurt dill dip (see recipe above)
4 large slices locally grown heirloom tomato
1/2 cup locally grown sprouts
1/2 cup locally grown cucumber, sliced
Salt and pepper, to taste
Method
Spread two slices of bread with a generous dollop of the yogurt dill dip.
Layer on tomato slices, cucumber slices and sprouts. Season with salt and pepper, to taste. Enjoy open-faced!