There's something so timeless about a simple wooden bowl: The crisp, contoured lines are equally at home on a rustic picnic blanket, a mid-century-inspired tablescape, or a hyper-minimalist modern dinner party. While it's not hard to find a wooden salad bowl, with smaller accompanying bowls, of course, knocking around on the dusty shelves of a thrift store, we were instantly drawn to Scott Alexander's wooden bowls and vessels for their rich, stunning elegance.
From the impossibly smooth geometry to the mesmerizing wood grain patterns, we were instantly curious about Alexander's background and process. Read our Q&A with this artist, who is based in Northwestern Pa., to learn more about his story:
PA Eats: How did you come to woodworking?
Scott Alexander: I've enjoyed making things my entire life: Sculpture, painting, photographs, furniture, food … While in art college many years ago, part of my major involved woodworking. I really enjoyed making items out of wood, and loved my time in the shop, but it was just a small part of my education and my path lead me in a different direction. Time moved on and I started my career after college as an art director, and I eventually transitioned into commercial photography and management. I was always missing my time creating in the wood shop. I started building furniture as a hobby in my small garage at home. After a few years I started reading a book on Campaign furniture and felt the need to make a Roorkhee chair. That meant I needed a lathe. I scraped together enough parts to cobble together my first lathe. It was a fun project and I really enjoyed working on a lathe.

Then it happened: My wife asked if I was able to make a bowl. I said I'd give it a try, and after a bit of internet research, I grabbed my chainsaw and went out to the woods to look for a downed tree to use for bowls. I'll never forget how amazing it was to cut open that cherry tree that I found laying on the forest floor. The color, the smell — it was so much more beautiful than cutting dried wood in the shop. I was instantly in love with the process. I was admittedly terrible at it in the beginning, but I knew in my heart it was that thing I had always been searching for … I found my medium in green wood (unseasoned/still wet wood).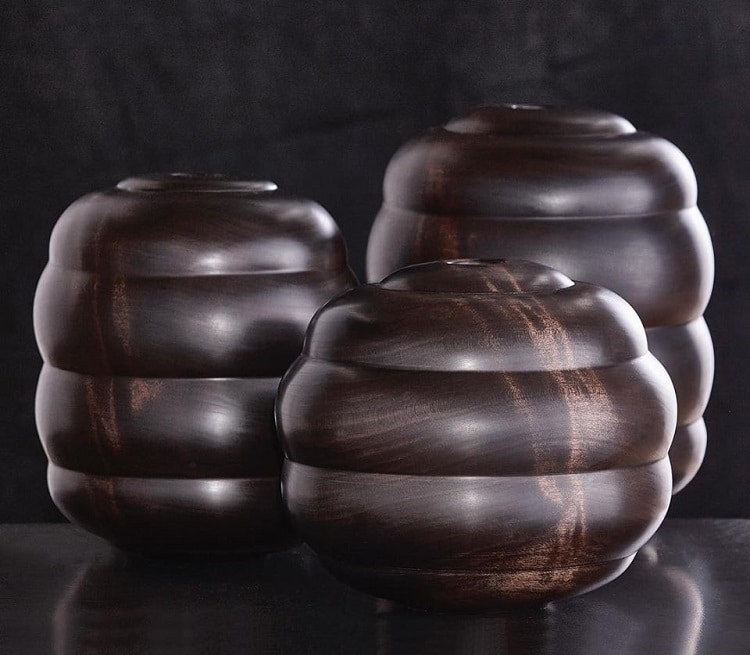 I've turned many thousands of bowls since then, each one better than the one that came before. I love what I do and love that I get the opportunity to make items that you choose to use in your home. My bowls don't just hold food, they hold memories of great meals shared with family and friends in the past, present and future.

P.S. A little secret … The best part for me is anytime my wife complains about the amount of bowls in the house at any given time, I remind her it's all her fault!
Is this your full-time gig now?
I am currently still employed as studio manager/commercial photographer as my day job. I'm transitioning into this business becoming my main income, but growing a brand does not happen overnight. I have been in business two years.
Where are you based? What's your production facility like?
I am based in Warren, Pa. It's a beautiful small town in northwestern Pennsylvania. My production facility is literally my small detached garage next to my house. I store and dry pieces in my house as needed. I eventually plan on needing a larger facility, but for now, I'm making due with what is available to me.
Was there a specific moment that you decided to take "the leap" into starting your own company?
Not so much a moment as a need. I loved turning wood so much, I was making several pieces every day. One house obviously only needs so many bowls or wooden art pieces. I gave a lot of work away to friends and family, but at some point a bit over two years ago I realized I loved what I was doing and perhaps it should become a business. I had no idea what I was doing at the time, and am still learning every day. But it's been a mostly enjoyable challenge.
Can you walk us through the start-to-finish process (a simplified version, if necessary) of one of your pieces?
A simplified version: I start with green wood (still wet and unseasoned). I prefer to work with full logs. I use a chainsaw to process logs into bowl blanks.

Rough blanks get mounted to the lathe for turning. I turn the majority of my pieces to finished thickness from still wet wood. As the pieces dry, they move into shapes that are no longer perfectly round. Each piece takes two to five weeks to dry. Each piece starts between 30-40% moisture level and is fully dry between 6-7%. Pieces then get sanded to perfection and finished with a number of different finishes, depending on the intended use. Utility bowls are made to last for generations, if cared for properly. Art pieces even longer, as they should not see any use/abuse.
With your skills and understanding of wood, why do you choose to make dining ware (vs. other kinds of carpentry/woodwork)?
It's the process of starting my work from full unseasoned logs that makes me love woodturning so much. Cutting open a log is like opening a Christmas present, it is so exciting. And turning green wood on a lathe is even more enjoyable. Not all my work is woodenware. I also make hollow wooden vessels that are a celebration of the material and what is possible on the lathe with thousands of hours of practice. Wooden art.

Do you have a favorite wood? Or favorites for specific purposes?
I'm not sure I have a favorite wood, but I definitely have favorites. Hard maple or apple wood is my favorite wood to turn while green. It smells absolutely amazing (apple wood smells very much like an apple), and cuts very clean off the gouge. Cherry is also a favorite for several reasons. It is available in great abundance where I live. The local forests are rich with beautiful clean cherry trees. Cherry gets more beautiful with age and use. UV light exposure darkens the wood. I have a handful of small bowls I made when I first started that just keep getting more beautiful. They get used every day.

Every time we have a wind storm I know there will be plenty of trees available for me to make into something beautiful in the coming weeks. I try to only work with either storm damaged trees or log cut offs from local log yards (those cut offs are usually destined to become firewood).
What do you look for when you're sourcing wood? Specific characteristics? Something more ephemeral?
I prefer to use only trees that grew in the forest rather than those from urban trees. Trees that grow in the forest grow much slower as they fight for sun and water. It makes for more stable wood that will last for generations. I'm fortunate to have developed good relationships with several local land owners and local log yards. I'm able to get most of my materials extremely close to my home and for very low cost. I tend to barter for my materials.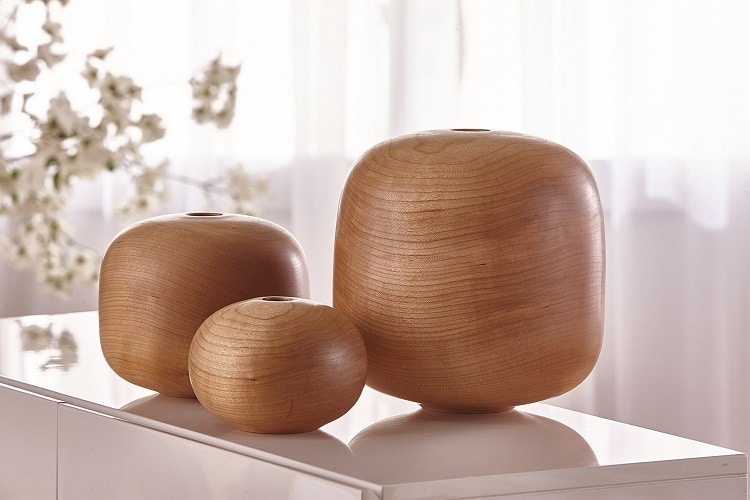 Do you ever think about what happens to your pieces once they've been purchased or gifted? Are there any that you couldn't let go of?
I strive to make pieces to the best of my ability every day. I know that those pieces become my business cards out in the world, at family dinners, and so on. I have developed many close relationships with several of my customers. I get pictures all the time of my work in their home or my work in use. It's wonderful to make work that brings people joy and beauty into their lives. Yes, there are several pieces that I just could not let go of. I do enjoy my own work in my family's home.
Do you see yourself doing this far into the future? Anything you hope to grow into in the next few years?
It's hard to say what the future holds. I love this process more than any I have ever experienced in my life. But I do have ideas for other items in the future that do involve other materials. I love to explore different materials and processes.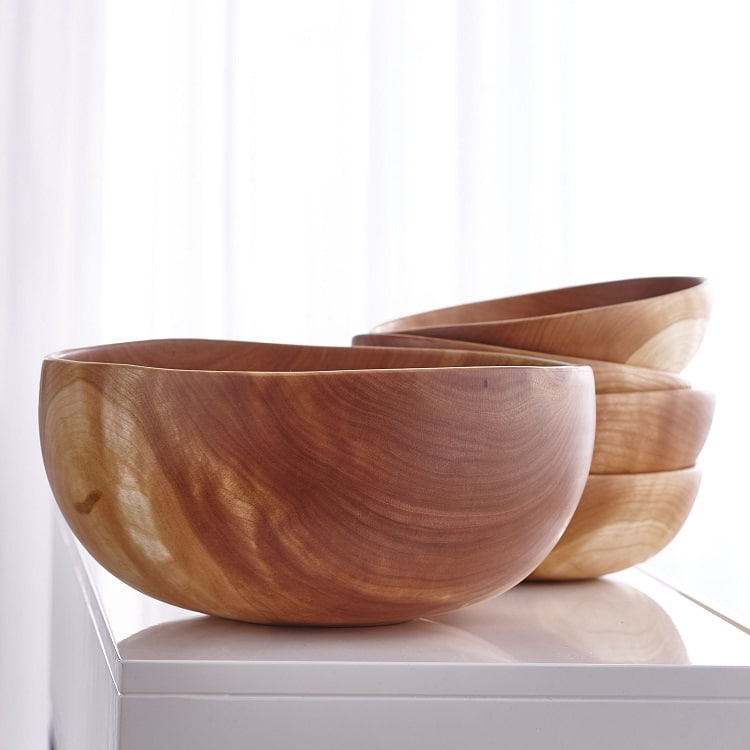 To learn more about Scott Alexander, spend some time on his Instagram account for more examples of his incredible work and a look behind-the-scenes of his process. If you're interested in welcoming an Alexander Designs piece into your kitchen, check out the Shop page of his website.