As any curious locally minded eater knows, there is so much more to condiments than ketchup and mustard. In fact, if you know where to look, you can find all kinds of dressings and marinades, hot sauces and BBQ sauces, fancy mayo, and so much more, made right here in Pennsylvania by local artisans. A relative newcomer to the local condiment lineup is Poi Dog, Hawaiian-style sauces that are packed with intense flavors that upgrade everything they meet.
Based in Philly, this saucy start-up was founded by chef and food writer Kiki Aranita in 2020 after she closed her beloved Center City cafe, also called Poi Dog, which served her take on traditional Hawaiian cuisine. After getting off the ground, the brand grew to include a trio of products: Chili Peppah Water (spicy, vinegary, tangy hot sauce), Huli Huli Sauce (pineapple, miso and Chinese five-spice) and Guava Katsu Sauce (guava, miso, ginger, tomato and dried mushroom). Aranita has grown the brand through word of mouth, fun collaborations and high-profile media appearances, including a recent spot on Good Morning America!
We enjoyed a lively chat with Aranita about how this literally homegrown company got off the ground in the midst of the COVID-19 pandemic, and how she hopes to see it progress. Learn more through this Meet the Maker Q&A:
PA Eats: You closed your restaurant, Poi Dog, in summer 2020. What kicked things off for Poi Dog the sauce brand?
Kiki Aranita: We announced the closure of the restaurant in July 2020. Even though were closed, I'd already been booked for an event that September. I had this enormous batch of tomatoes and peppers from a farm in the Poconos and I made a batch of chili water with that produce for the event. It was a pretty small-scale event because it was still the height of pandemic, but the other people there included the founders of Burlap and Barrel [an artisan spice company], and when they tried the sauce, they told me I should bottle it. That had never occurred to me! They walked me through the basics of starting a CPG company, like you need a co-manufacturer and contacts with certain farms. They were so helpful getting me my initial contacts.
Where did you go from there, once the seed for the idea was planted?
I know Jonathan Deutsch at the Drexel Food Lab, which was still closed to students at the time. So I went to his house and we made versions of the sauces, tested water content and pH levels, and came up with a formula to follow. When you're creating a product like this, it's not just the ingredients that are important, but also the instructions for using it, and being sure it's shelf stable. So we went through this whole process. I made the initial batches and sold them at farmers markets and craft markets. I was on the street selling the sauce, that's the only way I know how to start a food business. It went really well and I sold a lot of sauce, and quickly realized that I can't be the one making this. I enlisted some former cooks to help me out, starting with 5-gallon batches, and growing to 20 then 40 gallons. Eventually, I saw that this wasn't sustainable; I smell like sauce all the time, and it's so hard to bottle. In the summer of 2021, I started cold-calling manufacturers, and now I work with two co-packers that produce the sauce according to my specifications.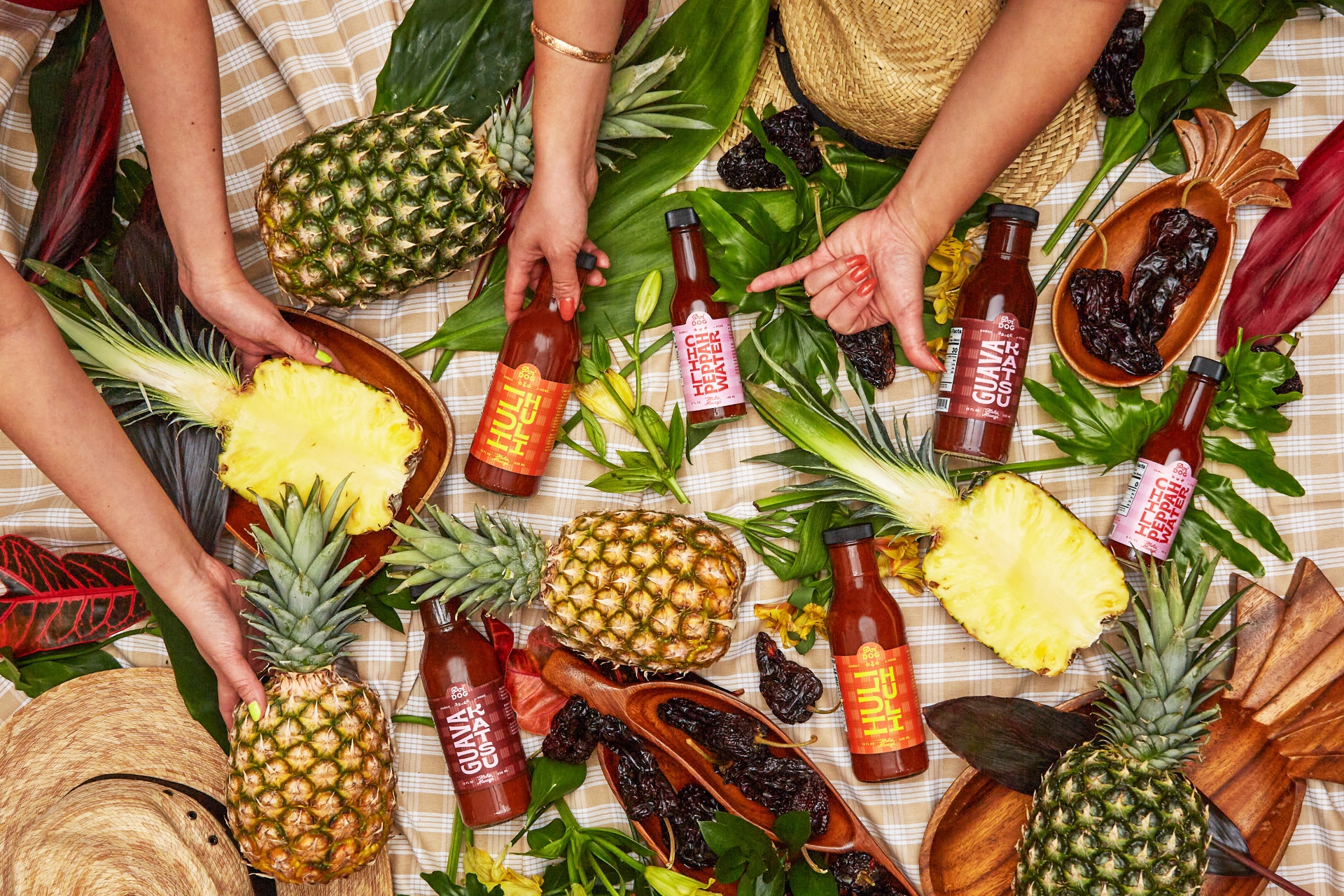 Was part of making the sauce coming from a need to still be in touch with food, or needing a project, after being a chef for so long?
No, I wasn't really lacking a project, and actually, a lot of it came from customer pressure. A lot of people were like, 'You have to reopen!' or they would ask me for recipes. Still to this day, people slide into my DMs asking for recipes, even though I've shared most of them through Food & Wine and Eating Well. I've been a pretty active recipe developer for over three years. I didn't expect to go down this route, but I've had a lot of positive encouragement and feedback.
Did you have to change some of the recipes from restaurant use to being bottled?
The recipes have changed from when we used them in the shop. When you make things in very large batches, things have to be tweaked, things have to be absolutely perfect. Chili Peppah Water is standardized. The guava one is based on what we made in the restaurant and food truck, but the old version had a chicken broth base and Worcestershire sauce. I managed to replicate the same flavors with vegan ingredients so it's a lot more accessible. The base is dried mushrooms and miso instead of fish sauce. Huli Huli we made for special events, and was more of a sauce I'd make at home. In Hawaii, huli huli chicken is something you always smell in the air, it's like a street food but it takes over entire parking lots. I went to one of my favorite places that I went to as a kid, they started packaging their sauce. I brought it home and it wasn't very good, like it had food dyes and high fructose corn syrup and it made me upset. I understand that they had to outsource it but it was just so full of additives and I wanted to make my own that was primarily pineapple.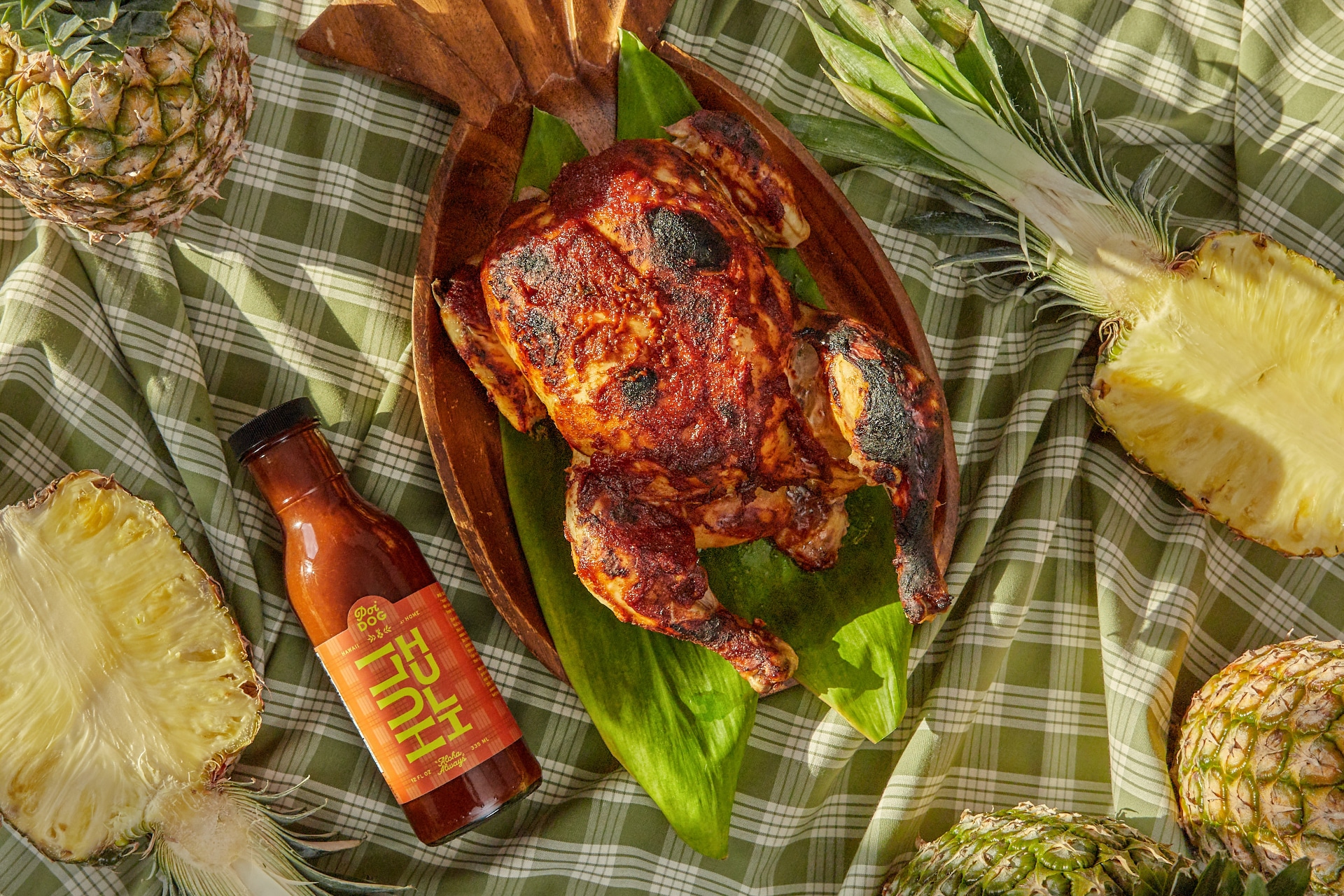 What have been some unexpected parts of running a sauce company?
After I got the manufacturers, I started growing faster and was able to enter different streams of distribution. I'm always surprised what stores have my sauces now! It's growing at a rate that I was not expecting it to. The more the sauces get out there, the more popular they get. Every week is a new surprise, and they're not always great. For instance, when our first batch of Chili Peppah Water came back from the manufacturer, I had to open every box and re-tighten the caps, because the machine didn't screw them on tightly enough. Or, sometimes I get cases where some of the bottles are unlabeled, because a machine line doesn't catch every single bottle.

Another thing is that doing this is really fun! I know so much more about food science than I did owning the restaurant. When I was running the restaurant, I wanted my food to be a certain way. But with the sauces, people use them in such unexpected ways, like putting them in bloody marys. A lot of my customers do that! It used to be about my own creativity, and now it's a way for me to see how other people are using them.
How does it make you feel when people use the sauces in non-traditional applications?
It's so exciting, I want people to surprise me! In Hawaii, we put chili pepper water on everything, but you don't have to just put it on Hawaiian food, you can put it on everything. When I'm physically cooking very long days, my go-to is chicken nuggets with guava sauce! One of the coolest ways I've seen our products used is avocado margaritas with chili pepper water. Poi Dog is such a cool project because the flavors can reach so many people.
Do you ever miss restaurant life? Any future plans for Poi Dog sauces?
I miss the camaraderie of the restaurant, but I am relieved I don't have to do that right now. As for Poi Dog, we are going to stick with these three sauces for awhile, but we might add a few different food items. Retail is going well, and it could definitely grow a lot more. I'm on the East Coast, so I've barely scratched the surface of marketing to the West Coast, and I'm trying to figure that out this year. I also really want more restaurants to use our sauces; that part has grown slowly. That involves me talking to restaurant people one at a time. But think about all the poke places out there using sriracha — we don't really use that condiment in Hawaii, so why not use something more suitable? 
For more info and to shop for Poi Dog sauces, visit its website and follow along on social media.