Just as everyone else is going nuts for fresh fruits and veggies from their gardens, CSA and local farmers markets, the purveyors of our favorite brands are feeling the exact same way! Summer is the sweet spot, as nearly everything we love is at its peak in freshness and flavor.
Olga Sorzano of BABA's Brew calls summer her "most favorite time of the year," and she doesn't hold back, as everything that's in season and blooming blends perfectly with her craft kombucha.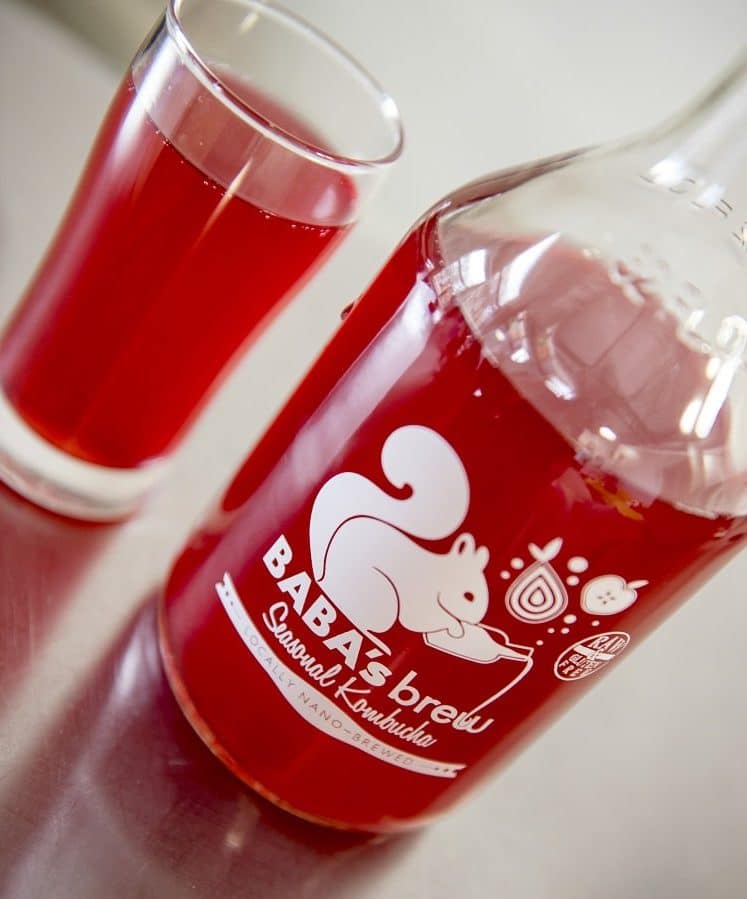 Sorzano could use mangos and papayas in her kombucha. But, why would she do that when local apples, plums and strawberries are so plentiful right here in Pennsylvania? She combines a "local is best" philosophy with her background as a professional chef to make multi-dimensional kombucha by blending herbs and spices with her favorite fruits.
For instance, she just created a bright, balanced blackberry rhubarb kombucha, which has a nice tartness and acidity from the rhubarb married with the juicy sweetness of blackberries. Another seasonal flavor is Strawberry Fields Forever, with ripe strawberries and fresh lemon balm, sage and mint. Sorzano says this kombucha tastes just like the wild strawberries from the forest where she grew up in Russia.


Unfortunately, summer doesn't last forever, and neither do the fresh fruits and veggies we love so dearly. But BABA's Brew has a way of making summer last into fall and beyond.
"As a chef, I always believe fresh is best. But the interesting part about making kombucha is we like to use frozen fruit," she says. "When you freeze it, the juices in the berries crystalize and cause all of the juice and the color of the fruit to come out once it's used in kombucha!"
Just like the little squirrel on every bottle of BABA's Brew, Sorzano squirrels away and stashes copious amounts of fresh fruit over the summer to freeze and use throughout the winter months. The summer fruits are easily winterized by adding in ingredients like ginger or chai spices to make cold-weather, comforting kombucha flavors.
With such seasonally-relevant flavors, a lovely tartness and a pleasant effervescence, it's no surprise that mixologists and bartenders are reaching for BABA's Brew as a ingredient in custom craft cocktails. If you already enjoy kombucha during your daily routine, why not incorporate it into your nightly routine as well? Whether it's a replacement for alcohol or as a mixer in your boozy beverage (it's a lot more flavorful and exciting than seltzer!), we're loving kombucha as a nightcap and more!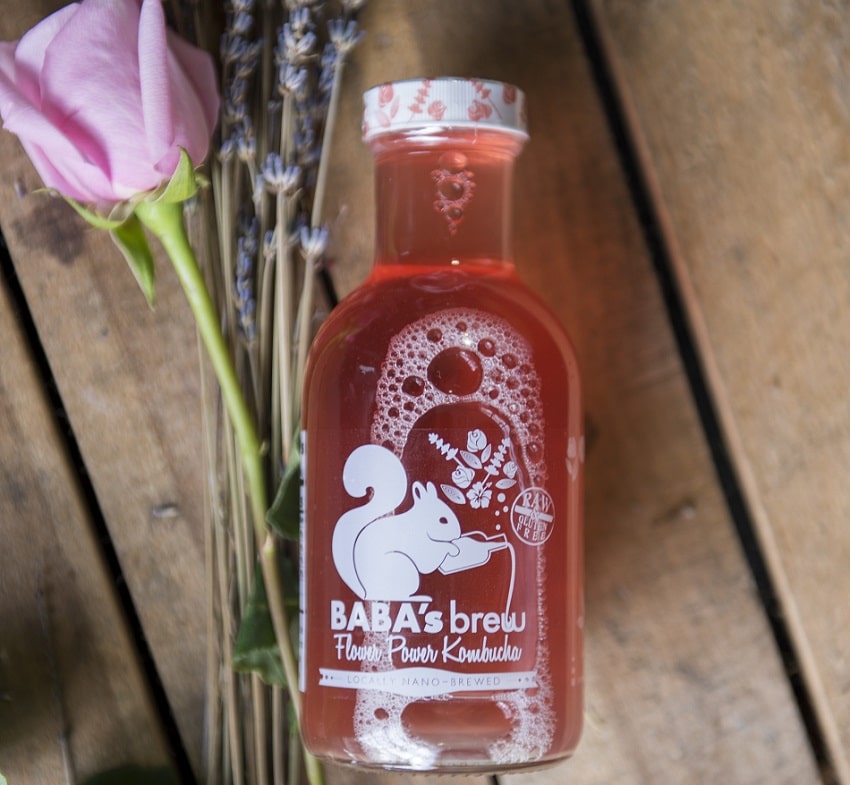 Sorzano has worked with plenty of bartenders to create beautiful and seasonal cocktails using BABA's Brew. Over the past few months, Philly's Front Street Cafe, Martha and 24 have all incorporated and served BABA's Brew in cocktails. We reached out to Phoebe O'Leary, the manager of 24, who currently has two kombucha cocktails on the menu, which according to her, "are going to remain on the menu forever."
O'Leary is a huge fan of BABA's Brew (she drinks it daily), and says it's "very friendly to first-time drinkers. They're all so smooth and perfect for your daily kombucha intake."
Initially, 24 had kombucha on tap in its barista area, where it was just a part of the non-alcoholic options. The team of bartenders noticed the kombucha's popularity and decided to start incorporating kombucha into their cocktails. And they never looked back. "Kombucha is a really nice beverage option, both in a cocktail or on its own, as compared to just a fountain soda you see at most restaurants," says O'Leary.
The two kombucha cocktail options at 24 include the Wildflower and the Daily Routine. O'Leary says Wildflower is, by far, the most popular cocktail on the menu. This cocktail combines BABA's Brew Flower Power Kombucha with vodka, lemon and blood orange juice. It's a beautiful pink color and perfect for summer, though people can't get enough of it in the winter either.
The Daily Routine is a super-fun and refreshing variation of a Pimm's Cup. It combines BABA's Brew Asian-Pear Kombucha with Pimm's, ginger and lime. The zippy ginger really shines through, and the effervescence of the kombucha in the cocktail helps to take the Pimm's Cup theme to a whole other level.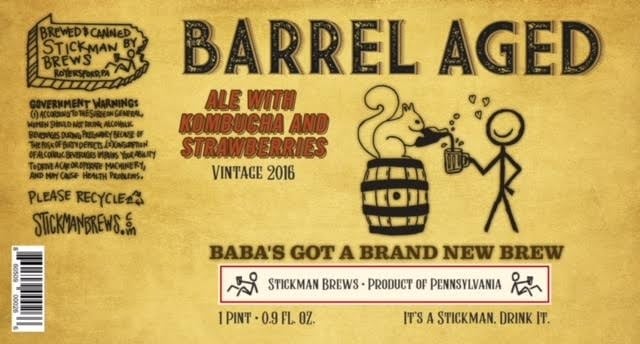 If you're more of a beer person, not to worry — BABA's got a brand new brew for you! Seriously, it's called BABA's Got a Brand New Brew, and it's a beer by Stickman Brews out of Royersford, Pa. The Stickman team created a wild ale with BABA's Strawberry Shortcake kombucha and strawberries. And it's out now! If you're local to Stickman Brews, stop in for a pint or a few bottles to go!
If you're craving a kombucha cocktail at home, take a suggestion from Sorzano herself and recreate her favorite at-home sipper:
Kombucha Whisky Sour
Makes 1 cocktail
Ingredients
3 ounces BABA's Brew Honey Chamomile Kombucha

1.5 ounces of your favorite bourbon
1 ounce freshly squeezed lemon juice
Method
Pour the whiskey and lemon juice in a glass filled ice.
Stir or shake thoroughly, then top with kombucha.
Garnish with a cherry or a slice of lemon. Na zdorovie!
How will you stay cool this summer with kombucha? Cocktail, mocktail or all of the above?
Find BABA's Brew at a number of local retailers or at A Culture Factory, located at 333 Morgan St. in Phoenixville; phone: (267) 738-1973.
Seasonal kombucha and Flower Power photos:

Ed Williams

Rhubarb kombucha and strawberry photos:

Olga Sorzano

Kombucha cocktail photos:

Phoebe O'Leary