For fans of oysters, perhaps the most mysterious of all bivalve creatures, the pleasures are practically innumerable. There is the presentation: the tray, usually metal or sometimes a fancier platter, with its ice chips, lemon wedge and tiny bottles of hot sauce. There is the ritual of squeezing the lemon across the half shells, dressing each oyster up with a few drops of vinegary mignonette, tipping your head back and preparing for the moment.
And then there is the actual experience of the oyster in all its slippery, sweet, saline glory. It's a tactile food, eaten with the hands, and a spiritual one, too; each little oyster is a moment to say "yes" to experience and to life, and to merge, in a way, with the essence of the sea.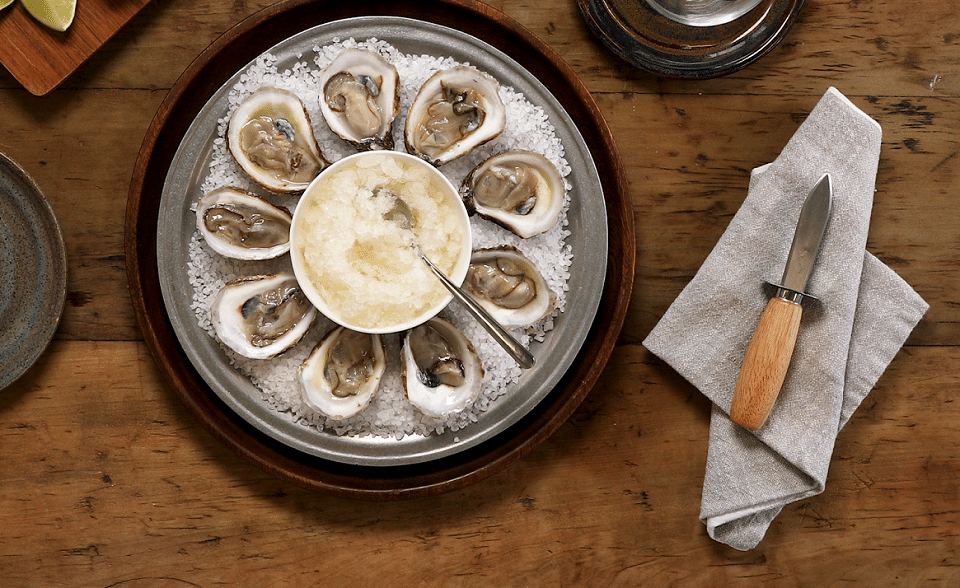 While you won't find Pennsylvania-raised oysters anywhere, some of our neighboring and nearby states, like New Jersey, Delaware and Virginia, are growing impeccable oysters that you can find in seafood restaurants, bars and cafes all over the state. The next time you have a hankering for a dozen on the half shell, or other seafood treats, like littleneck clams and shrimp cocktail, here are our top picks for the best raw bars and oysters in PA.
Northeast PA
Cooper's Seafood House, one of the most architecturally unique restaurants in NEPA (and a familiar setting in the show The Office), offers seafood in many forms, including the popular steamed mussels, jumbo lump crab cakes and coconut shrimp. But its raw bar is not to be missed, with some of the freshest stuff around. Oysters on the half shell (Virginia Salts harvested off the coast of Assateague Island), peel-and-eat shrimp and steamed little neck clams are all on deck. During happy hour, which runs Monday through Friday, 5 to 7 p.m., oysters are on a buck-a-shuck special and all drafts are half off! That's a combo that's too good to pass up. 701 North Washington Ave., Scranton; (570) 346-6883.
At Le Manhattan Bistro, a French restaurant in Wilkes-Barre, every Wednesday night, from 4:30 to 9 p.m., it's dollar oyster night! It's a great chance to try a half or full dozen of whatever variety the bistro has on offer that day; Chef Jonathan Minor orders seafood and meats fresh each day. The regular menu offers a nice raw bar selection, with oysters and clams, as well as the fabulous Le Grand and Le Manhattan seafood towers, each with oysters, clams, crab claws and shrimp cocktail. Pair that with an ice cold martini for a very luxe experience indeed! 268 S. Main St., Wilkes-Barre; (570) 901-4040.
Lehigh Valley
Casual and hip 3rd & Ferry Fish Market feels like the kind of place you'd happily stumble across in a quaint beach town, with its sleek-but-cozy decor and the hammered tin fish sculpture above the bar. Its well-appointed raw bar is the stuff of seafood lovers' dreams: Up to eight varieties of oysters are available each day (don't miss the ginger serrano mignonette), as well as lobster tails, chilled mussels and more. Put it all together in one of the three sizes of seafood towers; the largest, The Grand Tower, is an impressive feast of oysters, clams, lobster tail, shrimp, mussels, tuna tartare, avocado and classic ceviche and colossal crab meat. There's not one, but two, happy hours with dollar oysters: Tuesday through Friday from 5 to 6 p.m. and Sundays from noon to 6 p.m. A solid wine list, craft cocktails and 16 bar taps round out the experience. 56 S. 3rd St., Easton; (610) 829-1404.
Serving Allentown since the late 1800s, Youell's Oyster House knows a thing or two about how to put together a delectable selection of oysters and a killer seafood tower. The oyster selection changes each day (ask your server) or go big with the $59 tower (oysters, clams, shrimp, mussels and jumbo lump crab meat) or the $89 (one-pound Alaskan king crab leg, two lobster tails, shrimp cocktail and a dozen oysters). A whole array of other seafood options, like soft-shell crabs, lobster bisque and Oysters Rockefeller, are on offer if you prefer your seafood cooked. Enjoy buck-a-shuck oysters with the purchase of a cocktail during happy hour (4 to 6 p.m., only in the bar area), Monday through Thursday. 2249 Walnut St., Allentown; (610) 439-1203.
Southeast PA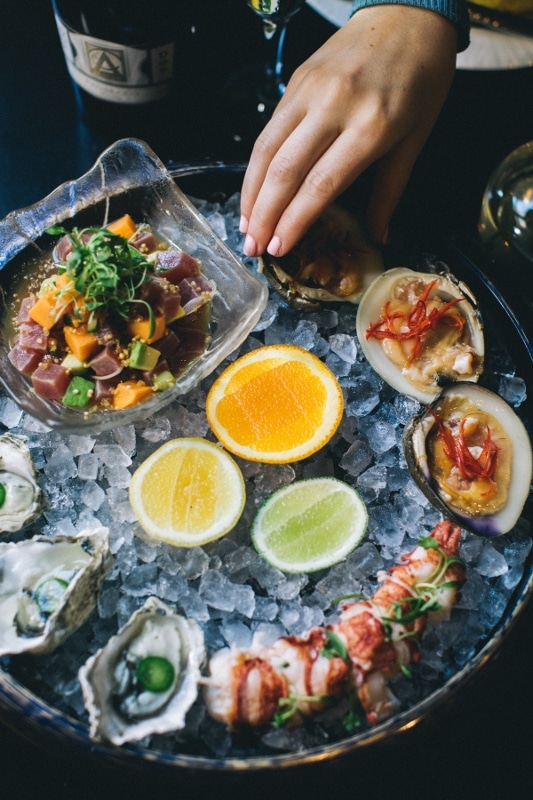 For a truly swanky vibe, indulge in the seafood experience at Aqimero, the wood-burning Latin grill in the lobby of the Ritz-Carlton in Center City Philadelphia. The raw bar menu specializes in ceviche, and also offers oysters, shrimp cocktail and tuna tartare. Enjoy a taste of everything with the Raw Sampler, perfect with a gooseberry margarita or a fun, slushy frosé. 10 Avenue of the Arts, Philadelphia; (215) 523-8200.
The Oyster House on Sansom Street in Philly is a true institution. Elbowing your way in for its wildly popular, perpetually-crowded buck-a-shuck happy hour is a rite of passage for anyone living in or visiting the city. Each day, you'll find nine kinds of oysters and two kinds of clams on the raw bar menu; grab a seat at the bar and watch the expert shuckers do their thing amidst the huge trays of shaved ice. Of course, there are epic seafood towers on the menu, as well as other fun touches, like a whole Maine lobster, split and grilled, a clam bake for two, and oyster shooters. The motto of this New England-style seafood bar and restaurant is, "Eat Oysters. Love Longer," playing on oyster's supposed powers as an aphrodisiac. Whether you buy that or not, the Oyster House, with its modern design and wall-mounted oyster plate collection, is definitely easy to love! 1516 Sansom St., Philadelphia; (215) 567-7683.
Oysters and seafood definitely don't have to be fancy – in fact, one of our favorite ways to enjoy them are in no-nonsense joints that hearken back to the seaside peasant roots of shellfish. Tucked into a neighborhood in Clifton Heights, a small town outside of Upper Darby in Delaware County, is the Original Clam Tavern, an old-school restaurant that you'll find packed with locals most nights. You can order up raw oysters, shucked fresh, clams on the half shell, fried oysters, steamed clams with butter, clams casino or Clam Tavern's famous baked clams, served on a special tray. While you feast, enjoy the nautical-themed decor and the glowing fish tanks. 339 E. Broadway Ave., Clifton Heights; (610) 623-9537.
South Central PA
Mr. Bill's Seafood, which you may know from its stall in the Lancaster Central Market, might have more of a reputation for crabs, but really, any kind of seafood you could want is fresh and available on its menu at The Fat Crab Café. Raw and fried oysters, oyster po'boys, and steamed shrimp are just the start. If you're inspired to make your own seafood dishes at home, take home some of the freshest product around, offered at the retail counter. 430 Harrisburg Pike, Lancaster; (717) 299-2008.
At Rockfish Public House, all of its premium seafood is sourced from the Atlantic Coast and Gulf of Mexico, and it is wild caught, sustainably harvested and farmed in an environmentally conscious way. Dive into the raw bar menu, with a lovely selection of freshly shucked oysters and clams, each served with lemon, house-made cocktail sauce and prosecco mignonette. Try the RPH by Madhouse oysters from Hooper's Island, Maryland, wild harvested Maryland Local, Standish Shores from Duxbury, Massachusetts, Blue Points from Connecticut and Chincoteague Salts from Virginia. Steamed and fried shellfish are abundant on the menu, as are lobster rolls, tacos, soups and more. Order a pour from one of the 24 draft beers, most of which are local! 110 N. George St., York; (717) 893-5928.
Rubicon is the kind of French-inspired epicurean-focused restaurant where you'll find fois gras, charcuterie, frogs legs, escargot and French cheeses on the menu. But you'll also find gorgeous seafood, including raw oysters with shallot mignonette, steamed mussels in Pernod with shaved fennel, garlic sausage and leeks, absinthe and dill cured salmon and a transcendent lobster roll. Get your oyster fix during happy hour (5 to 7 p.m., Tuesday through Sunday) with $1 oysters and $12 for a baker's dozen. The cocktail list is full of gems, like the Bordeaux Spritzer (Chanteloiseau, Aperol and blood orange bitters with a burnt orange twist) and the Marakata (basil-infused Tito's vodka, pear nectar and sriracha caviar). 270 North St., Harrisburg; (717) 317-9027. 
North Central PA
Shrimp and grits, New Orleans garlic shrimp, collard greens with ham hocks and jalapeno corn bread might be what you expect from a place called Gigi's Southern Table, and rest assured, you'll find all those things on the menu. But there's also an awesome raw bar at this State College institution, with raw oyster varieties like Pink Moon and Va Va Voom, littleneck clams, lobster claws, jumbo shrimp cocktail, snow crab leg clusters and more. Swing by at happy hour for amazing drink specials, like $3 craft drafts and $5 glasses of house wine. 2080 Cato Ave., State College; (814) 861-3463.
Since 1989, BJ's M Street Tavern & Oyster House's two locations have been some of the best spots in the region for fresh seafood. As the name implies, there are oysters on the half shell aplenty, including Permaquids from Maine and Salten Rock from Cape Cod, Massachusetts. To get the party started, order a round of oyster shoots (oysters in vodka-spiked bloody mary mix) and then start putting some raw oysters away. The wine list is worth a look; try something oyster-friendly, like a New Zealand Sauvignon Blanc or a glass of Italian sparkling rosé. 17 N. Market St., Selinsgrove; (570) 374-9841; 494 Mill St, Danville; (570) 275-5110.

Western PA
Merchant Oyster Co. in Pittsburgh's lively Lawrenceville neighborhood has all the beachy feels you could want in the middle of a city. Raw oysters from both the East and the West coasts, clams, oyster shooters, lobsters, mussels and shrimp are the stars of the show, and the bar program is just as strong, with Narragansett on draft, wine taps, beer buckets, and its own special version of the Hurricane cocktail called The Nor'easter. Happy hour (Tuesday through Thursday, 4 to 6 p.m., and Sunday from 11 a.m. to 5 p.m.) provides plenty of good times, with half off select oysters, half off 'gansett and half off draft wine. 4129 Butler St., Pittsburgh; (412) 932-2553.
In the Strip District, find Roland's, with tons of seafood offerings in a casual, family-friendly atmosphere. Roland's has been perfecting its menu since it opened in the 1940s! The raw bar is a delight, with fresh shucked oysters, clams, micro-brew steamed shrimp, and – as we suggest you always get – the shellfish sampler. The mussels, which come in half a dozen varieties, are also not to be missed! 1904 Penn Ave., Pittsburgh; (412) 261-3401.
Where's your number one stop for oysters and other raw bar snacks in Pennsylvania? Let us know in the comments here or on the PA Eats Facebook page!
Oyster plate photo:

Dish Works

Feature photo:

Aqimero