Dumplings are one of our favorite categories of food, spanning nearly all cultures, and encompassing such different delights as Har Gow (Chinese shrimp dumplings), Indian samosas, Italian ravioli, Tibetan momos, Puerto Rican pastels and Swedish potato dumplings. The Polish version is the pierogi, a dumpling so ubiquitous in the Eastern US that it almost seems to occupy its own genre.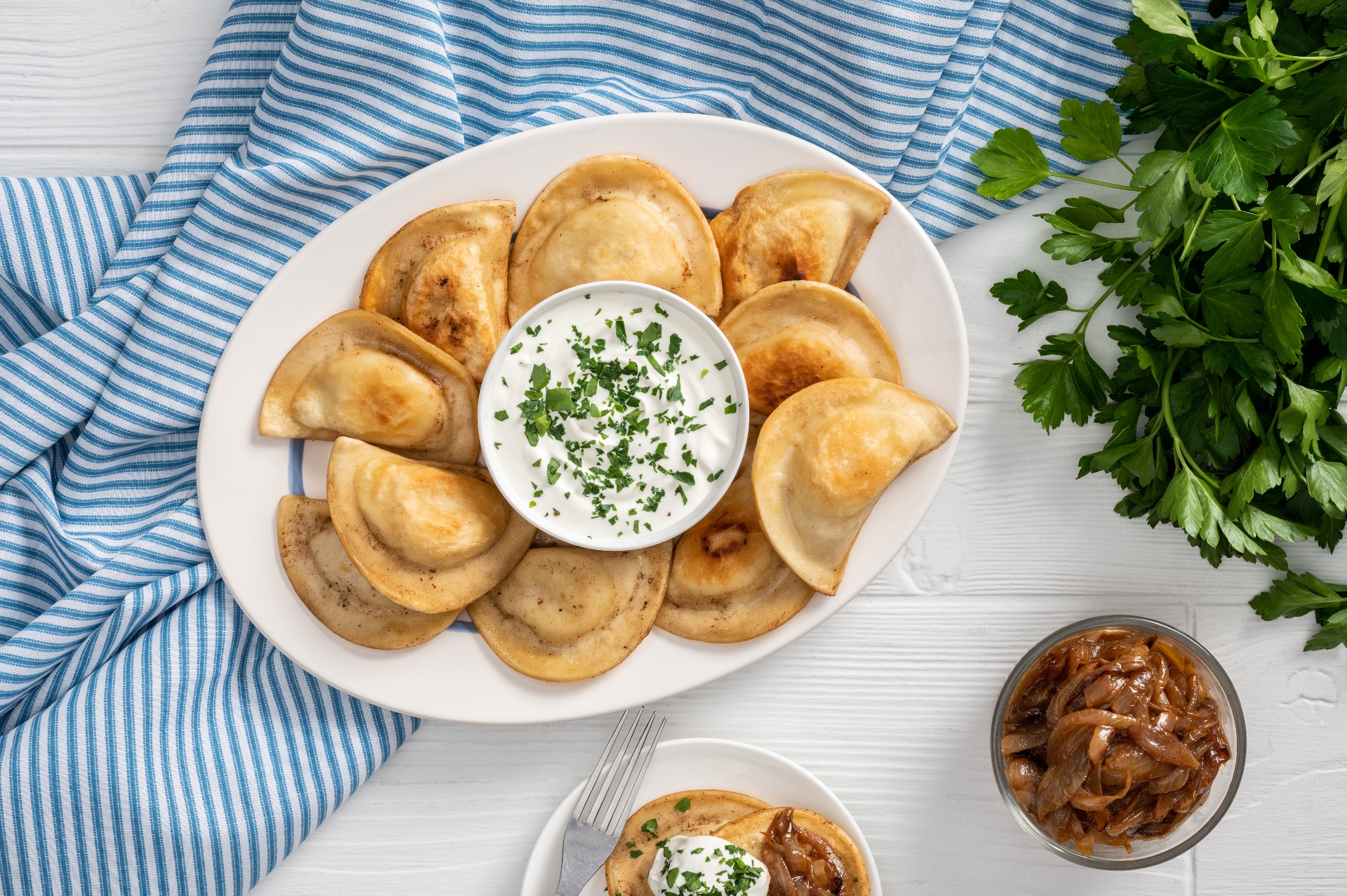 There is a large Polish population in Pennsylvania — in fact, we rank fourth in the nation of states where Polish immigrants live, behind New York, Illinois and Michigan. And that means that PA is home to a lot of amazing Polish food! You probably already know that pierogies are a citywide obsession in Pittsburgh, but you can actually find these delicious dumplings all over the state. Ready to dig in? Here are some top-notch places to get pierogi to check off your PA food bucket list:
Philadelphia
Mom-Mom's Kitchen: As with many traditional foods, there are camps in the old school and the new school. Mom-Mom's falls somewhere in between, with handmade dishes honoring the food their grandparents cooked (like perfectly tender golabki), as well as some modernized fare (Philly cheesesteak pierogi). This homegrown brand, which was recently featured on the show Diners, Drive Ins and Dives, started as a food truck, then opened a restaurant in Northeast Philadelphia, and now runs a takeout window on South Street and sets up each week at the Headhouse Farmers Market each Sunday. 1505 South St., Philadelphia
Czerw's: Opened in 1938 by Jan Czerw, this tiny spot in the Polish-centric Port Richmond neighborhood is beloved for its house-made kielbasa, but its pierogi is also a local treasure! Handmade on the premises, the pierogies come in a variety of flavors, including the traditional potato and farmers cheese, as well as wildcards, like pepperoni and cheddar and buffalo chicken. A long line forms outside, especially on the weekends, so come prepared! 3370 Tilton St., Philadelphia; (215) 423-1707
The Pierogie Kitchen: By hand and from scratch is the name of the pierogi game at this charming spot in the Roxborough neighborhood in Northwest Philadelphia. Alongside menu items like potato pancakes topped with Old Bay-spiced lump crab meat and sausage and sauerkraut croquettes, you'll find so many kinds of pierogies, both sweet (chocolate ganache) and savory (honey Srirarcha chicken). Order them up by the platter, or go for one of the fan-favorite combos, like the Broad Street, a trio of Philly cheesesteak, loaded baked potato and Buffalo bleu chicken pierogi. 648 Roxborough Ave., Philadelphia; (215) 483-5301
Philly 'Burbs
The Dutch Cottage Tavern: You might expect to find certain familiar appetizers on the menu of a comfy, neighborhood bar, like jalapeno poppers, wings and mozzarella sticks. To be sure, the Dutch Cottage offers all of those snacks, including a plate of perfectly pan fried pierogies, served with sour cream and onions. It's a great starter with a pint of lager whether you're settling in for a long night of karaoke, or an afternoon of watching the game. 1264 Bridge Rd., Skippack; (610) 584-9961
Court Diner: Pierogies might not be the typical diner fare, but at Court Diner in Media, they make a fabulous appearance on the breakfast menu in a dish called "Breakfast Pillows." This genius creation features two butter-sauteed pierogies with onions, served with an egg and home fries. Pierogies as a breakfast carb makes so much sense, right? 140 E. Baltimore Pike, Media; (610) 566-4403
NEPA
Black Forest Deli: Owned and operated by a mother-daughter team from Kiev, Ukraine, all sorts of homey Eastern European dishes are on offer here, like borsch, blini and paprikash, alongside American-style sandwiches, wraps and salads. Ukrainian dumplings are called vareniki, and are homemade pierogies stuffed with your choice of potato or sauerkraut, then topped with fried onions and sour cream. Catering is also available! 745 W. Union Blvd. Bethlehem; (610) 856-3036
Kavva's Polish/European Market: This quaint market, right in the historic district of downtown Bethlehem, specializes in authentic Polish and European foods. This includes sandwiches, smoked meats, pączki (donuts), candy and imported groceries, like chips and sauerkraut. Of course, pierogies are also on offer, conveniently packaged to-go so you can make your favorite way at home. 99 W. Broad St., Bethlehem; (610) 419-2040
Babuni's Table: Polish and Ukrainian food are the focus at this small deli and eatery. Try a creative sandwich, like Babuni's Polish Pizza Zapiekanki, with thinly sliced Babuni Ham or kielbasa topped with melted mozzarella and spicy Polish ketchup on a toasted roll, or a Polish favorite, such as haluski or pickle soup. Pierogies are sold by the 6- or 12-count, and come topped with onions and the option to add bacon. Fillings include spinach and feta, mushroom, meat and more. 2095 Route 209, Brodheadsville; (570) 801-7520
The Wooden Match: A cigar bar isn't for everyone, but if the concept appeals to you, do not leave The Wooden Match without ordering a plate of pierogies! You can order them sauteed or deep-fried, or go big with the Fatman Scoop, a heap of pierogies smothered in cheddar cheese, shaved ribeye, caramelized onions demi glaze and an over-easy egg. 61 W. Lehigh St., Bethlehem; (610) 865-1777
Central PA
Krystyna's Kitchen & Roman's Deli: This Polish market and deli first opened in 1991 in the Shillington Market and relocated to the the Fairgrounds Farmers Market in 1999. It retails Polish products, golumpki, sausages and homemade pierogies, which are available for dine-in the market or to take away. 2934 N. 5th Street Highway, Reading; (610) 507-4158
Inna's Pierogi Shop: Influenced by the culinary traditions of her Polish family, Inna Kondramashin honed her pierogi craft under the guidance of her mother. Operating out of a market stall in Lancaster's Central Market, Inna's pierogies are made with organic, non-GMO ingredients and the dough is dairy-free! The pierogi, which are packaged and sold to-go, feature tasty combos like spinach feta and sun dried tomato, kielbasa and bell pepper and bacon, egg and cheese. Frozen Inna's pierogies are available at a number of independent retailers throughout PA. 23 N. Market St., Lancaster
Pikowski's Pierogi Place: There is always something new on the menu at Pikowski's! The vast variety of pierogies at this stand in the Broad Street Market rotates weekly; classics like potato and cheddar are always available, but why not branch out and try something like smoked gouda, onion and potato, shrimp alfredo, or maybe green chili chicken cheddar 23 N Market St, Lancaster, PA? The menu always includes a few dairy-free options, as well as snackable mini pierogies. 1233 N. 3rd St., Harrisburg
Fisher's Boston Pierogies: Eleven flavors of homemade pierogies are on the menu every day from this takeout counter, veering from traditional farmer's cheese and sauerkraut to slightly more adventurous loaded baked potato and jalapeno popper, to surprising and fun takes like mac and cheese and meatball parm pierogies. Seasonal and holiday specialty flavors are also offered. 401 N. Shamokin St., Shamokin; (570) 648-5585
Western PA
Trying to choose the "best" pierogies in Pittsburgh feels like a losing game, with these locally beloved dumplings on the menu at pretty much every dive bar, hip brewpub and even some high-end restaurants. Superlatives are so subjective anyway, so instead of calling any of these the best, they are simply an interesting mix of pierogies that you can find in and around the Steel City.
Pierogies Plus: In 1974, Helen Mannarino emigrated to McKees Rocks, PA from Poland and in 1991, she opened her own Polish restaurant. In the 30 years since, Pierogies Plus has grown into a powerhouse that includes wholesale production and distribution to grocery stores and restaurants in the greater Pittsburgh area. You can also order directly from Pierogies Plus facility, either hot and ready to eat, or cold for cooking at home. Options include traditional pierogies, as well as specialty flavors like spinach and ricotta and steak and provolone. Dessert pierogies (think: apple pie and apricot and cream cheese) are also available, as is a wide variety of Eastern European foods. 342 Island Ave., McKees Rocks; (412) 331-2224 
Cop Out Pierogies: Creativity rules at Cop Out, a casual pierogi shop and eatery across the Allegheny River from Pittsburgh in Etna. Gyro, shrimp, grits and bacon, chicken marsala and cheeseburger are just a few of the unexpected and irreverent pierogi fillings that can be found here! Some gluten-free and vegan options are also offered. Bonus: Orders of a dozen pierogies actually come with 14! 350 Butler St., Etna; (412) 973-0068
Forgotten Taste Pierogies: Homemade with fresh ingredients, including Idaho potatoes, these authentic-style pierogies feature thinner dough, with a higher ratio of filling. A dozen flavors, including traditional prune butter, are on the menu, sold by the half-dozen, full dozen or hot and ready to eat. Stuffed peppers, stuffed cabbage, and other Polish foods are also available. 11978 Route 19, Wexford; (724) 940-2277; 910 Beaver Grade Rd., Coraopolis (take out only); (412) 269-9800
Little Spuds Pierogi Company: Whether stuffed with traditional potato and cheese filling or something a little more modern, like hot wing chicken, each gourmet pierogi at Little Spuds is made fresh, every day. This spot is retail only, with the option to purchase pierogi to-go by the dozen or by the pound. 877 Justus Blvd., Scott Twp.; (570) 504-5617
Stuffed Pierogi Company: The emphasis is on freshness and quality as this Erie-based pierogi company, which was founded by local food industry pro Tim Mooney. Available via wholesale and online ordering, these pierogies are made to order and come in standard and signature flavors, like sweet potato goat cheese, and jalapeno, cream cheese and corn. Delivery is offered within a 15-mile radius of Erie. no address listed; (814) 413-5119
Now we want to hear from you! Where are your favorite pierogies in PA? Do you prefer traditional or wild flavors? Let us know in the comments here or on the PA Eats Facebook page!