Just about four miles from State College, adjacent to the Rothrock State Forest, find Boalsburg, a small town that's been experiencing a bit of a renaissance recently, with new businesses opening and seasonal tourism thanks to the natural beauty so close by. Newest on the scene here is Boal City Brewing, a craft brewery that opened its doors in mid-April of 2023.
The light-filled brewery and taproom, situated on part of a 38-acre tract of land that's also home to the Boal Museum Visitor's Center and the Columbus Chapel and Boal Mansion Museum, marks a new destination for families, locals and visitors to the area. It features welcoming indoor and outdoor spaces, a constantly rotating draft list, food trucks and events. Owner Gordon Kauffman III is a native of Central PA, and Boal City Brewing is the realization of a dream he's long harbored to bring a community-minded space to this small pocket of the region.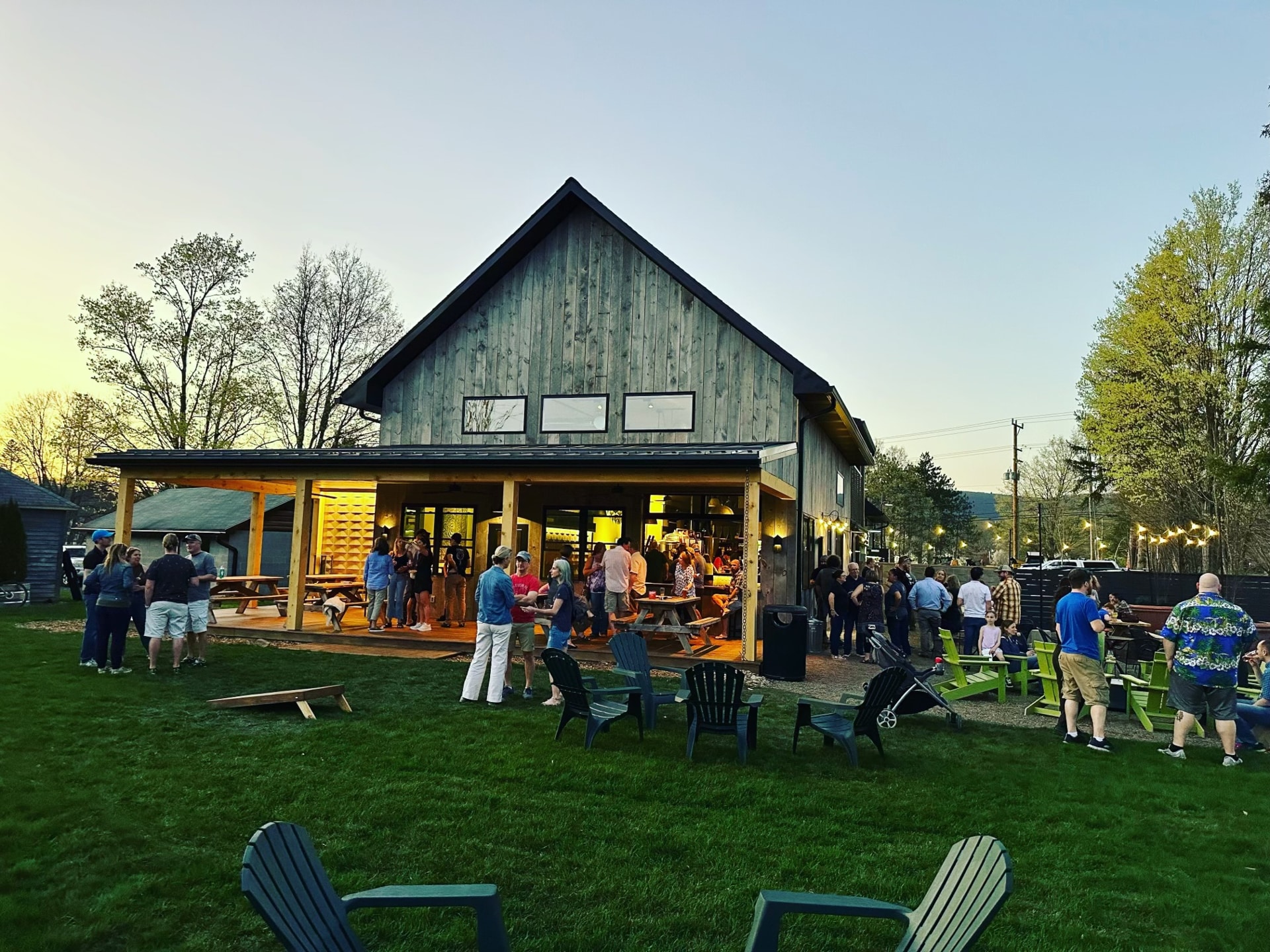 Head brewer Mike Smith is a longtime veteran in the industry, with many stints working in brewing and distilling. Smith was approached by Kauffman about five years ago with the idea for this brewery (the two have been friendly acquaintances for years), and Smith was in.
"Immediately I grasped his concept and was like, 'Yeah this is exactly what I'm looking to do,'" he says.
Smith is inspired by historical beer styles and Belgian beer traditions, and trained by his experience working in larger breweries to strive for consistent excellence in every batch of beer. His goal is to create a well-rounded beer program, that keeps both the staff and the customer base excited to see what's coming next.
Despite his busy schedule as a new business owner, we were able to grab a few minutes with Kauffman to talk about how Boal City came to be, and what guests to this brand new spot can expect when they stop by.
PA Eats: Tell us a bit more about why you chose Boalsburg as the home for your brewery!
Gordon Kauffman III: We're taking advantage of the natural resources in Central PA; we're sitting right between two trail heads in Centre County, so that makes it unique. Another thing is that while we've leased just an acre of land, there's 37 acres around us of maintained trails and  bike paths for kids and beginner bikers, as well as a theater, a museum and a farmers market across the street. We wanted to built this as a community location where people can get info about what's going on around here. It's more than just about the beer!
What was the process like of finding and building out the space?
We found the location and signed a lease in 2020. The property had three buildings, but we had to build the taproom and brewhouse, which is 2500-square feet. We also had to complete a land development plan with the township, including conducting a traffic study because we border a state-owned road and our zoning ordinance required that. We went through a lot of bureaucracy, and it took much longer than I'd expected. We started construction in July 2022, which went pretty well, and were prepared once we had power to start making beer. We opened April 12 of 2023!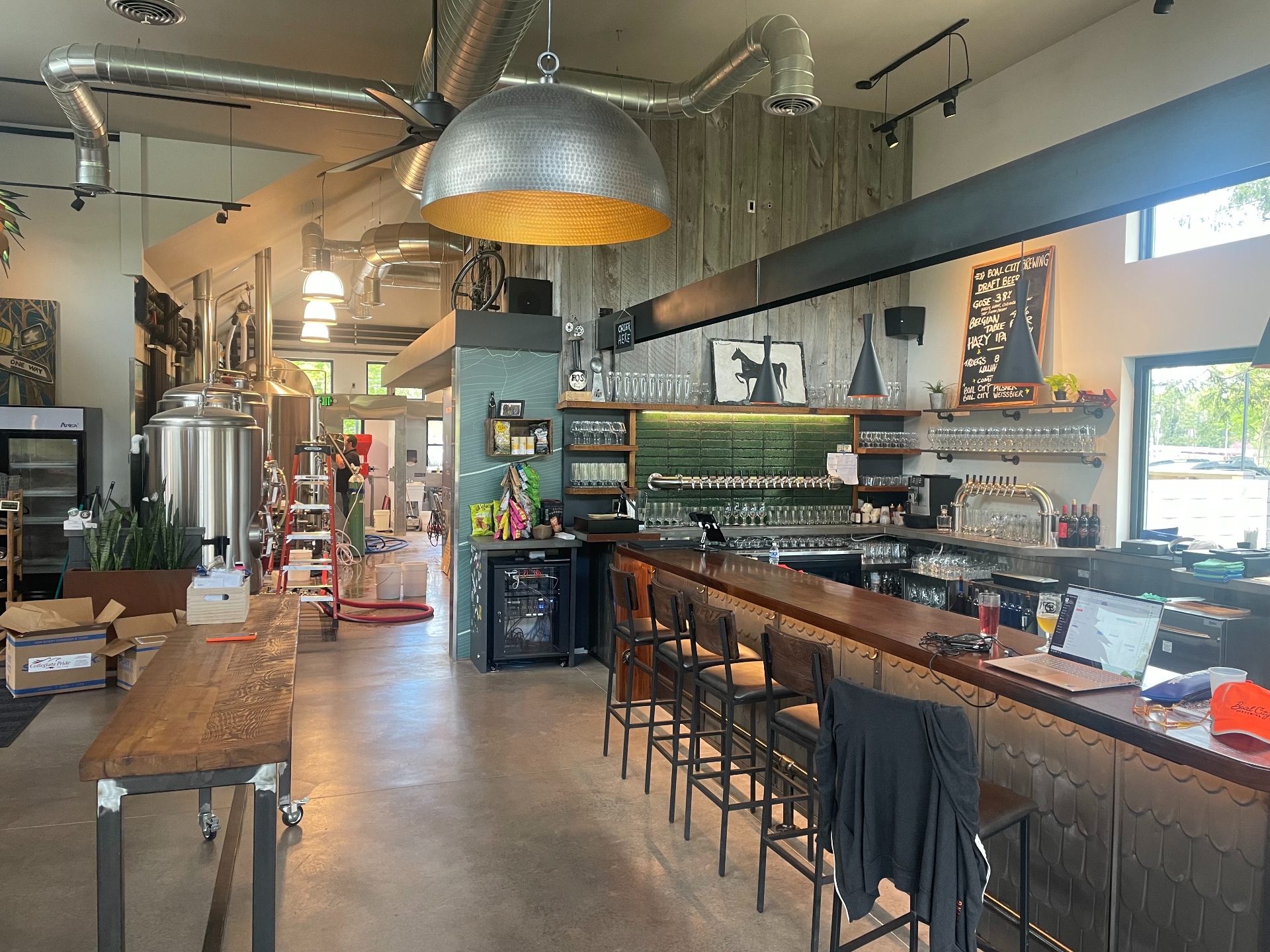 What are the Boal City brewery and taproom like?
The taproom is a lot of windows and natural light, with a garage door as well. I just love to be able to open up the door and feel like you're outside even though you're inside. The craftspeople involved in this build-out were super-amazing! A local carpenter built the bar, with a lot of old materials that we reclaimed and repurposed, like old beams from a barn taken down in Bellefont, PA, about 10 miles away, that were used to make shelves around the place. We also repurposed tin from that barn and put it under the bar. We had a lot of wood and metalwork done by a local metal craftsperson, Village Craft. My friend did a bunch of concrete work.

We also had a mural painted in the back, which is a part of the brewhouse, but customers can go back there and hang out. We call it The Process Mural, because we want people to be educated about how we make beer here. On the other side, we covered the entire room in an old contour map of Rothrock State Forest! We installed a nice sound system in the space, with speakers outside too because we want to have music with good vibes. In the outdoor space, we have three firepits, a beer garden and 12 picnic tables.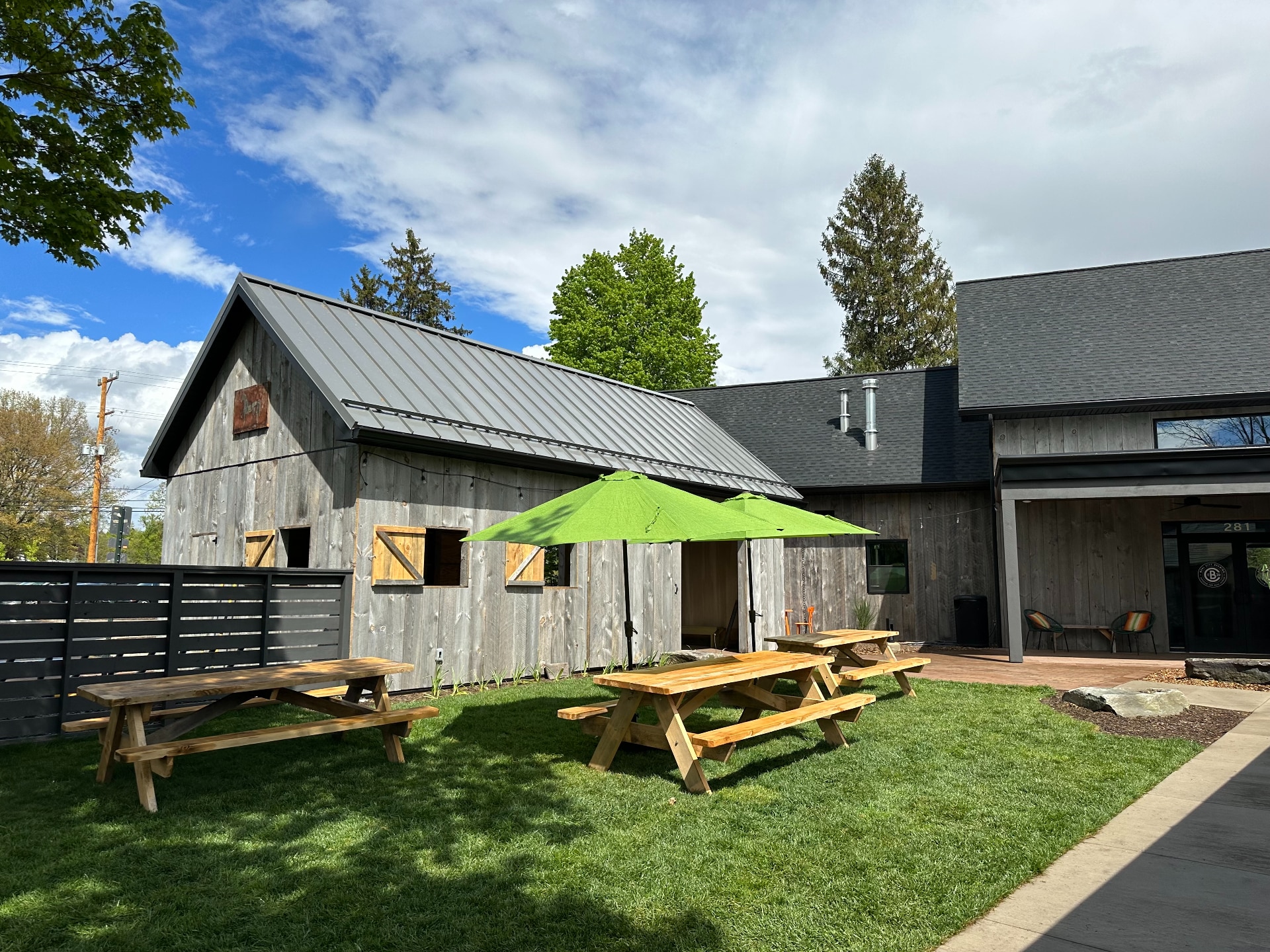 Let's discuss the beer! What can folks expect from Boal City Brewing?
We're doing things a little differently on the beer side. We don't want to get into flagship beers until we're happy and our customers are happy with the beer. That means we're coming up with new things all the time. There are no "house beers" on our menu right now. Instead, we have beers listed by style, with info about them, like the ABV and IBU as well as the brew number. Each style of beer is in a series starting with number one.

Eventually, we'll get to a point where we really like certain recipes, and will give the beers names and start canning them. We have a small canning machine and will be selling beer to go. We've also decided not to really do wholesale distribution at this time, so that you can only buy our beer from the taproom. Part of the reason for that is we're starting out with a seven barrel system, which partially limits our production capacity. But we also think it's more unique to offer our beer only in our taproom. We believe that Boalsburg will become a destination for recreation in the forest, and we want to make sure that visitors are aware that we're here. Also, competing with a million different breweries in grocery stores just doesn't appeal to me. We'll strategically offer some small kegs to select bars or restaurants, but our plans is to sell 98% of our beer from our taproom.
After so many years of planning, how does it feel to finally have the taproom open for business?
The first weekend was a bit surreal, just taking a step back and seeing everybody using the space like I had envisioned was really cool. People were happy and came up to me just so genuinely pleased. I was really surprised by the fact of how many families came out, with their own chairs and blankets. menu changes every time. Now we're coming out of Memorial Day and are ready to get into a great groove this summer.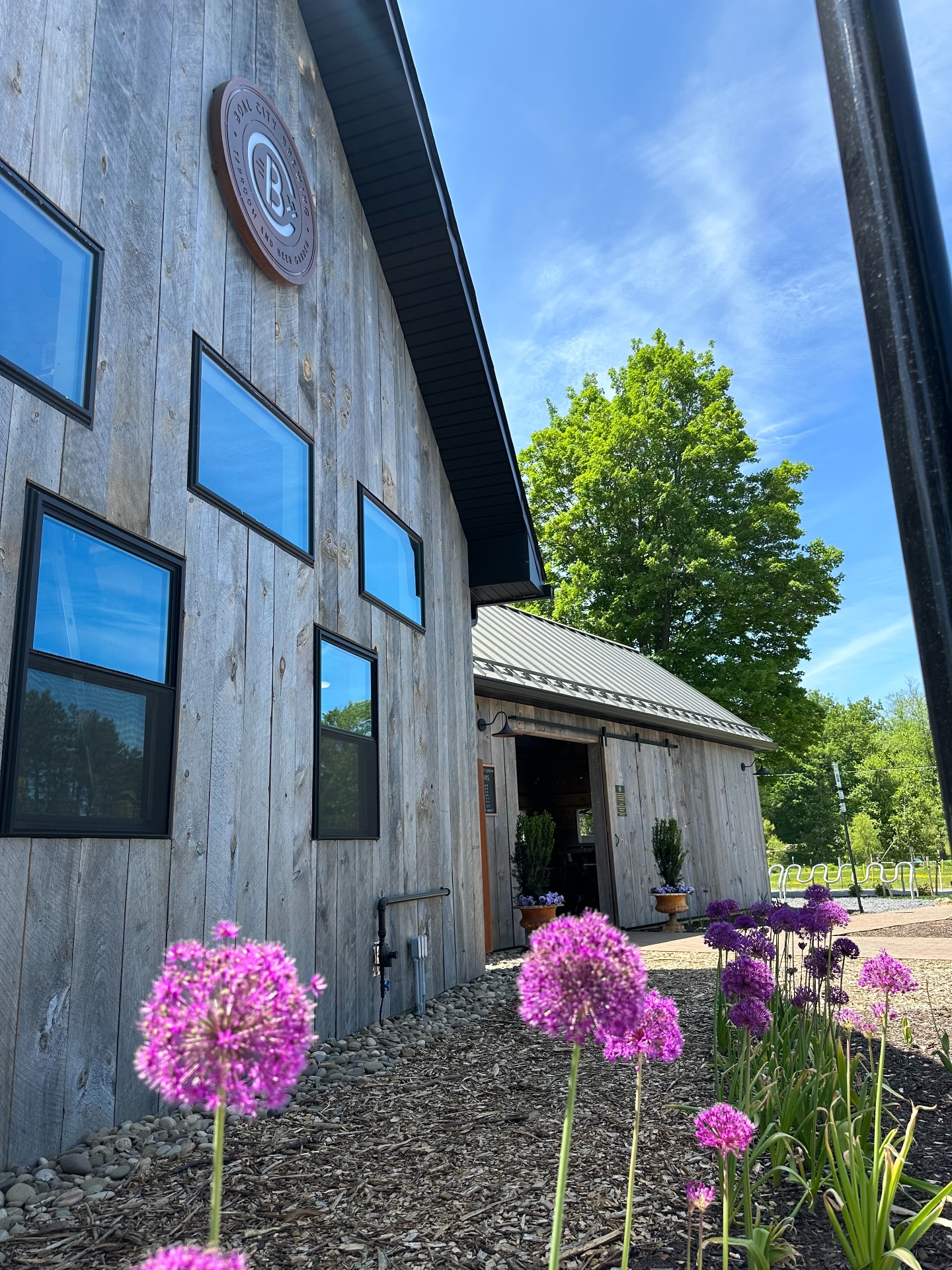 For more info on Boal City Brewing, including food trucks and beer releases, visit its website or follow along on Facebook and Instagram!
Find Boal City Brewing at 281 Old Boalsburg Rd. in Boalsburg, PA; phone: (814) 808-2519.
This series is made possible by support from the Pennsylvania Malt and Brewed Beverage Industry Promotion Board and grant funding from the Pennsylvania Liquor Control Board.
Photos:

Boal City Brewing