Long live the American road trip! We hope you've been enjoying adventures across Pennsylvania, with the family (and maybe a furry friend) packed into the car, cruising the open highways, mountain roads and farmland lanes that crisscross the Commonwealth. Whether you prefer to pack a cooler to the brim or to eat at restaurants at every meal during your travels, no road trip is complete without a stop at a burger joint, drive-in, hot dog stand or soft serve ice cream shack.
Classic-style roadside spots are the epitome of casual, family-friendly meals — way more fun and better quality than fast food chains with the same level of convenience. Even though many of these types of restaurants have closed since their heyday in the mid-20th century, there are still some super-cool roadside stands to discover in PA. Ready to hit the road? Here are some places to stop for sustenance on your next road trip:
Southeastern PA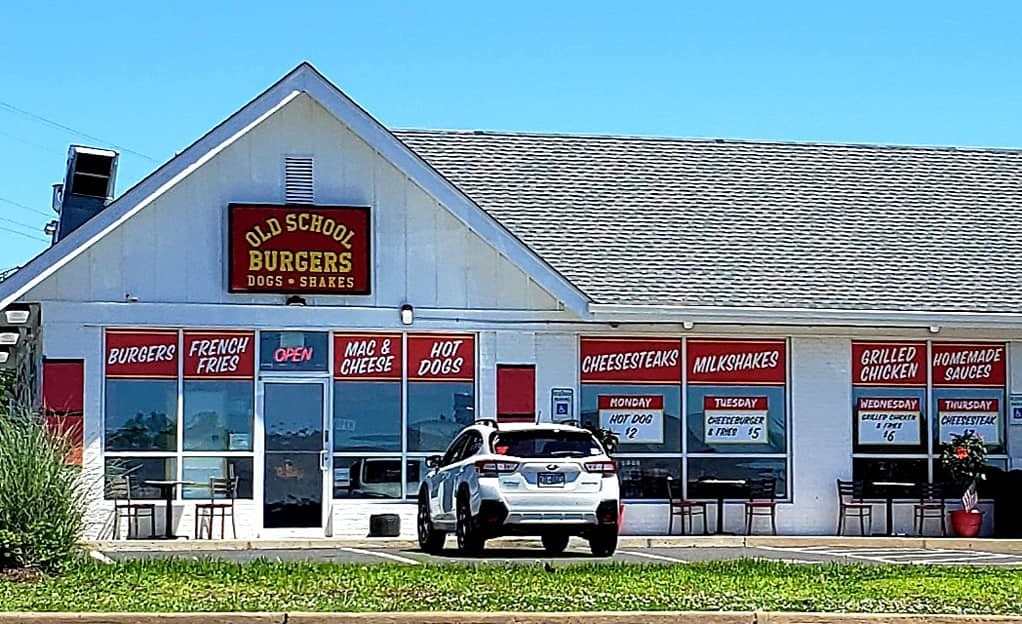 This newish spot (opened in 2016) channels the spirit of times past with a community-oriented feel and great burgers and shakes. Old School Burgers, with locations in Ambler and Willow Grove, with a third opening set for September 2021 in New Britain, rocks classic quarter-pound burgers, fries, chicken and steak sandwiches and hot dogs, as well as modern updates, like Weird Science fries (Old Bay, cheese sauce, bacon and tangy pickle ranch) and Pittsburgh Pierogi mac-and-cheese (with actual pierogis, a seven-cheese sauce and kielbasa). 242 E. Butler Ave., Ambler; (267) 419-8676; 1135 York Rd., Willow Grove; (215) 657-5309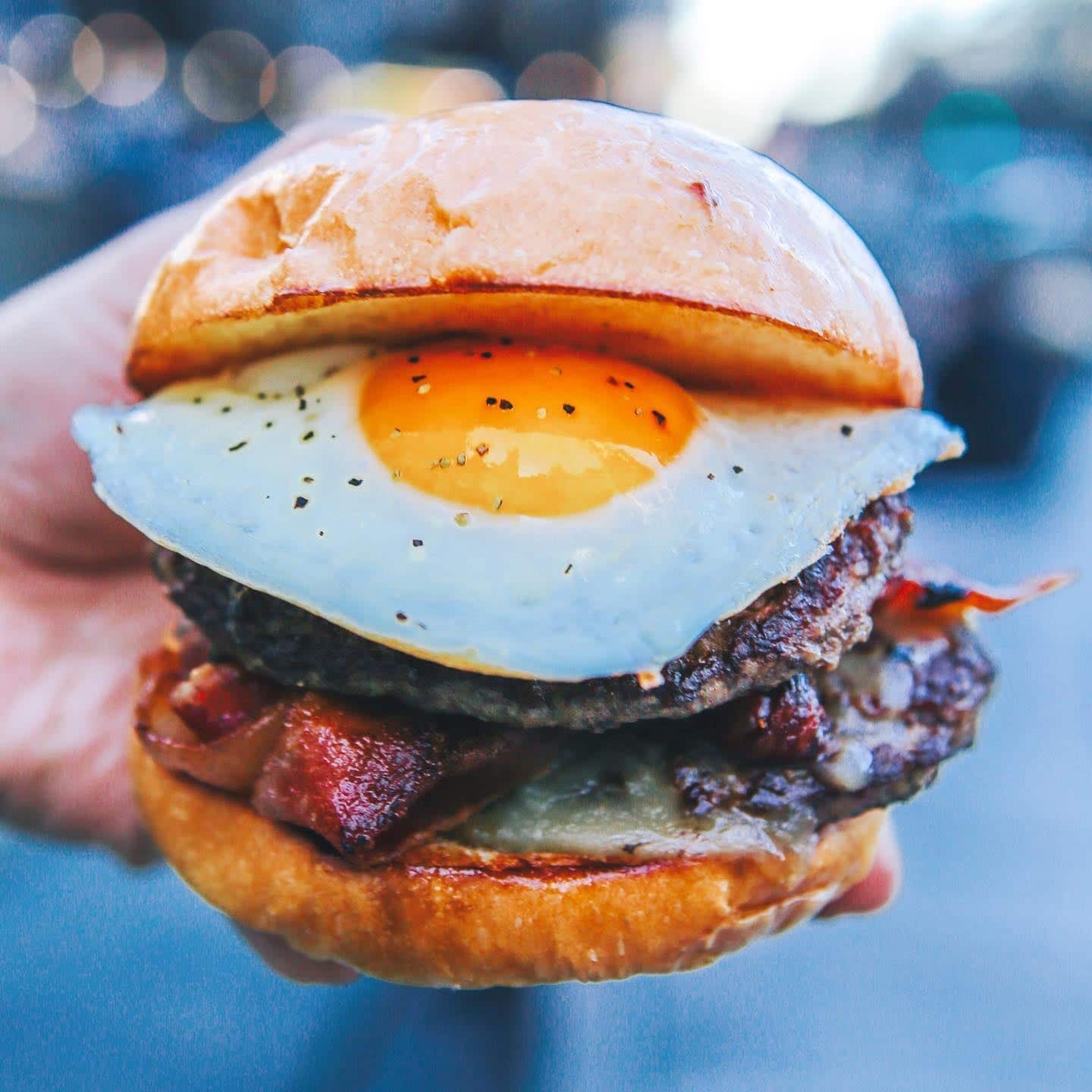 Located on Main Street in Souderton's quaint downtown, you'll find The Burger Shop, with a menu stacked with options to build your own creation. Start with a grass-fed beef patty, a piece of grilled or fried chicken, or Beyond Burger, and dress it up any way you like. A variety of french fries and milkshakes using milk from Trickling Spring Dairy Farm are no-brainers. Grab your food to go, or find a seat on The Burger Shop's casual outdoor patio. 162 N. Main St., Souderton; (267) 382-0903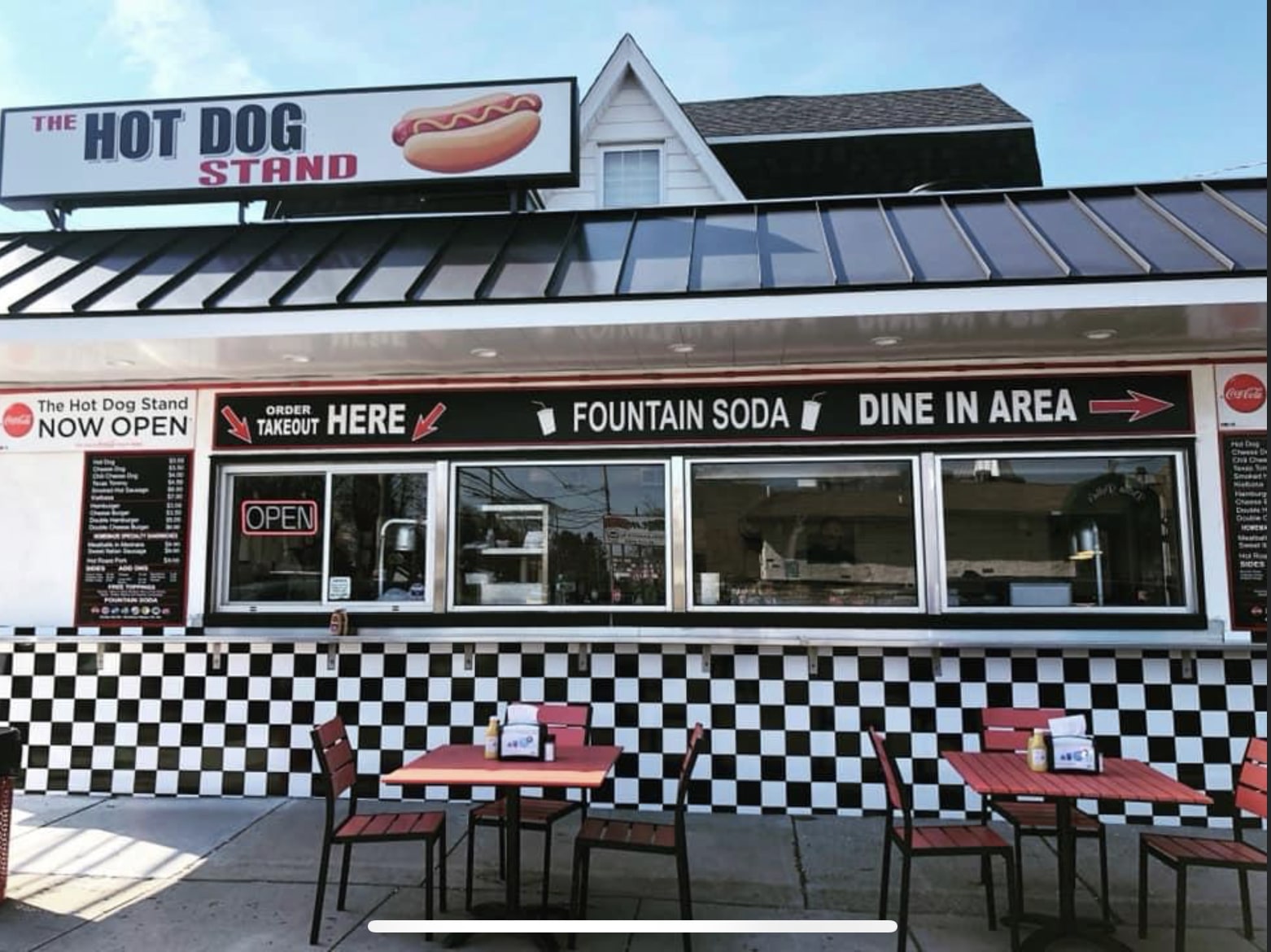 A sea of retro black-and-white checkerboard and the delicious smell of grilling hot dogs makes the The Hot Dog Stand in DelCo easy to spot from a block away. But it's not just hot dogs that await at this cute stand; a tight list of other sandwiches, like Italian sweet sausage, hot roast pork and kielbasa, are also available. Just minutes from I-476, this is an easy on-and-off the highway detour, if you're in need of a hearty bite. 401 W. MacDade Blvd., Milmont Park; (610) 915-3777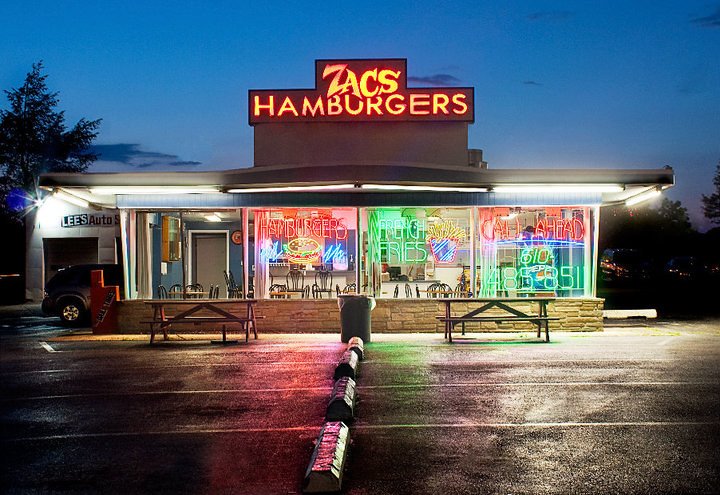 Another DelCo roadside joint that locals love is Zac's Burgers, with locations in Aston, Crum Lynne and Folsom (Zac's even has a stand at Lincoln Financial Field in Philly!). The menu reads like a classic burger shack, with updated additions, like salads, sweet potato fries and veggies burgers. Do not miss the thick hand-dipped milkshakes; we suggest the Black & White or peanut butter flavors. Zac's has a great kids' menu, to boot! 1301 E. MacDade Blvd., Folsom; (610) 532-6766; 1505 Chester Pike, Crum Lynne; (610) 833-2233; 3600 Concord Rd., Aston; (610) 485-8511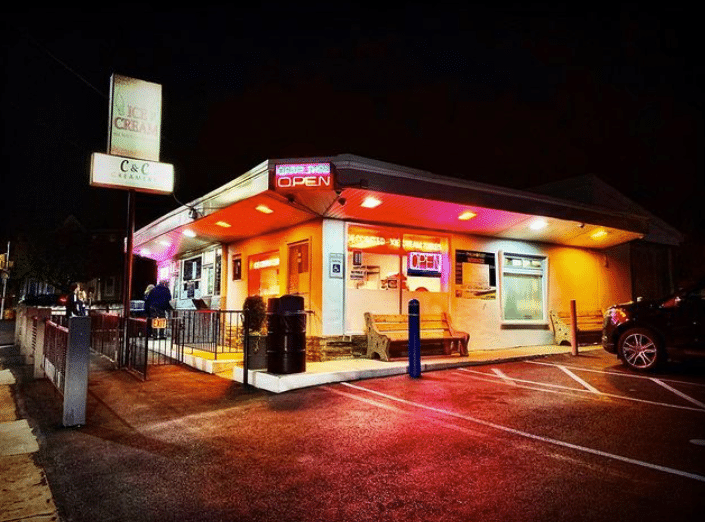 C&C Creamery is a diminutive stand serving up big flavors in the Manayunk neighborhood of Philadelphia. All of the ice cream, from chocolate and vanilla soft serve, to cookie batter ice cream, is made in house! C&C (which stands for "custard and cakes") has been doing its thing since 1955, and has the vintage storefront to prove it. 5461 Ridge Ave., Philadelphia; (215)487-1920 
NEPA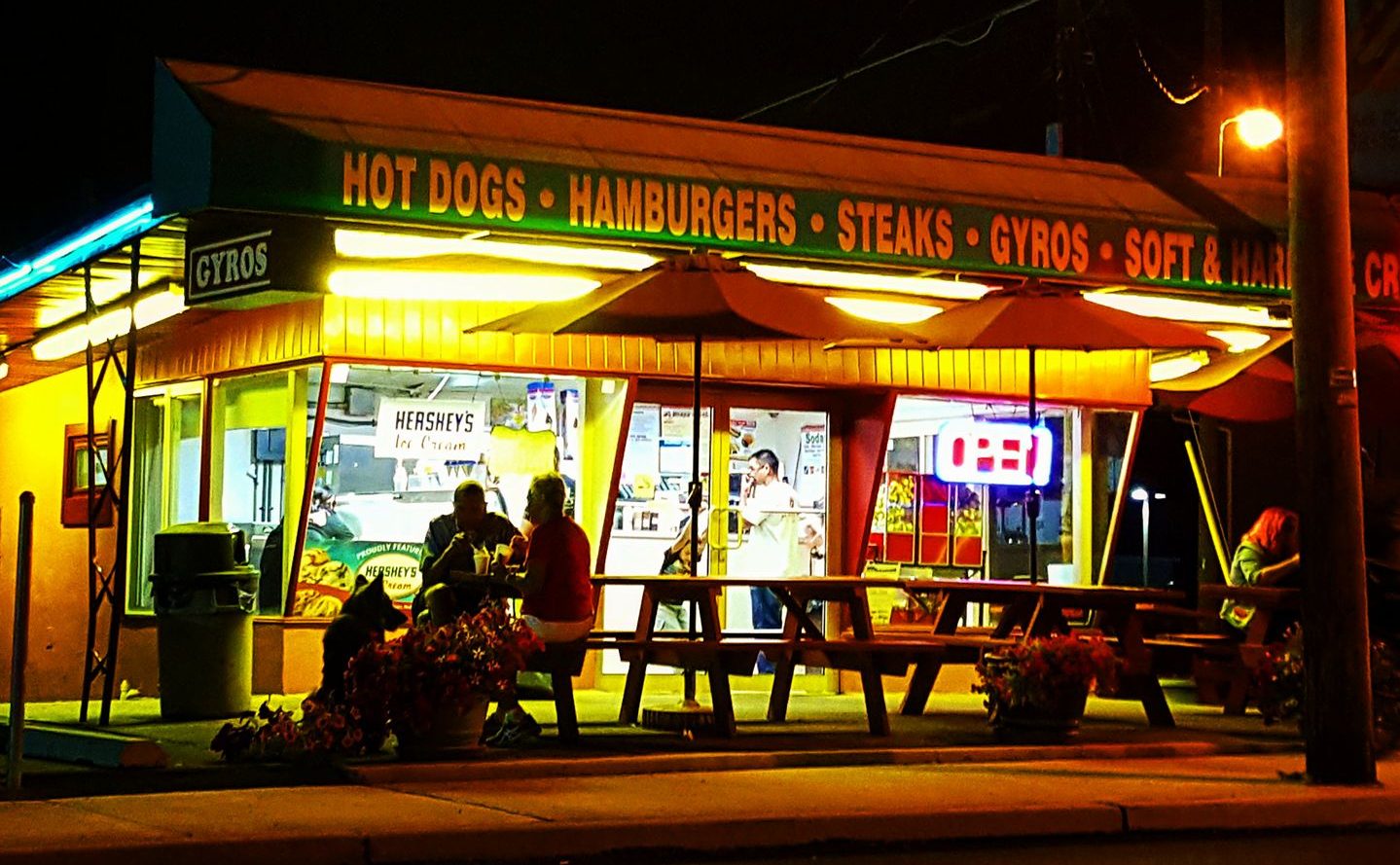 Vassi's Drive-In may look small, but its menu includes an impressive number of tasty treats, like loaded gyro fries, fish sandwiches and a chicken Caesar salad. Of course, there are also burgers and hot dogs aplenty, including the New Jersey Dog (with barbecue sauce and crispy onion strings) and Vissi's Big Time Burger, a six-ounce patty of local beef topped with American cheese, homemade chili, onion straws and mayo. For dessert, there are milkshakes, sundaes, soft serve and more. 1666 Main St, Hellertown; (610) 838-1877
Enjoying a vacation in the Lehigh Valley or just driving through? Either way, swing by the Blue Mountain Drive-In, a great pit stop with a mini golf course and playground, should the kids need to stretch their legs. Savory and sweet options are on the menu, so you can treat yourself to a cup of pistachio soft serve or a watermelon snow cone after plate of shrimp tacos or a burger with melted pepperjack. Breakfast is also available! 1439 Blue Mountain Dr., Danielsville; (610) 767-6379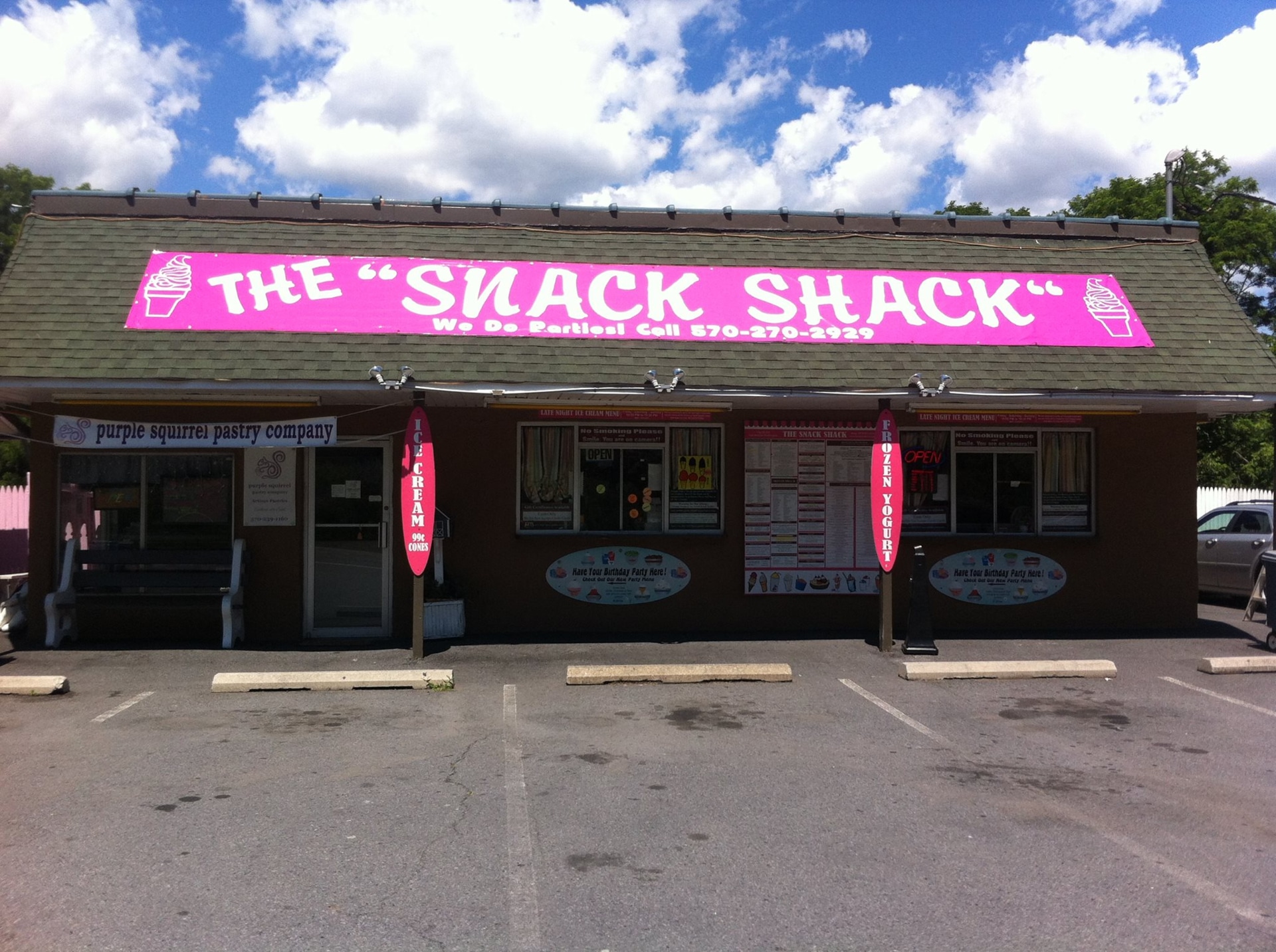 Is there any two-word poem more lovely than "snack shack"? We think not! The Snack Shack in Wilkes-Barre lives up to its name with a wide selection of frozen treats. All the favorites are there, from hand-dipped scoops to soft serve swirls to frozen yogurt and sherbet to ice cream floats. Vegan, sugar- and fat-free options are available, as well as hot dogs and funnel cakes! 750 Wilkes-Barre Township Blvd., Wilkes-Barre; (570) 270-2929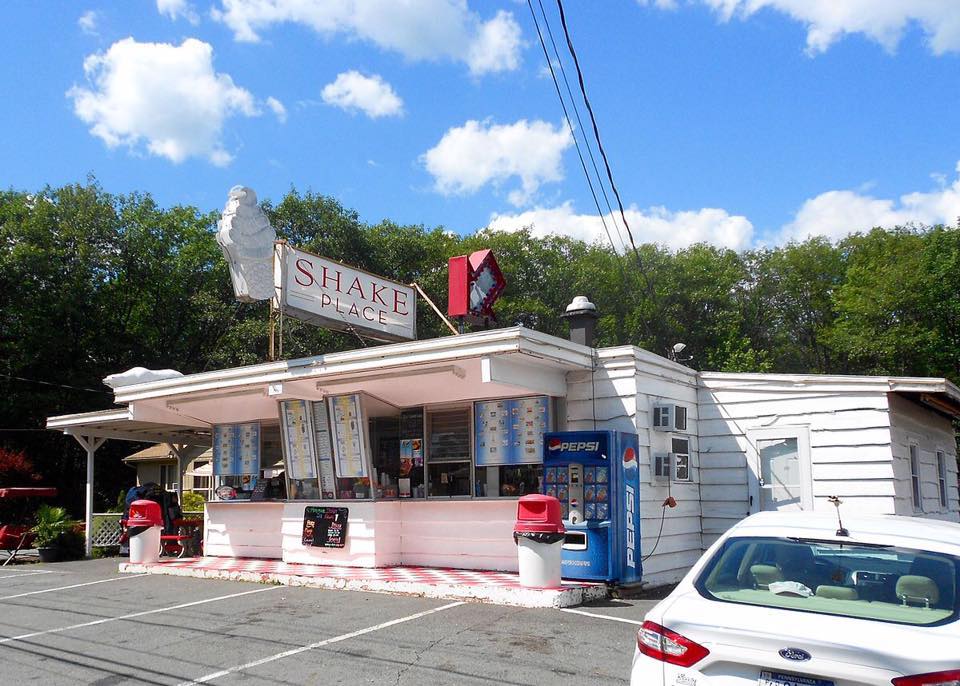 Since 1968, That Shake Place has been dishing up classic road-trip grub with a side of Americana. Food from the grill, like cheesesteaks, onion rings and chicken tenders are right at home alongside ice cream creations. You'll find floats, soft serve, frozen yogurt, sundaes, Italian ice and, of course, plenty of milkshakes! 1509 Mt. Cobb Hwy. (Rt 348), Mount Cobb; (570) 689-7666
Central PA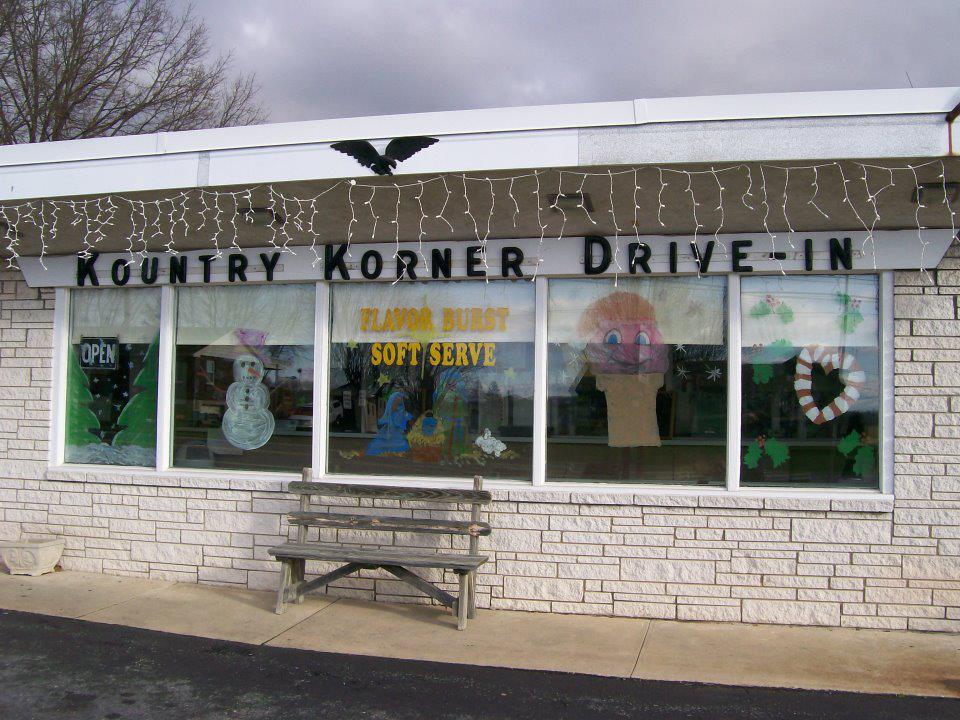 Kountry Korner Drive-In is living proof that they just don't make them like they used to. Not only does this quirky drive-in, which truly looks frozen in time, offer a huge menu of hot food, including subs, burgers, chicken sandwiches, hot dogs, seafood boats and platters, wraps, build-your-own baked potatoes — can more places do this, please? — and dozens of sides (hello, beet pickled eggs!) but a laundry list of ice cream options, as well. The prices also seem stuck in the past; a classic cheeseburger will run you a whopping $3.30. 610 W. Route 897, Reinholds; (717) 336-7355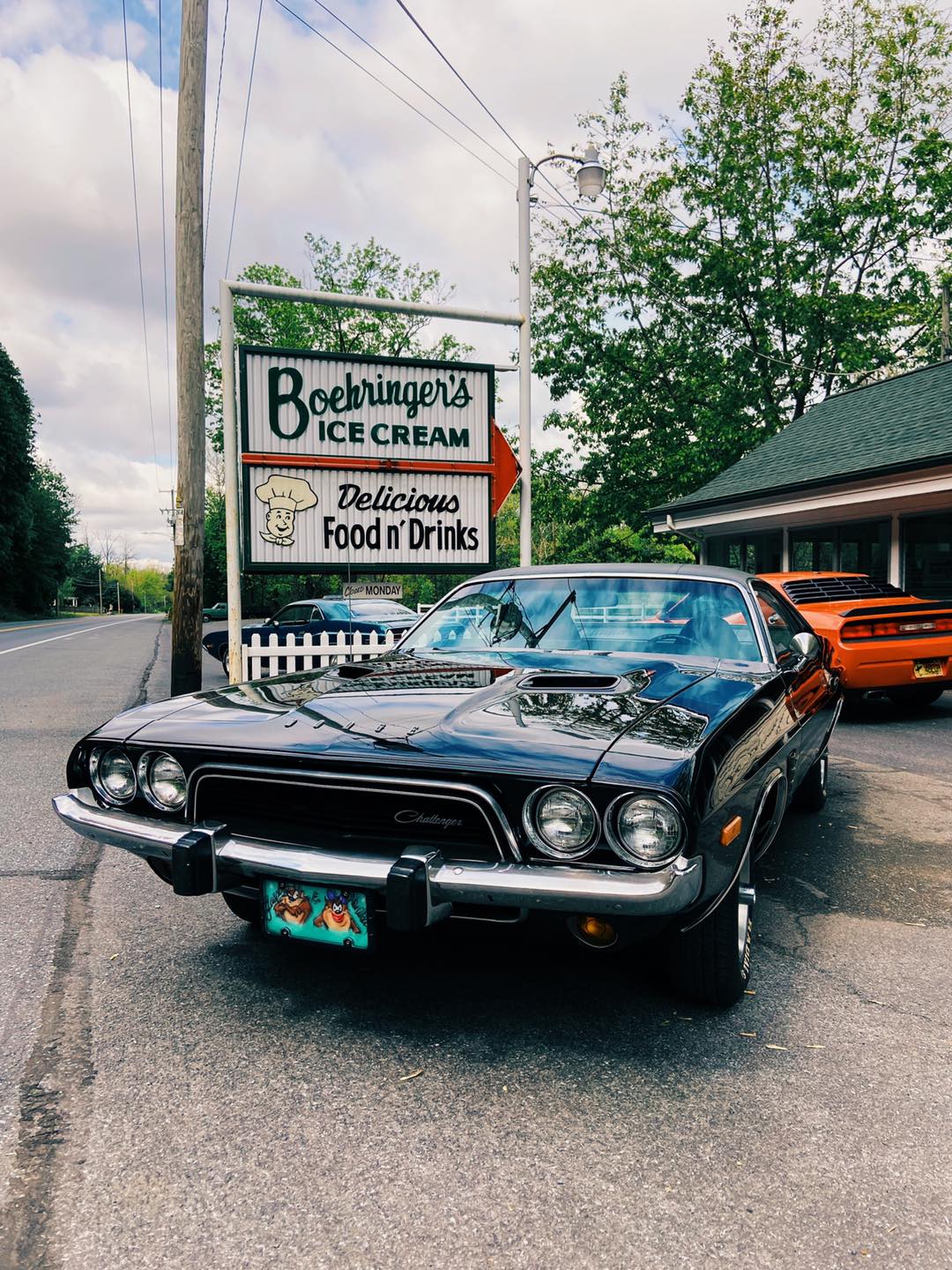 Situated right on the banks of the Little Muddy Creek in Lancaster County, Boehringer's Drive-In offers many flavors of homemade ice cream, as well as hamburgers, hot dogs, chili dogs, cheesesteaks, hot and cold subs and french fries. With plenty of picnic tables and the babbling brook nearby, this is a perfect place to pull over for fresh air and snacks. 3160 N. Reading Rd., Adamstown; (717) 484-4227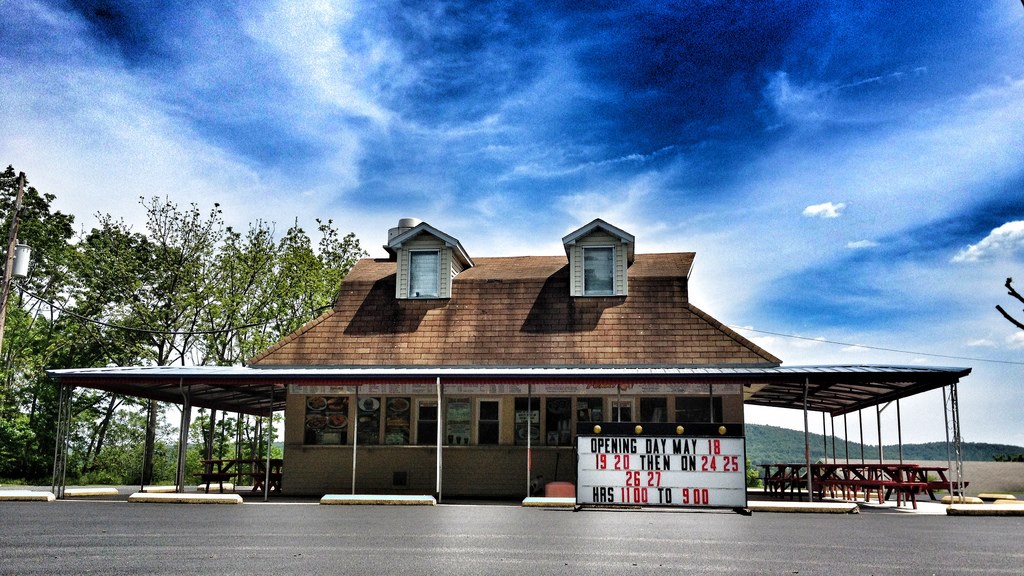 Exploring the many opportunities for family-friendly fun in York County? Refuel at Forry's Drive In, right on the south side of Pinchot Park. Hot and cold savory snacks, like pretzel sandwiches, crab cake subs, hot wings and burgers are on offer, with a nice selection of affordable smaller meals for kids. Extra-thick milkshakes and ice cream round out the sweet side of things. 930 Alpine Rd., Wellsville; (717) 292-0857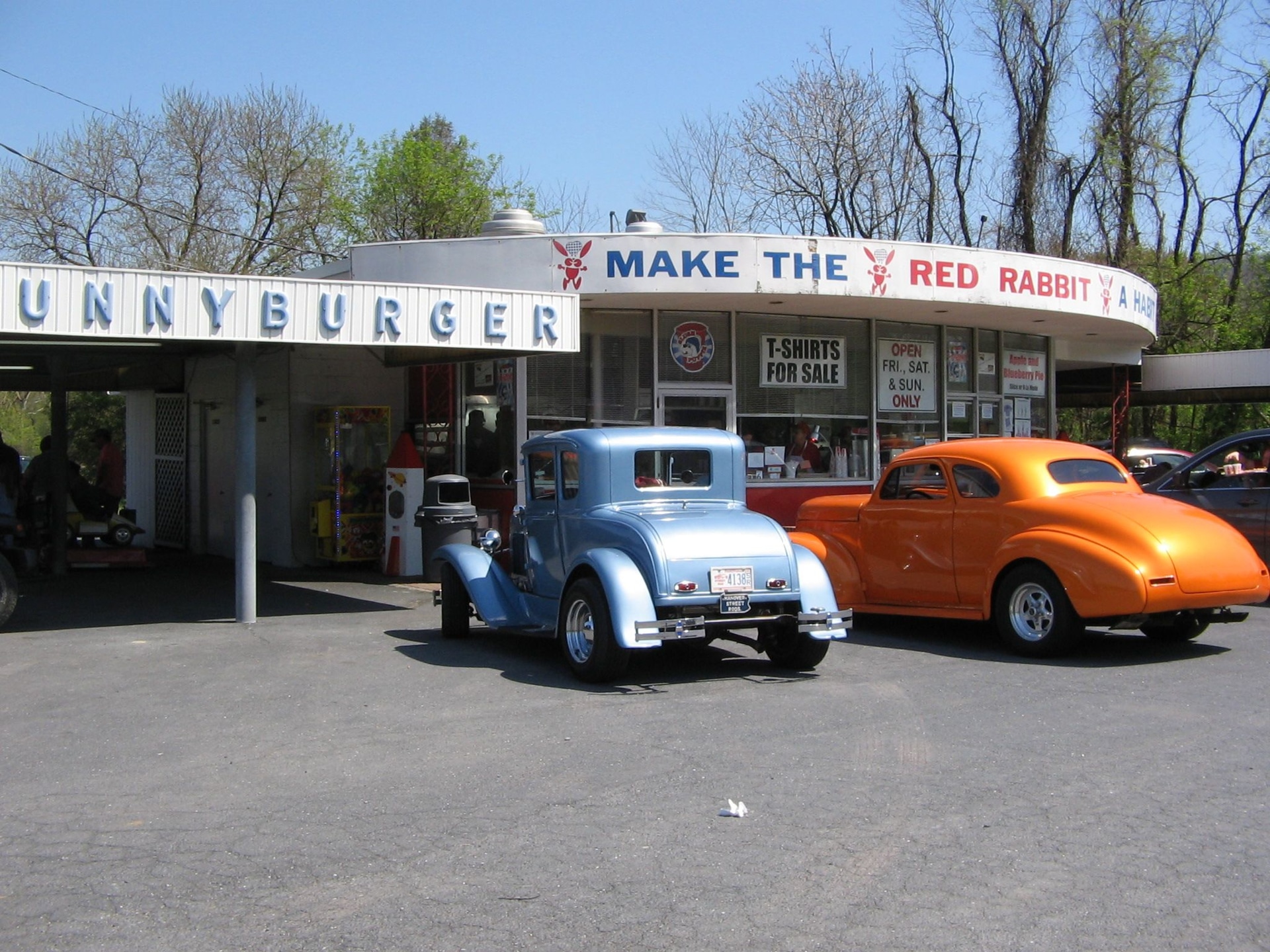 Like something out of a movie set, the Red Rabbit Drive In is vintage drive-in perfection. In operation since 1964, this Central PA gem is home to a number of signature specialties, such as Bunny Burgers (a quarter-pound burger with bacon, cheese, lettuce, tomato, onions and special sauce) and Bunny Dusted Fries. There are also more substantial plates, like pizza and a Perry County fried chicken dinner. Soft serve, milkshakes, sundaes and slush puppies are your options to satisfy your sweet tooth. Bonus: Red Rabbit offers actual carhop service, a novel and fun way to dine on the go! 60 Benvenue Rd., Duncannon; (717) 834-4696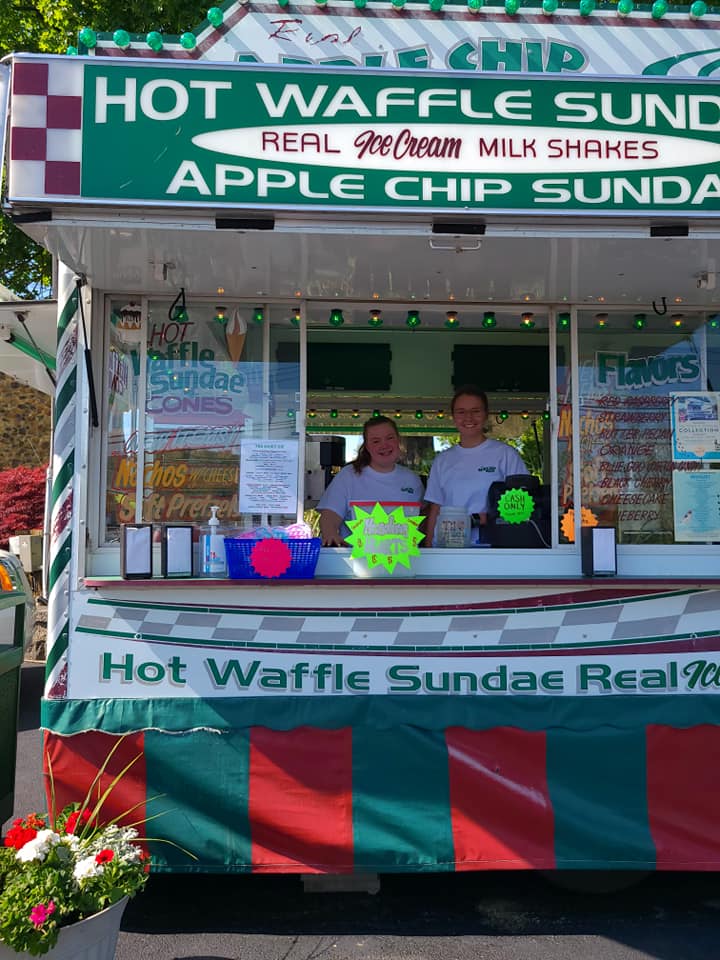 The Dairy Dip, which lands somewhere between a food cart and a roadside stand, specializes in carnival classics, like hot waffle sundaes, cheesy nachos and soft pretzels. Try an apple chip sundae, chocolate malt, or cheesecake soft serve with sprinkles in a freshly made waffle cone for an unbeatable summer treat. 1603 Allegheny St., Hollidaysburg; no phone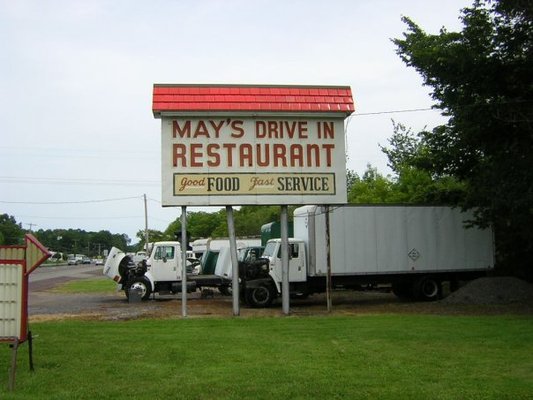 May's Drive In is a mini-chain with five locations throughout northeastern and central PA. A classic menu of sandwiches, platters, burgers and ice cream treats are sure to please everyone in your traveling party. 2675 PA-405, Milton; (570) 523-8092; 320 Montour Blvd., Bloomsburg; (570) 784-3739; 1420 W. Front St., Berwick; (570) 752-4824; 1920 PA-405, Muncy; (570) 546-2748; 2105 Centre St., Ashland; (570) 875-4601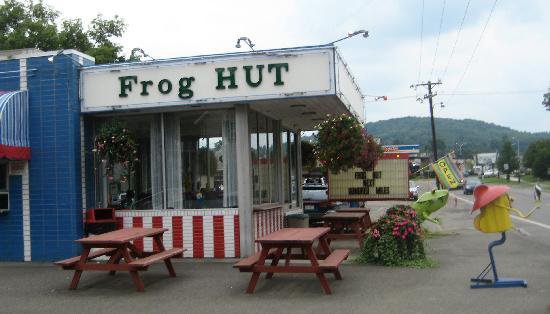 All you need to know about the The Frog Hut in Wellsboro is that there is an entire section of its menu dedicated to "Crispy Crunchies," which include fries, onion rings, breaded mushrooms and cauliflower, oysters and … frog legs! Loaded burgers, foot-long hot dogs and a full dairy bar with cones, cups, sundaes and shakes makes this a must-stop if you're anywhere in the area. 132 Tioga St. Wellsboro; (570) 787-4450
Western PA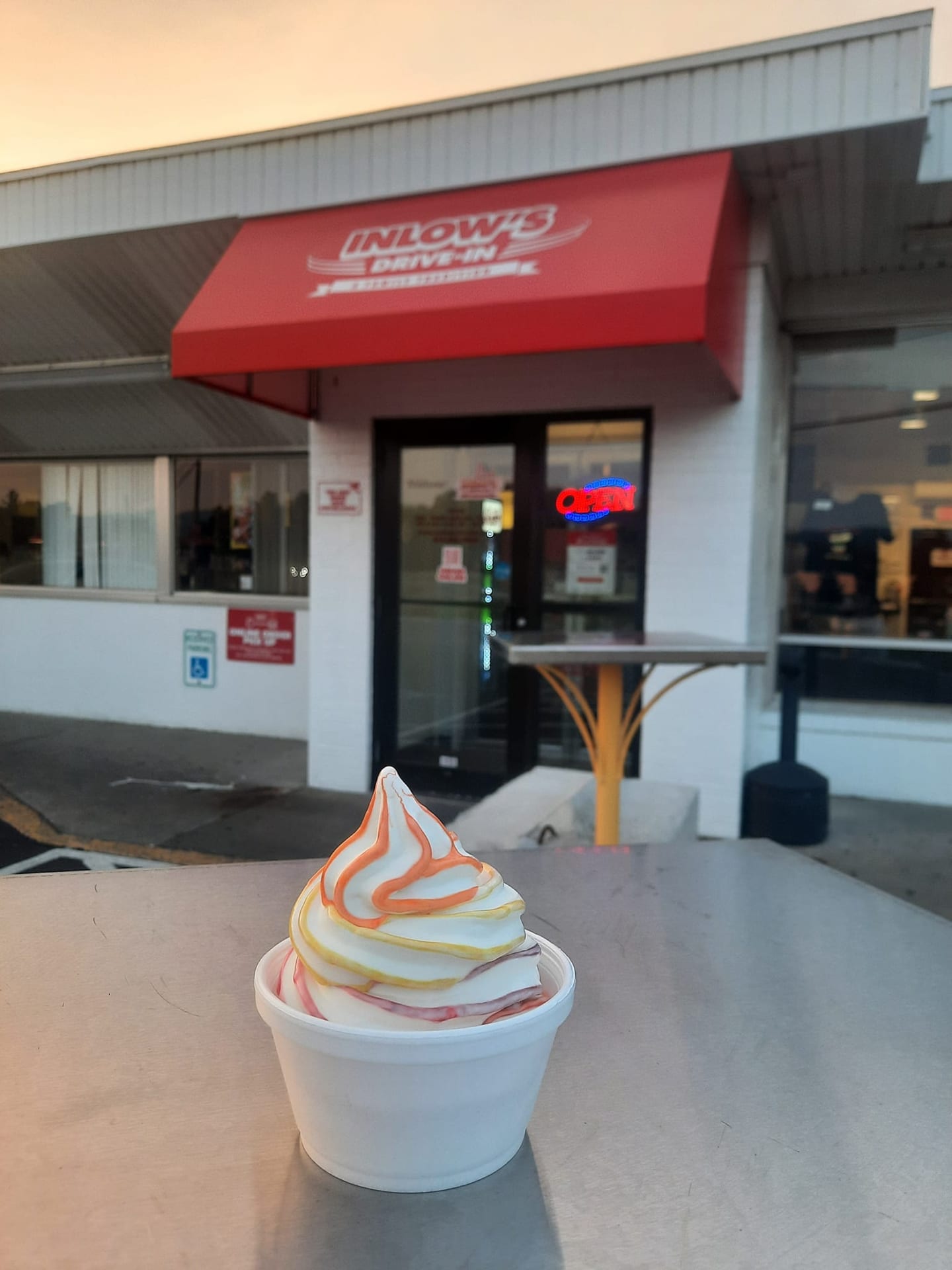 Inlow's Drive-In has been doing its thing since 1945, and it is still going strong, serving up delicious bites from 6 a.m. to 9 p.m., seven days a week. Breakfast plates and sandwiches, hot dogs, burgers and loaded fries are just the beginning, with homey daily specials, like ham pot pie, stuffed peppers and pork and sauerkraut. Tons of soft-serve and scooped ice cream in a rainbow of flavors are the cherry on top. 285 Inlows Rd., Duncansville; (814) 695-9061
There's no fuss or frills at Jim's Famous Sauce, a storied drive-in joint outside of Pittsburgh that's been a popular stop since 1927. The menu focuses on grilled classics (try the cheese dog!), a handful of sides, and ice cream. You simply cannot leave without a bottle of Jim's eponymous sauce, a savory, zesty tomato and ham-based condiment meant to dress up dogs and other meats! 2600 Skyline Dr., West Mifflin; (412) 466-1644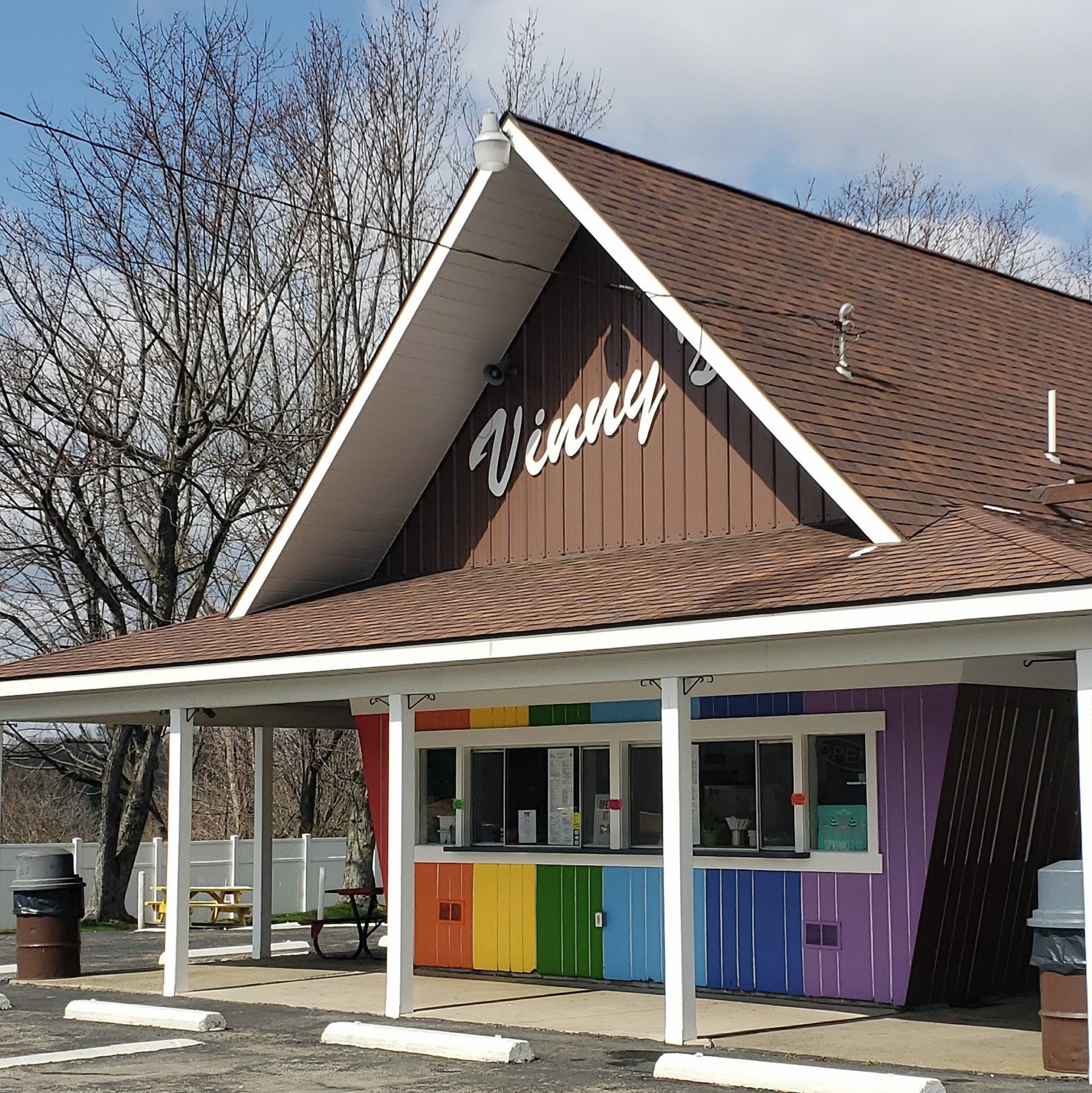 Another vintage roadside joint in the Pittsburgh area is Vinny's Drive-In, which was built in 1967! If you're craving a decadent handheld, like a pizza burger, meatball hoagie or BLT, a salty side (think jalapeno cheddar bites, spiced fried pickles and fried zucchini), or a chicken dinner, Vinny's has you covered. The ice cream menu is truly jaw dropping; There are more frozen creations than we've seen nearly anywhere else. If we had to pick, our eye is on the Black Forest sundae, Strawberry Splendor parfait or Mallow Cup Avalanche. 1225 Connellsville Rd., Uniontown; (724) 438-4119
The chrome, the neon, the font on the signs … everything about Jerry's Curb Service screams retro vibes, which makes sense, since it's been in business since the 1940s. Burgers and shakes are the name of the game, with plenty of fries and sides for snacking. Order inside, or pull up under the car park and turn your headlights on for carhop service! 1521 Riverside Dr., Bridgewater; (724) 774-4727
Where are your favorite roadside spots and drive-ins in Pennsylvania? Let us know in the comments or on the PA Eats Facebook page! We're always hungry to learn more about places to stop by on our statewide road trips!
Feature photo:

Red Rabbit Drive-In

All other photos:

Courtesy of their respective businesses