Though the March weather always keeps us on our toes, spring is on its way! With it, this season of rebirth and renewal brings flowers peeking through the garden, birds chatting in the yard and two wonderful holidays to celebrate with friends and family: Passover and Easter.
These holidays provide the perfect opportunity to bid farewell to winter and to celebrate the joys of gathering around the table to break bread (and matzo). If you're hosting a Passover seder or Easter meal, let Carlino's help shoulder some — or all! — of the cooking. Because, whether you observe these holidays for religious reasons or you just love the tradition, these occasions are about reconnecting with loved ones, not running around the kitchen completely stressed out.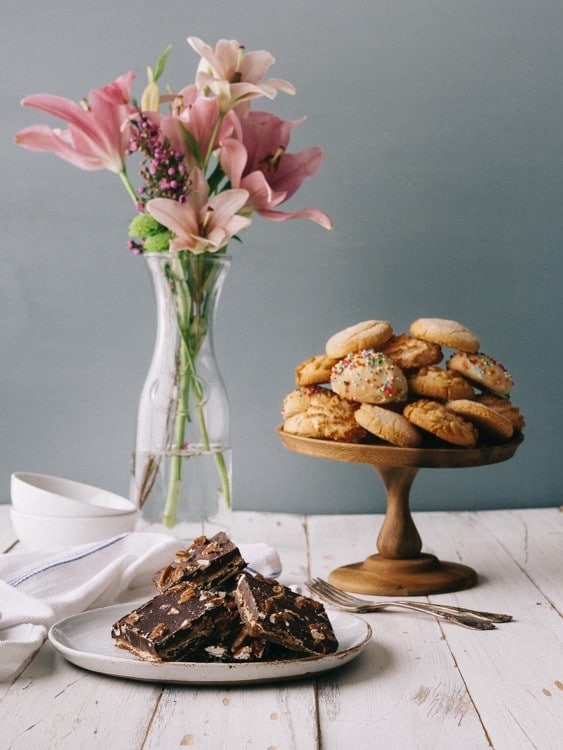 Entertaining is so much easier with Carlino's on your side! Explore some of our favorite options from its Spring Entertaining Menu and get your order in for delicious, handcrafted dishes to add to your Easter or Passover table. Even better: Everything can now be ordered online for in-store pick up, making the whole process even more convenient!
Brunch
How we love the casual elegance of a springtime brunch! A few of these tasty options will makes hosting brunch a total breeze:
Pizza Rustica (Easter Meat Pie): Impress your guests with this rustic quiche-like, savory pie is filled with prosciutto, soppressata, salami, mortadella, fresh basket cheese, Locatelli and ricotta cheeses.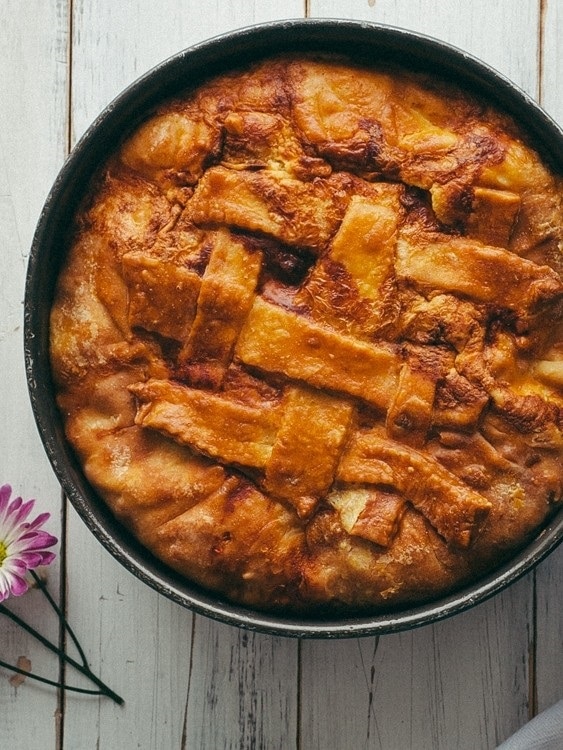 Chilled Poached Salmon Tray: Indulge in a side of sustainably raised, slow-poached salmon topped with dill yogurt sauce and cucumbers, presented whole, served with red onions, capers, kalamata olives and grape tomatoes. If you're not eschewing leavened breads, bagels are highly recommended!  
Primavera Tuscan Salad: Tender greens are always a nice addition to brunch. This fresh salad combines a gourmet mix of lettuces, oil cured black olives, fresh mozzarella, cherry tomatoes, toasted pine nuts, crostini, shaved Parmigiano Reggiano, fresh basil, cracked black pepper and dijon mustard vinaigrette.
Don't forget to pick up a bag of coffee beans and some pastries to round out your brunch spread!
Main Dishes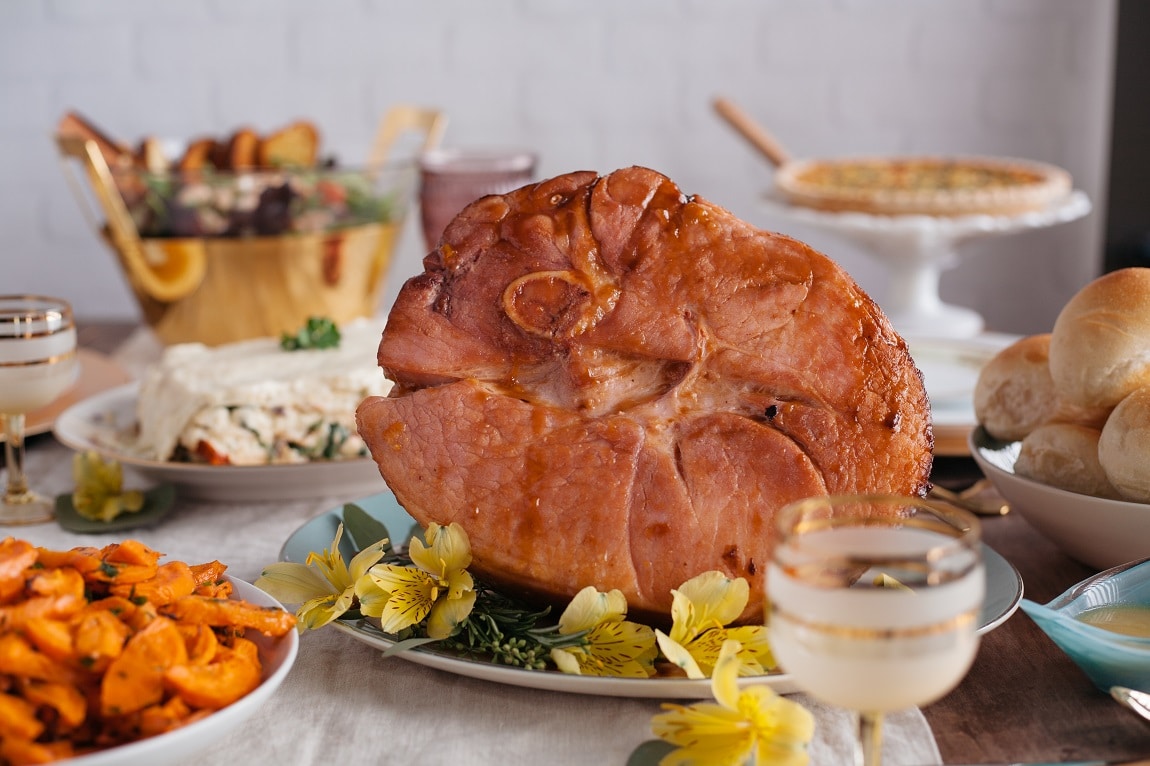 No need to worry over the centerpiece of the holiday meal! Carlino's has a number of wonderful options to save you from hovering over the oven all day.
Herb Roasted Boneless Leg of Lamb: Go for a classic springtime favorite with this locally raised and harvested prime leg of lamb, boned out and rolled with a fragrant mix of fresh rosemary, parsley and thyme. The whole thing is seasoned with kosher salt, black pepper, shallots, garlic, olive oil and lemon juice, then tied and roasted. Carlino's cooks the roast to rare and keeps the leg of lamb presented whole; simply reheat, slice and serve with the included salsa crudo for a gorgeous presentation.
Uncured Bone-in Spiral-Sliced Ham: Nothing says "Easter dinner" like a ham! Carlino's starts with a seven- to eight-pound locally raised and harvested ham with no antibiotics or added hormones. It's glazed with brown sugar, honey, apple cider and dijon mustard, then cooked fully and spiral-sliced; to serve, simply reheat and slice.
Braised Beef Brisket: A platter of juicy, tender brisket is the star of the Passover seder feast. Carlino's does it right with a brined and braised traditional brisket, available in two sizes: small to feed up to 12 guests, and large to feed up to 20. The brisket is prepared with red wine, tomatoes, vegetables and fresh herbs.
Pasta
Pasta dishes make lovely side dishes or vegetarian alternatives on your spring holiday menu. Carlino's is known for its Italian fare, and when it comes to pasta, its offerings really knock it out of the park!
Mushroom & Spinach Lasagna: This customer favorite is back for the season! Sheets of delicate homemade pasta are filled with spinach, mushrooms, asparagus, sundried tomatoes, kalamata olives, roasted garlic, red pepper flakes and lemon and are served in a creamy béchamel sauce. The small size serves up to 9 guests and the large serves up to 18.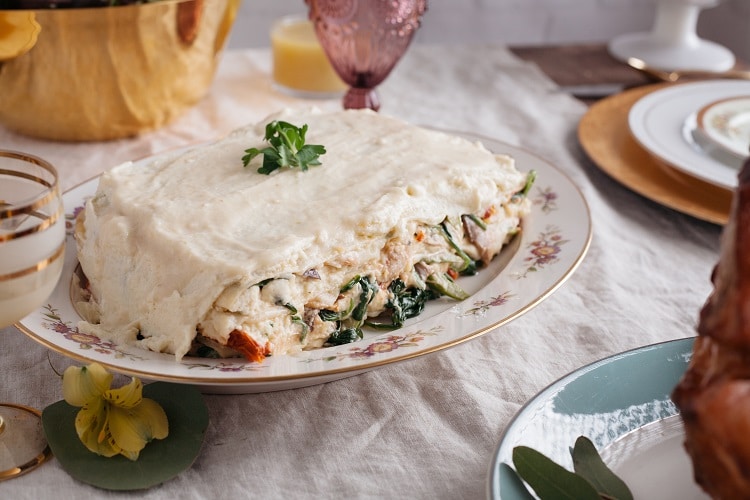 Homemade Ravioli di Limone: Anyone who thinks pasta dishes are "heavy" has never had Carlino's light-as-a-feather homemade pastas. These lemon and ricotta-filled ravioli served with lemon infused béchamel sauce are bright as spring sunshine!
Dessert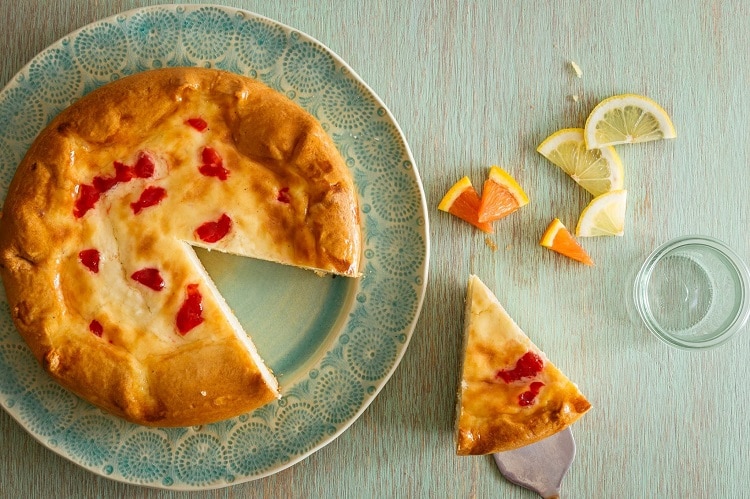 Toast to the sweetness of spring with a delectable dessert from Carlino's dessert menu. Whether you prefer Italian specialties, adorable-Easter themed cakes or flourless treats for Passover, you'll find something delightful to finish off your holiday meal.
Pastiera (Traditional Rice Pie): Put a smile on Nonna's face with this traditional fresh ricotta cheesecake baked with cooked Arborio rice, fresh lemon and orange zests in a classic pie crust, topped with candied cherries.
Chocolate Flourless Cake: Carlino's delectable, dense dark chocolate truffle torte is totally wheat-free and perfect for Passover. Need something else to round out the seder dessert options? Add on a few orders of chocolate toffee matzo bark!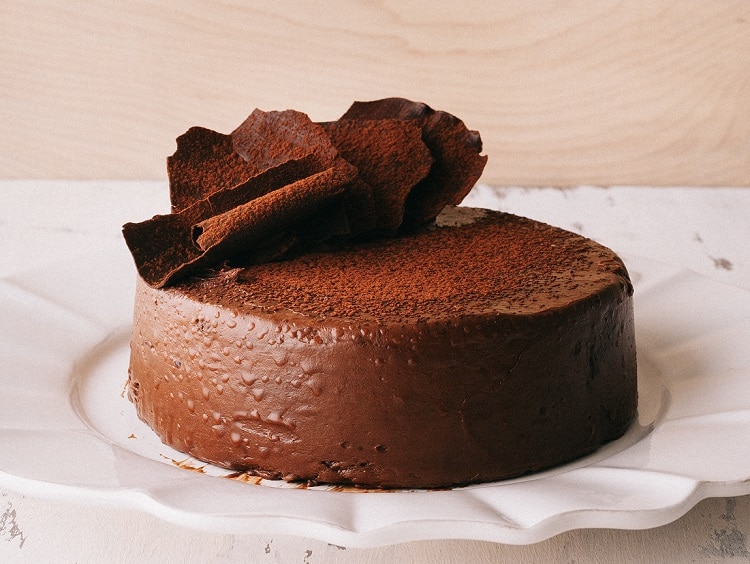 Robin Egg Speckled Cake: End any Easter celebration on a picture-perfect note, with this beautiful double-high chocolate chip cake filled with rich buttercream and frosted in a beautiful robin's egg blue. The cake comes complete with a bird's nest topper, filled with candied eggs.
Please note that both Carlino's locations are closed on Easter Sunday, April 1.
Carlino's Market has two locations: 2616 E. County Line Rd. in Ardmore; phone: (610) 649-4046; and 128 W. Market St. in West Chester; phone: (610) 696-3788.