Suddenly, it seems like cannabis is everywhere. From fancy face cream and bath salts to dog treats, weed has gone mainstream. And while recreational marijuana isn't legal — yet — in Pennsylvania, CBD oil is. CBD, or cannabidiol, emerged as a major wellness trend in 2018 as an antidote for everything, from anxiety to chronic pain to nausea.
CBD is a compound that is derived from hemp, but unlike THC, it is non-psychoactive so it does not impart a mind-altering "high." Many people who use it, whether in topical creams, oils, tinctures or other methods, do report a feeling of well-being, calmness, mental clarity and improved energy. Sounds a bit miraculous, yes? CBD is legal in PA and the oil can now be found in health food stores across the state.
Even better news: Culinary artisans in PA are also beginning to experiment with CBD-infused foods. Ready to give it a try? Here are eight places to find CBD foods in PA!
Want to start your morning with some extra chill? Harvest Moon Bagels recently launched CBD honey lavender cream cheese as a topping for its epic hand-rolled bagels. The cream cheese, which is infused with CBD honey made by Ellister's Elixirs (a Lancaster-based holistic skincare and wellness company) plus a bagel will run you $4.50 — not bad for a blissed-out breakfast. 47 N. Queen St., Lancaster; (717) 984-6549.
Reading Soda Works Sodas CannaFizz Seltzer
Reading Soda Works Bottling Company, based in Reading, PA, makes a wide range of craft sodas, ranging from Sarsaparilla to White Birch Beer to Vanilla Cream to Grapefruit Citrus. If you're interested in CBD products, you'll be stoked to know that the company recently released a line of infused sodas and seltzers called CannaFizz with between 15 and 25 miligrams of CBD-oil in each 12-ounce bottle. You can shop for Reading Soda Works' products online, or use its store locator tool to find a local market near you that carries them.
Kurant Brew & Brew CBD Hard Cider (Philadelphia)
Fishtown-based Kurant Cider recently launched CBD-infused hard cider at its Kurant Brew & Brew tasting room and coffee shop on Girard Ave. Thanks to customer demand (the cider sells out very quickly), it now seems as though Kurant will roll out a continuous line of the CBD ciders. In mid-April, it launched, Mellow, a refreshing 6.2% ABV  peach cider, and, judging by the looks of a recent Instagram post (see above), it looks like something else special is planned for Saturday, April 20! 436 E. Girard Ave., Philadelphia; (267) 293-7019.
This sleek Chino-Latino restaurant in Old City will add CBD oil to literally anything on its menu (for a small up charge)! That applies to appetizers, entrees, dessert, brunch and drinks. Just imagine the possibilities. On special occasions, like New Year's Eve and 4/20, Ardiente has even been known to offer complimentary CBD add-ons, making guests' experiences there a whole lot chiller. 33 S. 2nd St., Philadelphia; (215) 560-8591.
FUEL CBD Dream Smoothies (Philadelphia)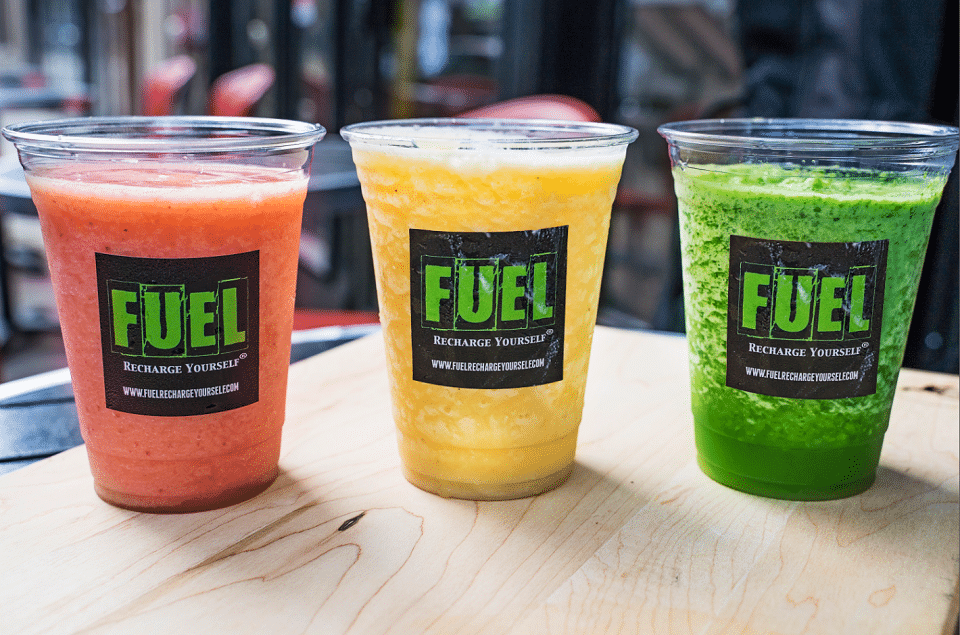 In October of 2018, Philly-based FUEL unveiled a new line of "dream" smoothies infused with CBD oil at all of its shops, making it the first place in Philly to officially jump on the CBD smoothie trend. The three dream smoothies, all of which contain half a milliliter of CBD oil each, include Green Dream with kale, ginger, pineapple, spinach and honey; Berry Dream with strawberry, mango, apple and banana; and Orange Dream with OJ, banana, vanilla and non-fat yogurt. Prices range from $6.92 to $8.95, depending on size, and customers can also add CBD oil to other smoothies for $2.95. FUEL's owner Rocco Cima is so into this concept, he plans to explore additional CBD-infused drink and food options for debut in early 2019! Various locations
Hippie & French Soul Addict Holy Cacao Hemp Butter (Pittsburgh)
This chocolate hemp butter from Hippe & French, which can be added to smoothies or anything else you like, contains 100 mg. of organic, full-spectrum CBD per jar. Actually, this lovely shop is the place to go for all things CBD, from house-made oils and salves, to chocolate bars from Minneapolis' Cosmic Cacao and CBD tonics from Aurora Elixirs, from Oregon, and botanical sparkling drinks from San Francisco-based Monk Provisions.
This wonderful old-timey candy shop in Old City Philly now makes a small batch CBD dark chocolate bar (with 68.5% cacao), using ethically sourced beans. Each CBD chocolate bar includes 100 milligrams of high quality, hemp-derived CBD, which is just about to 12.5 milligrams per square. A smaller sized bar contains 24 milligrams of CBD, if that's more your speed. We can't think of a more delicious want to enjoy this non-psychoactive, calming hemp-derived compound. Shop online or in-store (CBD bars are only available for Pennsylvania residents). 110 Market St., Philadelphia; (215) 922-1048
CBD Seltzer & Drinks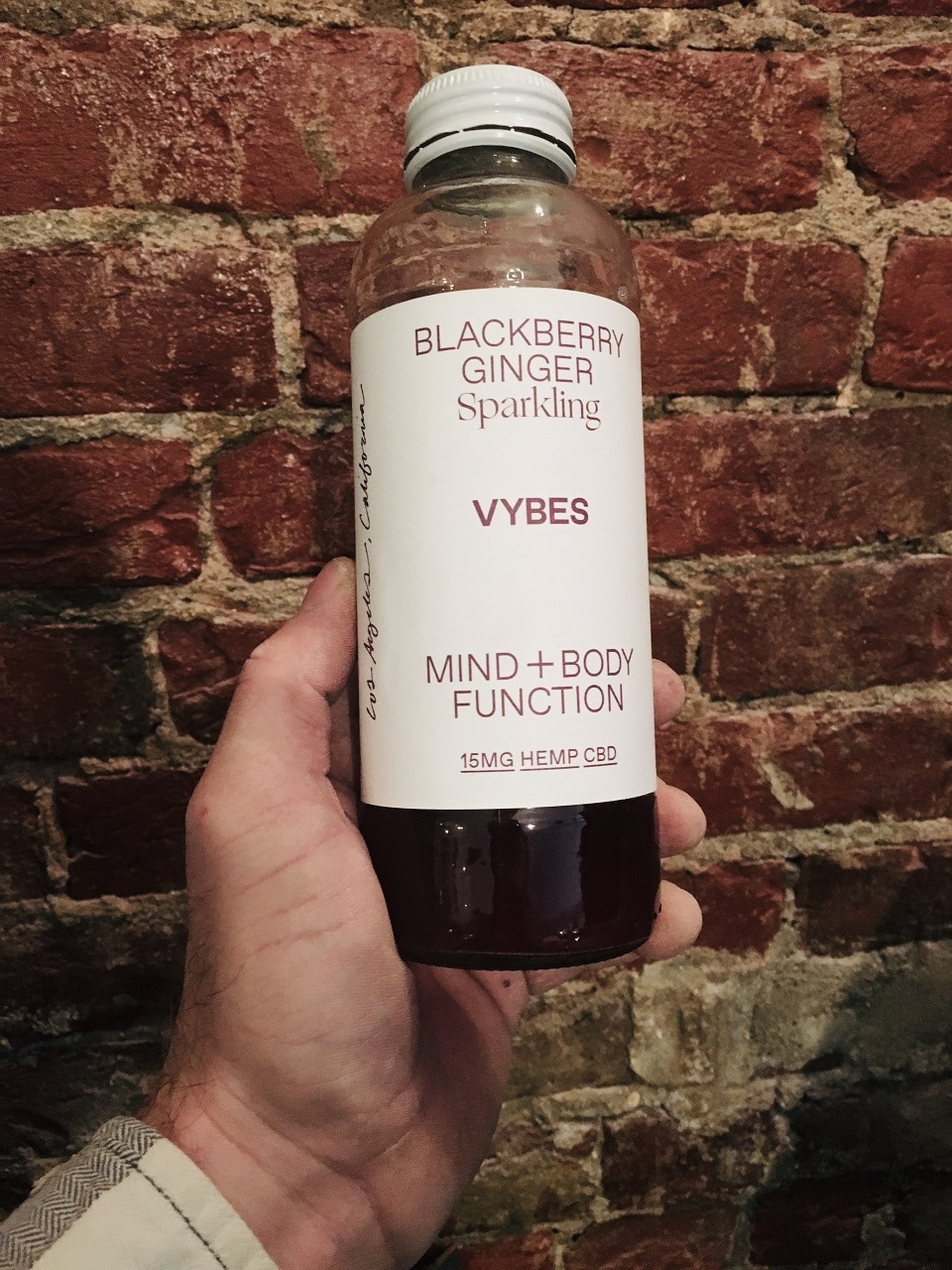 These aren't made in PA, but we've recently seen some CBD-infused seltzers and carbonated drinks on the shelves of local markets. Colorado-based DRAM Apothecary makes CBD-infused sparkling water in natural flavors, like lemongrass and sweetgrass, which each contain 20 mg. of CBD per 12-ounce can. Find this at Rowhouse Grocery in South Philadelphia, Tinys Bottle Shop in Port Richmond and Moon + Arrow, a boutique on Philadelphia's Fabric Row. Vybes, a CBD beverage company from Los Angeles, harnesses what it calls "the magic of CBD" into sparkling beverages which contain 15 mg. of Colorado-grown CBD each. Check the drinks case at Riverwards Produce in Fishtown, Philadelphia to try a bottle.
Where have you seen CBD-infused foods in PA? Let us know!
Feature photo:

FUEL

Vybes photo:

Ryan Ellis