Of all the things to figure out in opening a brewery, the hardest part, Scott Mills says, was picking out a name. After cycling through dozens of names with his business partner, they finally landed on one that felt right: Cobblehaus Brewing Co. The unique name sums up the brewery's style, which is heavily influenced by European beers; the word "cobbles" references the the brick roads running throughout Belgium, and the "haus" is the German word for house, which lends a welcoming connotation. Plus, Mills jokes, since it's a made up word, there was no problem registering for trademarks or getting the right website URL.
Mills, a home brewer with decades of hobby brewing under his belt, founded Cobblehaus with Chuck Gerbe 2016. Both are Western PA natives working in other industries (engineering and industrial equipment, respectively), but running a brewery fulfills specific ambitions to make a mark in the local craft brewing community. Now, with a third partner, Vince Schiappa, who is also Cobblehaus' brewer, the brewery boasts two locations: the original spot in Coraopolis, PA and the newer at The Falls in Mercer, PA.
At both locations, they've built a community of beer fans who come back for their traditional-leaning styles, like Vienna lagers and hefeweizens. Read on to learn more about this homegrown Pennsylvania brewery via our conversation with Mills:
PA Eats: You're an engineer by trade. How did you also become a brewery owner?
Scott Mills: I started home brewing right after college in the 90s, and kept going with that for a long time. For my day job, I work for an engineering company out of Pittsburgh, and we do a lot of oil and gas type projects. I moved back to Pittsburgh in 2009, I'd been living in Alabama and a few other places for awhile. But I moved back when the oil and gas industry out here was booming. It was really long hours every week and I didn't have much free time.

Around 2014, things at work started slowing down, I had some more time. People always suggested that I should start a brewery, and I'd always wanted to own a bar of some sort. I started putting the business plans together, and one day we reached out to a realtor about a property. The one we wanted wasn't available but they showed us an even better space, which is now our brewery. Chuck [Gerbe, Mills' business partner] joined us, we signed the lease in June of 2016 and we opened the doors in April 2017.

Why did that seem like the right place to house the brewery?
The building is close to our house in Coraopolis, on a street that has more of a walking-street feel in our small town. There's also a lot of traffic coming through the area. I saw that Coraopolis was starting to grow; it's been through some ups and downs, but we were starting to see buildings get upgraded. A coffee shop was opening in town, and other businesses were starting to pop up. The building was also bigger than what we would initially need, so there was room for expansion, and we could pretty much move into it with little upgrades.
What's your brewing style? What did you want to bring to the craft brewing conversation with Cobblehaus?
I like traditional beer styles. Belgian, German and English, those are my favorite styles. With Cobblehaus, we came out of the gate with really small, one-barrel batches of those styles. Because of our equipment limitations, we weren't able to do lagers for about a year, but then we expanded with better fermentation tanks, in a two barrel system which upped our production some. Since then we've grown, and we have 6 glycol-chilled fermenters in our 3-barrel brewhouse. When we started we had 8 taps, and now we have 17. We try to have a very wide range of options, from black IPAs to fruited sours to Belgian tripels. I like a colorful beer flight! At most we'll have two of a single style on at one time. You're not going to come and find 4 IPAs or 6 sours here.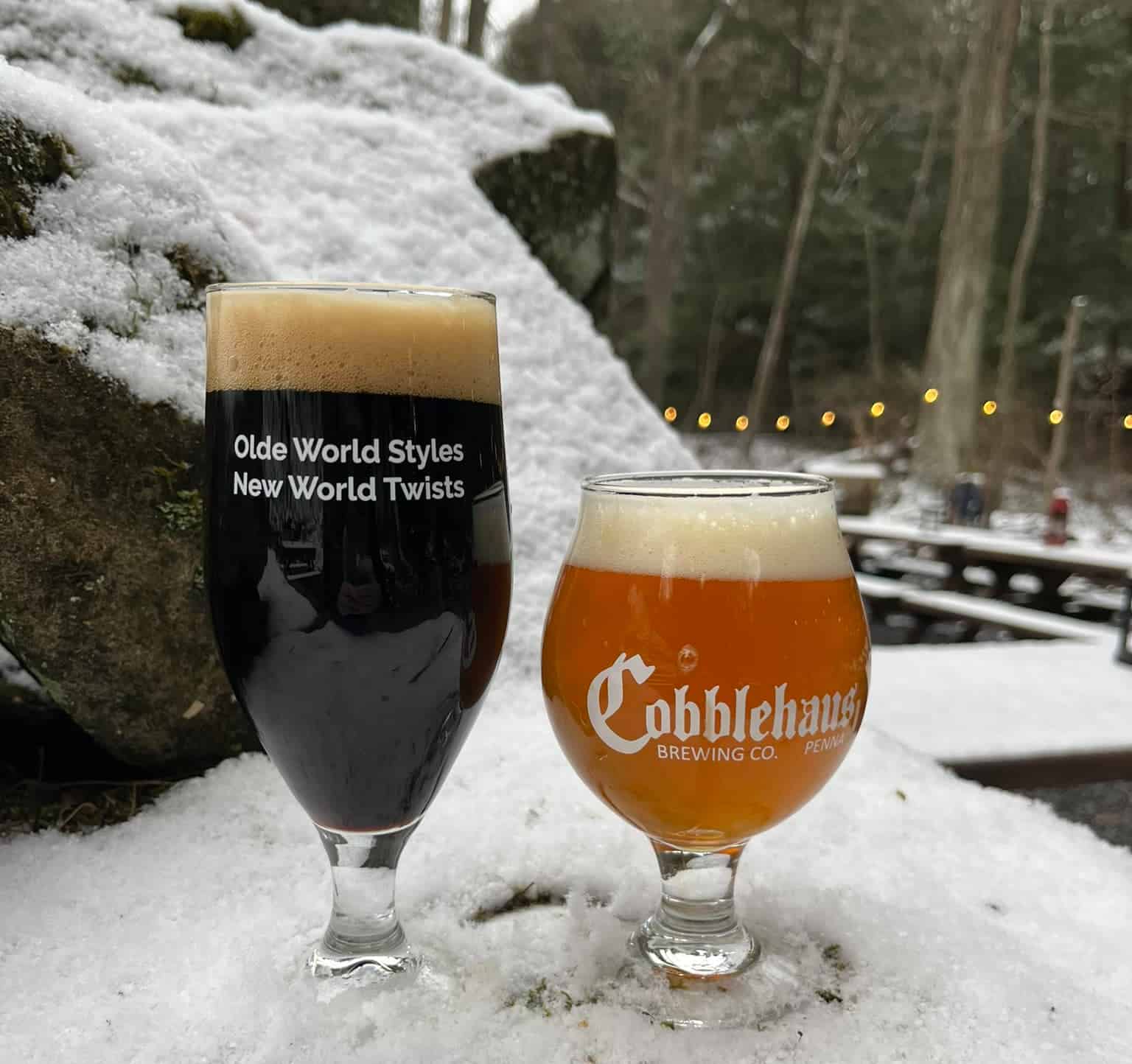 For the interior of the brewery, we wanted to match the beer styles with a traditional, warm pub look. I wasn't looking for an industrial or modern look. We ended up building with a lot of old reclaimed lumber. For instance, our entire ceiling in the main taproom is made reclaimed wooden planks, the bar, too.
Was it tough learning to go from home brewing to commercial brewing?
It actually wasn't too tough. In the beginning at Cobblehaus, I was barely scaling up from what I'd been doing at home. I bumped up from brewing 10-gallon batches to single barrel batches, I basically just tripled the size. It wasn't that much of a stretch!  We intentionally started with a small brewing capacity, with the plan to grow it with the business. So not only was it not a huge capital investment up front, not making a huge jump in the size of the system has helped me fine-tune our processes and keep things consistent.

Right before Covid, things were starting to ramp up, production-wise. After Covid, we hired a par-time brewer Vince Schiappa, who's since joined us as a partner in the business. He does a good portion of the brewing now.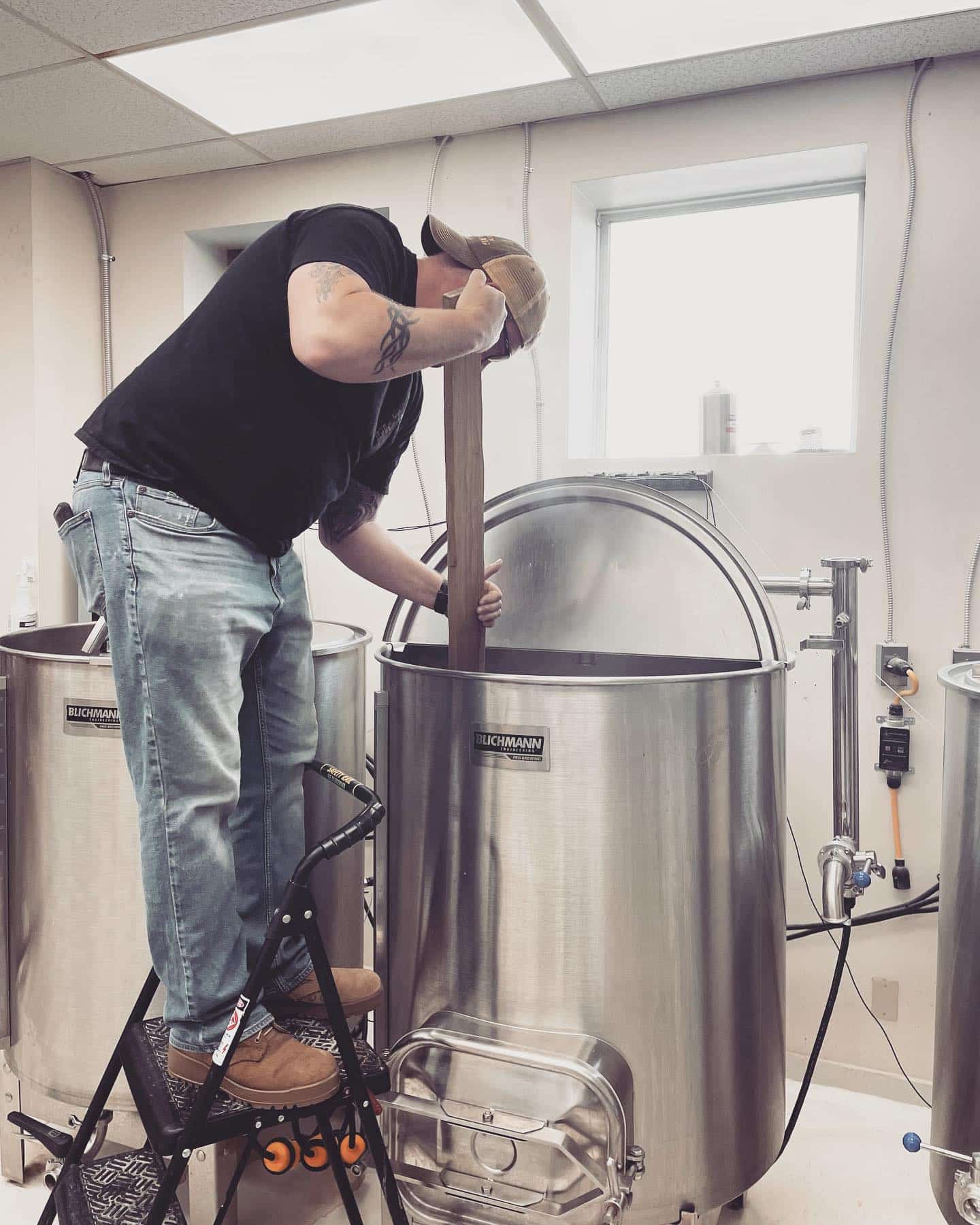 What's your best-selling beer?
When we first opened, one of most popular was an altbier, which is a pretty rare style to find anywhere. When we started lagering, we brought out a Vienna lager, and that took over as king of our beers. It's a more recognized style. Every once in awhile, people will jump on one of our newer release, but if you look over an average, the Vienna Lager is our biggest seller and our pilsner is the second biggest. Our regulars are traditional beer lovers!

Tell us about your newer location at The Falls. It looks like such a cool spot!
We always said we wanted to expand by multiple locations versus expanding through distribution. So we'd been looking around. Chuck moved up to the Grove City area, and he found this place, The Falls. As soon as we saw it, we thought, If we can get this, it would be amazing. And we got the building in June of 2022, and opened that October.

The building itself had been a boutique jewelry store, and the interior was so nice, we could use most of it as-is. The actual bar is one of the old jewelry cabinets that we repurposed. There are two long biergarten-type tables, those are actually a couple display cases as well. Plus, the location gives us the one thing we didn't have in Coraopolis, which was a beautiful outdoor space. We get more travelers and people treating it as a destination here!
For more info on Cobblehaus, including taproom location and hours, as well as food truck and events schedule, check out its website and follow along on Instagram and Facebook.
Find Cobblehaus Brewing Co. at 1021 5th Ave. in Coraopolis, PA; phone: (412) 264-7000; and 151081015 Leesburg Station Rd. in Mercer, PA; phone: (724) 748-6259.
This series is made possible by support from the Pennsylvania Malt and Brewed Beverage Industry Promotion Board and grant funding from the Pennsylvania Liquor Control Board.
Photos:

Cobblehaus Brewing Co.