While Lancaster is famous for its restaurant scene, charming downtown and Amish attractions, did you know it's also home to a secret garden?
While creating your summer bucket list, move Conestoga House & Gardens to the tippy-top. And don't worry about clearing your weekend plans or skipping going down the shore, as it's only open to the public during the week for beautiful garden tours and horticultural education.
Boasting 20 acres, 5000 tropical and sub-tropical plants and 6 greenhouses, Conestoga House & Gardens is a hidden paradise waiting for your arrival.


Built between 1812 and 1815, Conestoga House & Gardens is the estate of the late James Hale and Louise McClure Steinman of Lancaster, Pennsylvania. Located at 1608 Marietta Avenue, the estate's gardens are open to the public for free tours from June 13 to September 28, on a limited, weekly basis. These limited days help keep the garden private. Larry Wettig, the estate manager says, "We want to keep it special, low-key and make people feel like guests in the home."
Conestoga House & Gardens is primarily a summer garden with an emphasis on tropicals and container plantings. The displays include over 3,300 annuals, about 400 tropical plants, over 160 varieties of perennials and over 160 rose bushes representing almost 20 different varieties of the flower. When you walk through the gardens, you'll notice the plants are identified and labeled with both their botanical names and their common names.
For children and the young-at-heart, Conestoga House & Gardens features a Topiary Animal Hunt with over a dozen whimsical figures throughout the gardens.
Free self-guided tours are available to the public on Wednesdays and Thursdays beginning at 1 p.m. When you arrive, you'll want to park on River Drive on the grass. Walk down the main path, and you'll be greeted by a tent where you just need to quickly sign the guestbook before you begin your day at the gardens. You may notice a suggested path, but you're free to walk wherever your eyes lead you.


Visit the wading pool that the Steinman children used to play in, and pass the hillside garden as you visit the pool at the top of the hill. The pool complex, with its sixty-foot swimming pool, beautiful bathhouse and outdoor dance floor is equally aesthetic and functional, as local civic and non-profit groups may use the facilities for touring and small picnics, receptions and other special events on Tuesdays and Fridays after approval by the estate manager.
Adjoining the pool area is the restored lime kiln. Though no longer used to smelt limestone, you'll find colorful, low-light plants, as well as a welcome retreat on hot summer days.


Another addition to the property is the orangerie, an early style of greenhouse that was developed in Italy in the 1500s to house citrus plants. Because citrus plants are not hardy in this area, the windows can be completely removed, and the plants can be placed outside during the warm months, and brought back inside in the fall.
Rest for a moment in The Boxwood Garden, which was completely restored in 1992. This area provides a green oasis during all seasons, especially the warm summer months. In addition to boxwoods, you'll see unusual tropical plants among the wrought-iron furniture and small fountain pool.
Don't leave before visiting the rose garden, which was created in 1986, in an area that had once been the site of an old barn. This garden contains over 160 rose bushes, representing almost twenty different varieties the flower.
And that's not it! There are even more areas of the gardens to explore. It truly is an extreme version of a container garden, with the majority of the plants and flowers in pots, hanging baskets, window boxes, metal tubs and urns.
Wettig adds, "A lot of people would try to compare us to Longwood, but quite frankly, Longwood is a world-class arboretum with world-class conservatories … we are more intimate. The smaller areas and the containers are what makes us different than most gardens."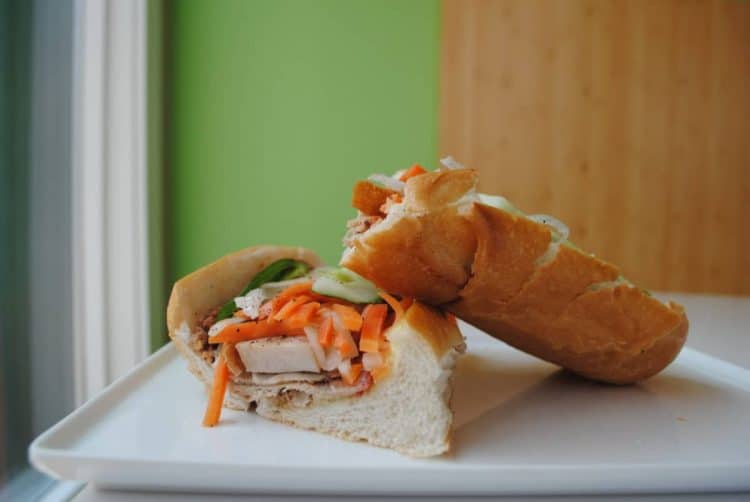 When you're planning your day, feel free to bring a small meal in a picnic basket. Please keep in mind, you do have to take everything with you, as garbage receptacles do not fit into the aesthetic of the gardens.
And, if you're looking for picnic suggestions, we got 'em, as, of course, we consider ourselves picnic aficionados!
You'll want to bring along foods that are easy to pick up and eat with your hands. Think sandwiches, like banh mis — our favorites in the area come from Rice and Noodles Vietnamese restaurant. Order the Thit Nuong, which features grilled seasoned pork with green onion garlic oil, crushed chili peppers Chinese radish and julienne carrots with nuoc mam sauce on top. And, don't forget some fresh spring rolls to share! Choose from tofu, shrimp, pork or beef to please your palate.
Other great picnic options are sandwiches or deli salads from Freinschaft Market. All of the sandwiches are made to order, so whether you want to load it up or keep it simple, the sandwich is 100% yours. We suggest a BBQ chicken sandwich or a Cuban panini. Trust us on this. Pair your sandwich with something from the deli case, like chickpea salad, tabouli salad or mango lime quinoa. They're all made fresh daily and have been given PA Eats thumbs up of approval.
So, as you plan your visit, here are a few things to keep in mind:
The gardens are open for self-guided tours for individuals on Wednesdays and Thursdays from 1–8:30 p.m. in June and July, 1– 8 p.m. in August and 1– 7 p.m. in September. No reservation required.
If you have a large group, feel free to reach out for a guided tour by filling out this form or emailing the Estate Manager. These private tours take place on Tuesdays and Fridays. If you're a non-profit, local college or civic organization, you can even host a small gathering, all with prior registration. You can also request to use the pool, as long as you have a certified lifeguard.
Saturdays, Sundays and Mondays are reserved for the Steinman family, meaning the gardens are closed to the public. As the family no longer lives on the property, these are the days they enjoy coming to the gardens or hosting friends.
Conestoga House & Gardens prefers to keep the look of a private estate. For that reason, there are no signs. Please refer to this map and these directions to help you find the house and for parking information. Also, please leave your furry friends at home.
You can find Conestoga House & Gardens at 1608 Marietta Avenue in Lancaster; phone: (717) 397-5353.
Rice & Noodles is located at 1238 Lititz Pike in Lancaster; phone: (717) 481-7461.
Freinschaft Market is located at 398 Harrisburg Ave. in Lancaster; phone: (717) 490-6130.