We are blessed with a lot of charming towns in Pennsylvania — you can find them tucked into every little nook and cranny in the state. But there are a few out there that are so undeniably cute that they're in their own league, and one such place is Jim Thorpe, PA.
Located in the Poconos mountain region, Jim Thorpe is the county seat of Carbon County, and is named after sports legend Jim Thorpe (the first Native American to win a gold medal for the United States in the Olympics), who is buried there. For more on the history of Jim Thorpe, see here!
The town was founded in 1818, and the quaint architecture lends the feel of a European village, especially during winter when nearby skiing is a popular attraction. Jim Thorpe is right off the PA Turnpike and is a relatively easy drive from Philly and Lancaster (about 2 hours from each) and Harrisburg (an hour and a half); it's an even quicker jaunt from the Lehigh Valley and other spots in NEPA. Because of its great location, it makes a perfect day- or weekend trip, and the best part is, there's so much to do and experience once you're there! 
If you want to enjoy Jim Thorpe, PA to the fullest, we've got some recommendations of how to do just that in this installment of our Small Town Adventures series. We're also including a few recos from the nearby small towns of Lehighton and Weissport, which are both just a stone's throw away from Jim Thorpe. One thing to note before you go: Lots of places in Jim Thorpe are closed on Tuesdays and Wednesdays, so plan accordingly! 
Where to Eat
 

 

View this post on Instagram

 
Marion Hose Bar: Head to this newly renovated historic firehouse in downtown Jim Thorpe, PA, for a satisfying array of pub snacks (like cauliflower "wings," chili and soft pretzels) and epic sandwiches, including rotating burger specials. Choose from a robust drinks selection, including daily specials, like $6 glasses of Galen Glen rosé all day on Saturdays. 16 W. Broadway, Jim Thorpe; (570) 732 1968. MYST: A combination sushi and hibachi restaurant and gastropub, this is a fun, vacation-y spot to splurge a little bit and try a bunch of different things. Sushi fans will love the selection of chef's specialty rolls, like the Tokyo Roll (a crunchy tuna and avocado roll topped with spicy scallops) or the Super Lobster Roll (topped with avocado, crab meat, mango and special sauce). Or, try something from the grill, like hibachi steak or red snapper. There's a full bar, great lunch specials and a lively outdoor patio featuring events like movie nights. 34 Susquehanna St., Jim Thorpe; (570) 213-7011.
 

 

View this post on Instagram

 
Stone Row Pub & Eatery: If you're looking for a place to satisfy omnivores and those with dietary restrictions, Stone Row has you covered. This cozy "boutique pub" features a menu of handcrafted dishes with delicious options for everyone. There are plant-based options, like sunflower hummus and a Thai millet bowl, as well as meat-forward delights, like Thai chicken and the steak du jour. Don't sleep on the cocktails, which are creative and fresh, as well as its collection of rare whiskies. 45 Race St., Jim Thorpe; (570) 732-0465.  Trattoria 903: For an old-school Italian vibe, check out this spot for all the classics. From appetizers, like antipasto platters and bruschetta, to hearty baked pasta dishes, to ample meat and seafood dishes, to pizzas, soups and salads, there is so much to choose from. Enjoy wine, beer and cocktails from the full bar; there is an outdoor patio available for anyone who prefers al fresco dining! A simple kids menu, including plain pizza and rigatoni with butter, makes this a nice choice for families. 874 PA-903, Jim Thorpe; (570) 732-4452.
 

 

View this post on Instagram

 
Donerds Donuts: What started out as a food truck in Santiago, Chile is now a popular stop for coffee and gourmet donuts in Jim Thorpe! Donerds sources its beans from La Colombe and Stumptown; don't miss the nitro cold brew on hot days. Its excellent artisan donuts come in a range of classic and seasonal flavors (like key lime pie in summer and apple cider pecan in fall). Other sweets include French macarons in a rainbow of colors. 76 Broadway, Jim Thorpe; (610) 714-1772.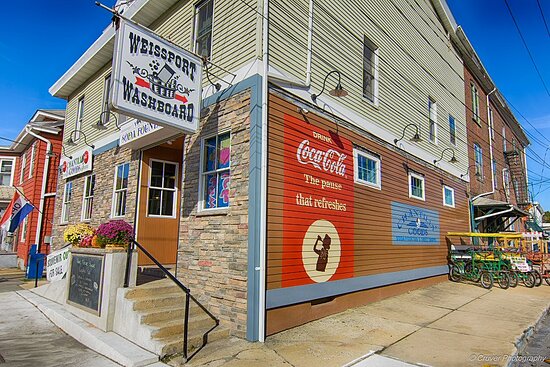 Chantilly Goods: This vintage soda fountain and ice cream shop is one of the best hidden gems in Pennsylvania! In addition to 34 flavors of old fashioned soda, you'll find retro candy, almost 30 flavors of ice cream from Manning Dairy Farm, which can be enjoyed by the scoop or in one of many creative sundaes, milkshakes, flurries and floats. Don't miss the lovely preserved architectural details, like the pressed tin ceiling, antique bar and old piano. There's also a laundromat attached to Chantilly Goods if you need to do a load or two after your outdoor adventures. 200 Bridge St., Weissport; (610) 379-4767. 
Where to Drink
 

 

View this post on Instagram

 
Notch Eight Craft House: If you're looking for a killer cocktail, Notch Eight is a must during your trip to Jim Thorpe. This craft cocktail bar features only local spirits, like a summer-time concoction of gin, pineapple, ginger, lime, mint, agave and apple blossom bitters, or the dirty martini garnished with stuffed smoked blue cheese olives and bacon. Tapas provide a nice nosh, and there's plenty of local beer, if you'd prefer. 107 Broadway, Jim Thorpe; (570) 732-4599
 

 

View this post on Instagram

 
Bonnie & Clyde Pub: Stylized and stylish, this Bonnie & Clyde has a 1930s theme, complete with swanky light fixtures, a tin ceiling and a really cool back bar. The cocktails are the main attraction, with a superb list to choose from: classics (think sidecars and gimlets) to house specialties, like Lethal Lemonade and Strawberry Jack Smash. There are 36 craft beers on draft, and select red and white wines. On the food menu, find elevated pub grub, including wings, quesadillas and burgers, as well as more substantial fare.111 N. 1st St., Lehighton; (610) 377-0777
 

 

View this post on Instagram

 
Bright Path Brewing: For hometown brews, check out Bright Path Brewing, a multi-family, multi-generational, locally owned and operated small craft brewery. With a focus on ​​lagers and low-ABV session beers, Bright Path's taproom is a great spot for afternoon hangs. Grab a bite from one of the rotating food trucks to pair with an easygoing beer, or grab some cans to go, like Pisgah Mountain Brew, light lager perfect for fishing or tubing outings, or the Vienna Lager to pair with grilled hot dogs on the back porch. Bonus: Well-behaved dogs are welcome! 1215 North St., Jim Thorpe; (570) 732-9990.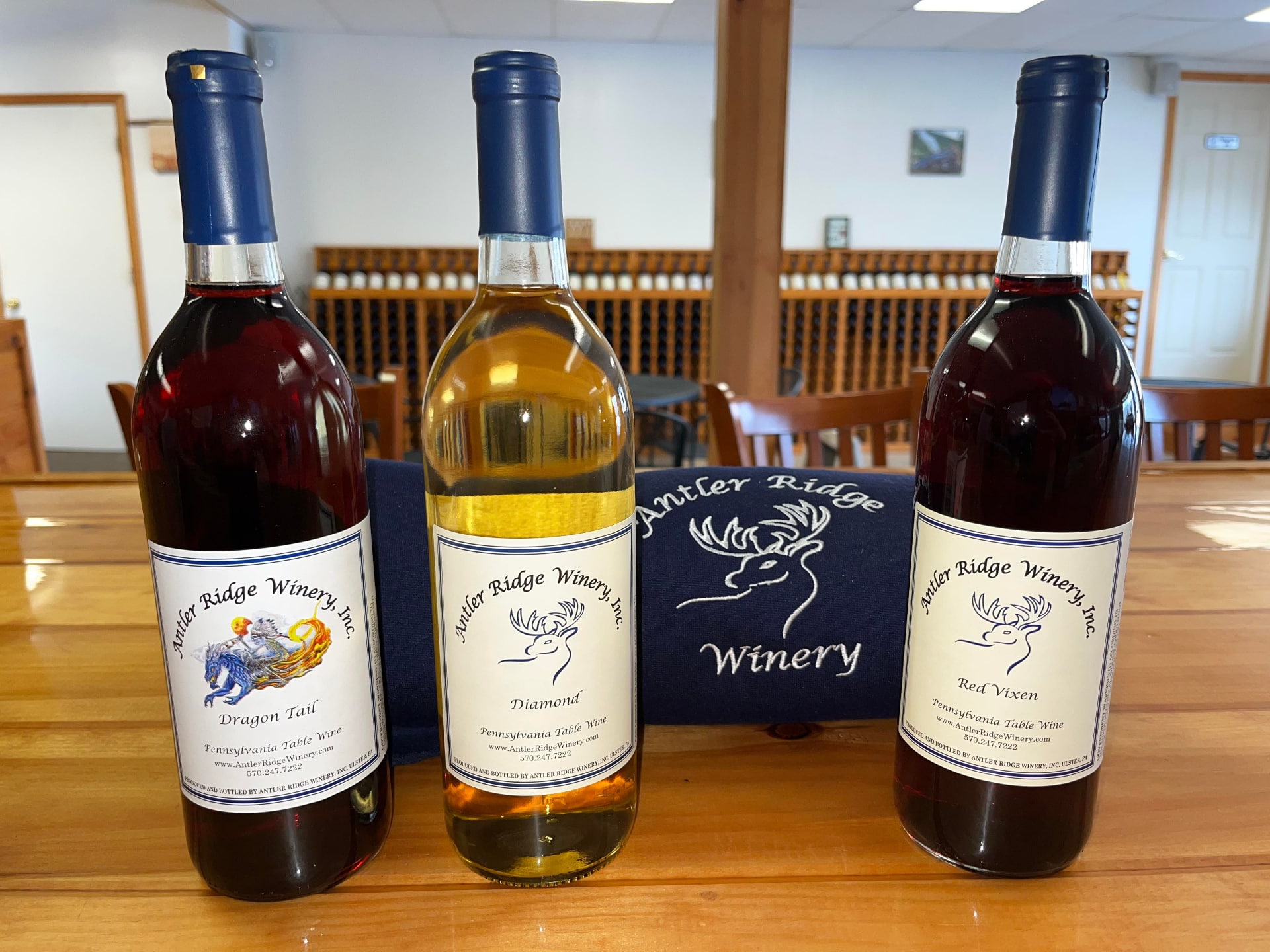 Antler Ridge Winery: This award-winning PA winery boasts a number of locations, including a tasting room in downtown Jim Thorpe. There, you can sample a range of Antler Ridge's dry, sweet and fruit wines, which eat start with hand-selected grapes and fruits. At this location, you can opt for a tasting, or purchase wines by the glass or by the bottle. There is also a selection of gifts, DIY winemaking supplies and, of course, wine to take home. Food options are light (cheese and crackers), but there is house-made kielbasa made from a century-old family recipe! 900 Walnut Ave., Jim Thorpe; (570) 732-4100.
 

 

View this post on Instagram

 
Nomad Distilling Co.: Although its main location is in Williamsport, you try local spirits from Nomad Distilling at its new tasting room in Jim Thorpe. It is, in fact, the first distillery in the borough! Pop in for tastings, flights and bottles sales! There's no bar service (read: no cocktails), but you can still stock up on spirits to mix up at home, like Nomad's excellent Tapped maple whiskey, or nab some of the brand's small-batch canned cocktails.  67 Race St., Jim Thorpe; (570) 732-9922.
 

 

View this post on Instagram

 
Wild Elder Wine & Cider Co.: For adventurous drinkers and fermentation fans, Wild Elder cannot be missed! Here, you'll find elderberry-based wines and ciders, as well as more traditional grape wine and apple cider, all of which are handcrafted, slow-fermented and barrel-aged. The chic tasting room offers eight wines plus wines on tap; sample flights; slushies and seasonal bevs; a menu of panini, charcuterie other other snacks; and more! There is indoor and outdoor seating and dogs are welcome. Wild Elder's website also offers great advice on where to park, which is a notorious of a challenge in this small town! 76 Broadway, Jim Thorpe; (570) 732-9933.
What to Do
Carbon County Environmental Center: With such close proximity to the many resorts and parks in the Poconos, there is no shortage of nature to immerse yourself in surrounding Jim Thorpe. One cool place to check out is this environmental center, which is housed inside a converted 1920s dairy barn that's situated on 70 acres of woodland, wetland and meadows that's part of Mauch Chunk Lake Park. There are many public programs with a focus on kids, and nice trails for light hikes and nature walks. 151 East White Bear Dr., Summit Hill; (570) 645-8597.
 

 

View this post on Instagram

 
Lehigh Gorge Scenic Railway: If you prefer to take in the splendor of nature from a comfortable seated position, hop on one of the amazing vintage coaches that are part of the Lehigh Gorge Scenic Railway. The 16-mile-roundtrip train rides depart from downtown Jim Thorpe, run parallel the Lehigh River and into Lehigh Gorge State Park. No matter the season, riders are treated to stunning views and vistas. There are also bike trains, which take passengers and their bikes 25 miles through the Lehigh Gorge to the town of White Haven; riders then bicycle on the Lehigh Gorge Rail-Trail back to Jim Thorpe. For more info, including rates and departure times, see here. 1 Susquehanna St., Jim Thorpe; (570) 325-8485.
The Anita Shapolsky Art Foundation: Did you know that Jim Thorpe is home to one of the largest collections of American Abstract Expressionism in PA? At this exhibition center in a former Presbyterian church in the borough's downtown, you'll find an amazing array of paintings, paper works and sculpture from second-generation Abstract Expressionists, as well as local contemporary artists. Note: the Foundation is only open on weekends and by appointment. 20 West Broadway, Jim Thorpe; (570) 325-5815. 
Where are your favorite places in Jim Thorpe? Let us know! Join in the conversation on the PA Eats Facebook page.
Feature photo:

Pocono Mountains Visitors Bureau

Wine photo:

Antler Ridge Winery