As the winter fades and our collective hibernation comes to its annual close, it's time to get out there and explore! Road trip season can mean jaunts across the state (there are so many culinary PA trails from Visit PA now!), but you don't necessarily have to pack overnight bags to scratch the travel itch. There are so many cute small towns in the Commonwealth that you can reach within an hour or two from wherever you live.
One of those charming enclaves is Ambler, Pennsylvania, a borough in Montgomery County. It's about a 40-minute drive from downtown Philadelphia — there's also a Septa train station right in the middle of town, that connects it to Philly on one end and Doylestown on the other via the Lansdale/Doylestown Line Regional Rail. From King of Prussia and other points on the Main Line, Ambler is just a 20- to 30-minute drive; from West Chester it's about 45 minutes. Even further points, like Allentown and Lancaster, are still only an hour and change away!
The town is steeped in history, with its founding stretching back to the late 1700s. There are a number of properties and houses there in the National Historic Registry, and a very quaint main street, called Butler Pike, surrounded by ex-urban neighborhoods. It is also home to Temple University's Ambler campus, which includes earth sciences and horticulture among its many programs; the campus grounds are home to an arboretum and beautiful botanical gardens that are open to the public.
There is a lot to do in Ambler, and with some planning you can easily make a whole day (or day and night) of it! Here are some spots to check out on this small-town adventure:
What to Eat
Like so many towns in Pennsylvania, Ambler has experienced a restaurant renaissance over the past decade, anchored by a number of community mainstays and a flourishing craft beer scene (more on that below). There's something for almost every mood and taste!
Barbecue lovers should make a beeline for The Lucky Well, one of three restaurants from acclaimed local chef, Chad Rosenthal. Since 2013, The Lucky Well has been plating up tender, expertly smoked meats and scratch-made sides. It also has a full bar, with a great selection of beers, cocktails and wine. Don't miss the brisket, deviled eggs and mac-and-cheese. 111 E. Butler Pike, Ambler; (215) 646-4242.
If Italian is what you crave, check out From the Boot. Since 1999, this stalwart has been specializing in Italian cuisine, with an extensive menu that hits all the favs, like fried calamari, chicken parm, steamed clams and antipasto plates. There's also a wide selection of pasta dishes, pizzas and sandwiches, as well as fun options for kids. A full bar means that libations are on offer, and an on-site wine boutique, The Vine Wine Shop, invites you to take home bottles from the curated selection. 110 E. Butler Pike; Ambler; (215) 646-0123.
For a quick lunch, nosh or sweets, swing by Pie and Plate, an adorable cafe specializing in sweet-and-savory pies. Quiches and sandwiches are on offer for breakfast and lunch, with a rotating list of sweet pies that will make you swoon. If it's available, try a slice of the Edgewood Drive, a chocolate chip cookie cheesecake pie topped with whipped cream. 43 N. Main St., Ambler; (267) 468-7171.
Authentic Vietnamese street eats are what chef/owner Thanh Nguyen is cooking up at Melody's Vietnam (Chef Nguyen also owns Gabriella's Vietnam in Philly). We're talking craveable dumplings, whole grilled fish, Saigon baby back ribs, shaken beef with garlic noodles and so much more. 47 E. Butler Ave., Ambler; (215) 641-5806.
At Buutchii's Grille, find West African and Caribbean cuisine served up in a casual cafe setting (the owners also run a mobile food truck). The menu includes meat platters, like curry goat and jerk chicken, with a variety of tasty sides, including jollof rice and fried plantains. If you're in the mood to share, order a larger sample platter, or a whole fish platter (we've got our eye on the fried red snapper with banku, a cooked cornmeal with cassava). On Sundays, try one of the authentic Ghanian soups, like peanut butter soup and okra stew. 35 E. Butler Ave., Ambler; (215) 643 2400.
What to Drink
Need a quick refuel on your adventure? How about an espresso or a fresh juice? Or maybe cozying up in a pub or brewery sounds more like it… Either way, there are a lot of options in Ambler to choose from.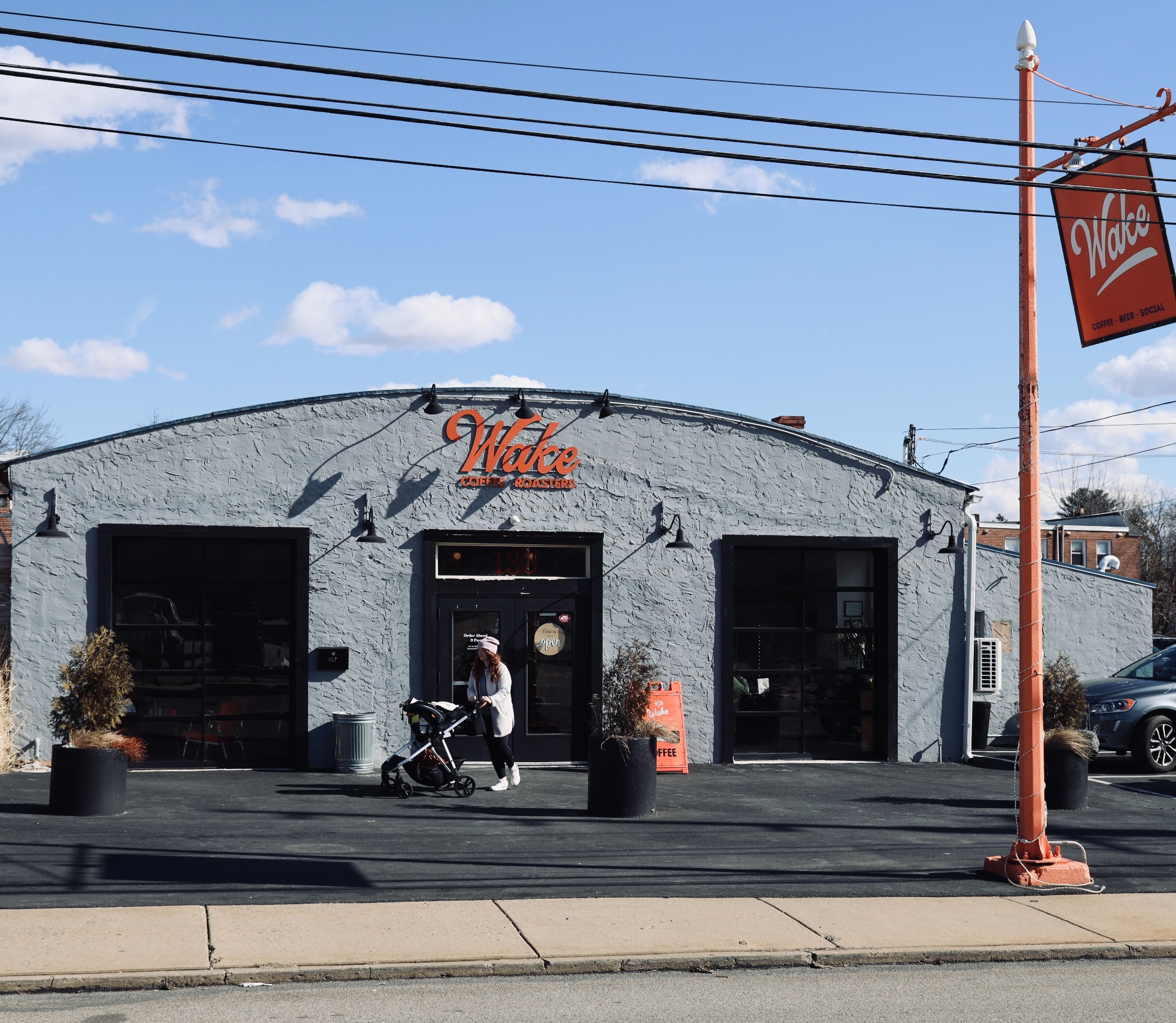 For some of the freshest coffee in the borough, go to Wake Coffee Roasters, a hip, modern coffee shop and small batch roastery. You won't find quart-sized sugar bombs here; just perfectly-crafted espresso drinks, hot chocolate, cold brew and drip coffee. Wake does know how to have some fun, and offers special lattes from time to time in flavors like strawberry chocolate and bourbon smash. A limited menu of light bites, like breakfast sandwiches and fancy toasts, are also available. 133 S. Main St., Ambler;  (215) 660-9625.
The Juice Pod, a local PA chain of juice bars, has an outpost in Ambler, which is a lovely spot for a nutritious pick-me-up. There are colorful, healthy treats galore to choose from, like acia bowls and all kinds of smoothies and cold pressed juice blends. From the elaborate (like a gingerbread smoothie) to simple celery and beet juices, this clean-eating joint has you covered. 83 E. Butler Ave., Ambler; (267) 468-7830.
In March of 2022, Well Crafted Beer Ambler opened a second location in what was formerly Ambler Beer Company's brewery and taproom. With 16 beers on draft, a rotating line up of food trucks and ample indoor and outdoor seating, this spot offers a nice, chill vibe. It's located in Ambler Yards, a revitalized industrial park that is also home to a co-working space, a skateboard shop, a fitness studio and a catering company. 300 Brookside Ave., Building 19; Ambler; (267) 462-4026
Forest & Main is a craft brewery with something like a cult following; fans love its lineup of wild yeast fermented saisons, hop-forward ales and Euro-style lagers. F&M recently moved from its original location in a quaint yellow Victorian house to a more open spot right on Butler Ave. Sidle up to the bar or grab a table in the comfy dining room for a pour of one of the many beers on draft. For something different, try a side pull poured from a Czech Lukr faucet! There is no kitchen at Forest & Main, but guests are welcome to bring in outside food; many local restaurants will even deliver there! A wide selection of cans and bottles are also sold to-go. 33 E. Butler Ave., Ambler; (215) 542-1776.
Another brewery in Ambler is Tannery Run Brew Works, a small-batch operation making quality beers for neighbors and visitors to enjoy. House-made brews on draft are often rotating; try a hazy IPA or dark, robust pastry stout for a treat (if available). Food options include copious beer-friendly bites, like waffle fries, Game Day Chili and smash burgers. Stop in for happy hour Wednesday through Friday from 4 to 6 p.m. for $5 select pints and $10 flatbreads. 131 E. Butler Ave., Ambler; (215) 613-1113
Ship Bottom Brewery (which has a few locations), runs a seasonal beer garden at Wake Coffee, which is set to reopen in Spring 2022. Plentiful outdoor seating plus live music makes it a happening place to gather. 133 S. Main St., Ambler.
If you can't peruse a small town without popping into at least one dive bar, put Bar 31 on your Ambler to-do list. A friendly crowd of locals is always hanging out at the u-shaped bar in this comfortable watering hole, often to catch sports games. There are always craft beers on draft from local breweries like Victory, Troegs and Sterling Pig, as well as macro-brews and a selection of ciders and hard seltzers. On the food front, a small menu of snacks (fried pickles, tater tots) are available, along with more substantial bites like pizza and sandwiches. 31 N. Main St., Ambler; (215) 646-0440.
What to Do
Because you can't eat and drink literally all the time (sadly), here are a handful of other activities and things to do while you're bopping around Ambler:
The Lab is an indie comedy venue that hosts all kinds of shows and events each week. From improv troupes to interactive game shows to comedy specials about parenting, there is always something irreverent and hilarious to check out. 85 E. Butler St., Ambler; (484) 604-0731.
Fans of more traditional arts and culture, take note: Ambler Theater, a beautiful art-deco movie theater, has a stacked schedule of showings, from big budget Hollywood productions to indie and art films. Its Retrograde series brings cult classics back to the big screen, and special programs, like screenings from local filmmakers, round out the programming. 108 E. Butler Ave., Ambler; 215-345-7855
Farmers Markets: There are not one but two farmer's markets that meet on a weekly basis in Ambler! The first is the Lower Gwynedd Farmers Market that takes place in Ambler Yards on Thursday evenings from 3 to 7 p.m. and features fresh local produce, meats and baked goods. The other is the Ambler Farmers Market, which runs every Saturday morning from May through November, and sets up at 29 W. Butler Pike. Opening day in 2022 is Saturday, May 7.
We hope you have a great time discovering all that Ambler, PA has to offer. What other spots are on your list? Let us know on the PA Eats Facebook page!
Feature photo:

Wake Coffee Roasters

Lucky Well photo:

The Lucky Well