If you've ever seen the seminal television comedy, The Office, you're probably familiar with Cooper's Seafood House in Scranton, as it's often featured on the show. It's easily recognizable, with a nautical theme, including a lighthouse, a giant octopus and a peg-legged pirate sitting atop the front door. But did you know that this family-owned-and-operated restaurant, which has been open since 1948, is now also home to a nano-brewery?
Cooper's Family Brewing is the project of Jesse Cooper, a third-generation member of the family, and it launched in May of 2022. Cooper never planned to be part of the family business (he studied to be a scientist), and yet now he works out of the two-barrel brewing system installed in the restaurant's basement, brewing up dozens of styles of beers to be served through the taps in the bars upstairs.
What is it like to try something new in a such an established, legacy restaurant? And what brought Jesse Cooper back to Scranton after working in research labs across the East Coast? We caught up with this newcomer to the Pennsylvania craft brewing community to learn more:
PA Eats: Take us back to the beginning — how did you first get into craft beer and brewing?
Jesse Cooper: Well, I'm part of the Cooper family, and my dad and all my uncles run Cooper's [Seafood House]. We always had a lot of craft beers there. I went to college in Boston, and there's a good craft beer scene up there. For my career, I wanted to work in drug discovery and work in labs, I was always very into science. I ended up doing that at Moderna in Boston, and eventually ended up in Philadelphia in 2018, where I worked for another drug discovery company.

While I was there, I got really into exploring different styles of craft beer. The science nerds I worked with were really into home brewing craft beer, and they became my friend group there. I started brewing in my apartment, and got really hooked. I started thinking about coming back to Cooper's and how it could be a great idea to have a brewery there. I decided to move back to Scranton in January of 2020. I wasn't that experienced in brewing then, so the brewery felt like a "maybe one day" thing. But, doing Covid, I ended up doing a lot of home brewing; I had a 10-gallon system and was brewing twice a week. I brewed tons of beer for my family members. I also started working back at the restaurant, bar tending and doing some beer ordering, getting more exposure to how bars work and seeing what people like to drink.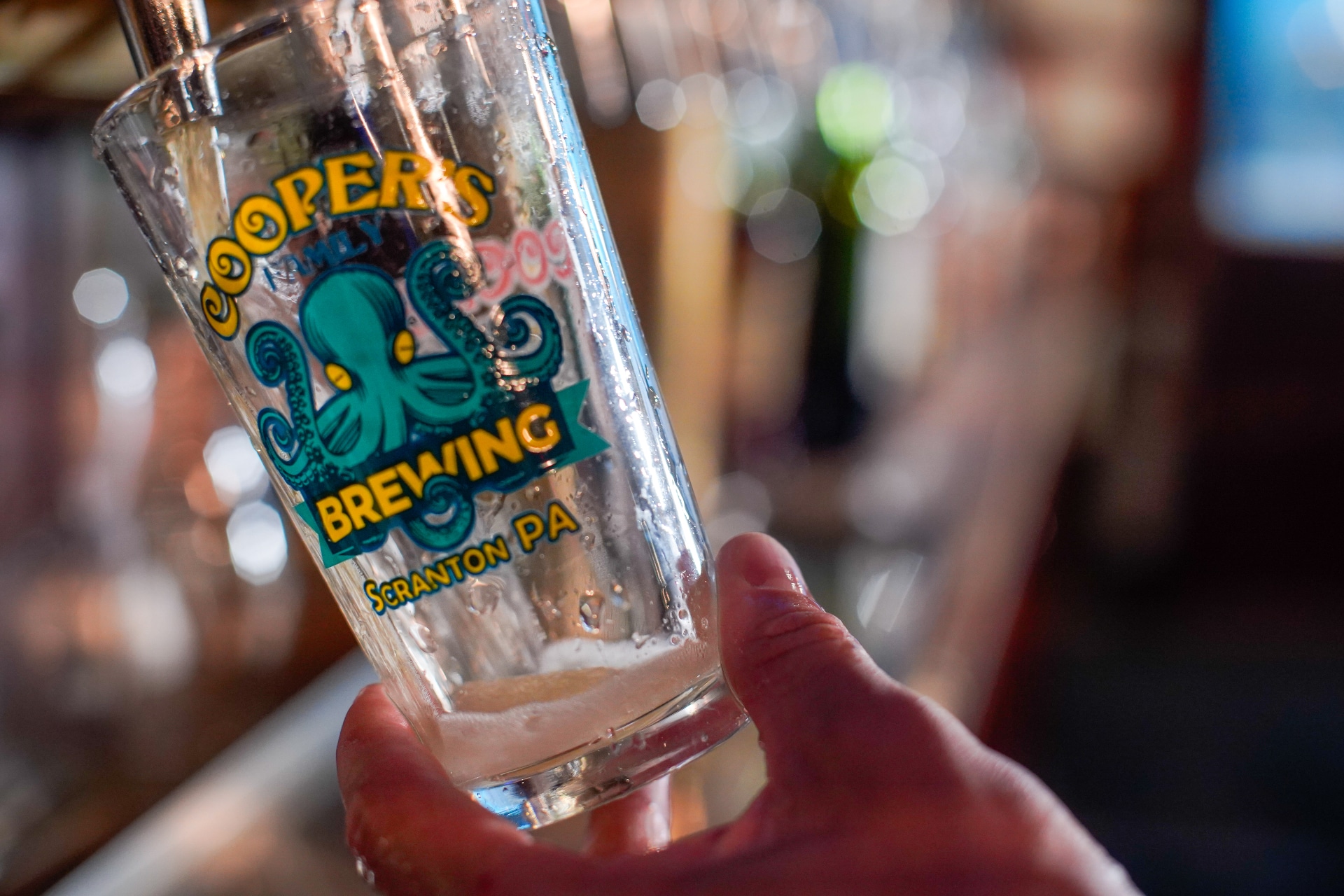 Was this when you decided to establish Cooper's Family Brewing in the restaurant?
Yeah, in March of 2021, I pitched the idea that we should start a little brewery. I brought a bunch of samples to my family and they all really enjoyed them. My uncle Jack was the most skeptical; he didn't want to have a brewery if the beer was bad. I brought him a Kolsch and a Hefeweizen, and he's had a lot of beer in his life and he said, "These are both excellent." He was comfortable with putting our name on it.
How did you decide where to actually put the brewery inside the space?
Part of the restaurant's basement used to be the boiler room for the kitchen, which used steam heat. We upgraded to electrical awhile ago but still had this room that had drains, ventilation, the right electrical capacity, water — basically everything you need for a brewery. It took a good four months to pull out all the units, and then we had a contractor come in and turn it into a little lab for me. I bought a 1-barrel unit with 8 fermenters, and just started brewing away. In April of 2022, I brewed the first batch, and May 24th we launched our first six beers on tap including a German Helles lager, an English Mild, a Belgian Wit and an American Pale Ale.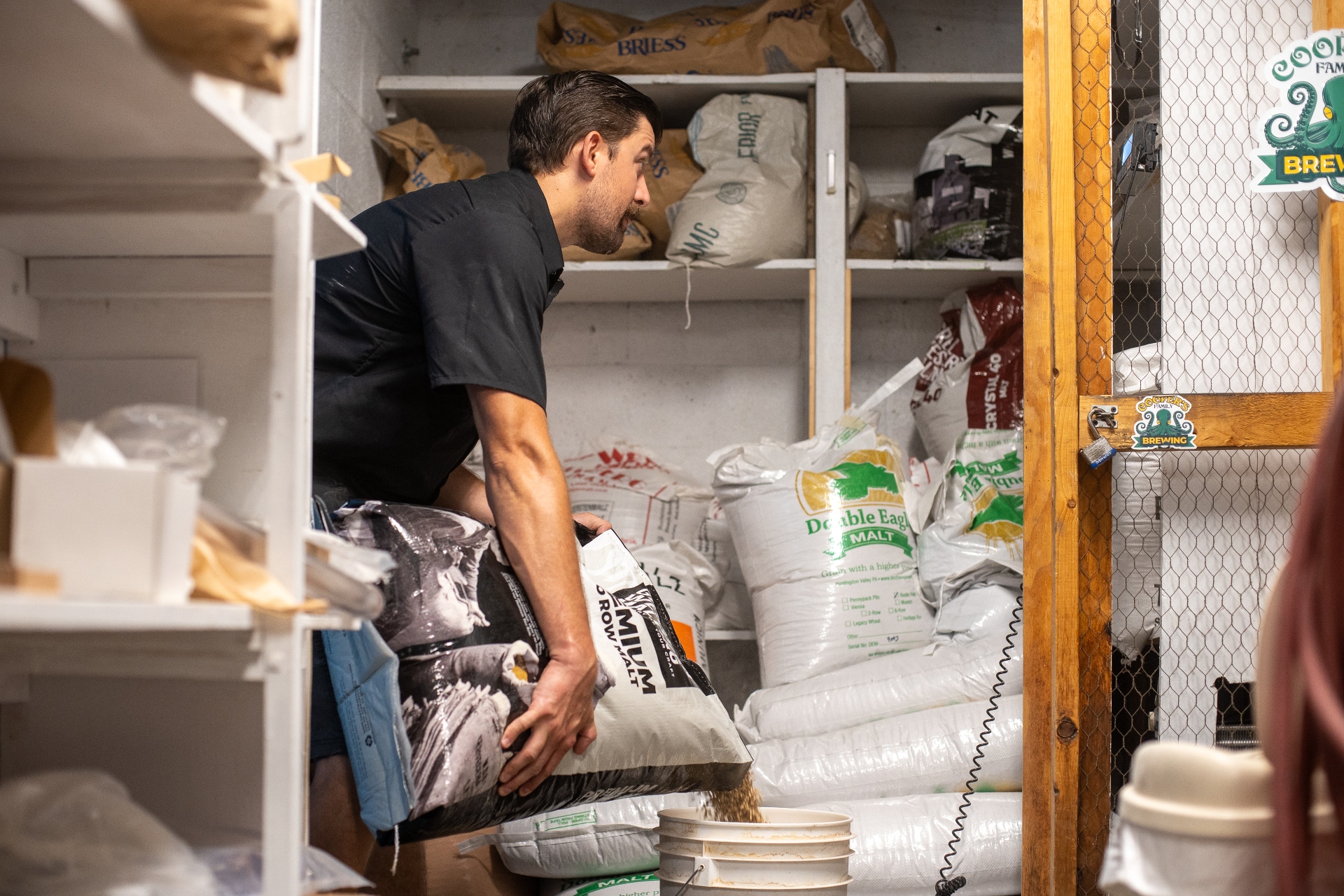 We only serve the beer in the restaurant, and for the first year, I maintained between 4 and 7 taps at Cooper's at all times. We maxed out the space we have, so we upgraded to a two-barrel brewery in July of 2023, and can now make about 400 pints per batch. I brew every week, sometimes multiple times a week just to keep the beer flowing.
Your career plans didn't include working for your family business. How does it feel to end up there in this new role?
When I was younger I didn't want to be part of the restaurant industry. I have two older brothers who love it, and I was just really into science. But in my mid-20's I started to feel like I really wanted to be around home. The Cooper family is really big, and everyone is in the Scranton area, and for me there was this pull to come back. Essentially, the brewery is a new part of the restaurant that we can grow into. The restaurant is so established, we don't want to change too much, this is something we can actually add in for the third generation to have their own part into the restaurant. I do all the brewing, and my cousin Ryan does a lot of the marketing and promotion, we work together doing all that.
Do you think your science background has made the transition to professional brewing easier?
Brewing is the perfect mesh between science and the creative side to the restaurant industry, it's a blend of two. So I still get to use my science background, even though it's not exactly the same, but the work still feels like it in a lot of ways. I still get to have a microscope!

I do think my science background gave me confidence in different aspects of brewing: I use reverse osmosis water, and add salts back in; I test pH at a lot of steps, I grow yeast and so on. I think it helps a lot with the cleanliness aspect, too. Everything you touch is contaminated, and making sure nothing is contaminated is the biggest thing. I do understand some of these concepts that another average home brewer wouldn't consider.
Is there more pressure for you, now that the stakes are so much higher than home brewing?
It's definitely more pressure! And even though throwing out 80 gallons of beer isn't that big of a deal, I really haven't had to. My biggest focus is making clean beer. If you're putting malt and yeast together, as long as it's a clean fermentation, it will be drinkable. Even if the recipe isn't perfect, you can kind of tweak things out. But I'm more careful for sure, and I really try not to over spice things or to have too many harsh flavors. In home brewing you can get away with bigger bolder flavors, and here I try to brew for sessionability.

What's Cooper's Family Brewing's beer style?
We're not too focused on one drinking style. Every time I brew, I look at the menu and make sure it's balanced with a hop-forward beer, something light like a cream ale or pilsner and a darker style. I'm not going to brew the same exact recipe every time, I like to do small tweaks around things like how much grain I use or different styles of yeast. We're still so new, I want to keep trying things.
How have Cooper's guests reacted to the house-brewed beer? Any fan favorites?
I think the response has been really great. And there were people who were skeptical! I mean, Cooper's is a place that's known for having the best beers from around the world, so if I put on a hazy IPA, I'm competing with some of the best. But people in Scranton really want to drink local, they want to drink something fresh, and I think it definitely helps that our beer is brewed right here. That's why I make a lot of English beers. They're really good when they're fresh, especially those first two weeks they're on tap, those flavors are so delicious, and sometimes you can't get that experience if the beer comes from further away!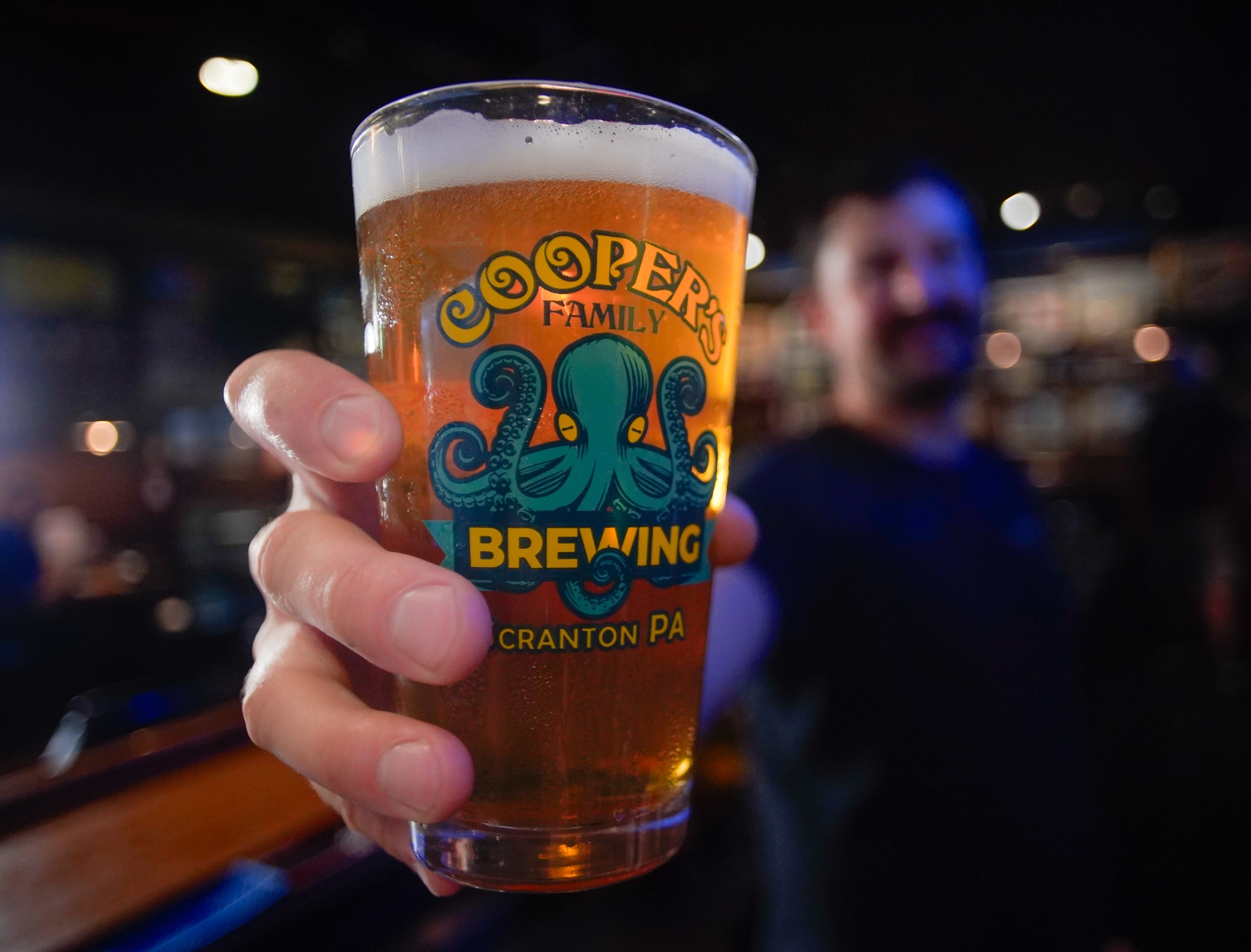 For more info on Cooper's Family Brewing, including what's currently on tap, check out its website, and follow on Facebook and Instagram. Its beer is only available on site at Cooper's Seafood House, though they do sell growlers to-go, and occasionally bottle special releases.
This series is made possible by support from the Pennsylvania Malt and Brewed Beverage Industry Promotion Board and grant funding from the Pennsylvania Liquor Control Board.
Photos:

Cooper's Family Brewing