Let me make just one thing clear: Moon pies do not come in a box. You do not buy them, mass produced, at a grocery store. No, my friends, true moon pies do not contain marshmallow. To find a true moon pie on the Internet, you'll need to get specific and search for "Amish half-moon pie."
Real moon pies — the moon pies I and generations of PA Dutch and Swiss Amish before me grew up eating, the only ones I knew existed until I left Central Pennsylvania — combine two of the most wonderful substances in the world: apple snitz and pie crust. But don't let that simplicity fool you; moon pie making is not for the faint of heart. It's a fairly time-consuming endeavor, but the results are worth the time and love that go into these PA Dutch hand pies.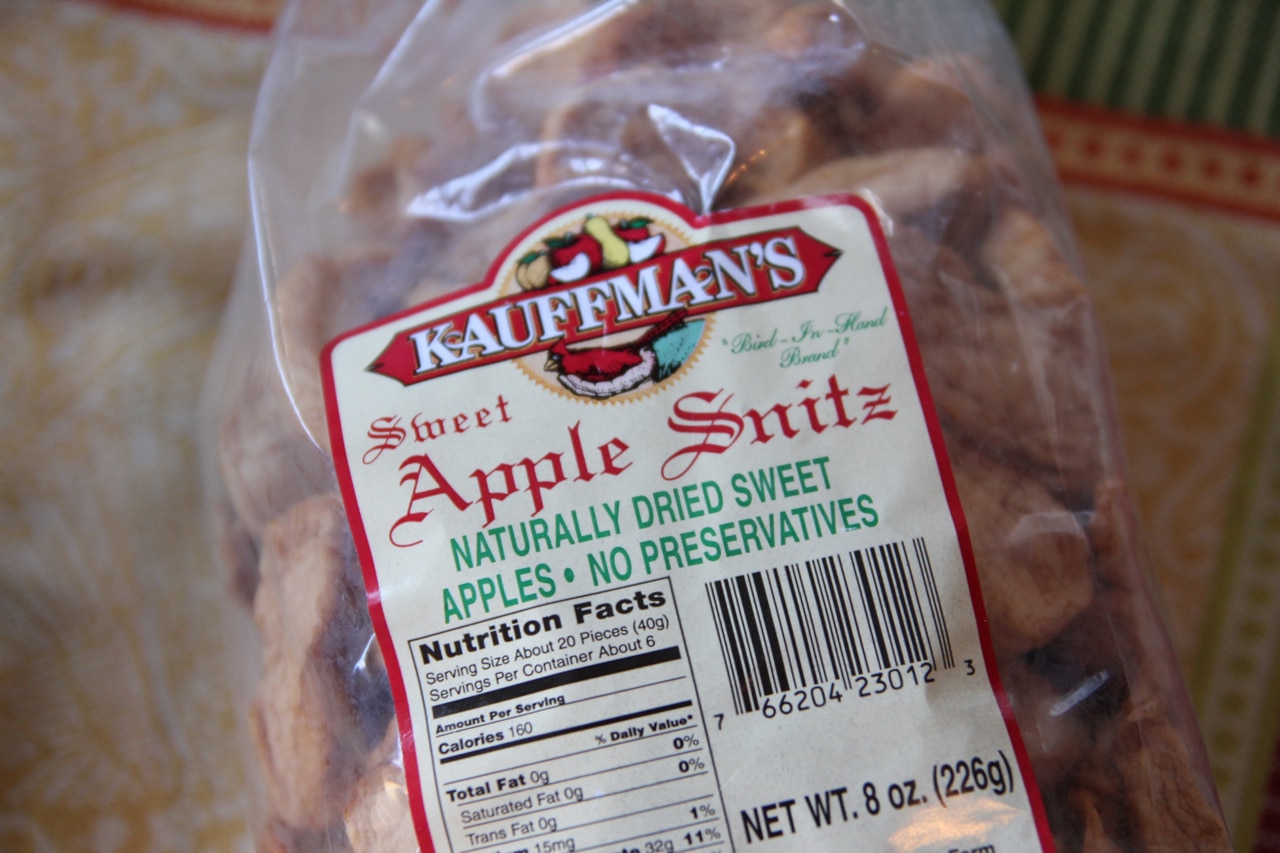 This was the first time I'd set out to make them on my own, with only a scrap of paper with nonspecific ingredient amounts and oral instructions to guide me. As with many oral family recipes, moon-pie making is more of an art than a science.
Amish Half-Moon Pie
Ingredients
For the Snitz:
8-ounce bag of sweet, dried apples
Approximately 1 cup of sugar
2 teaspoons allspice
1 teaspoon cinnamon
For the Pie Crust:
3 cups all-purpose flour
1 ¼  cups Crisco
1 teaspoon salt
1 tablespoon white vinegar
1 egg
1/3 cup cold water
Method
Start with a bag of sweet, dried apples. Soak them in a pot of water overnight. To keep them from floating out of the water, place a small plate on top of them to weigh them down.
The next day, add the sugar and spices and cook the apples until they're soft. In this recipe, I estimated the amount of sugar and spices I used. They can certainly be adjusted to taste.
When the apples have cooked down and you've added spices and sugar to taste, mash up the apple mixture. God bless the Amish women who do this without an immersion blender. I used an immersion blender, but a hand mixer might work just as well.
This snitz needs to cool for a bit before you can do much with it. Put it in the refrigerator and get on with your day, or start making the pie crust.
Pie crusts can be intimidating, but this one is simple. Just blend together the 3 cups of flour, 1 ¼ cup of shortening and 1 teaspoon of salt with a pastry blender or two knives. Whisk together a tablespoon of white vinegar, 1 egg and a 1/3 cup of cold water. Add the egg and water to the flour and mix with the pastry blender or pastry hook on a stand mixer.
Roll out a small amount of the pie dough at a time, maybe six inches wide. I decorated one side of my small crust by lightly scoring it with the pie crust cutter before flipping it over and spooning the cooled snitz onto the other side of the dough.
Then, fold the dough over and seal the snitz into the half-moon shape. I then cut out the half moon shape with a pie crust cutter for a pretty and clean edge. Moon pies are an art of ingredients, but also an aesthetic art. I then brushed the pies lightly with milk and sprinkled sugar before baking them at 350 for around 40 minutes.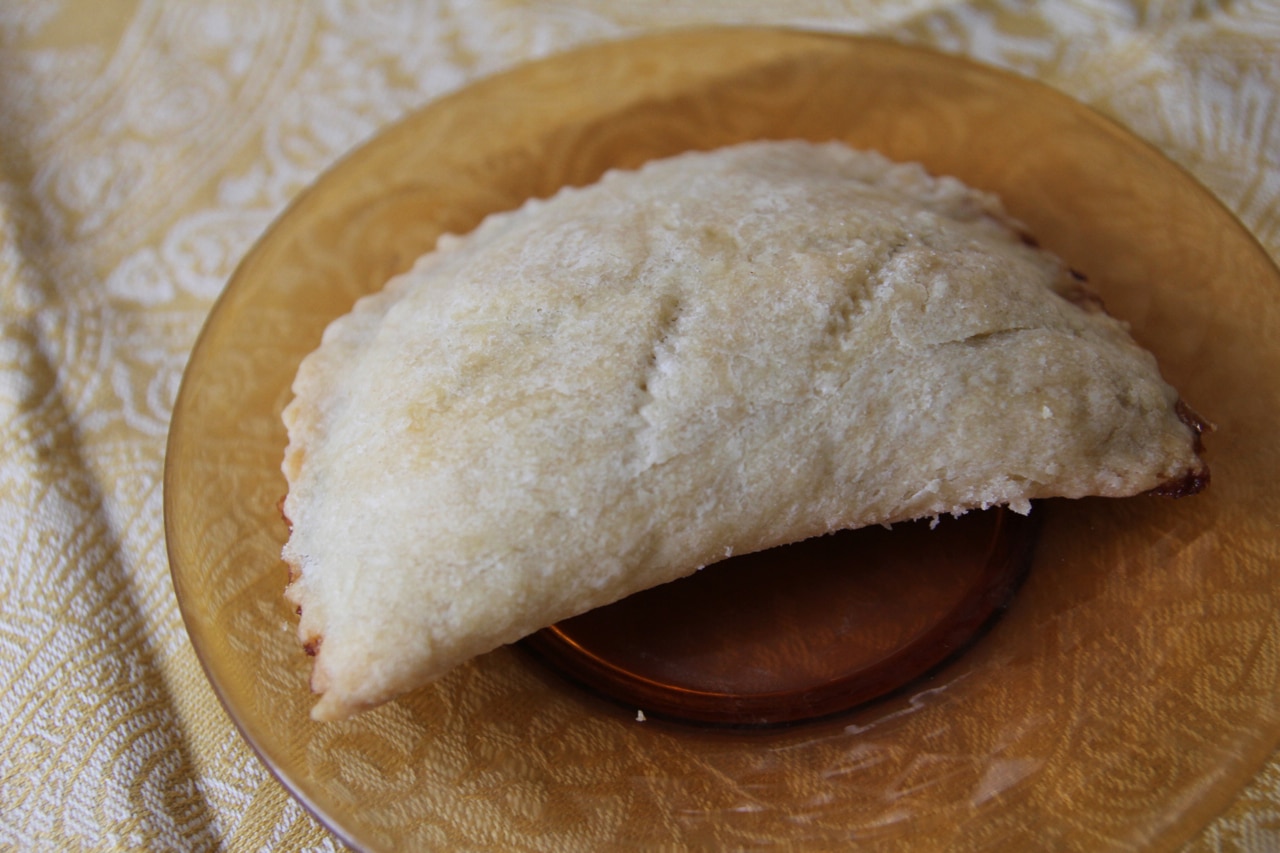 My pies weren't as beautiful as I had hoped, but that's something that comes with practice. I also didn't roll the dough thin enough and ran out of dough before I ran out of snitz. No matter though, I'm planning to freeze my extra snitz for future moon-pie endeavors. If that happens to you, you can try freezing it for later use or spread it on toast like apple butter. Ultimately, I ended up with about 12 moon pies, though with more judicious use of the pie dough I could've had more. Though they're traditionally served for Sunday lunch with bean soup, I'll be eating mine for breakfast (and lunch? And an afternoon snack?) until they're gone.
Feature image:

Pexels

All other photos:

Lisa Yoder