Welcome to "Pantry Pros," a column that's part of our Kitchens + Gardens theme. Here, we meet local culinary artisans who are creating the new essentials for the modern pantry. Know someone we should talk to? Let us know at [email protected].
Two-and-a-half years ago, PA Eats had the opportunity to interview Gino De Schrijver, a volunteer firefighter who owns and operates an artisanal culinary product company, Eat This Yum, out of the Delaware Valley Volunteer Fire Company in Erwinna, Pa. We wanted to revisit the company's offerings and see what new and exciting products have been produced since then, and highlight the preserves, marmalade and jams coming out of the kitchen.

In 2011, Eat This Yum was founded by De Schrijver, who started offering the inaugural products in the form of jams and marmalades. Wanting to turn the initially smaller operation into a larger one, and also wanting to add a charitable aspect, De Schrijver approached the fire company where he volunteers and asked to use the kitchen at the firehouse as the main production hub. In return, he would donate 5% of the sale proceeds back to the firehouse. From that point forward, production increased, as did the wide array of products created. Recently, Eat This Yum made even more advancements, specifically in the form of launching new product packaging, including colorful labels and jars, providing easier accessibility to the products within.
Whether you're a fan of preserves, marmalades or jams, you'll discover Eat This Yum products that bring with them flavorful offerings created by using "thoughtfully sourced" ingredients and organic sugar. Ready to see what awaits you, thanks to the culinary expertise of De Schrijver? The following products fill the current product roster at Eat This Yum.
Plentiful Preserves, from Zesty to Sweet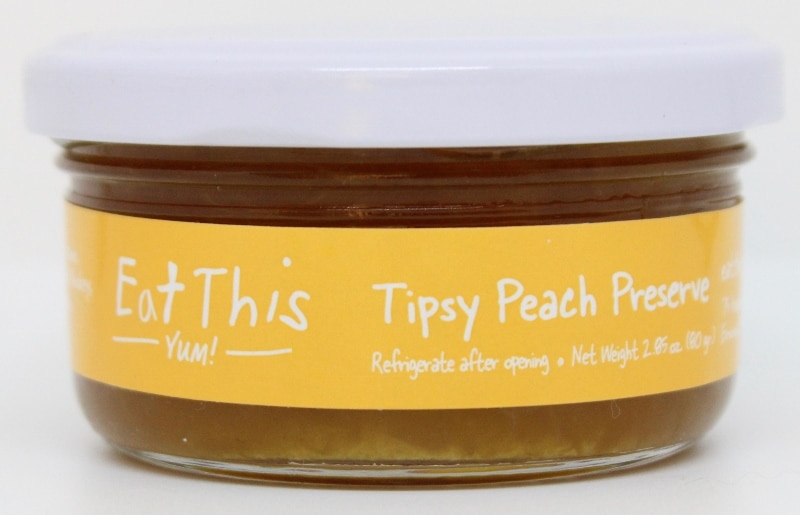 The preserves offered by Eat This Yum range from zesty to sweet, with many options featuring a combination of fruits and herbs to create a well-balanced, memorable product. The preserves currently offered by Eat This Yum include: Blueberry and Cardamom; Flamin' Raspberry; Strawberry Lavender Lemon Zest; and, Tipsy Peach. For recipe ideas, Eat This Yum suggests using the Flamin' Raspberry Preserves to make an arugula salad with roasted beets and flamin' raspberry vinaigrette.
Memorable Marmalade Offerings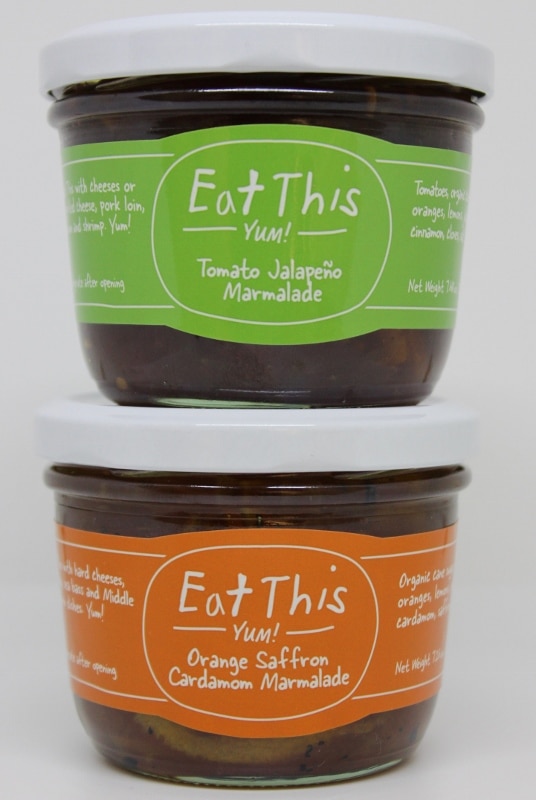 If marmalade is more to your liking, Eat This Yum tempts the marmalade-seeking crowd with its Orange Saffron Cardamom Marmalade and Tomato Jalapeno Marmalade. Although many might think that marmalade is mainly used as a morning bread accompaniment, it's also an excellent addition to a number of recipes, as it gives meat, poultry, seafood and pork entrees a saucy, flavorful kick. Two recipes to try, as suggested by Eat This Yum, include grilled shrimp with tomato jalapeno marmalade and oven-roasted salmon with tomato jalapeno marmalade.
Seedless Blackberry Rosemary Jam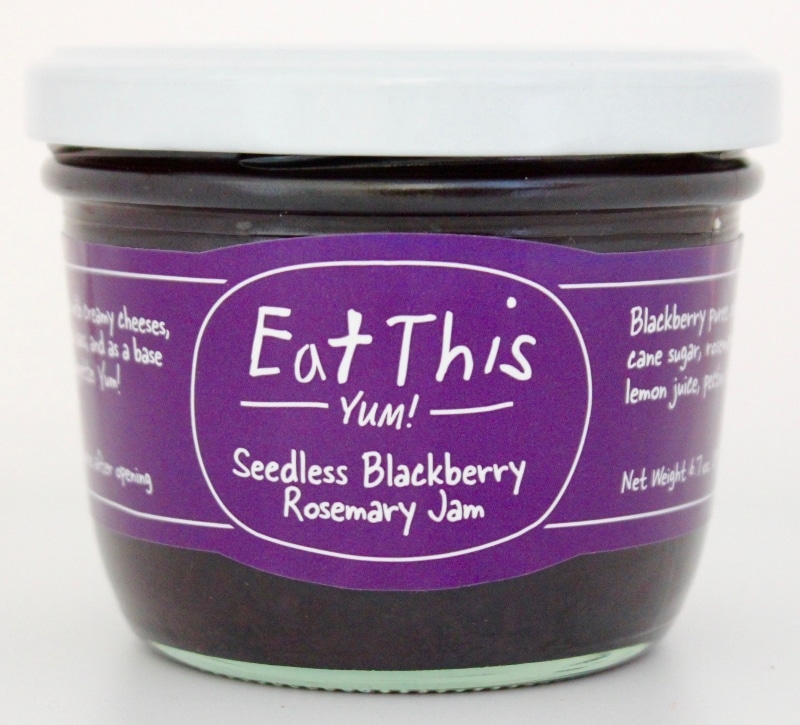 The Seedless Blackberry Rosemary Jam offers a perfectly-concocted culinary spread, combining the slightly tart essence of the blackberry with fragrant rosemary. Use it for your morning toast, as an accompaniment to your summer barbecue fare, or in one of many flavorful recipes, such as the seared duck breast with blackberry rosemary sauce or rack of lamb with blackberry rosemary sauce recipes, provided by Eat This Yum.
Balsamic Caramelized Onions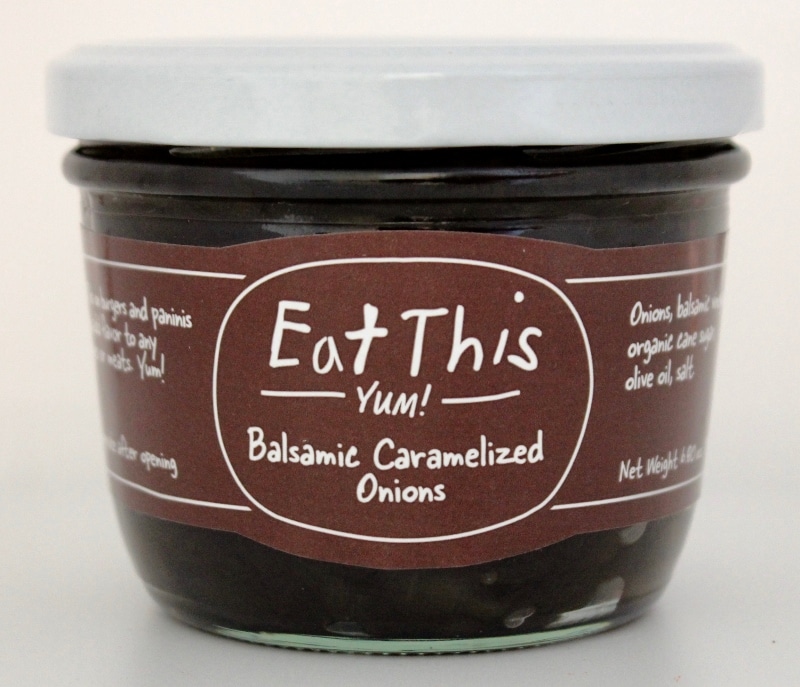 In addition to preserves, marmalade and jam, Eat This Yum offers a delectable Balsamic Caramelized Onions offering, which is an enticing addition to a cheese and charcuterie platter, or as a finishing touch on a freshly-grilled ribeye steak. Sweet onions are caramelized with an aged balsamic to produce a smooth finished product.
Eat This Yum products are available in 2-ounce and 7-ounce jars, priced at $7 and $12, respectively. The products can be purchased via the online store (free shipping on orders of $35 or more!) and at a variety of locations throughout the United States.
"We are frequently adding new stores and markets," states Natalie Rockwell, sales manager at Eat This Yum. "On our newly-launched website, customers can go to 'Store Locations' and conveniently enter their zip code to see the closest location within 10-50 miles. Different stores carry different selections, so we always encourage calling first and making requests to store managers, if looking for something specific."
Eager to see if Eat This Yum products are available at a local retail store near you? Simply use the store locator and determine if local shops carry your favorite jam, marmalade or preserve products.
"And, we also encourage asking the cheesemonger, or other knowledgeable folk at the shop, as to what to pair with our culinary preserves," says Rockwell.
Visit the Eat This Yum website to peruse the products and start brainstorming recipe ideas for your soon-to-be-purchased jams, marmalades and preserves.