When spring rolls around each year, we love seeing all of the little sprigs and sprouts that chefs and bartenders use to add extra pops of color and flavor to dishes and drinks. In this vein, a new addition to the cocktail menu at Rex 1516, Philly's spot for elevated Southern cuisine, caught our eye with its flower crown garnish and playful name.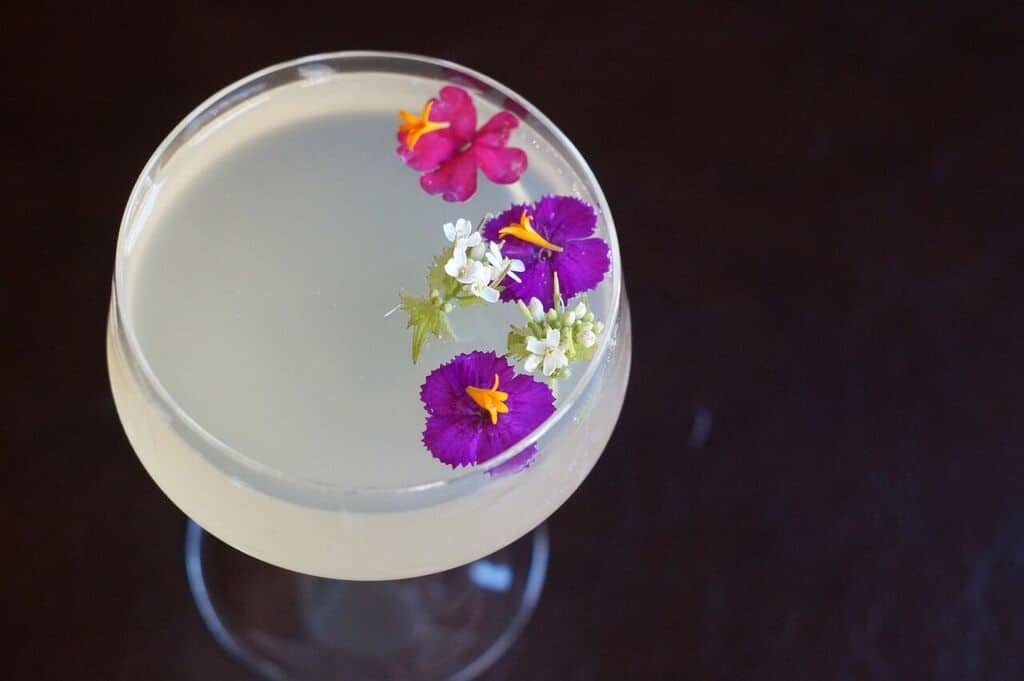 The Cardi P pays homage to hip-hop's current It Girl breakout rapper. Herbal and fresh, this spring-y cocktail consists of rum, lime juice, sparkling wine and cardamom black pepper syrup for a spicy finish. And just as Cardi B balances her fierce tenacity and intensity with her own brand of femininity, so too does this drink, with a colorful lime peel and edible flowers garnish.
We asked Rex 1516's Bar Manager, Lou DiNunizo about how he chose this garden garnish, and how he considers and goes about garnishing cocktails, in general:
PA Eats: When and why do you choose to garnish a drink (or not)?
Lou DiNunzio: You want to almost always garnish drinks. Whether it is for visual or olfactory [appeal] or additional flavor, the garnish offers the perfect finishing touch. On the rare occasion there is not a garnish, it is merely for the fact that I have made something that is crystal clear and I want the beverage to look like glass.
In your opinion, what makes a good garnish?
This is a very case-by-case situation. For example, I recently used a cold smoked citrus peel — that would have typically been a garnish (un-smoked) in a cocktail, but I wanted to add another dimension to the flavor profile, while not changing the flavor of the actual drink.

Choosing a garnish is difficult because of all of the ways it can alter a cocktail. On the most basic level, we would look to garnish to visually improve the appearance of a drink. But, in today's age of craft cocktails, there are so many more elements that can influence how we enjoy the experience. There isn't really a universal rubric for these determinations. In fact, a lot is based on aesthetics, but by considering the secondary traits of a garnish, a drink can be elevated.
Which items from the garden do you find inspiring? Was there something about this specific cocktail that guided your choices?
When it comes to sparkling wine cocktails, there is almost always going to be flowers involved. I love their appearance on the surface of the drink, and it is always so wonderful to hear the "oohs" and "aahs" from people as their drinks arrive. For this specific cocktail we are mostly using eastern Pennsylvania honeysuckles that we grow in our garden. They are an indigenous species that have been doing very well with all the crazy weather we have had. In general, fresh herbs are always great to have behind the bar, whether that's mint for a julep or another fresh herb for a cocktail — the aromatics from herbs are fantastic for fresh flavors.
What are some ways people at home can look at and go to their gardens (even if it's just some potted herbs on the windowsill) for bartender-type inspiration?
If there is anything that is amazingly easy to grow at home, it's mint. Find a long planter and let it go. It can be invasive with other plants, but on its own it will do wonderfully. It's cooling and wonderful just in iced water during the hot summer months. As a garnish, just give the mint a light smack to release the oils and it will act only as an aromatic.

Making cocktails is all about experimentation. This isn't to say that you have to make each drink, sometimes a simple smell test will let you know if the components will work together or if you will have to pour something down the drain. For at-home bartenders looking to bring the garden to the bar, my advice is to look to the pantry and dried herbs.
Thanks, Lou! Can't wait to try the Cardi P? Head to Rex 1516 at 1516 South St. in Philadelphia; phone: (267) 319-1366.
Feature photo:

PUNCH Media