In our quest to find the greenest, most seasonal garnishes around, we came across the stunning tempura battered soft shell crab at the Main Line's go-to New American/French BYOB,
At the Table
.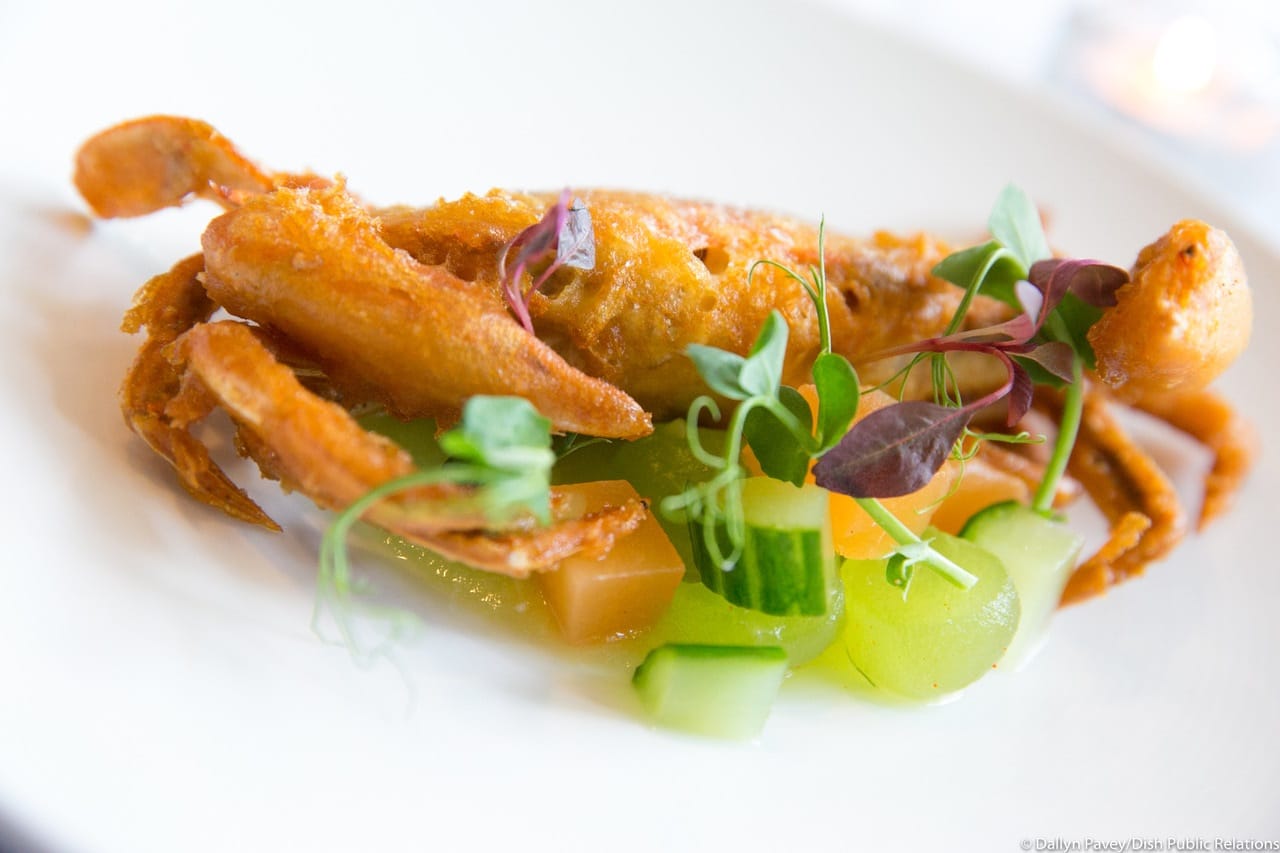 Soft shell crab, a very special seasonal delight on its own, is served here with crispy prosciutto, compressed honey dew with mint and chili and honeydew purée. We love the little tendrils curling over the plate, and the urgent green of the melon and herbs. We asked At the Table's Co-owners/Chefs Alex Hardy and Tara Buzan a few questions about this dish, and about their garnishing philosophy in general, and here's what they had to say:
PA Eats: When it comes to garnishing a dish, what's your goal?
Alex Hardy and Tara Buzan: We garnish a dish to add another level of flavor, texture or visual appeal.
Is your main priority in a garnish the flavor? Color or visual appeal? Something else?
Our main priority is to highlight the main ingredient and bring out its full flavor. For this dish, crab is sweet, and paired with a melon that has sweetness and acidity just brings it to life in your mouth.
Can you give us a brief look into the process of constructing this dish and choosing its garnishes?
[For this dish], first we make the tempura batter with flour and sparkling water, then season with salt, pepper and cayenne. To make the crispy prosciutto, we put the prosciutto on a sprayed baking sheet in single, flat layer and bake at 400 for approx 10 or 12 minutes till crispy. Let cool. Once the soft shells are cleaned, we dip in batter and gently drop into hot oil and fry for about 5 minutes, until golden. Season with salt, once removed from oil.

[For the garnish] We cut melon (honeydew or cantaloupe) into small rectangles and toss with fresh lime juice, mint and a splash of white wine. Using a vacuum sealer, we compress it into bags and store in fridge. It lasts up to a week and is great for salads and even cocktails! We puree the rest of the melon until smooth.

To Plate: We put a drizzle of the puree on bottom, top with crab and garnish with the compressed melon and crispy prosciutto.
What are some of your favorite seasonal garnishes? What do you turn to in prime garden season, and what do you use in the winter?
Definitely fresh herbs are a must. We use them to marinate and then to garnish — be sure never to garnish with things that you should not be eating whole like, for example, a rosemary sprig!
Any tips for home cooks when it comes to garnishing plates?
Be sure to try everything you make and serve!  Something may be too overpowering and you do not want your garnish to take away from the main dish.
Try this dish, and bountiful other seasonal delights at At the Table, which offers a la carte, a
six-course tasting menu
and a four-course Sunday Supper. This spring and summer, Hardy and Buzan are also paying homage to some of their favorite chefs through their Tuesday Tastings series. Each Tuesday, the couple will craft four-course tasting menus with their spin, using the classic techniques of these famous standards. May's featured culinary giant is none other than Martha Stewart! Call to make your reservation or use
OpenTable
.
Find
At the Table
 at 11 Louella Ct. in Wayne; phone: (610) 964-9700.
Feature photo:

Dallyn Pavey/Dish Public Relations