If you want to start a spirited debate among Pennsylvanians, just ask one simple question: Who makes the best cheesesteak in your town? We guarantee that what seems an innocuous enough question will soon turn into a litany of fierce opinions about every hoagie shop, pizza joint and dive bar in a 20-mile radius. Who knew that a combination of meat, cheese and bread could spark lifelong feuds, unwavering loyalty and deep nostalgia?
For many of us in the southeastern part of the state, a cheesesteak is so much more than a sandwich. Like all food icons, it has risen to a higher status and represents something essential about where we're from and who we are. The formal name for a cheesesteak is really a "Philly cheesesteak," a food so tied to a place that they are practically synonymous. You'll see them replicated in other parts of the country (and even the world), and churned out by fast food establishments, but there's something about the locally made version that can't be beat.
How did the Philly cheesesteak become an edible symbol of the city, and in a larger sense, the state of PA?
The story goes that Pat and Harry Olivieri, Italian-American brothers who ran a hot dog and fish cake stand in South Philadelphia in the early 1930s, were the first to make a sandwich of chopped beef and onions on an Italian roll. Legend has it that they made the sandwich first for themselves, and a passing cab driver smelled the frying meat and asked for one for himself. Soon after, thanks to the inherently delicious combination of ingredients and the gregarious nature of the Olivieri brothers, these steak sandwiches became so popular that Pat opened up his own joint, which we know today as Pat's King of Steaks on Passyunk Avenue in the Italian Market neighborhood of South Philly. We always thought the whole "king" title was a bit of marketing hyperbole, but it actually turns out to be pretty accurate!
Predictably, others soon followed in the steak sandwich trade. In 1966, Joey Vento opened Geno's Steaks directly across from Pat's, offering a very similar menu and staying open 24 hours a day (just like Pat's), launching an endless and not-actually-friendly rivalry between the two brands. Situated on opposing sides of a busy, five-way intersection, each steak shop has added more and more neon signage, seemingly to out do each other, that the corner is sometimes referred to as "cheesesteak Vegas." And, while their back-and-forth is mostly coded in the ceaseless claims to be the "best," the two shops have been known to publicly talk smack on one another. The snarky comments, fueled by competition and proximity, has its own sort of charm, in a very Philadelphia kind of way. Most Philadelphians are firmly either Team Pat's or Team Geno's, and it's a popular tourist activity to get a cheesesteak from each side of the street to compare and contrast.
The construction of a good cheesesteak is also a hotly contested issue. Should the meat be chopped or chipped? Are onions, peppers and mushrooms an improvement on the classic, or a distraction? Can a vegetarian version ever be as good? And, most importantly: What kind of cheese belongs on a proper cheesesteak? Well, on that issue, most can agree that Cheez Whiz is the resounding cheese of choice for a classic Philly cheesesteak. (However, as it wasn't invented until the early 1950s, it wasn't part of the Olivieri's original version.) This processed atomic-age cheese goo may seem outdated in this era of so many incredible local cheeses. But at Pat's, it outsells the next best-seller (American cheese) by nearly 10-to-1, with the relatively small corner operation going through 10 cases of Cheez Whiz each day!
Ron Inverso, owner of Ron's Original Bar and Grille in Exton, PA, has had a cheesesteak on his menu since opening 30 years ago. While he's a big proponent of what he calls "real food," and personally isn't a fan of Cheez Whiz, Inverso says that taking it off the menu just isn't an option.
"People would probably break the door down if we didn't offer it!" he says.
Inverso's classic Philly cheesesteak, which is widely believed to be one of the best in the area, was inspired by a version he had, decades ago, in New Jersey of all places.
"I used to work for a wholesale food business, and I would go to this place in Cherry Hill," he remembers. "I decided that if I ever opened a sandwich shop or restaurant, that I would make mine similar. I researched where the guy bought his meat from, and ended up becoming friendly with the owner of the meat plan in Camden, and they pretty much custom made the product for me."
After the plant in Camden went out of business, Inverso found a local company that cuts and customize the meat for him. He says that the key is finding the right percentage of fat, and that the meat must not include any additives at all.
"Other places will put yeast extract and other fillers in the meat, and they'll marinate it in a salt brine to increase the weight so they can sell it cheaper," he says. "Ours contains beef and that's it."
Inverso also says that how the meat is prepared is important.
"You don't want to bite into a big piece of fat. Here, the meat is chopped, but at Pats and Geno's they use a rib eye that's like a slab of meat," he notes. "But people around here seem to prefer chopped meat."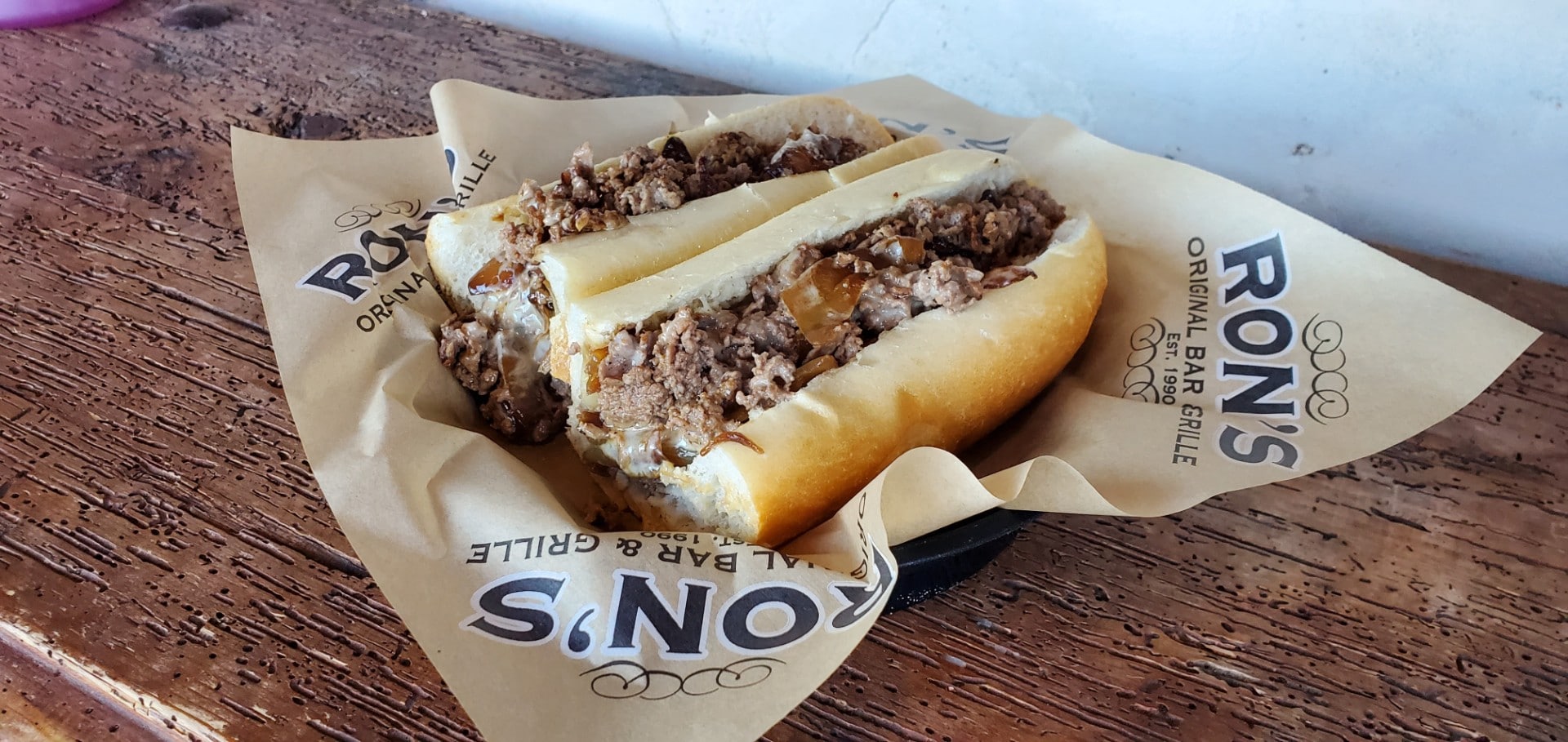 Ron's serves its cheesesteaks on rolls from Conshohocken Italian Bakery; he likes a roll that is easy to eat and that you don't have to "fight with" to take a bite. In addition to the classic version, Ron's also offers about 15 to 20 different variations on the theme, like Ron's Choice (provolone, lettuce, tomato, mayo — mayo is a highly controversial addition to cheesesteaks; don't @ Ron), the No Holds Barred (pepperoni, bacon, American cheese), the Buffalo (provolone, buffalo sauce) and the Gia (olive oil, fried onions and Cheez Whiz). Inverso says his favorite is the short rib cheesesteak, which is is "really rich and good." Ron's has added a number of options to keep up with modern nutrition trends, like gluten-free rolls and bread-free "protein platters," Inverso says sales of cheesesteaks have not slowed down in this health-conscious era.
"About 20 years ago, people started eating less fat and meat and I was scared about the future of the business, but it doesn't seem to affect things!" he says.
Pro tip: If you're looking for a great cheesesteak in Philly, Inverso suggests John's Roast Pork on Columbus Boulevard in South Philly.
In and around Philadelphia, you'll find hundreds of steak shops, mostly named after the men who founded them: Jim's, Joe's, Lou's, Leo's, Frank's, Tony Luke's, Bert's … (trust us, the list goes on and on). And truly, all across our fine Commonwealth, cheesesteaks are everywhere. From ball parks and bowling alleys, to corner taverns, to high end restaurants, there are versions of, and homages to, this humble sandwich. From a street cart in South Philly to a worldwide phenomenon in under 100 years, the cheesesteak is nothing short of a bona fide icon.
What's your first memory of a Philly cheesesteak? And — dare we ask — who makes the best cheesesteak in your town? Let us know here or on the PA Eats Facebook page!
Feature photo:

Jim Berman

Joe's Steak photo:

Alison Conklin

Thunderbird photo:

The Original Thunderbird

Ron's Original photo:

Ron's Original Bar and Grille